Introduction
Emirates Identity Authority (EIDA) is UAE's independent federal authority that was set up in 2004 to perform the fundamental yet most significant task of registering UAE's residents, and create a population database. With its state-of-the-art integrated programs, EIDA strives to assist the government in strategic planning, and provide over nine million UAE residents with sophisticated services.
EIDA is ambitious about distinctively contributing to UAE's sustainable and economic growth to elevate its standing in the global scenario, and thus endeavors to invest in better solutions to stay up to date with advanced systems for its more than 70 service centers spread across UAE.
Emirates ID offers the core services of identification, verification, and authentication to all UAE nationals, GCC nationals, expats and residents, as acquiring an Emirates ID card by EIDA is mandatory for them. EIDA's Preventive Medical Centers capture their biometric information and store it into the chip of the ID car. To facilitate its customers, EIDA has set up separate service centers for local UAE residents, and expats and GCC nationals.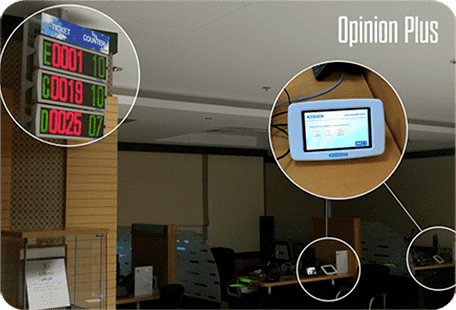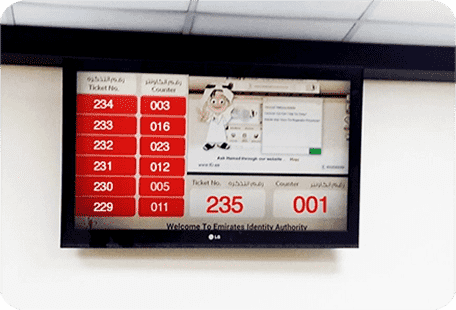 EIDA's Challenge
Considering that Emirates ID is the prime ID in UAE, and everyone is mandated to acquire one, the footfall at EIDA's service centers is massive, which made it a challenging task for EIDA's officials to provide superior services to each customer.
An enhanced customer service is an integral part of EIDA's customer service strategy as it believes in building consistent customer experiences for customers when they interact with EIDA and integrating that experience with different service elements.
At Emirates ID, customers are classified into categories, such as male/female, and split into locals and expats who visit the service centers to apply for a new ID card or renew their ID card. Some customers visit the centers to report lost or stolen cards, or for some modifications. Customers visit the Preventive Medical Centers to register their biometric data and provide their signature to be printed on their card.
Emirates ID already had a queueing solution to deal with the long waits and queues, but that had failed to adapt to the changing customer requirements. EIDA needed an all-encompassing customer experience management system with advanced integration feature and an ability to custom design service flows.
EIDA thus required a complete queuing solution from a company with expertise, breadth, and knowledge that was willing to work along with EIDA to develop customized queueing solutions for its customers.
Wavetec steps in
Wavetec, a Dubai-based, multinational technology company on the forefront of technological revolution for more than two decades, had all the capabilities to revamp EIDA's service strategy. With a firm presence in around 60 countries, and its Information Display solutions installed at 22 leading financial markets around the world, a credible customer portfolio, smart integration tools, and customized solutions, Wavetec seemed to be ideal for resolving EIDA's needs.
Since its inception in 1986, Wavetec has demonstrated an urge to be the best with its mission to specialize in customer experience management and information display solutions to meet the requirements of myriad industries. Headquartered in the Dubai Silicon Oasis, Wavetec is ISO 9001:2008 certified, Microsoft's Gold certified partner, IBM and Cisco's business partner. Its cutting-edge customized solutions, and vast experience of transforming customer service areas in diverse industries such as Stock exchanges, brokerage houses, airlines, retail, banks, entertainment, and healthcare around the world have made it emerge as a global leader of digital signage and queueing and solutions.
To drive value to its clients, Wavetec provides queue management systems, digital signage, LED display solutions, customer feedback solutions, interactive kiosks, and DLP seamless video walls along with real time data analytics and visual media content, to assist them empower their customers.
As a part of Dubai's Smart City initiative started by His Highness, Sheikh Mohammed bin Rashid Al Maktoum, Vice President and Prime Minister of the UAE and Ruler of Dubai, Wavetec is proud to become Happiness Meter Compliant authorized by the UAE government. Happiness Meter measures live sentiments of the citizens of UAE and tourists, consequently integrating it into customer experience solutions.
Over a million people pass through Wavetec's customer experience management solutions globally daily. Its rapid expansion, and exponential growth, stem from its quest to invest in continuous innovation, and excel in equipping its customers with the perfect solutions. Wavetec's expertise, reliable quality solutions and customization abilities account for its noteworthy customer portfolio and impressive global footprint.
Wavetec recrafts Emirates ID's service areas
After a thorough analysis of EIDA's needs and service flows, and several meetings between Wavetec's Customer Experience Consultants and EIDA's management, Wavetec designed and implemented Wavesphere, a complete enterprise solution to optimize EIDA's customer service areas and create first-rate customer experiences by offering an unmatched range of customer touch points to strategically Organize, Engage, and Measure Emirates ID's customers' experience from the moment they step into the service center to the moment they leave.
Wavesphere shows live dashboards providing various KPIs on:
eQ, Wavetec's Queue Management System that helps streamline service areas.
Donatello, Wavetec's Digital Signage solution that engages customers with promotional information and informs them of ticketing status while they wait in the service area.
Happiness Meter, Dubai's Smart City initiative that gathers customers' opinions about their experience at the service center.
Wavetec believed that it's outclass technological solutions were capable of reforming EIDA's service areas with functional brilliance to help it maximize its customer satisfaction levels.
Wavesphere was to be implemented in two phases: the first phase involved setting up Wavesphere at 17 EIDA service centers and was completed effectively in a record time period of two months. The second phase involves setting up Wavesphere at 22 Emirates ID Preventive Medical Centers (PMCs) that customers visit to get their biometric information captured for their ID card chips. Work on the second phase has started and would be completed in a few weeks.
This service area model rests on three pillars of the service experience: organizing, engaging, and measuring. The element of organizing exclusively emphasizes on attaining efficiency in the service area, the engaging element focuses on capturing customers' attention, and the final element of measuring, extracts comprehensive insights in terms of customer feedback and business intelligence reports.
Organizing
Considering the massive footfall of a minimum 500, and a maximum of 1500 customers daily, and the physical space at Emirates ID's service centers and Preventive Medical Centers, Wavetec installed a customized queue management system with 17" capacitive dual printer touch screen interactive kiosks, counter display units, and status display units. The system was designed for Emirates ID considering their need for specialized work flows to ease customers' journey inside the service centers.
Wavetec's interactive kiosks enable Emirates ID to provide 10 service categories to service UAE residents, Expats, and GCC nationals. To effectively cater to the high influx of people who visit Emirates ID centers, the service counters are well integrated with Wavetec's queueing system. Moreover, to facilitate EIDA, Wavetec brought in new features like alphanumeric number displays on the tickets issued by the ticket dispensing kiosks, and displayed on Customer Display Units, Status Display Units, and the Teller Station Units.
Wavetec even endeavored to enhance the Teller Station Units (TSUs) by enabling them to display the customer waiting time on a real time basis. Considering the bilingual population, Wavetec's touch screen kiosks, and digital signage show information in both Arabic and English. The deployment of a customized virtual queuing system at Emirates ID allows it to direct customers to the right tellers or service specialists, and hence maintain a smooth customer flow. With a streamlined structure in place, it can ensure a seamless flow, prevent bottlenecks, and operate with greater professionalism.
Engaging
Managing customer engagement is a key to better customer relationships, resulting in increased customer satisfaction levels. Customers are inundated with tons of marketing messages daily, hence digital signage inside the service areas are an excellent way of attracting customer's attention, engaging them with well-designed content, and conveying important updates to them. Advanced technological solutions have enabled Wavetec to integrate hardware and software solutions to allow Emirates ID to create engaging experiences for its customers.
Tobias Bessone, Deputy CEO Wavetec quoted, "For us, a customer is not a number. We aim to help our clients deliver personalized, one of a kind service to their customers by understanding their needs, and catering to them with consistent, and improved service flows. We are proud to create integrated service areas to deliver seamless experiences at Emirates ID's service centers."
Wavetec's digital signage solution – Donatello has the capability of providing a brilliant network of digital displays to target customers with the right messages at the right time, by displaying queueing status and interactive content. Emirates ID is leveraging Donatello at its service centers to disseminate information to customers while they wait.
Rashidiya and Al Barsha in Dubai, are amongst the busiest Emirates ID service centers which used to have varying waiting times for their customers; the strategic use of digital signage has helped them in reducing the perceived waiting times. The ticketing status shown on digital signage has further helped reduce the anxiety of its customers while waiting. Currently Emirates ID is just running corporate videos on digital displays, but moving forward, it intends to display customized messages too to use Donatello more effectively to engage the public.
Measuring
The final measuring element of Wavesphere takes the customer service aspect to a new level by measuring different activities through customer feedback and leveraging customer insights to multiply operational efficiency and drive up customer service levels.
Al Ain and Sharjah are Emirates IDs largest service centers with daily customer traffic of 1500 persons. Wavetec integrated Wavesphere with Happiness Meter to provide live customer feedback to Emirates ID management helping obtain insights through integrated customer touch points. This allows Emirates to measure customer feedback in real-time basis.
Wavetec has also installed a web-based central reporting software and a live manager dashboard that is integrated with the queueing system at EIDA's service centers, which form a complete business intelligence module that help to spot out discrepancies and monitor center-wide service quality.
These integration mechanisms that can be accessed from any location are adept at generating vast amounts of data and reports about active staff, active counters, service times, service loopholes, and graphical and tabular trends to empower the management to take on-spot business decisions.
Research has proven that Wavesphere effectively cuts down customer wait times by 20%, but also boosts service efficiency by 30%, hence, this advanced technological solution is all set to manage EIDA's customer flows.
Wavetec has developed upon some new features to augment integration between EIDA's systems and cater to its need for a better reporting system. Wavetec has additionally implemented a Balanced Scorecard system, along with a new speedometer dashboard, and tweaked its reporting system to generate customized reports for EIDA's managers.
The Bottom line
Wavetec's specialized system presents Emirates ID with endless opportunities to customize and manage its flows optimally and create sophisticated customer experiences. Wavetec's technical and development staff is working on the second phase of the project at the moment. Wavetec demonstrated incredible project management skills by completing the first phase of installing Wavesphere at Emirates IDs' 17 service centers within two months, which is a huge accomplishment considering that installation was done while the service centers were functional, and majority of the work had to be done during weekends and non-working hours.
The installation of Wavesphere was completely in line with Emirates ID's need for a completely digital solution integrated with its back-end system to provide seamless service to its customers. The Emirates ID project is bound to give Wavetec tremendous market exposure as at one point in life, every UAE national or expat is bound to come across Wavetec's queue management system and digital signage.
Wavetec, with its smart solutions exceeded Emirates ID's expectations in terms of its consultation service, its project management skills, and its specialized and integrated solutions. Emirates ID customers now have to wait for fewer minutes engage more with the organization and are more pleased with the progressive changes at its service centers.