Dynamic content and integrated digital display system
Donatello Vertica maximizes impact of your content at key customer touchpoints. The free standing signage solution is an all-in-one 40" display with a sleek and slim design for a multitude of indoor and semi-outdoor environments.

Full HD Videos and Images


Integration Services Tool

Array of Canvas templates

Video Camera and Analytics
Maximize the Impact of Digital Signage
Vertica seamlessly and effectively manages your digital signage content helping you better promote, target and deliver media rich experiences to your end consumers. This dynamic solution engages your customers with an impact and conveys rich media content, which is branded and tailored across all display screens.
Donatello Vertica is great for attracting customers' attention in busy, high-traffic areas. The sleek display has a scratch-proof tempered glass faceplate for added durability and comes with two screen variations, touchscreen and passive for a wide array of applications.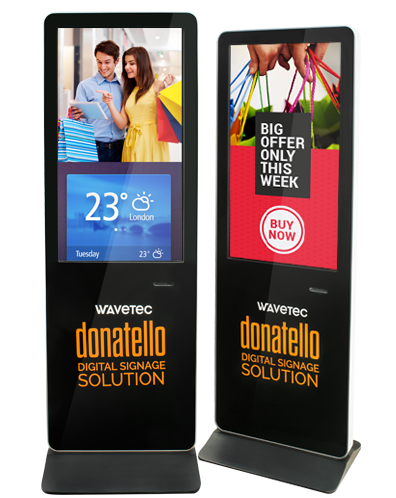 Wavetec offers a comprehensive turn-key digital signage solution which includes:
Entertain and reach out to your customers with engaging video and imagery, using Donatello Vertica, that has a powerful HD super clear color display offering wide viewing angles capability. Create extravagant customer experience with vivid colors and consistent brightness from any viewing angle as steep as 170 degrees.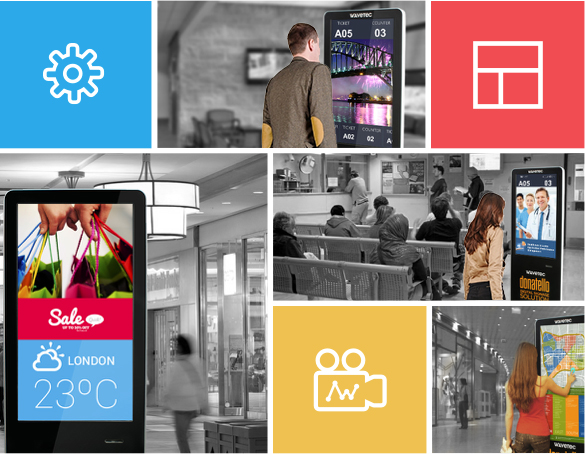 Content Management and Industry Applications
Donatello Vertica is an exceptionally well-designed free-standing digital signage solution that caters to limitless applications, and changes the way you interact with your customers. Especially built for amazing front screen performance, an interactive digital signage is ideal for use in locations with high customer footfall.
Donatello Suite – Wavetec's digital signage software allows you to create dynamic, customized canvases with rich text and graphics. This impressive free-standing digital signage solution is designed for multi-purpose industry applications such as way finding, advertising, information displaying in lobby and waiting areas. Our incredibly versatile media rich signage solution is a perfect fit for corporate, education, healthcare, retail, hotel and leisure environments.
Why Wavetec Donatello Digital Signage?

Selecting the right digital signage partner has a direct impact on your business bottom-line. Our signage solutions combine the highest quality displays, signage player and software offering unparalleled performance and customer experience.
Contact Wavetec's display solutions team for customized support on larger projects.
High impact Donatello Vertica possesses brilliant features and offers outstanding benefits to users to drive profitability.
When placed at key positions, the premium Donatello Vertica is an ideal signage tools to attract customer attention with adaptable content and eye-catching displays.

Digital Signage Solutions