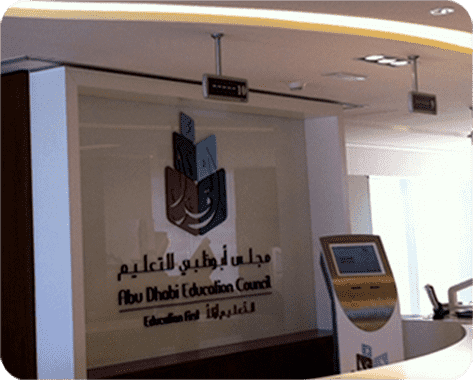 Abu Dhabi Education Council (ADEC) is a legislative body which aims to develop educational reforms for institutions in the Emirate of Abu Dhabi. It was established in 2005 by his highness, Sheikh Khalifa Bin Zayed Al-Nahyan, the UAE President, the Supreme Commander of the Armed Forces and the Ruler of Abu Dhabi.

The Challenge
Abu Dhabi Education Council (ADEC) is the only educational body which is responsible to implement and develop educational policies in Abu Dhabi. Moreover ADEC is a research based legislative body which spends its considerable efforts in educational research projects and community surveys to help the educational reforms for schools in Abu Dhabi.
Being such a prestigious and a high reputed institution, it experiences a high footfall of school representatives and stakeholders. Due to this high influx of customers, ADEC customer service area experiences irregular queues and long waits. Moreover, as part of governments policy, it is essential to gauge and measure staff performance when interacting with the stakeholders. Therefore a need prevailed to make customer service areas more organized.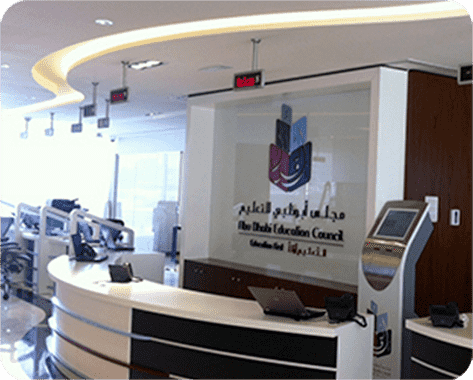 The Solution
In order to enhance customer experience Wavetec, in collaboration of Visionaire designed and installed a Queue Management System at ADEC to manage and transform their customer service area. The solution comprised of a complete Wavesphere customer flow management solution. The service area is the physical space where an organization interacts with customers primarily for executing transactional activities, which are inherent in the business model. Wavesphere is a methodology which comprises of Organizing, Engaging, and Measuring specific actions which play an instrumental role in enhancing ADEC's customer service area.
The queue solution comprised of a dual printer, touch screen self service kiosk which allows customers to collect a ticket for appointment. This touch screen ticket dispenser kiosk is equipped two printers and comes with a multifunctional software making it easier for customers to choose a service category they are interested in. Upon registration the customers enters a virtual queue and are issued with a unique identification number.
To further integrate and augment customer experience, the ADEC branded kiosks were strategically placed at two customer touch points. Moreover, to cater to the dynamic and varied customer based of ADEC, tickets and kiosk screens were designed in a multilingual format- English and Arabic which enabled to deliver a clear and consistent message across all channels. Lastly the dual printer kiosk installed at ADEC makes sure that ticket issuance is not stopped as the second printer gets activated automatically once the first one finishes.
To engage customers at the reception and then divert them to their designated appointments at ADEC, "15 LED Display Units" and ceiling speakers were installed at each of the service counters. The speakers are installed to announce unique customer ticket numbers that reinforces the main announcement of the ticket being called at the LCD screen of the waiting area.
The main highlight of this installation was integrating an Auto-Next feature in the customer calling algorithm. This allows operator an automatic and seamless flow of customers, so as soon as the customer is issued with a ticket. Adding this feature ensures that the customer is called automatically and also increases operational efficiency as the operator is not left idle at any point in time.
To track and improve teller and operational performance, Wavetec also installed WaveSphere Portal, a comprehensive web-based management tool that allows user to access real-time dashboards, historical reports, performance reports and business intelligence reports. These key performance indicators helps ADEC and its management to improve its performance and allows them to serve their customers better.
The Results
The queue management system installed at ADEC now makes it possible for the staff to optimize service processes, resulting in less customer wait and service time. Moreover, the Auto-Next with priority calling feature allowed them call tickets more quickly thus decreasing the overall customer wait and service time.