About
Oregon Lottery is located in Salem, Oregon. Voters created the Lottery in 1984, and it began ticket sales with a Scratch-It instant game on April 25, 1985. The Oregon Lottery is the state's second largest funding source after personal income tax, earning a profit to mitigate the negative impacts of gambling addiction.
The Lottery's mission is set out in Article XV of Oregon's constitution, stating that 'the highest standards of security and integrity' should be maintained in order to serve the people of Oregon. And it is this guiding principle that the Lottery has used as their beacon all these years.
Purpose
Oregon Lottery needed to maintain occupancy limits and adhere to social distancing guidelines due to Covid19. They also expressed the desire to be more structured in their management practices, in customer service delivery and in monitoring visitor queues.
Benefits
Ensure social distancing and adherence to occupancy limits
Quick and easy deployment
Deliver contactless customer experiences
Seamless digital onboarding
Shorter and faster queues
Increase customer satisfaction
Predict and monitor visitor flows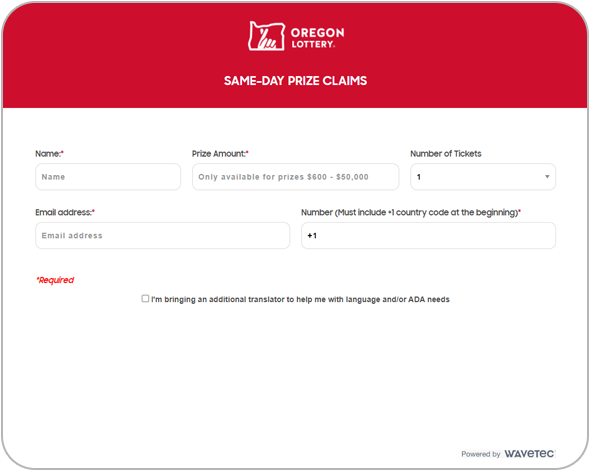 Customer Flow
The customer buys a lottery ticket and if they win, they must arrive on-premises to claim their prize. To do so they must either book an appointment using the web application, or issue themselves a virtual ticket via web ticketing.
If an appointment is booked, they will receive an email with the details of the booking with a call to action for check-in. This will be used when the customer is on-premises. Once they are issued a ticket, they will begin to receive notifications about estimated wait times.
As the counter is ready and available to serve them, they will be alerted. After being served, it is time to take home their winnings!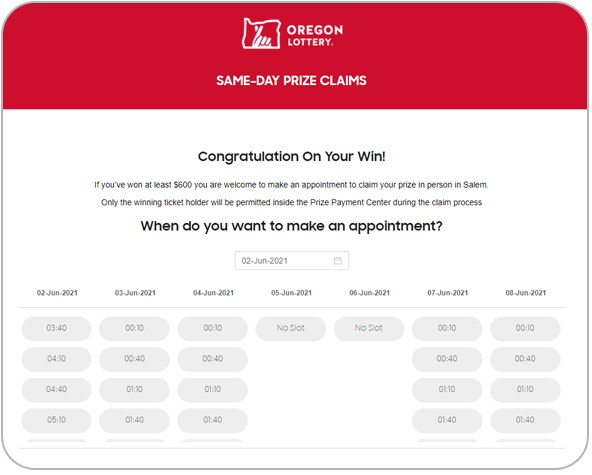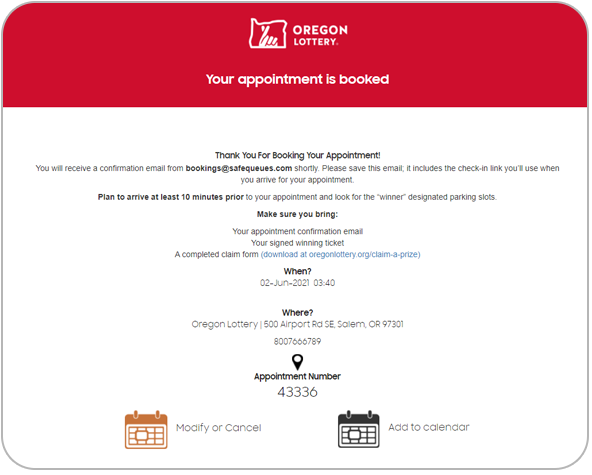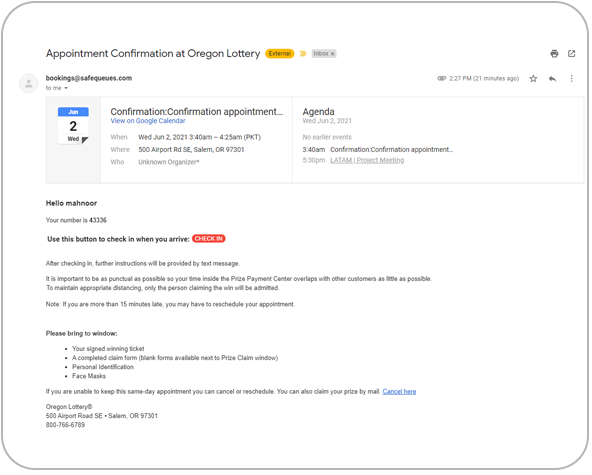 Results
Enables social distancing 

Adheres to occupancy limits 

Cuts down time spent in queue 

Increases customer satisfaction

Quick and easy deployment 

No hardware required 

Standalone and scalable