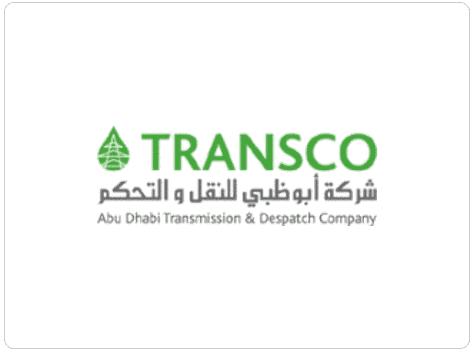 The Challenge
TRANSCO's core business is underlined as to provide planning, construction and operation of the water and electricity transmission network within Abu Dhabi. To execute this intense level of business operations at optimum levels, TRANSCO must ensure that all control centers are working at desired service levels. To ensure transparency and real-time monitoring of changing data, TRANSCO required a solution which could be integrated with their system and could project this data in real-time.
The Solution
After several meetings with TRANSCO officials and Wavetec LED display specialists, it was finalized that full color LED tickers will be placed in National Control Center (NCC), Temperature Control Center (TCC) and Water Control Center (WCC). This project was concluded in collaboration with Siemens which is a very strong partner with TRANSCO in providing industry solutions for power and water industry.
The LED tickers allow dissemination of real-time information to operators in the control room by which they are able to make key decisions and understand the performance of their systems. The tickers are equipped with Wavetec's proprietary software, Donatello Suite which is then integrated with SCADA a supervisory control and data acquisition system which is used to monitor and control plant equipment at TRANSCO. This allows operators to monitor and view real-time information such as Time, Date, Frequency, Time deviation, Total MW, total MVAR, temperature and humidity.
"As Abu Dhabi's population grows, so does expansion of various industries. Importance of supplying efficient and reliable data monitoring systems becomes more crucial"
said Tobias Bessone General Manager Wavetec.
The emirate's increasing power and water demand is largely driven by a population of more than two million growing at an average annual rate of 7.7 percent. Introducing data dissemination solutions like this will allow companies to understand their systems much better and will also bring operational excellence.
About Wavetec
Wavetec is a company which has been on the forefront of technology for over 2 decades and has emerged as global leaders in the industry. With presence in over 60 countries and our Information Display solutions installed at more than 21 leading financial markets in the world, Wavetec is on the forefront of technological revolution. Wavetec has specialized in Customer Experience Management and Information Display Solutions to meet the requirements of Banks, Telecoms, Stock Exchanges, Retail, Brokerage Houses, Healthcare, Advertising, Entertainment, Retail, Education, Airlines, Mass transit, Airports & Public organizations.