Are you looking for a way to step into your customers' shoes and understand their needs?
The best way to align your company's goal with your customer's requirements is to understand the consumer perspective. How do you do that?
If you want to use the most accurate tool to measure consumer satisfaction with your brand, let me introduce you to customer journey mapping!
Customer journey mapping helps you accurately picture a consumer's interactions with your business. Recently, companies which have begun to strategize around the consumer's journey have been able to deliver exceptionally. Therefore, customer success management is essential in regulating your customer's expectations.
When you pair the customer journey map with a Net Promoter Score (NPS) in your surveys, you can measure your customer's experience on a scale. Consumer mapping is a GPS tracker for business owners that helps drive sales force to give you higher NPS and increased revenue.
What is a customer journey map?
Customer journey mapping visually represents a consumer's engagement with your business or service. As a business owner, your goal should be to remove obstacles to make a customer's journey productive and hurdle-free.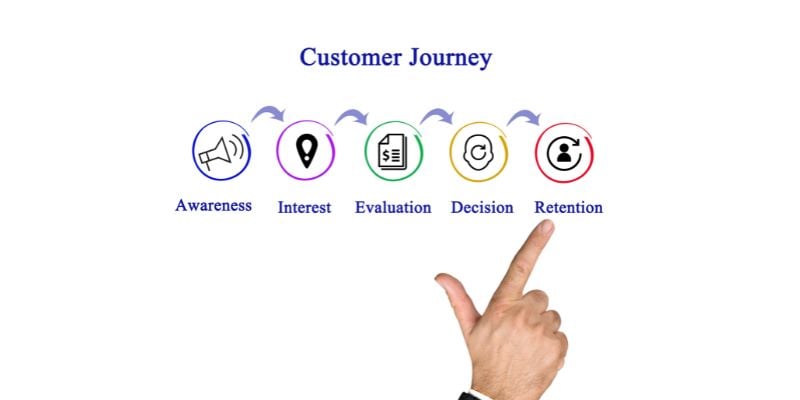 Mapping your customer's experience journey will give you a thorough understanding of all the touchpoints your customer has with your organization in a given period. These may range from the brand's advertisement on social media to customers deciding to opt for the service and their post-purchase interactions.
Customer journey mapping is built on identifying the touchpoints of your business. The most common external and internal touchpoints are social media, online advertisements, product catalogs, websites, and interaction with your sales team. Your touchpoint strategy identifies the areas of weakness in your business model, allowing you to take action.
How can a customer journey help your customer experience?
Customer expectations have evolved from simple purchases to expecting a more personalized experience with your business. To keep up with the new marketing trends, mapping your client's experience journey is essential in optimizing the experience.
Before you add to the customer experience, business owners need to familiarize themselves with clients. You must fully understand the challenges they face when dealing with your company. When you view your company from a consumer's perspective, you can better understand struggles and define the pain points in the consumer journey.
Be it a small-to-medium-sized company or a well-established industry, these actions are the first step in building a customer-centric company. Investing in well-researched journeys documenting actions and emotions while purchasing is the key to providing your customers with the best service. You automatically optimize the customer onboarding process by prioritizing and revising your clients' intentions.
The customer service manager can provide insight into individual departments by collecting the customer's feedback. A collective understanding of the buyer's persona builds a cross-functional team amongst the sales team, shipping and marketing department, or customer service.
Once you have invested in customer journey mapping, retaining customers will be easier. It will yield higher return on investments (ROI) and give you a competitive edge in the market.
Examples of a customer journey map
If you are wondering how customer journey mapping may apply to your industry, you can take inspiration from the following examples.
Banking Customer Journey Map
A new customer's visit to the bank is based on their first impression. They evaluate the venue, available parking spots and the ambiance of the bank. The major concerns that follow are the perceived wait time and ticketing options available. The bank can install self-service kiosks, cash deposits and withdrawal facilities.
As new customers first interact with the bank employees, their professionalism and communication governs a long-term relationship. The touchpoints include transparency in contracts and policies. For questions on loans and mobile banking applications, WhatsApp Chatbots are helpful in giving replies to customers during off-hours.
One of the last stages in the mapping journey includes obtaining client feedback. After gathering areas of pain points, you can take appropriate measures to respond. This builds a healthy rapport to engage cross-selling, promote offers and  foster a family of loyal customers.
Retail Customer Journey Map
You can maximize retail supply chain profits by following the typical customer journey map. It starts with the awareness stage, during which the customer becomes aware of the existence of your brand or products. This is based on advertisements, recommendations by other customers and reading online blogs.
During the engagement phase, the customer has been introduced to your brand based on reviews and feedback. Once the customer visits the store, the decision to purchase is influenced by product availability and price points.
This is an opportunity to maximize sales by easing the checkout process in well-managed queues. A friendly staff that answers queries increases customer satisfaction services. When customers are provided with flexible curbside pickup and delivery options, they are more likely to choose your store. 
The post-purchase period is crucial in determining if it was a one-time purchase or if you have a returning customer. During the retaining phase, offer assistance regarding a purchase, send personalized offers via SMS and emails and extend feedback surveys. Advocacy and word-of-mouth marketing provides a long-term association of satisfied customers with your company.
Public Offices Customer Journey Map
Government-owned sectors, such as the department of motor vehicles (DMV), have a multitude of customers. The importance of customer experience in the DMV offices is pushing public agencies to improve the journey for their customers.
The most common touchpoints for DMV include personal inquiry, documenting vehicle purchases, and post-sales services. Installing biometric-enabled self-kiosks saves consumers from queues and complex interdepartmental procedures.
How to create a customer journey map design that applies to different industries
Multiple theories explain consumer journey models. Although each business is different, we have listed the top seven rules to help you adapt customer experience maps for your user's experience.
List down the KPIs you want to improve and the benchmarks
Create a customer persona
Understand the mapping process of your business
Work through assigning the journey to the map
Find the areas that are affecting your KPI benchmarks
Find a solution to improve your customer journey
Use surveys to collect feedback
Let's discuss the impact each stage has on the outcome of custom journey mapping.
Step 1 – List down the KPIs you want to improve and the benchmarks
Defining your company's milestones according to the mission statement is the initial step in mapping the customer journey. Next, identify the area of improvement and initiate cross-collaboration to add to the user experience.
Step 2 – Create a customer persona
It is recommended that companies design a user persona for all products and services. For example, you should prepare journey maps for B2B and B2C services. This product persona will help you to offer unique services and prompt solutions to your clients.
Step 3 – Understand the mapping process of your business
Customer journey mapping starts by individually analyzing more minor phases of the journey. The most critical questions in the feedback form can be based on connection with the brand, attraction to get them to invest, service, and retaining customers.
Step 4 – Work through assigning the journey to the map
A journey map should be designed based on the closest personal experience of your users. This can be simulated by doing a thorough Google search, exploring social media for reviews, and replicating the user's knowledge until they purchase. It requires you to consider each touchpoint from a buyer's perspective. You must test the mapped journey multiple times to design the most realistic one.
Step 5 – Find the areas that are affecting your KPI benchmarks
Explore all factors that act as a hindrance to achieving the targetted KPIs. This will allow you to strategize factors that impact your business the most.
Step 6 – Find a solution to improve your customer journey
Data analysts can use tools like Google Analytics to expand the research and thoroughly update the journey maps.
Step 7- Use surveys to collect feedback
Customer experience maps based on consumer behaviour assumptions give a false image of business growth. To factor in your customer's opinions, you must gather information about their experiences on multiple channels and private forums.
Customer Journey Mapping Templates
After learning about the touchpoints of customer experience journey mapping, it is time to design a journey map for your company.
Customer journey maps should include customer experiences, stakeholders, business goals and KPIs. Each customer journey map is based on five stages, which can be modified to suit any business model. Let's dive into the details of each step:
1. Pre-visit
Awareness
A customer's journey with your company begins before visiting the facility. The customer becomes aware about the brand through word-of-mouth marketing and advertisements.
Business goal: Increase awareness
KPI: Maximum number of individuals reached
Evaluation and Consideration
After being introduced to your brand, the consumer will actively compare and evaluate alternate brands to choose the best available one. Next, the customer will plan to engage with the company based on the variety of products and services offered.
Business goal: Maximize customer engagement
KPI: Capture new customers
2. In-store Experience
Engagement
The customer makes a purchase or chooses a service with your company. They look for accessibility to products, easy return policies and short wait times in queues. and importantly, they want an impeccable customer service experience which answers queries at every stage.
Business goal: Increase sales
KPI: Shopping cart value
3. Post-sale
Retention
After using the service, the customer decides if the product satisfies their needs and meets expectations.
Business goal: Customer satisfaction services
KPI: Product ratings
Advocacy
The last phase of the journey involves customers sharing experiences, be it negative or positive.
Business goal: Building long-term relations with customers
KPI: Cusomter retention rates
We have put together a sample of customer journey maps for a retail company. It highlights some interactions of consumers' experiences with the business. Pair the stages of the journey maps with the template to design the best one for your company!
Customer Journey Improvement Solutions
The ultimate goal of company owners is to provide consumers with an unmatched experience. If you have been looking for an all-in-one answer to customer journey pain points, let me introduce you to Wavetec.
We have summarized several practical ways to improve customer satisfaction and increase acquisition. Keep reading to learn about the physical and digital solutions that your company can make and yield immediate results.
Customer Feedback and Surveys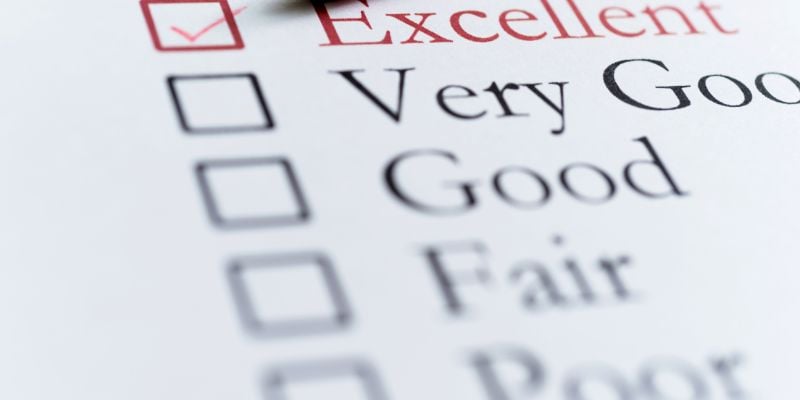 ​Knowing your customer's preferences will help you match services with their expectations. Opinion Plus, a customer feedback solution, documents real-time feedback. You can use data to train your sales team and customer service department to proactively get back to your customers with solutions.
Long-term growth measures can be estimated using Net Promoter Scores (NPS). Such survey-based research tools can quantify client experience. The scale is divided into three groups: promoter (score 9-10), passive (7-8), and detractors (score below 6). NPS surveys allow you to capture micro and macro feedback to improve customer satisfaction.
Monitoring Dashboard Analytics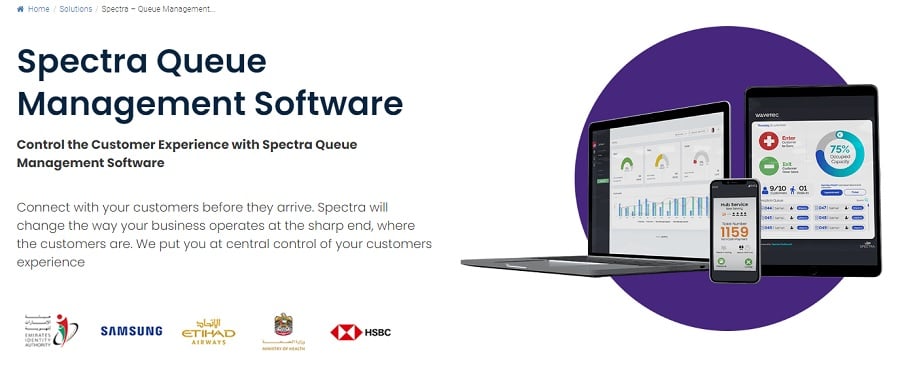 Analyzing customer data with employee performance is necessary to take practical steps in improving the customer journey. The Spectra Reporting and Dashboards is an analysis software for comparing data. It has additional features of integrating virtual queue management, booking appointments and ticketing, and receiving feedback. Satisfied customers spend more time exploring your business or service, increasing revenues.
Consumer Engagement
Customer monitoring for in-store clients can be based on improving queues and streamlining appointment scheduling. Wavetec offers self-service kiosks, digital signages and queue management systems to regulate your business practices.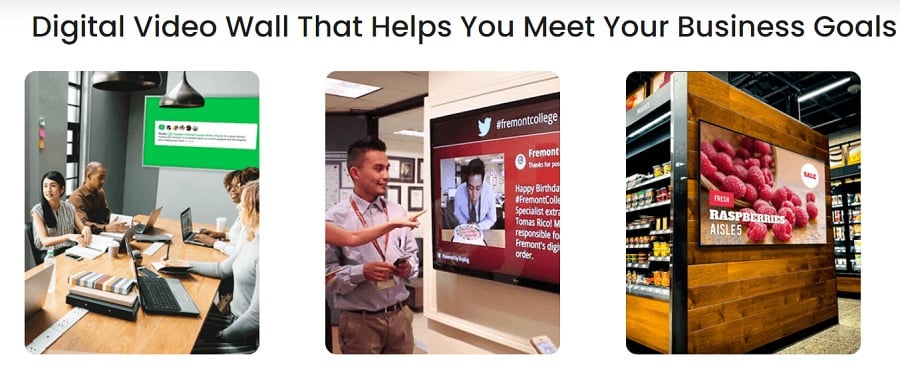 Wavetec launched WhatsApp queuing, a virtual queueing software which allows customers to scan a QR code and start an interactive conversation. During this chat, customers can choose a product, a service, or an appointment for which they receive an e-ticket. They get real-time notifications about wait times and queue status. This allows customers to have their queries answered while continuing their tasks.
You can invest in omnichannel customer service to give a personalized experience to your clients. This service combines multiple communication channels, such as live chat, messenger, calls, email and social media.
Multiple industries use the people counting system to regulate in-store traffic. By using this technology, you can monitor real-time occupancy and send analytics and alerts when overcrowded.
Investing in freebies, lucky draws, and giveaways can maximize customer engagement that temporarily captures the response. You must acknowledge your customers' contribution by offering them exclusive discount codes, loyalty reward points and early access to sales or new collections. Customers who feel emotionally attached to your brand or service will return more often.
Conclusion
This review is a comprehensive guide to understanding the customer journey map definition in context with modern business practices. You can design customer journey maps that identify the touchpoints and KPIs and create an effective sales funnel. Sample journey maps have been included to help you design accurate maps.
Resolving the customer's issue is the primary goal of the customer journey map. Wavetec's queue management software, WhatsApp virtual queuing, customer feedback surveys, and Spectra dashboards can enhance customer experience with your organization.
Start designing customer journey maps to understand consumer perspectives!