Essential technological innovations for customer experience
Wavetec's omni-channel kiosks provide you the flexibility to embrace emerging technologies and reduce operating costs. Empower your customers to avoid queues, and use self-service kiosks to choose between services, place orders, check-in for appointments, open a bank account, take a ticket to join a queue or simply find the way.
Designed and manufactured emphasizing on customer experience at the core, the kiosks feature a contemporary design and offer innovative self-service options, while transforming customer experiences at banks, telecoms, airports, restaurants, government service centers, DMV stations, retail shops, and hospitals.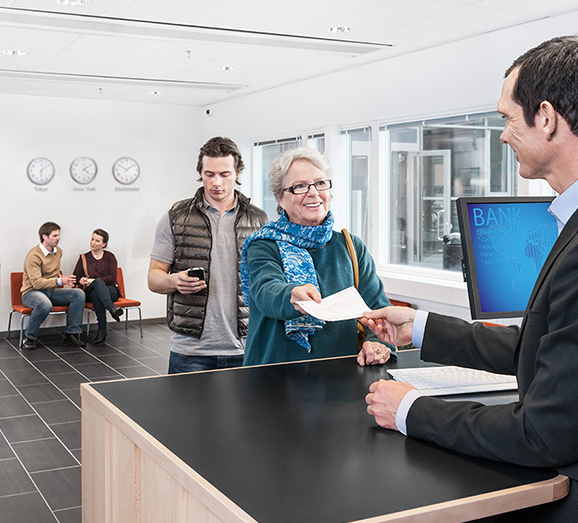 OUR SOLUTIONS CAN HELP YOU
SELF SERVICE SOLUTIONS
Innovative solutions that help institutions to implement convenient customer-centric technology that provides
exceptional customer experience across digital and physical channels
ACCOUNT OPENING KIOSK
An easily customizable kiosk with a modular design and
functional components to perform a comprehensive set
of banking functions. With and end-to end process, the kiosk
eases bank account opening process, prints instant bank cards
and enhances customer experiences.
Encrypted keypad
ID scanning
Customized, instant card printing
Cash deposit functionality
Receipt printing
Supports Mobile Wallets
Seamless integration with core banking applications
Optional Features
Signature Pad
Connection to Virtual Assistant
NFC supported kiosk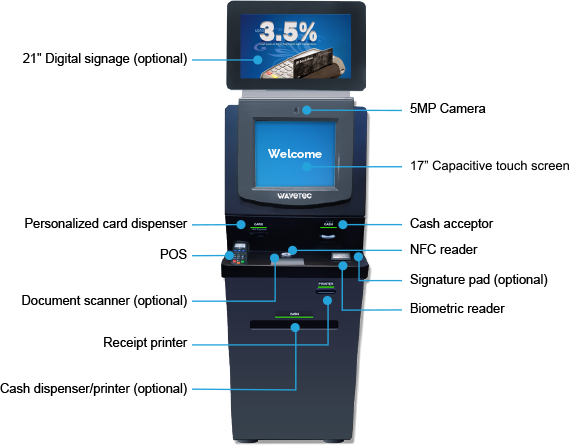 SIM Card Dispensing KIOSK
Efficient and automated solution, built to revolutionize the concept of Telecom service delivery to customers. The kiosk optimizes SIM card purchase transactions, reduces costs and drives revenue opportunitis.
Kiosk embedded with webcam for security
Biometric Verification
Cash based transaction
Supports mobile wallet
Ability to dispense and active new SIM,
renew SIM, top-up mobile balance, or change
telecom package plan.
Cash withdrawal