Essential technological innovations for customer experience
Wavetec's omni-channel kiosks provide you the flexibility to embrace emerging technologies and reduce operating costs. Empower your customers to avoid queues, and use self-service kiosks to choose between services, place orders, check-in for appointments, open a bank account, take a ticket to join a queue or simply find the way.
Designed and manufactured emphasizing on customer experience at the core, the kiosks feature a contemporary design and offer innovative self-service options, while transforming customer experiences at banks, telecoms, airports, restaurants, government service centers, DMV stations, retail shops, and hospitals.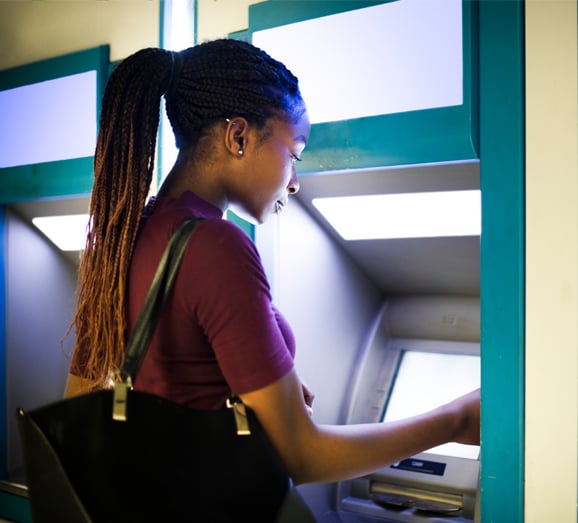 OUR SOLUTIONS CAN HELP YOU
SELF SERVICE SOLUTIONS
Innovative solutions that help institutions to implement convenient customer-centric technology that provides
exceptional customer experience across digital and physical channels
ACCOUNT OPENING &
INSTANT CARD ISSUANCE KIOSK
An easily customizable kiosk with a modular design and
functional components to perform a comprehensive set
of banking functions. With an end-to end process, the kiosk
eases bank account opening process, prints instant bank cards
and enhances customer experiences.
Encrypted keypad
ID scanning
Customized, instant card printing
Cash deposit functionality
Receipt printing
Supports Mobile Wallets
Seamless integration with core banking applications
Optional Features
Signature Pad
Connection to Virtual Assistant
NFC supported kiosk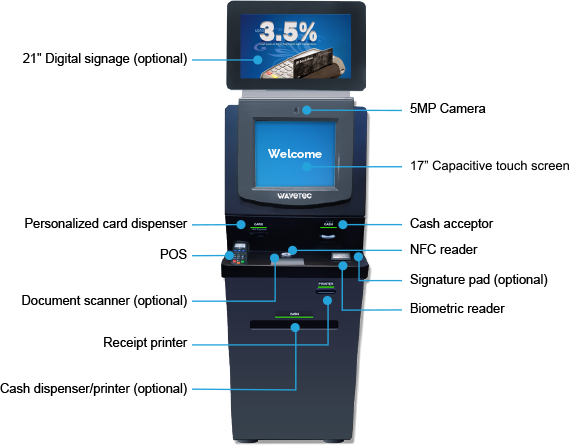 SIM CARD DISPENSING KIOSK
Efficient and automated solution, built to revolutionize the concept of Telecom service delivery to customers. The kiosk optimizes SIM card purchase transactions, reduces costs and drives revenue opportunities.
Kiosk embedded with webcam for security
Biometric Verification
Cash based transaction
Supports mobile wallet
Ability to dispense and activate new SIM,
renew SIM, top-up mobile balance, or change
telecom package plan
Cash withdrawal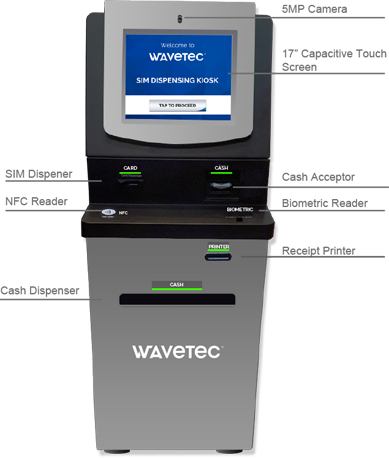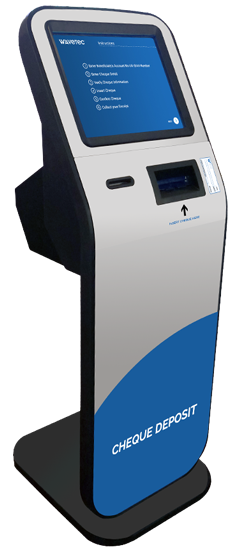 CASH-IN KIOSK
The kiosk is based on a secure and flexible platform,
which includes a biometric scanner and a bunch note cash acceptor.
With the Cash-in Kiosk, you can allow your customers to
easily pay bills and deposit money into their bank account or mobile wallets.
Fund transfer and bill payments
Cash deposit and withdrawal functionalities
Bunch note cash acceptance and extra-large note capacity
Flexible workflows supporting multiple transaction flows
KYC via biometric and video facial recognition
Encrypted keypad for secure transactions
Biometric verification integrated with government bodies
Instant receipt acknowledgment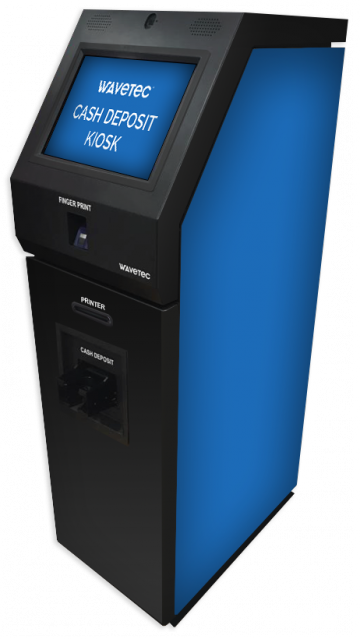 SMART VEND
Wavetec's intelligent product vending machines allow deployment of a turnkey product dispensing solution. With sophisticated elevator based dispensing technology, that allows dispensing of even the most sensitive electronics and a field tested inventory and content management system – you maximise customer touchpoints and product availability.
We work with you to fully customise hardware and software to your requirements, such as integration with existing systems, customised cash handling or biometrics.
50" full LCD touch screen support
Elevator based product dispensing for sensitive electronic items
EFT-POS device integrated for card payment
Proximity/motion sensor to detect presence of customer
NFC reader
Card payment terminal: EMV + NFC
Pinpad
Optional biometric verification
Optional cash acceptor or recycler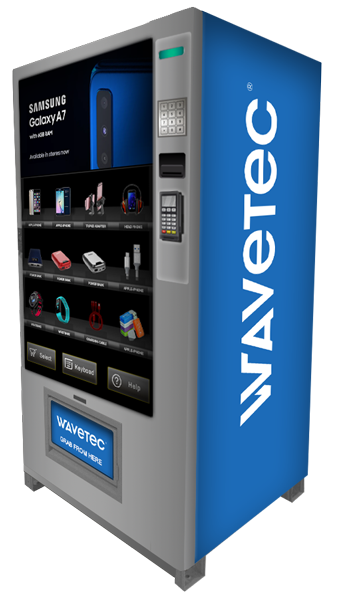 SMART CONNECT MIDDLEWARE
The Smart Connect Middleware solution allows a consolidated and graphical view of the status of the machines as well as sales covered by the company.
Smart connect provides a single integration point for all kiosks and devices, accelerating returns on investment by improving device availability, driving replenishment efficiency and dramatically reducing time to market for new initiatives.
Real-time device monitoring and asset tracking
Security from the ground up
Modular, extensible platform with modules for Telcos and Banks including inventory, trip management and predictive replenishment
Device agnostic – Open API specification for seamless integration with existing devices
Bundled datawarehouse