WhatsApp


Stock Market Solutions

Engage with your audience on the platform they love
WhatsApp Stock Market Solution by Wavetec, is an advanced, secure and scalable communication channel for Stock Exchanges and brokers to engage with investors, disseminate information, share financial news and latest events updates and support the onboarding process.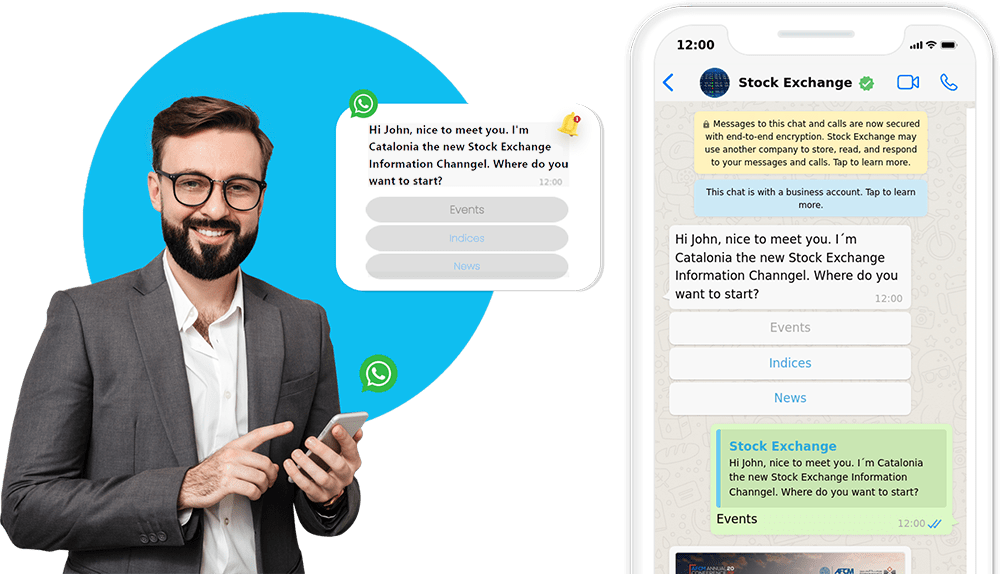 Why Choose WhatsApp Stock Market Solution?
Integrated with WhatsApp Business API, it helps the industry associates sail safely through the new normal enabling relevant, timely and valuable engagement. Whatsapp stock market solution is integrated with the main trading platforms and financial news providers, it has become an essential solution for the modern digital world
WhatsApp stock market solutions offer thorough assistance that simplifies your client communication experience.
Disseminate relevant and timely information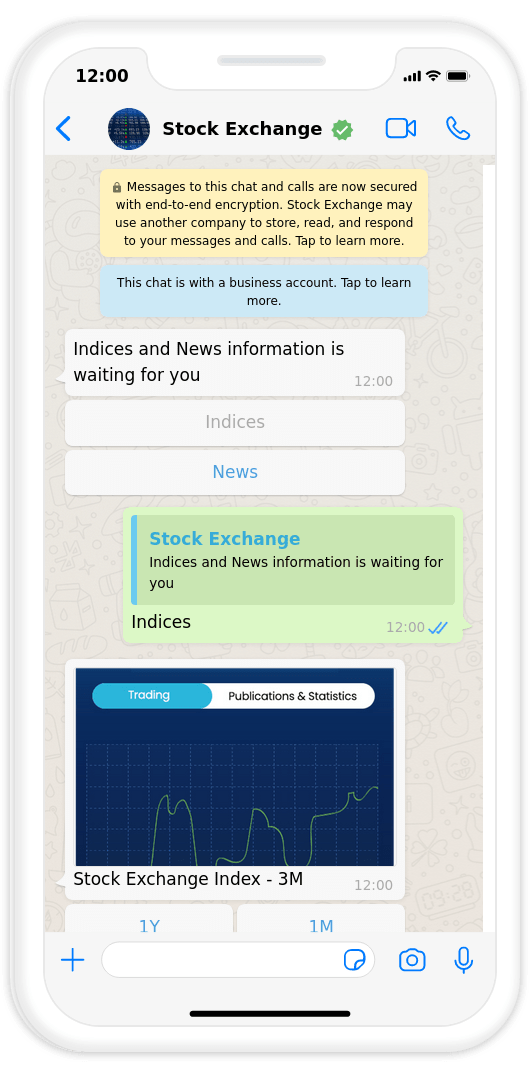 Enhance investors' engagement by personalized communication strategies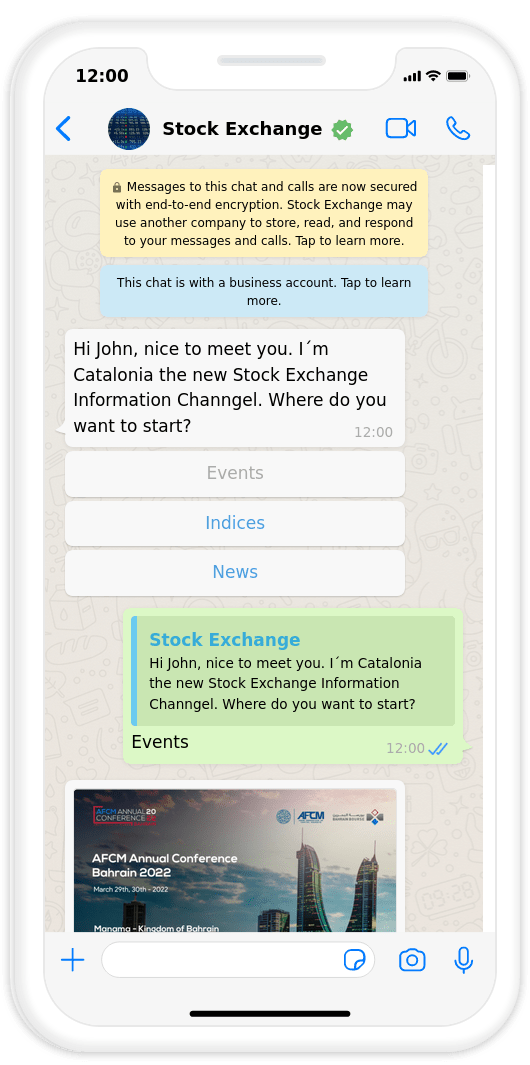 Grow account opening and KYC rates by smooth investors' onboarding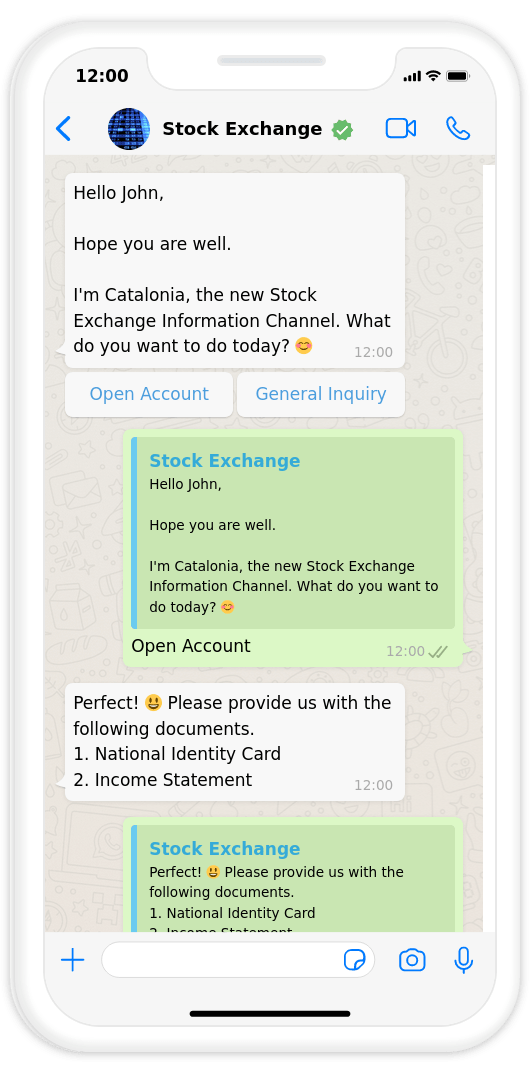 Disseminate relevant and timely information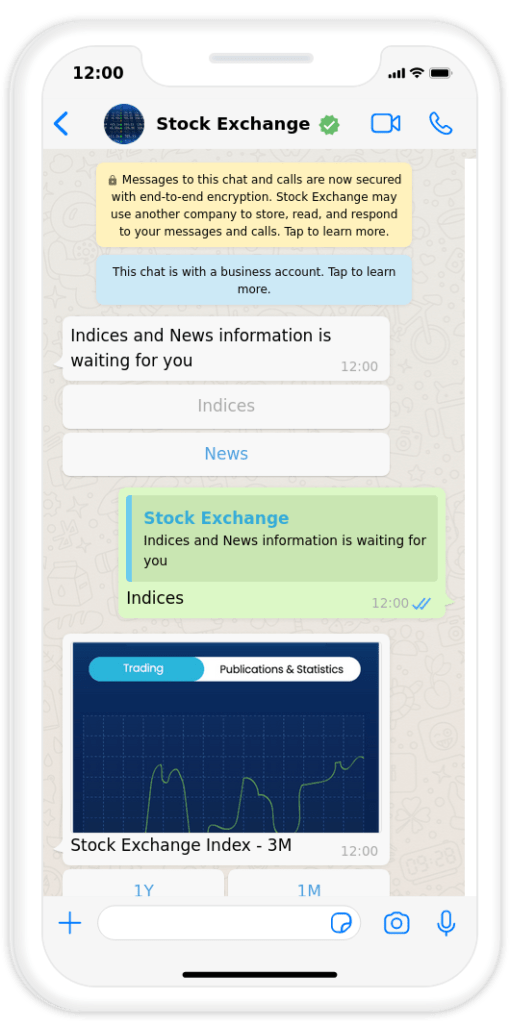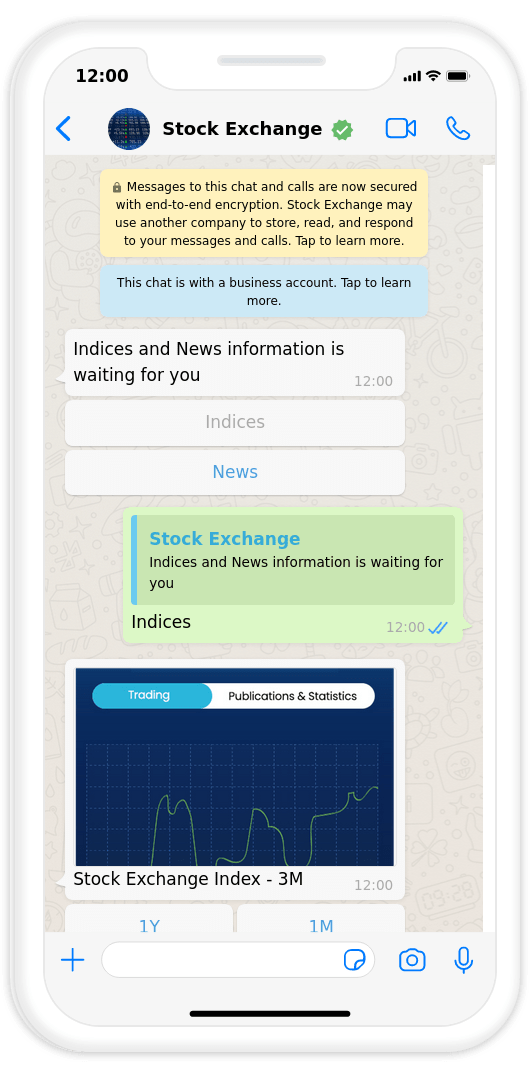 Enhance investors' engagement by personalized communication strategies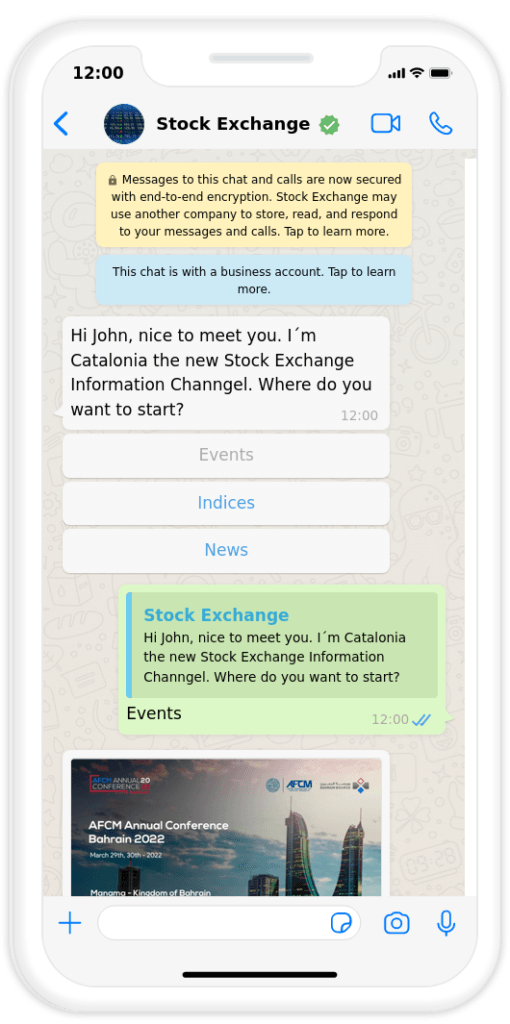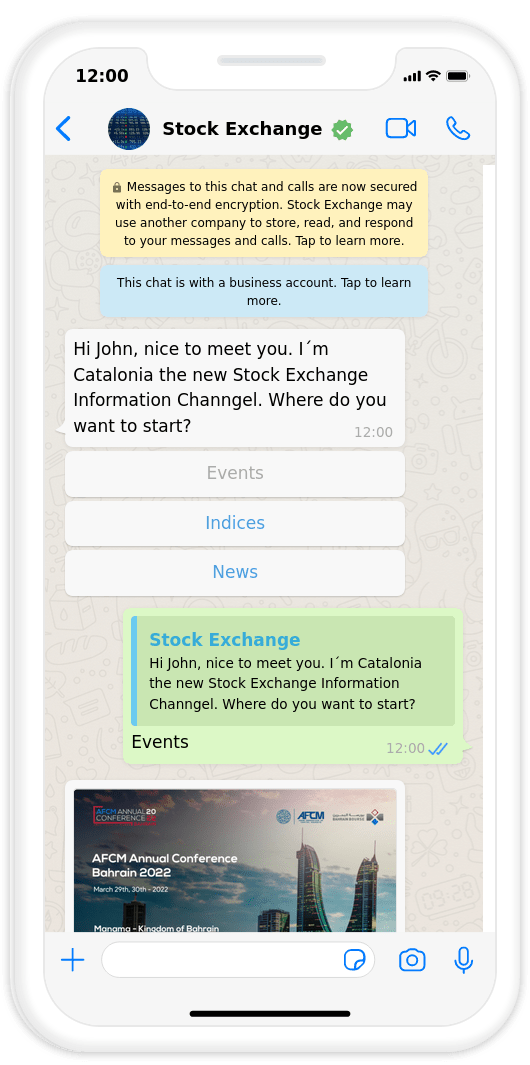 Grow account opening and KYC rates by smooth investors' onboarding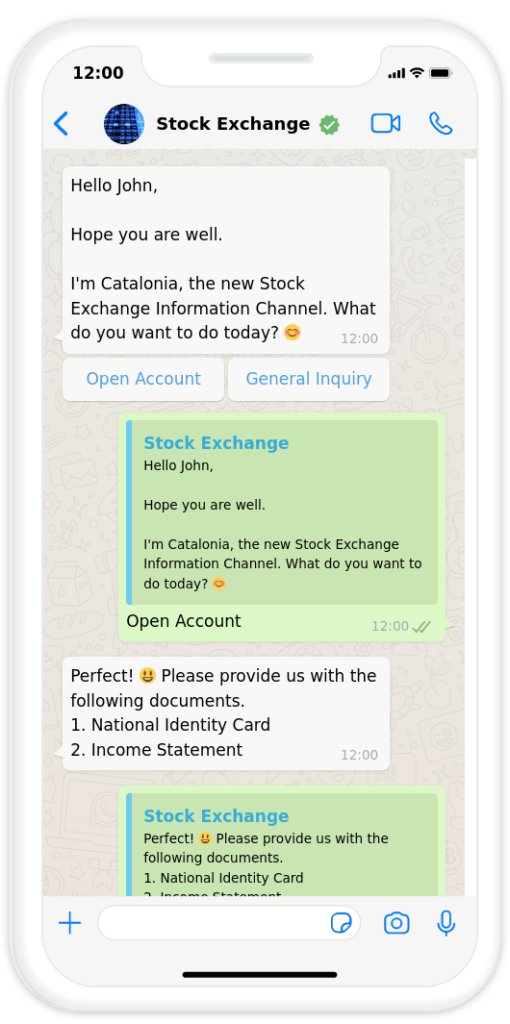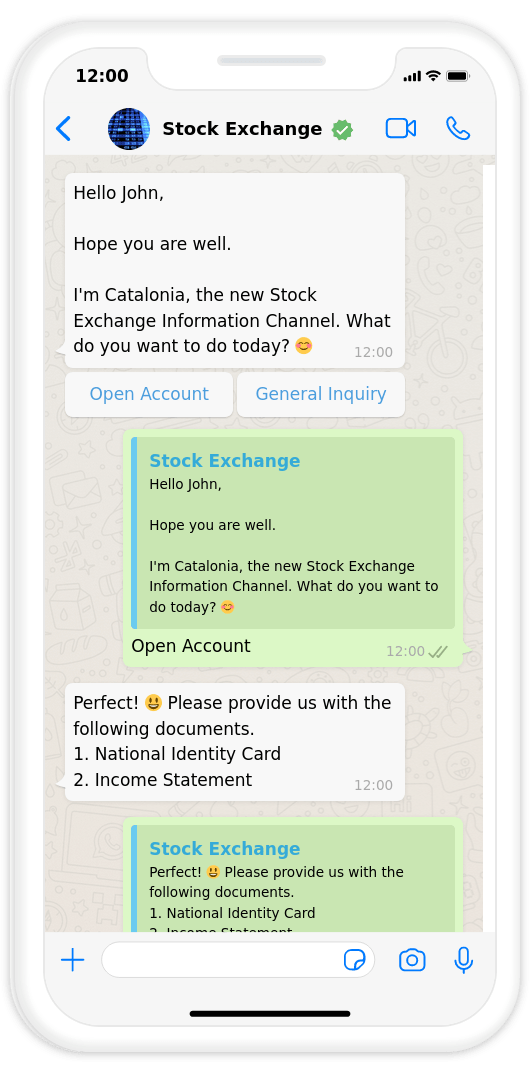 Manage Effectively, Monitor Exceptionally
Now you can easily perform convenient Information sharing 24/7 while ensuring visibility of data that is shared with individuals at the same time.

Integrated with Major trading platforms
To get real-time updates related to trading and changes in the stock market, WhatsApp Business for API Stocks and Securities Exchanges is connected with major trading platforms.

Easy Customer Feedback
Integrated with Wavetec's customer feedback solution, the platform lets you design surveys to discover your customer's true voice. Our solution provides various templates and ensures your survey is tested, keeping your feedback results robust.

API Security and Stock Exchanges Notifications
Get instant push notifications of any news update of the financial industry. Calendar notifications can also be configured and alarms can also be set to ensure you don't miss the News. Businesses can configure notifications based on actions taken, updates, changes that occurred, and much more.

Endless Marketing
Integrating with Wavetec's Ad platform, businesses can manage and customise promotional messages, announcements, listings, IPOs, and much more, thereby connecting your customers at a deeper level with your brand.

Analyze
Gather insights from a range of dashboards and reports courtesy of our Spectra reporting platform. Uncover trends and identify opportunities to improve the customer experience.
Data Privacy

and

Data Security
We take data privacy and data security earnestly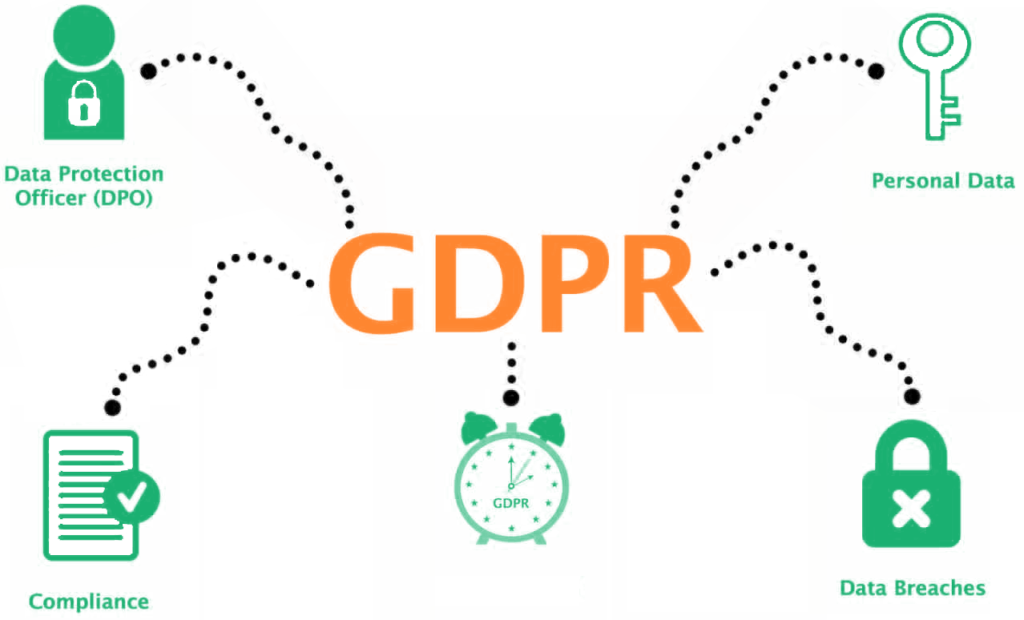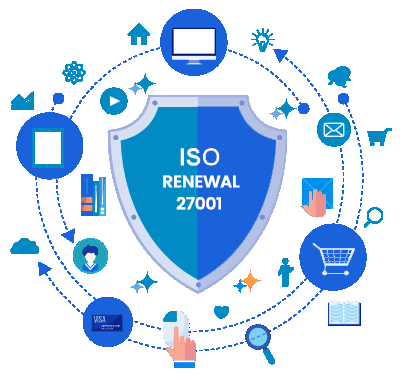 Association with Leading Brands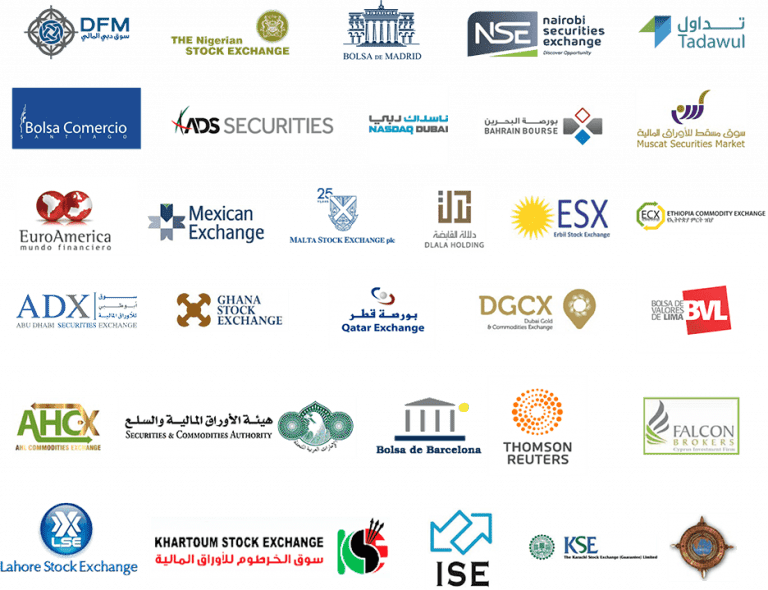 Official Partners of WhatsApp
Wavetec Expands Official Partnership with WhatsApp as a Business Solution Provider.
With a massive global footprint and an impressive clientele, Wavetec WhatsApp API solutions for businesses across the globe offers:
Customized WhatsApp solution to your business needs
Development and Support throughout the integration process
Realtime conversation monitoring and reports of essential information
Guaranteed Data privacy and security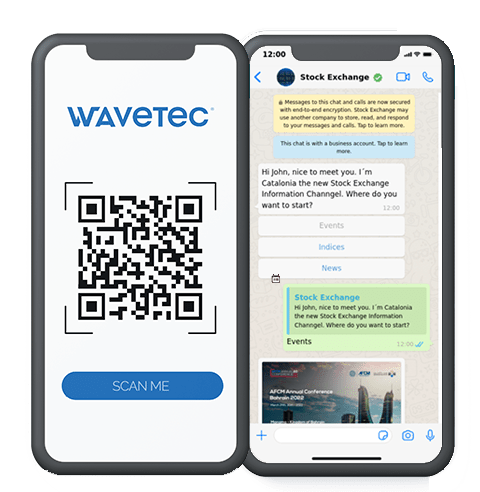 Game changers in the capital markets
Customer-Centric
Approach
Wavetec WhatsApp Stock Market solution puts the customer at the center. It leverages the way the investors are already interacting and communicating in their daily lives, ensuring easy access to technology, fast deployment, and high adoption rates.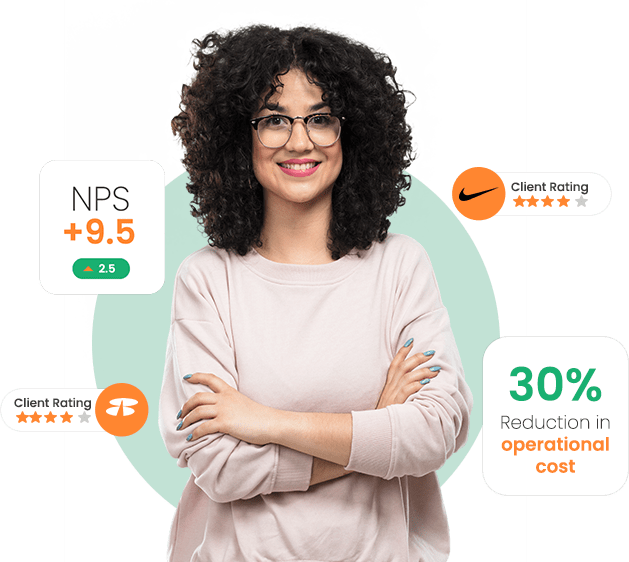 FAQs
Can you buy stocks on WhatsApp?
WhatsApp Stock Market Solution facilitates businesses to either invest in mutual funds or to track funds transfer details as well as financial news and other essential reports, at their fingertips.