About Huduma Kenya
Huduma Kenya is a One Stop Shop initiative taken by Government of Kenya which aims to transform public service delivery mechanism. Under one platform, citizens have access to over 20 different public services and information from various ministries and government institutions. This enable citizens to access and pay for government services electronically in order to cut corruption and bureaucracy.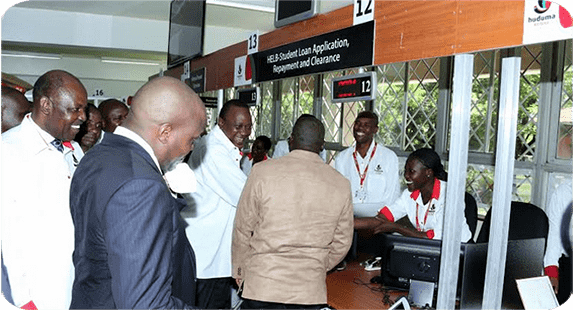 President Uhuru of The Republic of Kenya opening Huduma center in Kisumu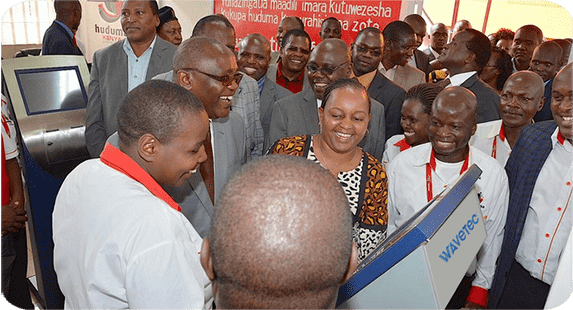 Anne Waiguru, Cabinet Secretary for Devolution and Planning tours the Kisii Huduma Centre
Project Requirements
Recently Kenyan government have opened Huduma Centers to help citizens have direct access to various public services and information such as driving license, identification, business name registration, payment of electricity payments and many more and all this running from head office over the web in central controlled environment. The most important part of the project is to have access of remote server and running entire operations over the thin client connecting with session of all ministries under one roof.
Our Solution
After pilot demos and careful understanding of workflow at Huduma centers, Wavetec designed and implemented a complete WaveSphere solution over thin client session system with combination of real time monitoring, central digital signage and taking on the spot customer feedback system with alert mechanisms. The project was initiated on 20 Huduma Centers which was completed in a record time of 3 months. Wavetec's expertise and drive of creating exceptional customer experience is based on prior projects for organizations, in various sectors. WaveSphere is a service area model which is established on three pillars of the service experience: organizing, engaging, and measuring.
Organizing
Element of organizing solely emphasizes on achieving efficiency in the service area. After in-depth understanding of retail space and customer footfall at Huduma Centers, Wavetec installed a complete queue management system which comprised of dual printer touch screen kiosks, counter display units and customer calling system. The entire system was custom designed for Huduma Centers taking into account their specialized work-flows. As citizens have access to over 20 different public services, these centers experience very heavy customer traffic. For this 40 counters were established to cater to this high influx and all were integrated with Wavetec's queuing system. To keep things more centralized for accountability and security reasons, Wavetec also implemented 40 thin client desktop teller station units which are used to call customers on prescribed counters.
Implementation of a customized virtual queuing system at Huduma now allows customers to be served by the right teller or the service specialist as per the user's requirement. Walk-in customers at all 20 centers now experience a seamless flow as there is a clear structure and procedure in place. Measuring, managing service time at each stage of customer journey is now made more streamlined therefore avoiding bottlenecks, and communicating professionalism to stakeholders. Staff at these service centers has now become more methodological and systematic as real-time reporting and accountability mechanisms are in place.
Engaging
Advancement in technological solutions has now allowed organizations to design and organize a more engaging experience. This has become possible by integrating both hardware and software solutions intelligently.
The second most important element in making a service area more efficient is by captivating the customers. This is achieved by Wavetec's Digital Signage Solution- Donatello, which allows corporations to connect with its customers through an exceptional network of digital displays. This was primarily used at Huduma centers to provide customers the right message, at the right time by displaying queue status information followed by interactive content such as HD videos, images and live TV.
Huduma Centers are now leveraging on this system and using it to disseminate important information such as emergency messages, important news, public safely messages, disaster warnings and policy changes. As customers are waiting for their turn, they are now kept informed and engaged, therefore making the overall service experience more pleasant.
Creating an exceptional service experience does not end by just making the retail space more informed and engaged. The final stage is to measure all activities and uncover detailed customer insights which will then allow you to increase operational efficiency and also to serve your customers better. At Huduma Centers, Wavetec installed a cloud based reporting and feedback mechanism which was then integrated with the queuing system. A total of 25 Opinion Plus-customer feedback systems were installed at each branch which enables the managers to obtain valuable customer insight by integrating all touch points and channels Huduma. Enabling integration with queuing system allows managers to directly identify which customers were not served properly therefore making sure employees and service managers are properly trained to meet customer expectations.
The second aspect of measuring is predicting future trends and uncovering current pitfalls of the service. For this Wavetec deployed a complete business intelligence module which comprised of reporting systems, equipping Huduma senior management to take real-time business decisions, therefore allowing them to enhance their service scape and customer experience. The web based reporting system give is centrally configured which can be accessed from any location. Business intelligence tools such as Live Interactive Dashboards, Queue and Employee performance reports allows Huduma's senior management to learn more about their service centers and find ways to improve operational efficiency.
Results
After a successful implementation of WaveSphere solutions at Huduma Kenya, customers are now experiencing smoother and organized experience at service areas as they are able to make better use of their time, minimize waiting, and have a clearer picture of the steps to follow for meeting their needs.