---
Cultivating refined customer experiences
Customer needs and expectations are constantly evolving, and thus customer feedback is vital for customer centric businesses. Wavetec's Opinion Plus is the key to extract data about customers' experiences and find out what they expect from you. Opinion Plus is an advanced customer feedback system that serves to bridge the gap between you and your customer's perceived value of your service. Moreover, it also leverages you to use the feedback to master the customer service experience.

Measure customer satisfaction in
real time

Follow-up
staff and branch
performance

Show Commitment
to Service
Improvement

Take strategic
decisions based
on dynamic reports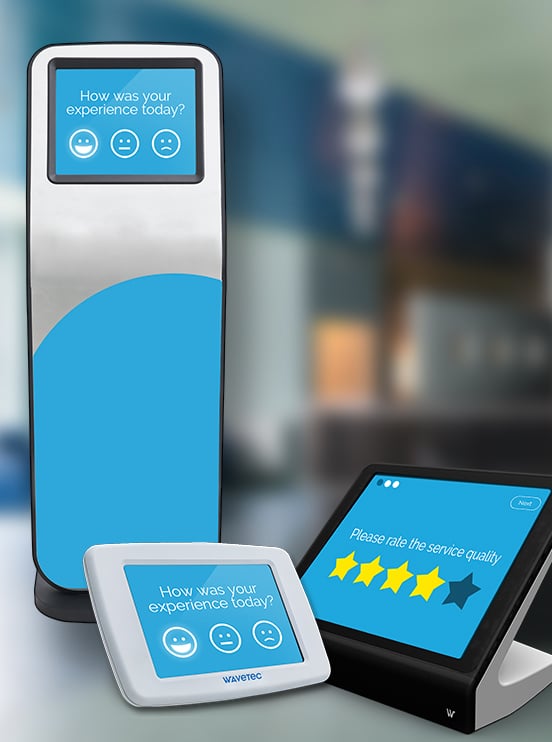 ---
Allows targeted messaging
---

---
Helps companies benchmark performance
---

---
Manages customer feedback in real-time from a central point
---

---
Increases customer loyalty
---

---
Improves customer retention
---

---
Monitors and measures real-time employee(s) performance
---
Enhance Customer Journey
Product Features
Integrated
---

---
To enable interface with external devices, Opinion Plus seamlessly integrates with other technology platforms including Queue Management Systems, POS Terminals and CRM Systems.
---
Interactive
---

---
Understanding the customer/organisation relationship is paramount. Opinion Plus provides organizations with instant feedback, which helps to strengthen the relationship and improve service quality.
---
Centralized
---

---
In order to support access to data from any location, Opinion Plus can also be connected to a private cloud platform.
---
Dynamic
---

---
Intelligently designed, Opinion Plus displays targeted messages during service to customers – communicating customized, audience specific messages.
---

Find more solutions for your industry