With an employee force of about fifteen thousand employees, the Dubai Police is undoubtedly the best security establishments in the local, Arab, and international spheres. The modern Arab Police Force with high-level of educational qualifications in various specialties and training expertise exhibits standards well above the expected professional behaviour.
Queue Management Solution for Dubai Police
Today the excellence of Dubai Police is not just limited to responsibly delivering their duties but also being the pioneers in facilitating the most modern visitor flow management solution. The reliability and efficiency of Wavetec's Electronic Queue Management Solution was unquestionably the most preferred choice for the authorities at Dubai Police. Keeping in view their special needs, Wavetec provided a unique and one of a kind solution to correlate the nature and technicalities of the work environment in which Dubai Police keeps pace with emerging technologies.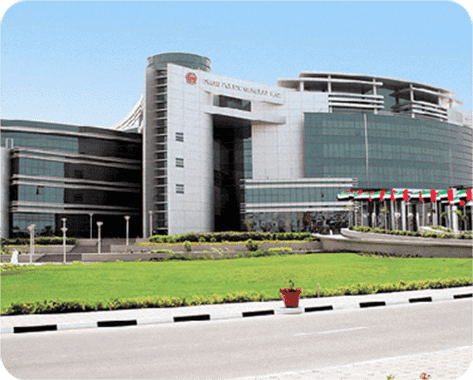 A Unique Solution providing Value Enhancing Opportunities
Adjusting to the high end customized requirements and escalating preferences of Dubai Police, Wavetec has helped it in managing the flow of its visitors in a highly sophisticated manner. Added features with unique combination of our Queue Management products helped Dubai Police leverage from optimum benefits.
"The Dubai Police have one of the highest footfalls and busiest work environment across the Middle East. We know this and what we designed for them was specially tailored to lessen their stress levels and allow them to facilitate the heavy footfall of visitors."
Tobias Bessone, General Manager Wavetec, Middle East
Serving with Experience & Engagement
Our solutions provide effective Experience and Engagement opportunities to the staff, this gives them better chance to treat members of the public and colleagues with more respect, courtesy and greater individual attention.
Our Systems are installed in more than 12 different police stations, in which some of them are the busiest Customer Service Areas across the whole of UAE. In such cases the footfall is very high and the average varies from 600 to 1,100 visitors a day.
Dubai Police Stations use a well suited combination of two or more Ticket Dispensing Unit KIOSKs, Counter Display Units, Central Reporting System, Software based Teller Station Units and LCD Plasma Screen with Media Controller in all the branches. Addressing to the challenges being faced at Dubai Police it was also provided an additional facility of Comprehensive User Management Application which was designed keeping in view the complex requirements of Dubai Police.
Exclusivity for countless Benefits
We at Wavetec realize that Dubai Police works in an environment where the people whom they are dealing with come from sensitive situations like in cases of victims of thefts, robberies, assaults or any other unpleasant event. It is highly necessary that the people are treated fairly and the Police staff tries the level best to resolve their complaints whenever people contact them. Wavetec's QMS provides top end solutions to achieve this vision and core values and helps them serve with maximum courtesy and integrity.
With the concept of virtual queues the long physical queues have met their extinction and the long waiting queues have been replaced by comfortable, engaging and interactive lively waiting. This has spread a fresh breeze of self-control, comfortability, patience and a stress free attitude among the staff officers even in the busiest of office hours.
The authorities at Dubai Police wanted to have an interactive environment and to gage the response of the visitors. For this reason two KIOSKS were installed in every station in which one is at the arrival point to facilitate ticket issuance and the other KIOSK is used as a Customer Feedback Unit which helps Dubai Police in getting the feedback from Customers and hence giving Dubai Police an opportunity to strengthen their ties and address the concerns of the people.
There are not enough good things said about the people that put themselves in danger every day for us to stay safe at home. Wavetec team wanted to contribute in some way, to get the right kind of acknowledgement and appreciation for these officers. LCD Plasma Screen with Media Controller helps Dubai Police to display high resolution video content to present information, updates and recognitions for the ongoing achievements in the force. The two KIOSKS in each of the Dubai Police stations also display media information when the KIOSKs are not being used by any visitor's i.e., when they are in idle mode. Wavetec's Media Controllers also convert the LCD TVs into a Status Display Unit which shows live transmission along with the queuing information, providing a cutting edge comfort experience to the visitors. This also reduces the perceived waiting time of the visitors and they are now relatively much more relaxed.
Dubai Police wanted the Central Reporting Database to be in Oracle, therefore as part of their requirement we used Oracle as a back end database integrated with our Systems. Our Customer Database Management facility embraces a range of software or cloud computing applications designed to give large organizations rapid, efficient and remote access to customer data.
Police Stations often witness situations related to staff transfers, job rotations and temporary changes in job postings because of which an easily accessible system was needed to take account of this challenge. Suiting to this need Wavetec designed a Comprehensive User Management Application which allows the login accounts and other information of a police officer to be transferred from one branch to another branch. This means that with an effort of just few clicks the staff accounts are relocated to new stations or new categories.
The Station Performance Reports include the visitor's average waiting time, total number of complaints responded, peak working hours and all other necessary details ask required by the authorities. Wavtec's Real Time Monitoring and report generation facility helps the management to keep a vigilant peek on branch performance of different regions from one central location, mainly the Head Office or any other remote location.
The separate Counter Display Unit notifies waiting visitors about the counter status and the ticket being served on each counter. The solution is designed in such a way that every visitor arriving at the station is served by the best officer to deal with the particular inquiry registered on the Ticket Dispensing KIOSK. The Office staff is now well aware of the visitor's situation and most possible requirements even before the person actually turns up to the counter.
Dubai Police had a unique challenge in which they wanted a multi-lingual communication system, both in English and Arabic, due to the localization in Dubai Police. For that reason, Wavetec converted all the touch times for the customers in English and Arabic both. Considering the fact that the management of Dubai Police would be much more comfortable in viewing all the customer flow reports/reporting dashboard in Arabic. Hence, Wavetec provided them with an absolute multi-lingual system.
Dubai Police serves a diverse group of individuals across UAE. It is highly imperative that the office staff serving is flawless and the people visiting the branch offices are comfortable and relaxed right from the point they enter the station till the point where they leave the station premises. Wavetec's Software based Teller Station Units help police staff to call forward the next person as soon as they are free and can provide personal and individual time to every visitor. The stress of physical queues standing right in front of the staff has been taken away by Wavetec's Queue Management System.
What we believe
Providing turn-Key Solutions to Dubai Police was our part of contribution for those who risk their lives every day to protect our world and make it a better place. The police Law enforcement officers are never 'off duty.' They are dedicated public servants who are sworn to protect public safety at any time and place that the peace is threatened.