Go Cashless with our Cash to Card Kiosk
Meet Azimut's Cash to Card Solution
Enable customers to instantly convert their cash into a prepaid debit card.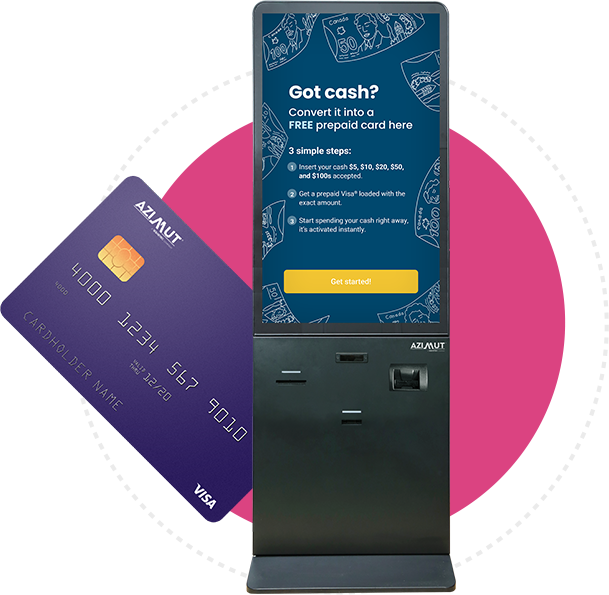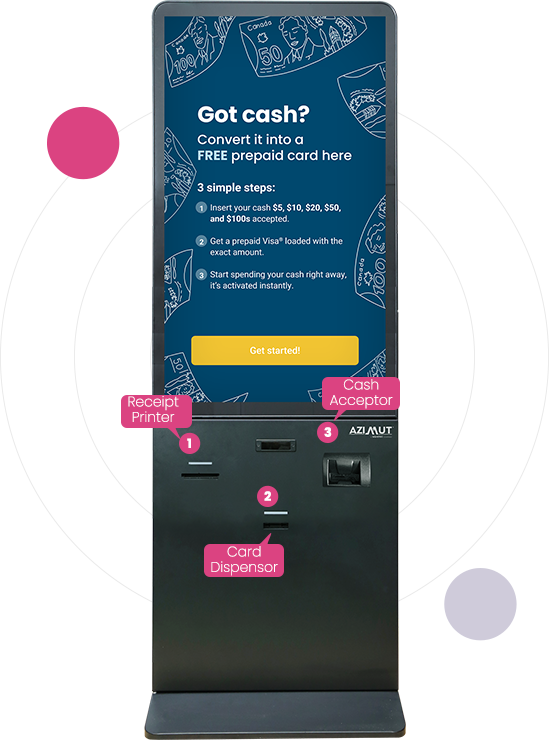 Going Cashless During the Pandemic
Many businesses and merchants decided to or were mandated to go cashless during the ongoing health crisis because physical currency proved to be a very easy way to spread the virus as it exchanged hands.
Both sellers and buyers suffered, as many individuals all over the globe are still unbanked or underbanked which means they don't have a debit/credit card or access to a mobile wallet. This alienated a good amount of people from being able to purchase goods and services from cashless only vendors.
This frustration birthed the idea of the Cash to Card Kiosk, a freestanding kiosk that allows customers to convert their physical currency notes into a prepaid, active EMV card. Here at Azimut, we were all in on this idea and pioneered one of the first deployments of these kiosks in a sports stadium in Toronto.
Cash to Card within 60 Seconds
Our kiosk helps customers go from cash to card in 3 painfully easy steps.
Insert desired amount of cash into the machine
Receive active EMV card with exact amount inserted
Start spending!
The kiosks are equipped with large 40" touchscreens that run a very easy-to-navigate UI which helps you go from cash to card with three taps of your fingertip and the whole transaction takes just one minute.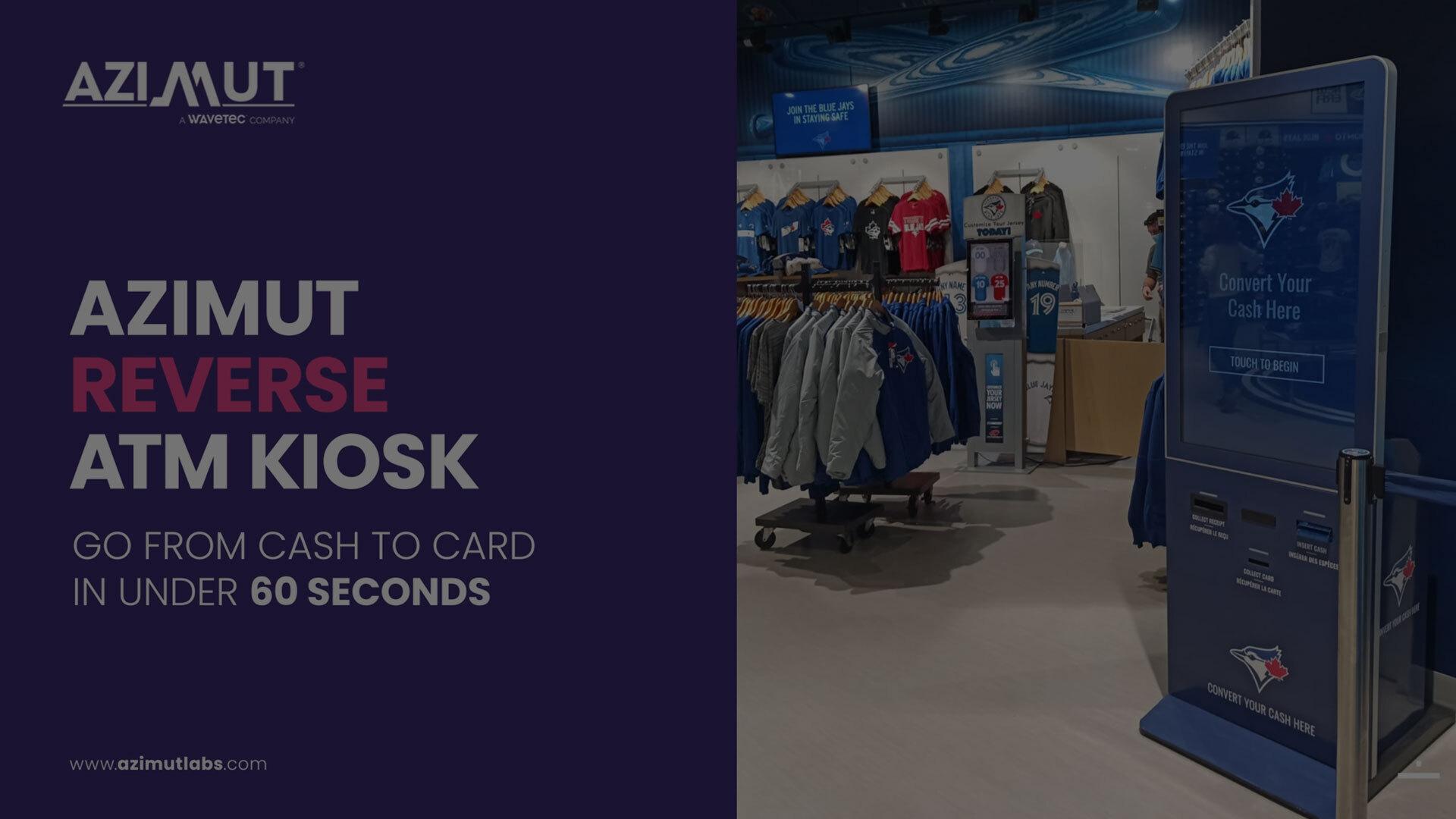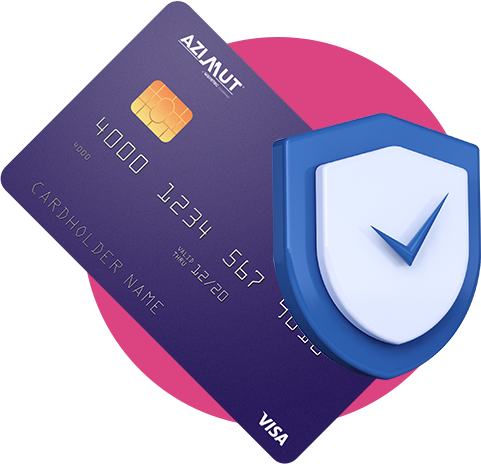 Tested Security
The cards dispensed by the Reverse Cash ATMs share the same security features as any other VISA or Mastercard. This means that these cards adhere to the same security and payment standards as any EMV card provided by your bank. This also means that the cards will be widely accepted by merchants all over the world.
Cash to Card ATMs

for Your Cashless Venues

Azimut's Cash to Card ATM technology promotes cashless venues for all by not alienating cash customers. Join the cashless revolution while remaining inclusive and accessible by all kinds of customers. The use case for this technology is endless and soon we'll see them pop up in all major public hotspots as cashless payments become the norm around the globe.
Sports stadiums around the world see a huge flow of cash through ticket sales, betting, food & drink sales, merchandise sales and so on. Although a good amount of people have switched to cashless payments, many still rely on physical currency and this makes transactions inefficient leading to long queues and congestion. Cash 2 Card ATMs can optimize these venues by offering cash customers a prepaid solution to their cashless woes.
Hotels are another venue that stand to benefit from the cash to card technology. Hotels can optimize their workflows immensely by going cashless but there are always customers that insist on paying with cash. Cash to Card Kiosks can help those customers and the hotel go completely cashless and streamline their operations.
Cashless Payments at Airports
Ever been stuck at a foreign airport for a long layover with no acceptable currency to purchase snacks or gifts? Cash to Card ATMs can accept foreign currencies and dispense prepaid cards that are universally accepted so tourists don't have to starve during layovers or exchange their currency at unfavorable exchange rates.
Amusement parks suffer from a huge queueing issue because of slow payment processing on busy days. The culprit is always cash payments and having to calculate and return change. This requires additional processes that take exponentially longer than a cashless transaction. Cash to Card ATMs here would cut down queues significantly and multiply the amusement.
Don't you hate it when you miss the first few minutes of a movie because of the long lines to get some popcorn and a soda? Well, with cashless payments those lines would move up to 8 times faster and you'd be in your seat before the trailers end. Cash to card kiosks here would serve cash customers so that they don't miss out on the efficiency of cashfree payments.
Azimut's Cash to Card solution not only dispenses active EMV cards, but also has the capability to dispense gift cards or cash cards that are redeemable only at certain locations such as gift cards for an electronics store or cash cards for a water park. These cards can be purchased as gifts for loved ones with a balance that can be redeemed at a specific outlet.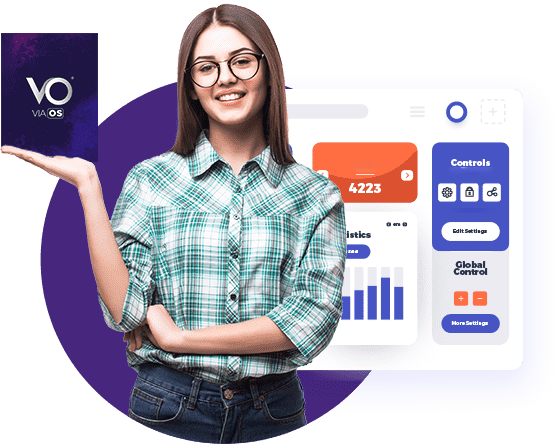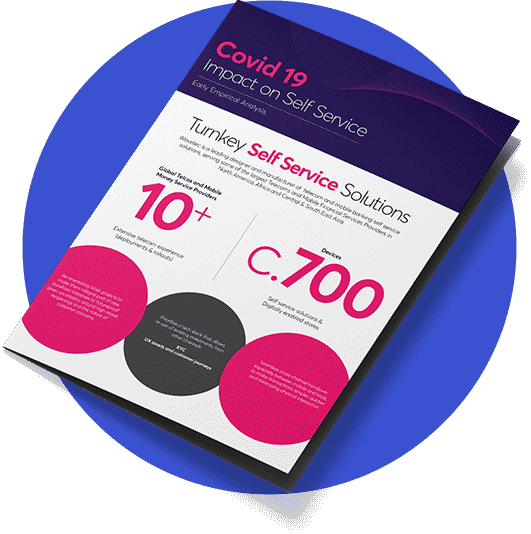 Early Empirical Analysis. Covid-19 Impact on Self Service
We have wide ranging expertise in equipping service areas in banks, hospitals, pharmacies, government organizations, supermarkets and retail stores. Our self service solutions help empower you to take a step further in delivering seamless customer experiences.
FAQs
What is a Cash to Card Kiosk?
A cash to card ATM is the opposite of a conventional ATM; it accepts cash and dispenses an active prepaid EMV card that is ready to use at any POS terminal that accepts VISA or Mastercard.
How does a cash to card ATM work?
Our cash to card ATMs use a simple 3 step process to go from cash to card; 1. Insert your desired amount of cash into the machine, 2. Kiosk will dispense an active card with a limit equal to the inserted amount, 3. Start spending!
Where can you use a cash to card ATM?
Cash to Card ATMs can be found at cashless venues such as major league sports stadiums, hotels, airports, malls and other similar public locations that are starting to go cashless.