Telecom SIM
Dispensing Kiosk
for Customer Service Automation
Wavetec's fully integrated self service platform, complete with modular hardware, sophisticated middleware and a telemetry platform, promises market-leading flexibility and customization to self service projects for telecoms worldwide.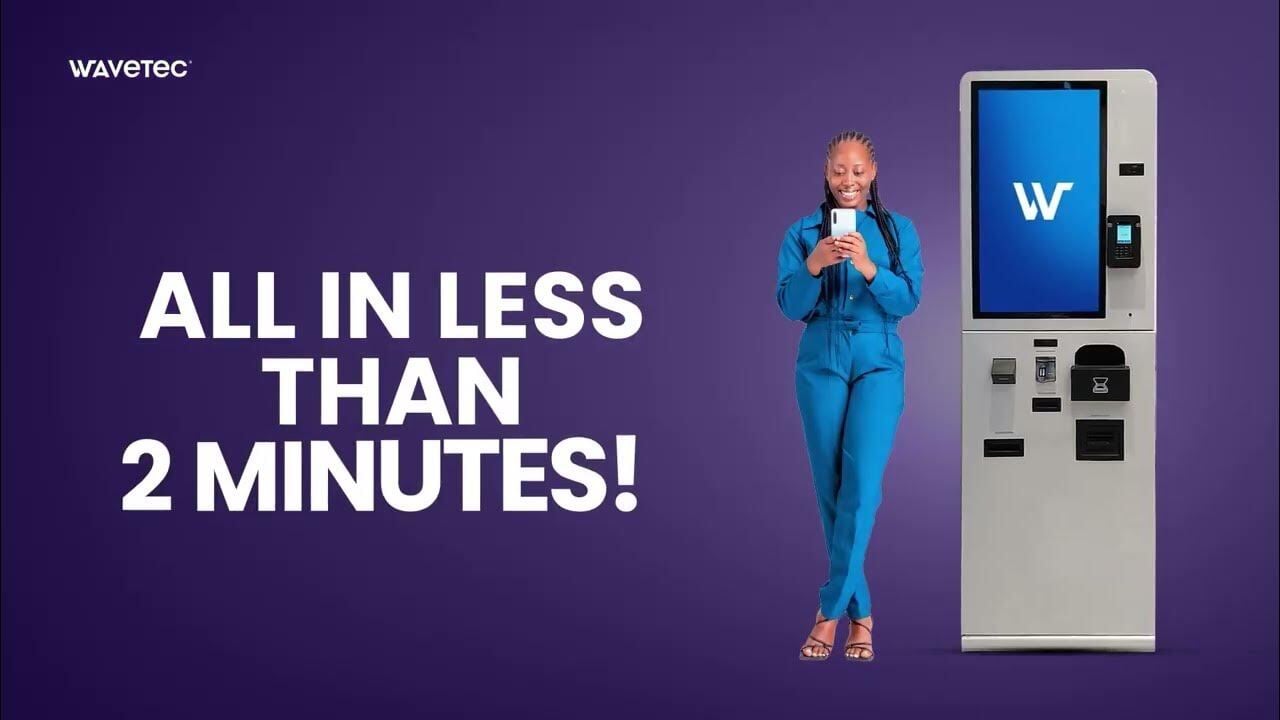 In Many Locations, Over 60% of Transactions Happen Outside Standard Working Hours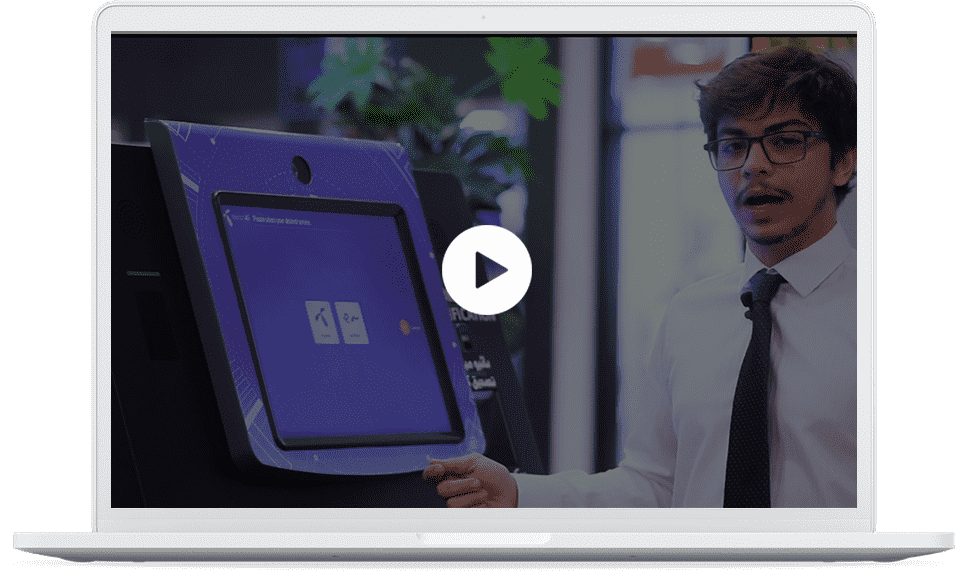 Wavetec's Instant Sim Issuance Kiosk allows customers to register for a new SIM card in a matter of minutes, with 24/7 availability at any location. With KYC Instant Sim Vending machine Telecoms can now replace branches. This mobile money module allows our self service solutions to act as a full mobile money agent with Cash-in / Cash-out capabilities.
Be Where Your Customers Are!
Data from Self-Service Vending Machine Deployments
Wavetec's industry proven Telecom Self Service solution will help your business save money, promote growth and create a "value-proposition" for your customers. The Smart Self Service Vending solution operates as a customer service point and supplements your existing sale channels, while empowering your customers to enjoy seamless engagement on-demand.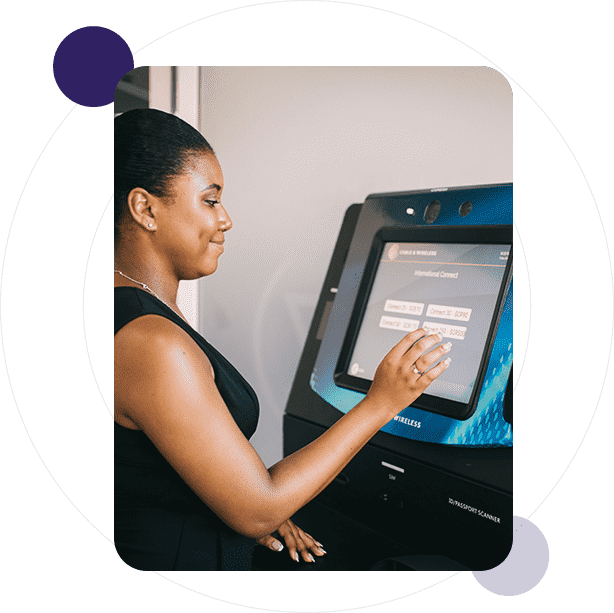 Our back-to-back fully integrated "smart solution" creates an omnichannel frictionless experience while ensuring total management control and confidence. Solution features include the capability to instantly issue & activate sim cards, manage top-ups, and undertake a full array of wallet-based banking. In addition our software modules include real-time business intelligence, enhanced KYC processing, machine health monitoring and inventory management.
Help Your Business Grow With the
World Leading Solutions Provider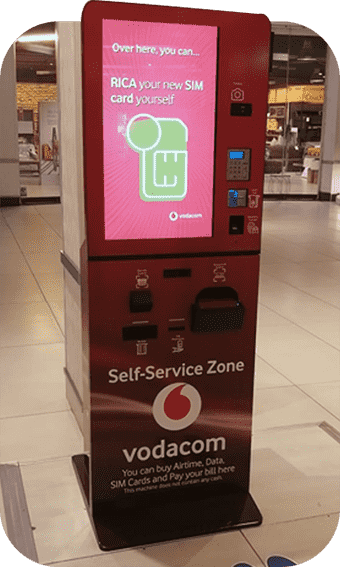 Automate Registration & KYC with Multimodal Biometrics
KYC Instant SIM Card Issuance kiosk
The turnkey signage software has a separate component for designing and scheduling, that provides organizations with advanced tools and canvas to create and manage content on the fly, and also to keep it informative, engaging and relevant.

Face Detection Via
KYC Integeration
Self service customer experience while maintaining the highest levels of service delivery efficiency and quality. Our Instant Sim Issuance Kiosk is equipped with out-of-the-box functionality that captures fingerprint, iris and facial biometric data using Wavetec's best-in-class software platform.
QR- code scanning
Get all your information on the kiosk by simply
scanning your QR code with the mobile operator app.
SIM-card dispensing
Get your SIM card with one-touch
SIM – card activation
The mobile operator receives client data
and activates your SIM- card
ViaOS AND
Mobile Integration
With the power of Mobile Integration and ViaOS, customers can seamlessly complete their transactions on the kiosks by scanning a QR code, allowing pre-staging of complex transactions and reducing user interaction time by over.
Website
A user-friendly website for smartphones,
tablets and laptops
Plans and Pricing
Select your desired service plan
Identity Verification
Customer ID Verification using Wavetec's KYC providers
Generating a QR code
Scan your QR code after payment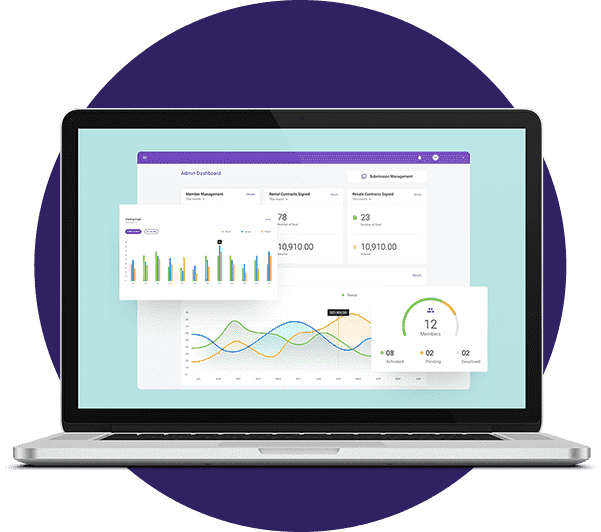 Help your business grow with the world leading solution provider
Allow your customers to queue virtually using their phones to access your ticket less system.
Real-time Monitoring
Enterprise User Access Control
Analytics
Inventory Management
Operation Management
KYC Solutions (Know Your Customer)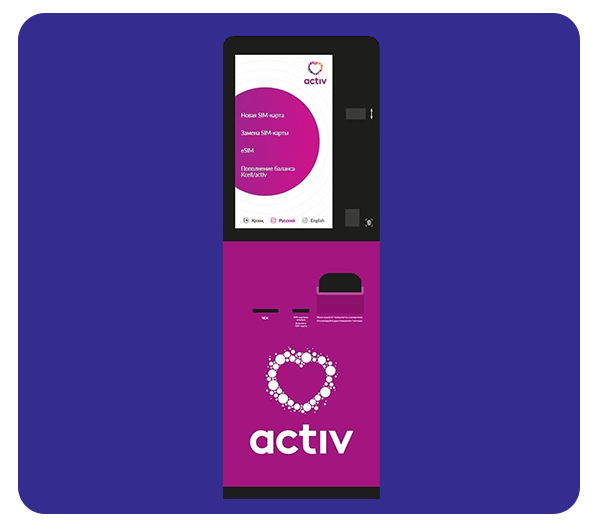 Kcell Kazakhstan Offers an Omnichannel Experience with SIMVEND
KCell chose Azimut's modular SIMVEND platform to power its telco self service requirement and deployed 5 kiosks in 5 different locations. KCell customers can now access these services 24/7 at the self service kiosks:
New SIM purchase & registration
SIM replacement
Mobile top-up
eSIM activation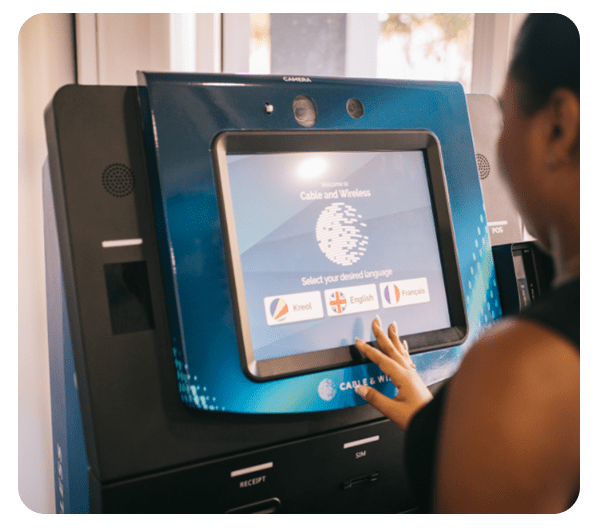 Cable & Wireless Seychelles
Cable & Wireless addressed their customer's self service needs by deploying 45 SIMVEND kiosks across 35 locations in Seychelles, enriching customer experience by adding a whole suite of new services:
Introduction of card and online payment facility
Addition of new flows and their effective marketing through the kiosk, in its capacity as digital signage
Instant and prepaid SIM issuance and dispensing
Bill payments using QR and barcode scanning
Booster purchases – for internet and mobile phone data package
Availability of services 24/7
eTopUp services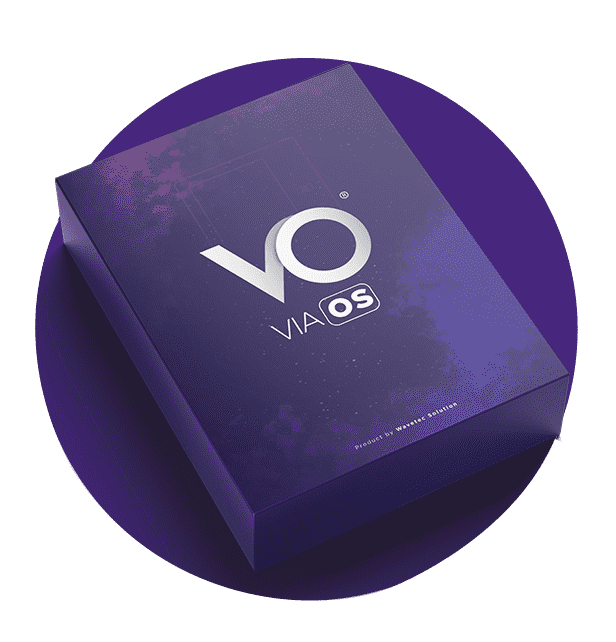 Instant Sim Issuance Whenever, Wherever
With Azimut's Sim Dispensing Kiosk, your customers can purchase a sim card at any hour of the day and that too within minutes.

Capacitive Touch Display
The ten-point multitouch technology emulates a very similar experience to a smartphone or tablet making the kiosk very user friendly.

Document Scanner
This ID document scanner can identify counterfeit or photocopied documents and also has built-in OCR and NFC reading capabilities to meet the KYC requirements of any region.

Sim Dispensing Module
SimVend supports ICCID based issuance and instant sim card activation along with an extended capacity sim card vault with the ability to dispense multiple sim cards.

Facial Recognition & Liveness Detection
Azimut's Sim Dispensing Kiosk houses a suite of cameras and sensors to verify the user's face against ID documents or a backend biometric system.

Smart Cash Recycler
The sim issuance kiosk can be programmed to accept and dispense any currency. It has an industry standard vault with dual locks, remote unlock and an extra large cash holding capacity.

Biometric Scanner
SimVend has flexible options for multi modal biometric integration i.e. it supports fingerprint, iris and facial scanning and verification depending on your needs.
Early Empirical Analysis. Covid-19 Impact on Self Service
We have wide ranging expertise in equipping service areas in banks, hospitals, pharmacies, government organizations, supermarkets and retail stores. Our self service solutions help empower you to take a step further in delivering seamless customer experiences.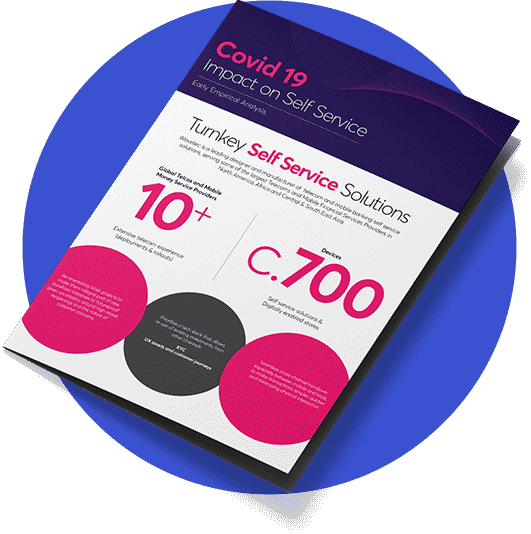 What are SIM dispensing kiosks?
SIM dispensing kiosks are freestanding kiosks with a large touchscreen that have the capability of registering new customers and issuing them an active new SIM card while offering a whole slew of other services.
How long does it take to purchase a SIM card with a Kiosk?
SIMVEND's intuitive UI helps customers register and dispense a new SIM card in as little as two minutes
What are the use cases of SIM dispensing kiosks?
SIM dispensing kiosks present opportunities for various public venues to enable 24/7 access to telecom and telecom agent services such as shopping malls/centers, airports,
What products & services do these kiosks offer?
SIM dispensing kiosks can be configured to offer a whole variety of services with easy-to-use open source programming, but some common products offered include: New SIM card purchase, SIM swap/replacement, Airtime/tariff top up, Mobile/digital wallet top up, Mobile/digital wallet withdrawal.
How many payment methods does a SIM dispensing kiosk have?
Our SIM dispensing solution is very modular and payment methods can be tailored to the client's needs. These kiosks can be configured to accept cash, credit/debit cards and digital wallet payments as well.