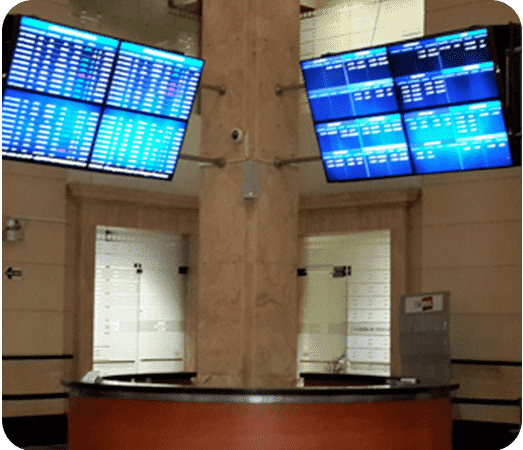 About Lima Stock Exchange
In Lima, the multiplication of transactions and close connections with major European markets made it necessary to find a fixed spot and fix a precise time for executing the operations. For this reason, the Lima Stock Exchange was established in 1860.
From its inception, Lima Stock Exchange enjoyed support of the Peruvian state and the most important traders. Today, Lima Stock Exchange has a capitalization of 373,659.53 million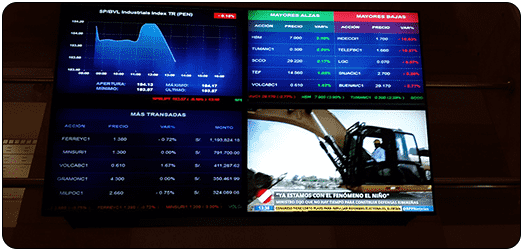 Peruvian nuevos soles and seeks to facilitate transferable securities negotiation and other stock market products, so as to provide its members with the appropriate services, systems and mechanisms in a fair, competitive, orderly, ongoing and transparent manner. Even though shares are quoted from different industries, mining shares prevail and define the Peruvian Stock exchange. Since 2009, Lima Stock Exchange is member of the Latin American Integrated Market, a transnational market integration of Chile, Colombia and Peru's Stock Exchanges, a regional market established to trade equities from the three countries.
Nowadays, information dissemination and real time access to it have become a priority for the financial industry since these contribute to stakeholders' decision-making process. For Lima Stock Exchange, it was important to take steps to refine its measures of imparting financial information. At that time, the stock market had a rigid, static software designed to meet specific demands, which could not modify or self-manage its contents. Moreover, the installed system was outdated in terms of design and aesthetics; it was not visually attractive and did not match the corporate identity of Lima Stock Exchange.
Wavetec's experts realized that the specific requirement of the Peruvian stock exchange was to update its current software, by installing an advanced and complete solution that includes updated technology in terms of data dissemination for the financial markets, that is flexible, dynamic, self-manageable and offers an attractive, functional reuse of the Stock exchange's video walls. On the other hand, it was essential to incorporate software with the versatility and ability to be integrated with the transactional system, where financial details are collected for the Stock Exchanges through the FIX protocol.
Wavetec's solution
Wavetec identified Lima Stock exchange's specific demand and proposed the installation of Donatello Suite, its software solution designed to meet the challenges and priorities of the world's stock markets. Donatello's installation provided the Stock Exchange with the possibility to highlight and diversify the installed video walls' features and capabilities, since Wavetec's new software provides a flexible and dynamic self-management of contents, according to the stock exchange's specific needs. Hence, Lima Stock Exchange can now create content and choose a specific design for events, specific occasions or daily routine using Donatello Suite.
Our experience
Wavetec is a global player in the sphere of LED Display Solutions for the financial market with a vast experience. This can be seen in the successful LED display installations and system integrations in over 25 stock exchanges such as Barcelona, Chile, Mexico, Qatar, Bahrain, Saudi Arabia, Oman, Dubai, Nigeria and Kenya. Wavetec stands at the forefront of digital signage, and using its technological innovation, implementation capability and infrastructure development solutions, Lima Stock Exchange is now able to compete with the world's largest financial markets.
Find our LED Displays solutions for the financial market here.