About BMV
The Mexican Stock Market (BMV, as per acronym in Spanish) was founded in 1894, and it is the second largest stock market in Latin America. BMV conducts all the stock market operations in Mexico, and its main goals are: to facilitate securities transactions, pursue market development, encourage expansion and competitiveness. BMV's importance is related to how it has significantly contributed to Mexico's development which, together with the financial market institutions, allowed it to channel savings into productive investment, and a vital source of growth and employment in the country.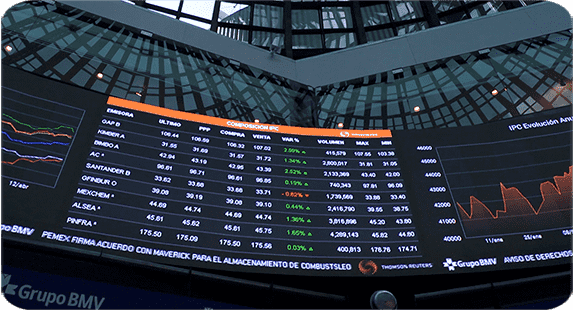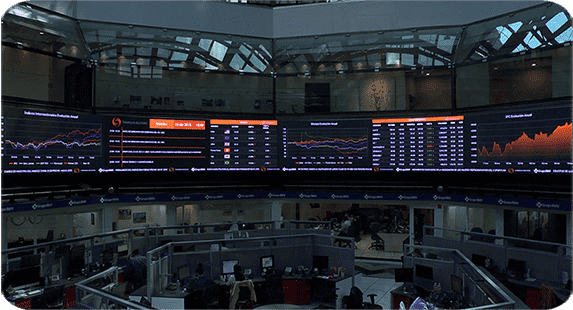 Project requirements
Being the second largest stock market in the area, BMV had to be at the forefront of innovation, as most of the main financial markets.
Wavetec, the leading company in LED Display Solutions, operating in over 25 stock exchanges all over the world, conducted a diagnosis. Together withThomson Reuters, the prestigious news agency that provides financial information to the BMV Group, BMV identified the need to renovate the information distribution channels in real time, noticing the possibility to replace the LED displays and tickers installed outside the BMV. It was proposed to implement a solution that transforms the trend and the dissemination of financial information, which are critical for the investors, shareholders, and brokers' decision making process. The challenge was to completely renovate the indoor LED displays installed in the BMV, as well as place a ticker in front of the building, adopted by the avant-garde stock exchanges of the area.
Our solution
Wavetec offered a complete solution to the Mexican Stock Market. By executing all the stages of design, production, installation, maintenance, hardware and software, and technical support of a 360 degrees curved Indoor Full color LED Display, with high-resolution of over 3 million pixels was provided to BMV. It has a perimeter of over 54 meters, surrounding the Press conference Room of the BMV, completely renovating the stock market's aesthetics and functionality. Moreover, the project includes installing a curved, 40 meters long Ticker LED, which will cover the front of the building. The superiority of this display is given by its Japanese technology, ensuring excellent light values through the years, since it is exposed to the weather and to direct sunlight. Wavetec Donatello Studio is a comprehensive software platform tailored to the stock markets, installed at the BMV and meeting its requirements, ranging from the integration of several data sources to the contents planification and design on multiple displays.
Our experience
Wavetec is a global player in the sphere of LED Display Solutions for the financial market. Innovating since 1986, the company's headquarters is located in Dubai Silicon Oasis, United Arab Emirates. In turn, Wavetec has spread all over the world with regional offices in Barcelona, Karachi, Lima, London, Nairobi, Riyadh and Santiago, with a distribution network over 60 countries.
Find HERE our LED Display solutions for the financial market.