The foundation of Erbil's first stock exchange
The inception of the first stock exchange in Iraq's autonomous northern Kurdish enclave came as great news amidst an economic boom in the Kurdistan region. Inevitably, a stock exchange is a harbinger of economic growth, as it propels investments and provides a conducive environment for business trading; the Erbil Stock Exchange was thus designed and rightly established to position Kurdistan as a gateway to investments in Iraq.
Erbil Stock Exchange was a private sector led project that was possible due to strong commitment and support from Kurdistan Regional Government. With an initial capitalization decided to be over US $8m million, and 56 shareholders from renowned financial institutions, companies, Chamber of Commerce, and Ministry of Finance, there were high hopes from the modern trading platform.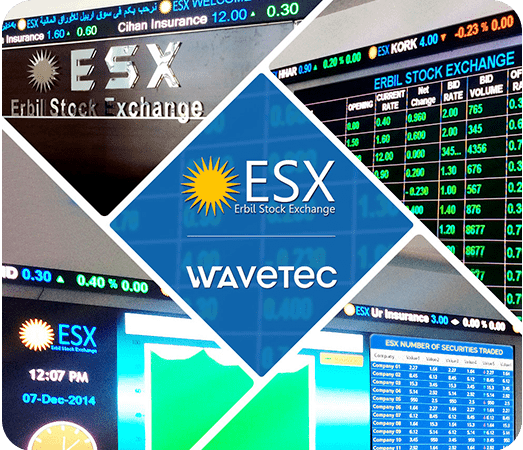 ESX is dedicated to offering a transparent and efficient environment for trading securities to serve its investors, safeguard their investments, and materialize a paradigm shift in the culture of investments in financial industry. It hence required dynamic display solutions to present itself at the forefront of Erbil's financial industry from the onset and encourage transparency in financial data dissemination.

ESX finalises deal with a global technology solutions leader
While seeking the best display systems, ESX discovered Wavetec, a display solutions specialist firm globally known for its expertise in giving LED driven makeovers to 25 global financial institutions to promote trading activities among existing and potential investors and improve transparency of financial data dissemination.
The ESX business model was designed with an object to fashion a sustainable trading platform that procures revenue streams from several markets, issuance of securities, and growth in market capitalization. To set up its own trading platform, ESX needed reliable, real-time displays from Wavetec that could enable it to be managed independently.
Wavetec's profound solutions and project management competency
Wavetec's expert consultants visited Erbil Stock Exchange, to meet its management, conduct a need analysis, and discuss the different proposed solutions that were prepared in accordance with ESX's needs. Our project management team stressed upon the exchange's needs for transparency and visibility of information displayed on the fly using a graphical interface.
Our consultants recommended high end customizable solutions to position the stock exchange in the global arena as an institution that employs advanced technological installations. The consultants further proposed using the displays to create new revenue streams for the stock exchange through advertising and promotions during IPOs and other corporate events.
Wavetec delivered complete tailormade end-to-end solutions to Erbil Stock Exchange, taking into account all its Information Display tem expectations. A Full Color LED Ticker, and a Full Color LED Display Wall were placed at Erbil Stock Exchange's main trading hall, and a Full Color Double Line LED Ticker was installed at the main entrance reception; all the displays are integrated with ESX's data center using Kettle – Wavetec's integration data tool, to get live feeds.
The LED Ticker display real time news and stock market data, in English and Arabic as well as logos of companies. The ticker can also be used to run special announcements by ESX in real time from a central location. The LED Walls are customizable and can be used for different templates according to the requirements of ESX. Using Donatello, Wavetec's proprietary media player, ESX schedules and manages content efficiently at any time of the day.
The LED Double Line Ticker at the entrance creates a sophisticated ambiance, and gives an urbane outlook to Erbil Stock Exchange, with multilingual text displaying news and stock market data simultaneously.
It is noteworthy that Wavetec's project management consultants understood ESX's needs brilliantly and devised pragmatic solutions and implemented them timely within three months.