The Madrid Stock Exchange is one of the oldest financial institution which was created in 1831. Till date the stock exchange has been playing a vital role towards economic development as it channels savings towards productive investments and helps the flow of wealth.
Project Requirements
Madrid Stock Exchange required a unique solution to display their information in real –time basis. Initial need analysis by Wavetec resulted in a mutual understanding of exchanging display solution and system integration services. It was finalized that Wavetec will provide tailored made display solution which can be embedded in the existing stock exchange allowing them to achieve their goals of public dissemination of all financial information to ensure complete transparency of all the transactions taking place. It was also decided that same fixing structure of the old ticker will be used, as the building is protected by heritage laws.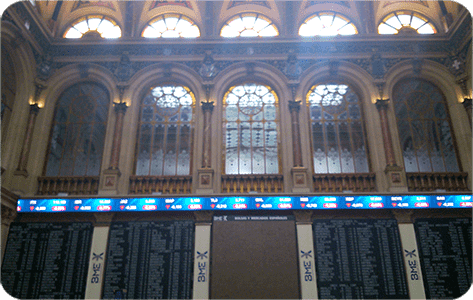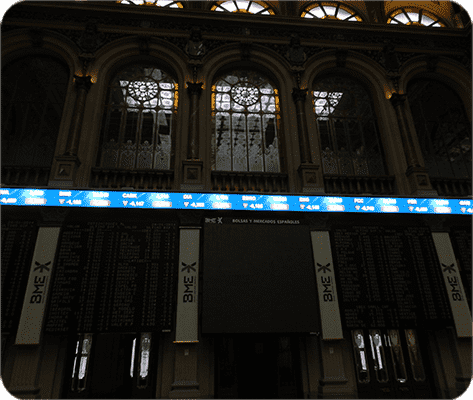 Our Solution
Wavetec provided Madrid Stock Exchange with a complete and fully customized end-to-end solutions, taking into account all Information Display and Management System expectations. The solution consisted of a 19 meters Full Color Ticker and the use of Wavetec's Information Display Solution integrated with Madrid´s own data feed to display information such as the rates, prices, shares, companies, news, videos, greeting messages and other market statistical data. Moreover the ticker will also be used in IPO's, thus ensuring transparency in all financial transactions. This project was ventured in collaboration of Wavtec, BME (Bolsas y Mercados Españoles), Telefónica and InfoBolsa and took almost 2 months for production, delivery, installation and commissioning. The installation was completed in record time of two days where it was fully functional by Sunday night.
Benefits for Madrid Stock Exchange
Aesthetically appealing with an updated design and technology.
Display of information in real-time.
Ticker can also be used for events, promotion and advertising purposes.
Madrid Stock Exchange can now show the latest trends of the stock market, news and different data from all around the world and can also design their own data templates.
Pedro de la Muela who is working in the capacity of IT manager at BME explains
"BME has selected Wavetec for the Madrid Stock Exchange Ticker at Palace, mainly because of their background in similar projects such as Santiago de Chile and other Stock Exchanges in the Middle East. The Implementation was quick and Involved no interruption of service.."
Our Experience
Wavetec being a global player in the sphere of LED display and Queue Management Solutions holds an extensive experience. With successful LED display installations and system integration in over 20 stock exchanges such as Barcelona, Chile, Peru, Qatar, Bahrain, Saudi Arabia, Oman, Dubai, Nigeria and Kenya Wavetec stands at the forefront of digital signage. Through the implementation of Wavetec's technological innovations and infrastructure development solutions, now Madrid Stock Exchange can compete with the top financial markets of the world. These solutions will also enable them to support future economic growth.