Since 1893, The Santiago Stock Exchange is the undisputed center of the Chilean capital market, becoming the benchmark for excellence for domestic and foreign investors. Being almost 120 years old and given its historical importance within the national community, it has a very good reputation amongst other Chilean stock market.
The Problem
Santiago Stock Exchange was leading the business through there 120 years of experience and credibility. They wanted to transform themselves into a modern financial institution and enable themselves to earn revenue through advertising. They believed that by addressing these issues they would improve information dissemination, make this information more transparent, and there would be better investor sentiment.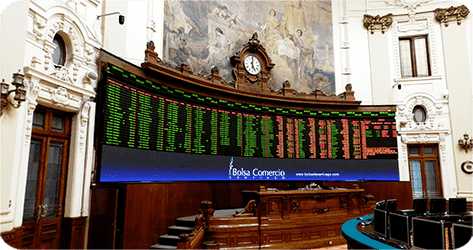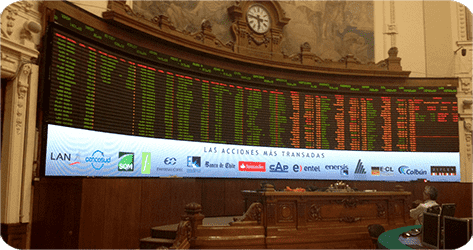 What was Needed
What Santiago Stock Exchange needed was a reliable display solution as the screens had to be up and running all the time. Also, the screens needed to be embedded in the curved architecture of the place so as to create a good look and feel. This all was expected to help them improve their perception and make them a Global Financial Market with Leading Digital Displays.
Why Was Wavetec's Solution Required?
Considering all the above prerequisites of the project Santiago Stock Exchange needed a Technology Company that brought to them creative, reliable and innovative display solutions in customized shape to suit their needs. With 15 stock exchange clients and rightly proving to be the global leaders in stock exchange display solutions, Wavetec seemed the most appropriate choice as it also provided custom solutions to fit the needs that Santiago Stock Exchange had.
What Wavetec Offered
Wavetec made sure not to leave a brick untouched. It offered a custom solution to all the problems that were addressed by the Santiago Stock Exchange. Wavetec provided a curved display that was embedded in the wall of the Santiago Stock Exchange. Many different brand logos could be advertised at the same time using the best image quality and the most eye-catching medium, giving them the advantage to manage content on real time basis and increasing the number of customers without increasing costs. Being offered such an eye catching place to advertise one's brand, Santiago Stock Exchange increased its potential revenue through advertising. With the latest technology installed along with credibility and transparency being offered, Santiago Stock Exchange with Wavetec's solution, succeeded in establishing its image as a Global Financial Market with Leading Digital Displays.