In this blog: We discuss the disadvantages and challenges of a manual SIM card sales & registration process and explain how and why self service is the solution to the existing challenges.
Postpaid SIM cards have always required registration, mainly for billing purposes, but now a number of nations also mandate the registration of prepaid SIM cards. This requires the buyer of the SIM card to present a form of ID to verify their person and to register the SIM against.
These regulations have recently been put in place by telecom monitoring authorities to mitigate security concerns and alleviate terrorist activity in some regions.
Until recently SIM cards were sold only at telecom companies' retail outlets or service centers and other authorized stores. This means that service center employees were required to check in and check out everyday to facilitate SIM card sales transactions and manually verify ID documents for KYC verification.
This manual process is still employed by most telecom companies over the globe and presents a number of challenges for both the telecom operators and the customers.
It's Expensive
Telcos incur significant costs of running these physical outlets; rent, utilities, logistics, human resource, security, and so on. And these aren't one time costs either.
It's Limited
One big limitation of physical sales outlets are the operating hours, just like banks these outlets usually only operate between 9 to 5 on working days. So, if you ever lose your SIM card or your phone gets stolen and you need a replacement in a hurry, you'll have to wait until service centers are open.
Did you know?
In many locations, over 60% of transactions happen outside standard working hours.
It's Inefficient
Another problem for telecoms is prolonged customer service times; customer interactions with employees can take time depending on the kind of service the customer is looking for and oftentimes customers require a lot of information before making a decision.
If more time is spent per customer, less customers will be serviced in a day meaning an increased total cost of ownership for the company.
These prolonged service times lead to long queues and significant wait times for customers in line. Customers won't wait around for too long, they'll switch operators at their convenience. Implementing a queue management system for the telecom can help mitigate these issues and ensure a smoother customer experience.
Build Meaningful Customer Relationships With Self Service
If telecoms want to build loyal customer relationships, they will have to implement new technologies and offer personalized customer experiences. As SIM card sales and the need for connectivity and data grow exponentially, the role of telecom companies becomes more and more important.
Mobile users depend on telcos to provide secure and uninterrupted services to help them stay connected, especially with how the social climate has changed globally since the pandemic.
Did you know?
Virgin Mobile delivered 40% more support to their customers by introducing self-service support options.
Telecom companies are following in the footsteps of banks and making efforts to digitize their retail centers; for banks this means installing self service kiosks like ATMs, Cash Deposit Machines and Cheque Deposit Machines.
What does going digital mean for telecom companies then? SIM Dispensing Kiosks! Many large telecom companies have already taken this route and deployed self service kiosks for SIM dispensing in hotspots like airports and malls.
Some notable examples of early adopters of self service technologies include Cable & Wireless Seychelles, KCell Kazakhstan and Zain Telecom Saudi Arabia.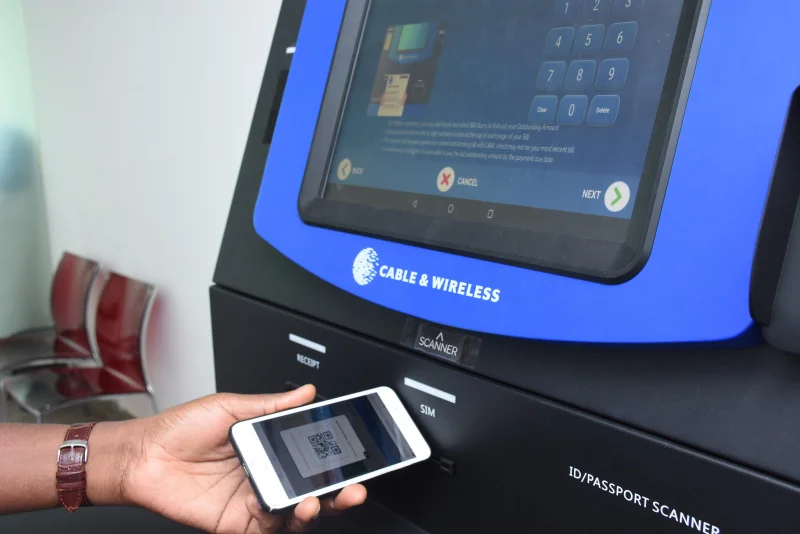 Self Service SIM Dispensing Kiosks allow the user to register and dispense active ready-to-use SIM cards within minutes. These kiosks have familiar and easy to use user interfaces similar to mobile devices like tablets that enable simple workflows anyone could execute.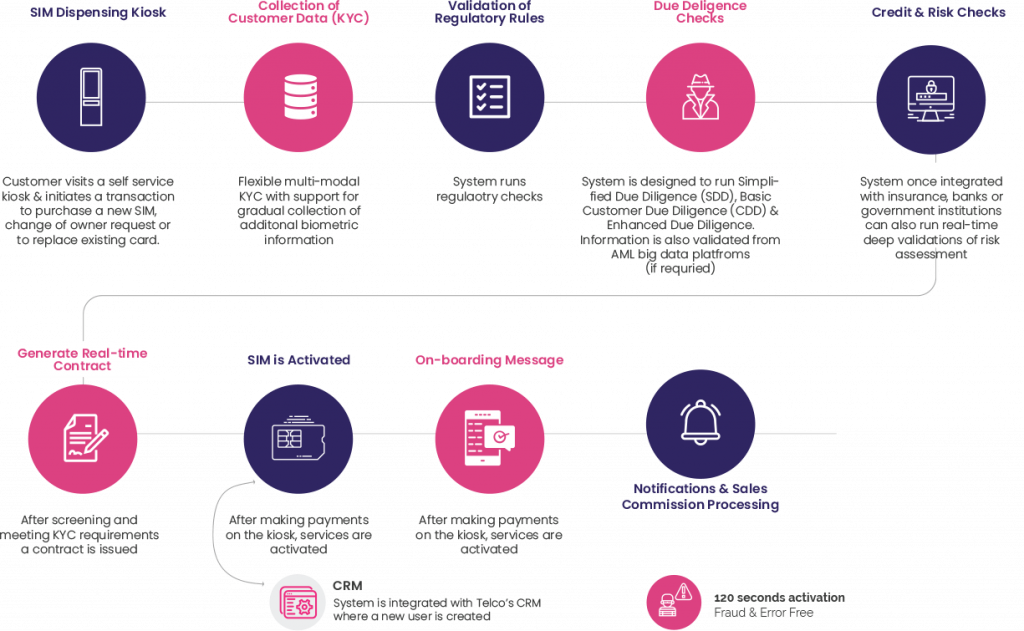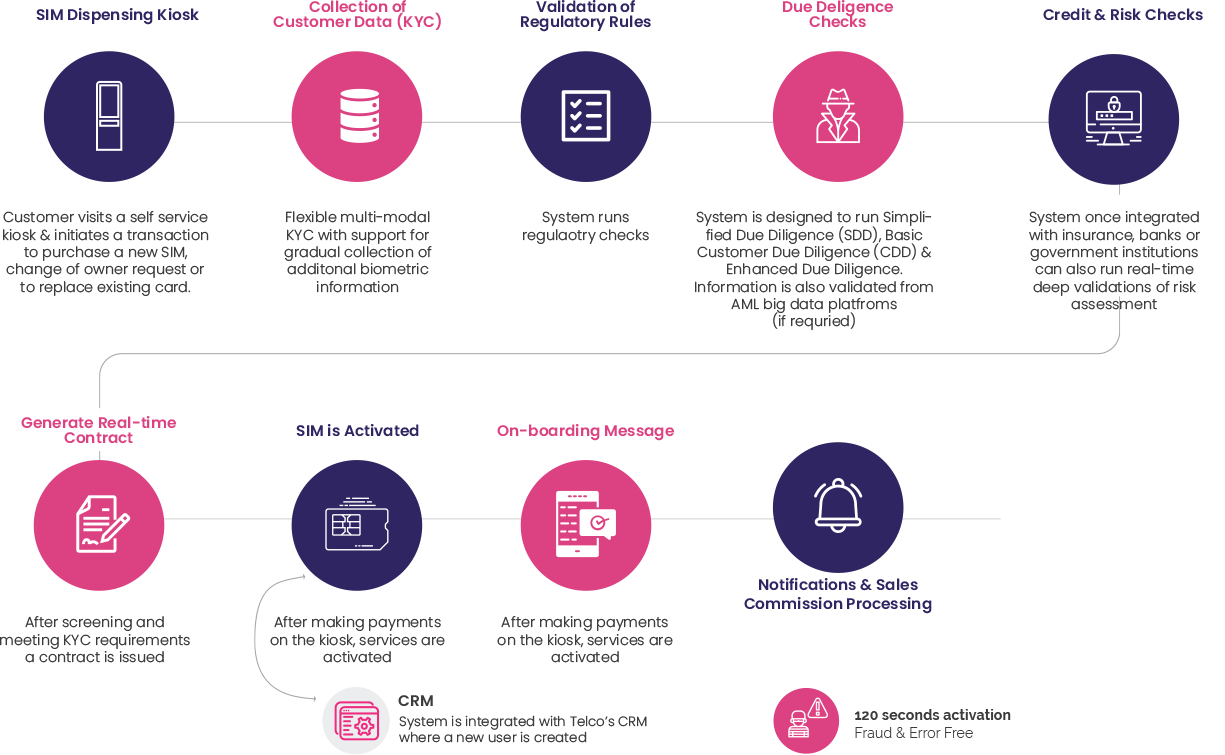 These kiosks are robust and can be installed in public locations where they may be accessed 24/7 by customers to purchase SIM cards or perform other transactions. With recent mandates around prepaid SIM card registration, these kiosks also include biometric facial scanners and fingerprint sensors to perform KYC verification of customers against their ID documents which can also be scanned at self service kiosks.
The kiosks are linked at the backend to the databases of the telecom companies and the national identity authorities for KYC checks and personalized customer experiences.
Covid-19 
The Covid-19 pandemic forced the closure of many telecom retail centers which left telecoms with no option but to go digital with self service. Despite the adverse conditions for businesses during the pandemic, telecom companies saw a 40% higher average order value for mobile wallet transactions.
Read more by downloading the complete report.
Going digital eliminates a lot of the problems that telcos and their customers face with the analogue process; no more queues, reduced costs in the long run, 24/7 operations and instant SIM card registration & dispensing.
Azimut's SIMVEND Kiosks Pictured in Some Popular Public Hotspots:
The robust and modular design of the SIMVEND kiosks allows for infinite configurations based on their geographic location and requirements of the client. The kiosks can be installed in virtually any public hotspot including:
Shopping Malls
Airports
Train Stations
Supermarkets
Service Centers
Commercial Areas
Outside Banks
Cinemas
Azimut is part of the Wavetec Group, serving some of the largest banks, telecoms and mobile financial services providers in North America, Africa, and Central & Southeast Asia.
BOOK A FREE DEMO