In this blog: We take a look at some of the most prominent self-service kiosks and how they're helping businesses improve service delivery.
---
It is more than likely that you have heard of or even used ATMs and vending machines before. These are self-service kiosks that automate the provision of a service that was previously performed manually. These simple iterations of self-service kiosks have been around for decades, some even for centuries.
Here Are the 5 Types of Self Service Kiosks Popular in 2023
Sim Dispensing Kiosks

Cash & Check Deposit Kiosks

Card Issuance Kiosks

QSR Kiosks

Self Checkout Kiosks
Self Service Today
However, if you step into the landscape of self-service today, you will find a multitude of self-service machines that cater to different businesses and industries with infinite permutations of configuration.
Banking and telecommunication industries are beginning to invest a lot into self-service technologies to automate & digitize branch operations and extend operating hours beyond just 5 pm.
Check out some of the benefits of using a self service kiosk in 2023.
The QSR and retail service industries have also been receptive to the idea of self-service technologies and have successfully deployed and implemented the use of service kiosks across their locations in some regions.
The Future of Service Delivery
Data from the NRA suggests that self-service kiosks will become the norm across restaurants all over the globe very soon, with restaurant chains like McDonald's already leading the pack with their countless deployments of self ordering kiosks across their franchises all over the globe.
Let's take a look at some of the kiosks that are most prominent in industries embracing self-service today.
5 Popular Types of Kiosks For Improving Customer Experience
1. SIM Dispensing Kiosk
What is the first thing you do when you get off an airplane in a foreign country?
You seek connectivity, be it in the form of a SIM card or a Wi-Fi connection. SIM dispensing kiosks became a necessity in popular tourism or business destinations. They are conveniently installed in airports, shopping malls and commercial parks for increased accessibility.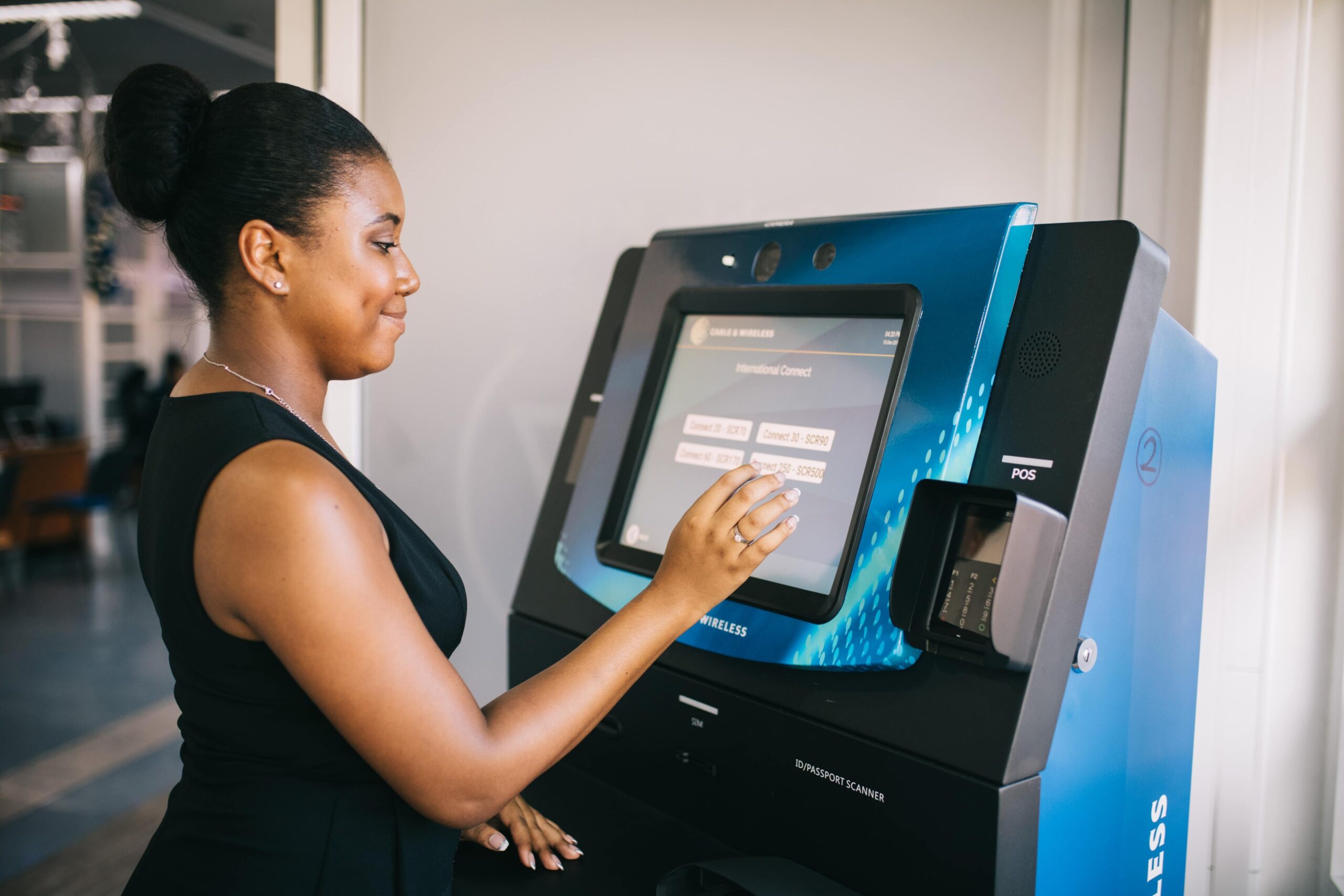 Mandatory Registration
Another important factor contributing to the popularization of SIM dispensing kiosks is the recent mandate that requires telecom companies to register all prepaid service customers. These regulations are being enforced across many regions recently, putting telecoms in a tough position to retrain staff for new workflows and invest in biometric technology for registration purposes.
The kiosks help telecoms implement SIM card registration in a much more efficient manner and allow customers to purchase and register a SIM card at any time of the day instead of just between 9 am and 5 pm. Beyond that, the kiosks eliminate the chance of human error that may occur otherwise.
Know Your Customer
KYC or Know-Your-Customer checks are another regulation that telecoms have to adhere to. This includes the scanning and verification of ID documents against the customer and biometric verification. Performing these checks manually can be tedious and time-consuming, leaving the possibility of error or fraud and increasing wait times for other customers in the queue.
Self-service machines have come a long way; newer versions of kiosks are highly modular and configurable according to the needs of the client; kiosks can be fitted with different modules like document scanners, fingerprint scanners, and cameras for facial scanning & liveness detection.
Different regions have different requirements for KYC registration, which is why self-service solutions providers like Azimut offer complete customization of their self-service kiosks for telecoms to fit the needs & regulations of any region or customer.
Payments
The use of electronic kiosks allows companies to offer customers a range of payment options as well as integration to mobile wallets and third party apps to facilitate seamless payments towards their mobile bills, utility bills and mobile top ups.
2. Cash & Check Deposit Kiosk
The first ATMs have been around since the late 60s, however, ever since then there hasn't been a phenomenal breakthrough in self service for banking. That is, until the advent of more advanced self service kiosks like cash and check deposit kiosks.
The inception of electronic kiosks shares the same roots as the ATM; bank customers demanded the ability to perform deposits outside of banking hours. Cash deposit kiosks or machines (CDMs) are already quite popular in some regions, however a lot of other nations have been slow in their adoption of the technology.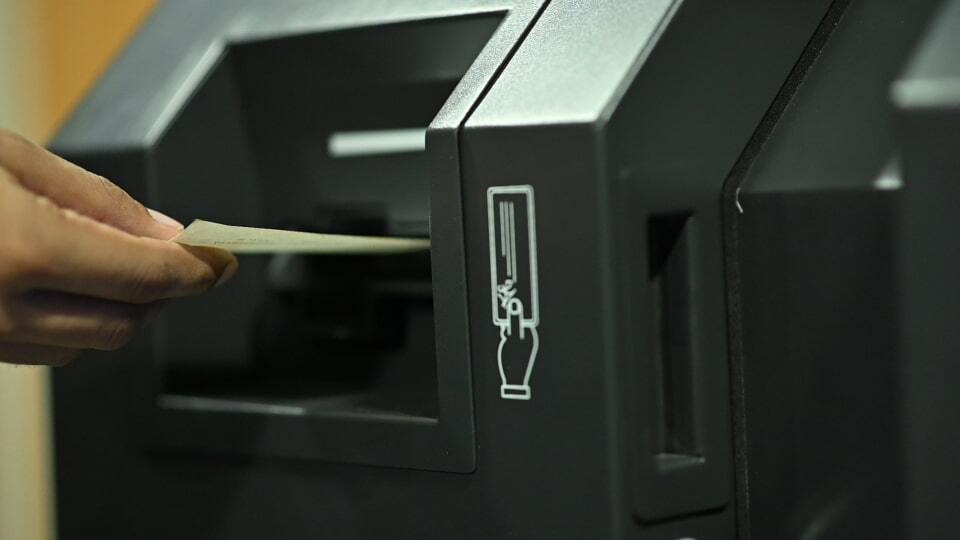 Why CDMs?
CDMs and check deposit kiosks present clear advantages of 24/7 operational capability and reducing foot traffic in branches making the coexistence of both more efficient than a branch on its own. Using a kiosk to make cash or check deposits also significantly reduces transaction time while offering a suite of additional services as well.
The automation of cash and check deposits clears up a lot of time at cash counters in banks; employees don't have to enter data, count currency notes or verify information manually. These monotonous tasks can be performed by machines, so human labor can focus on more demanding tasks that require human intuition and intellect. This also ensures a higher level of employee satisfaction and retention.
3. Card Issuance Kiosk
Have you ever wanted to open a bank account or lost your debit card, but you're unable to visit a bank because you work 9-5, and so do banks? Well, card issuance kiosks facilitate account opening and issuing & dispensing replacement debit cards.
These kiosks are similar to telecom SIM dispensing kiosks; they have the capability to perform full KYC checks, register new customers, and activate & dispense a card.
Are Card Issuance Kiosks Limited to Banks?
The applications for card issuance kiosks are almost endless. These kiosks are being used by governments, educational institutes, libraries, supermarkets and so on.
National identity authorities have used these machines to issue new or replacement ID cards to citizens.
Schools and colleges use card issuance kiosks to issue student cards to new students or replacements in case of theft or loss.
Libraries also use this technology for new member onboardings and library card issuance as well as replacement.
Supermarkets are using these kiosks in conjunction with their loyalty programs to issue loyalty cards and onboard customers into their loyalty programs as well.
4. QSR Kiosk
QSR or Quick Service Restaurant kiosks are essentially self ordering machines. These kiosks allow you to skip the lines and wait times and avoid any human interaction whatsoever. You can walk up to the kiosk, select your order at the large touchscreen, pay using a card or sometimes cash and then you simply wait for your food to be prepared and brought to you.
This self service technology has been around for some time, but only a few embraced it early on like McDonald's, Subway, Taco Bell and Starbucks. Recently, more and more restaurants are investing in self service to enhance customer experience by offering alternate channels of service delivery.
Nearly 80% of QSR customers prefer using self service if presented with the option because of the level of convenience as opposed to waiting in a line to order at a counter.
McDonald's has successfully deployed self ordering kiosks to all its 14,000 US locations and has nearly populated all of its locations worldwide with self ordering technology as well.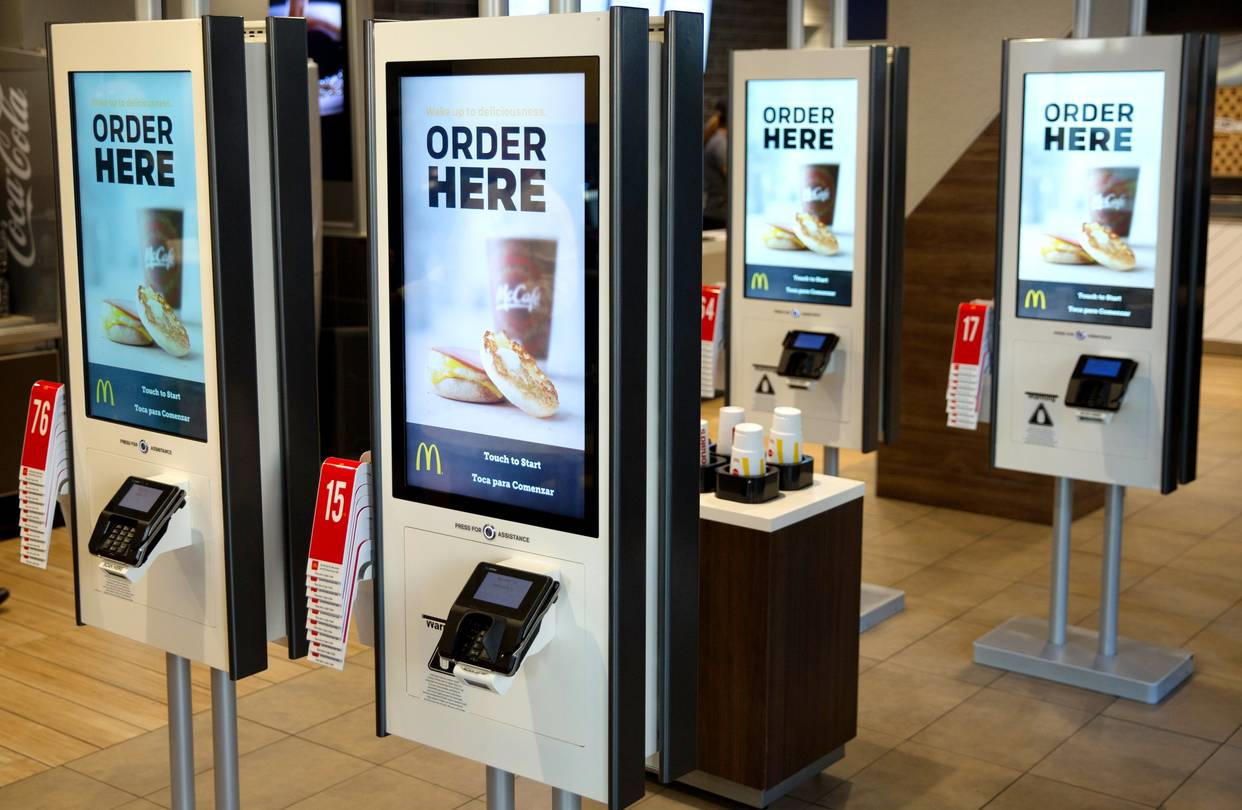 5. Self-Checkout Kiosk
Self-checkout kiosk enables a customer to perform their checkout independently without intervention by a cashier or bagger. These machines are found in large supermarkets and are easy to navigate. They also have multiple payment options like cash, card, or mobile wallet.
This kind of kiosk is very common in some parts of the world, like North America, which has a massive network of department stores like Walmart, Target, Best Buy, etc. These larger companies have been able to invest in the technology because they operate at such a large scale that these expensive machines end up being quite cost-effective for them.
Changing Trends
As this technology ages, it becomes cheaper. Therefore, it becomes accessible to those who couldn't get their hands on it before. We're seeing an increasing number of smaller supermarkets implement self-checkout systems in their stores. This trend is following in developing economies as well.
Retaining Staff
Self-checkout systems are not meant to replace staff; they're meant to divide the load of the work and offer customers the option to checkout themselves or through a traditional counter. This empowers the customer to act independently and keeps them coming back.
Stay Competitive with Self Service
It is essential for businesses today to keep innovating and adapting to market trends to remain competitive in their respective industries. If companies remain myopic without keeping a close eye on the market and their competitors, they will slowly fade out of existence.
Self service is the current market trend that undeniably gives an edge to whoever implements it properly. Beyond a trend, it is a doorway to the future of service delivery where manual methods will become obsolete and discarded.
Do you own a business that could benefit from and integrate well with self service technologies? Reach out to a self service solutions provider today to configure a self service kiosk based on the needs of your business.
Azimut Self Service
Azimut is a self service solutions provider that focuses on bringing you the best end to end solutions available in this ever growing industry. Azimut is part of the Wavetec Group, serving some of the largest banks, telecoms and mobile financial services providers in North America, Africa, and Central & Southeast Asia.
Check out similar blogs:
BOOK A FREE DEMO