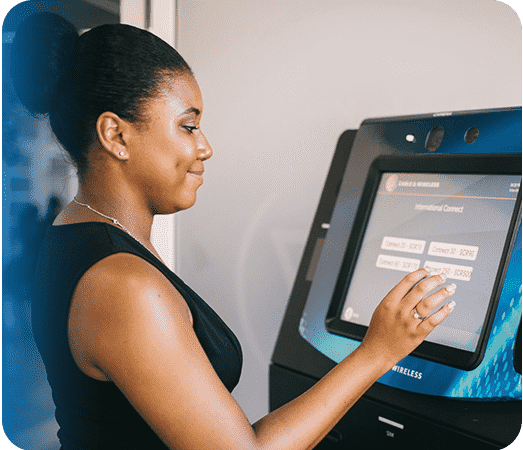 Cable & Wireless Seychelles (CWS) is the leading telecommunications company in the country. Having started out by establishing the first global connection in Seychelles in 1893, to becoming the national provider of choice, today, CWS facilitates businesses, homes and individuals with state-of-the-art communication solutions – supplied using the fastest LTE 4G+ network, the only 5G network in Seychelles and an advanced fibre optic link.

Much like Wavetec in its affinity to innovation, CWS too strives to stay abreast with technological improvements, so that it can continue to provide personalised solutions that guarantee customer satisfaction.
They have also become wary of their carbon footprint, calculating that their bills required the felling of about 115 trees per annum. As of early June 2020, CWS has gone paperless – the newest member of age digitisation! Hoping to continue the same level of customer service and care, they have both digital and non-digital options – a QR code issued via a smartphone, or on a free customer card available at the customer service counter.
Once the customer's identity has been confirmed, the kiosk displays their account and billing details, including offering the facility of paying on the spot, and receiving email confirmations and receipts. These features will be further elaborated upon below.
All this necessitated that they upgrade and modernise their existing self-service solutions. And so Wavetec was honoured to collaborate in the improvement and optimisation of their operational and functional capabilities.
CWS' existing self-service kiosks did not support many of the services and flows needed for a business of their calibre and with their client base, resulting in operational capacity becoming limited. These in turn lead management to struggle with proactively serving existing and potential customers.
The issues included:
Limited operating hours,
Limited flows, functions and customer servicing capabilities,
High operational costs and inadequate returns on investments,
Operational complexity hampering new product and package introduction and rollout.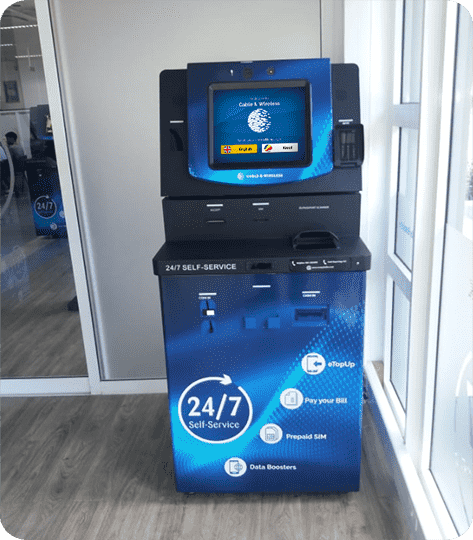 Working with and installing Wavetec's Self Service Kiosks has helped achieve business objectives and aided in mitigating front-line operational challenges, as listed above. And so, Cable and Wireless Seychelles has been successful in introducing new services and packages, all while offering convenient service points to its customers.
Amongst the services now available, are:
1. Introduction of card and online payment facility
2. Addition of new flows and their effective marketing through the kiosk, in its capacity as digital signage
3. Instant and prepaid SIM issuance and dispensing
4. Bill payments using QR and barcode scanning
5. Booster purchases – for internet and mobile phone data package
6. Availability of services 24/7
7. eTopUp services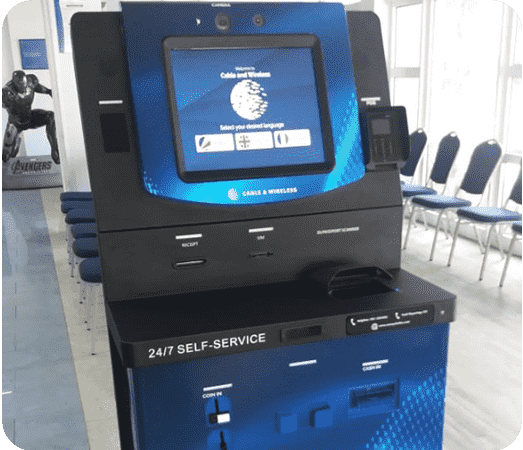 CWS can now cater to clientele around the clock, facilitate a variety of competitive and accessible features, serve those carrying cards or cash, account holders or walk-ins, and step up to the challenge as the nation's foremost server of communicative needs.
Their enterprising spirit is ever-evident in the utilisation of these kiosks as collaborative marketing tools – part of a monthly draw which offers exciting prizes, or as digital signage to display targeted ads. These can be found present as indoors and outdoors facilities, the latter seen below.
With numerous locations of deployment, and being social media engagement active, it is no doubt that this is precisely the kind of partner many dream of. One who appreciates the full potential of the services and products deployed, and is willing and able to make use of it for self- and consumer-interest.
Cable & Wireless Kiosk Locations Across Seychelles
Butcher's Grill Unity House
Victoria Customer Service Centre (9 Kiosks)
Eden Plaza
Airport
Anse Boileau Exchange
Anse Royale
Anse Aux Pins Exchange
Sunshine Customer Service Centre
Beau Vallon Customer Service Centre
OJ Mall Victoria
IOT
KB Emporium (Providence)
La Digue CSC
Lemuria
Mont Fleuri RLU
Perseverance Post Office
Praslin Airport
Praslin CSC (2 Kiosks)
Raffles Staff
Anse Etoile Exchange
ProWash Roche Caiman
KB Emporium Providence
STA La Misere
Anse Reunion Customer Service Centre
Airport
Grand Anse Customer Service Centre
Anse Kerlan
Cote D'or
Baie Ste Anne DA (2 Kiosks)
Beau Vallon CSC
Butchers Grill Unity House
Eden Plaza
Independence House
Roche Caiman DA
Victoria Post Office