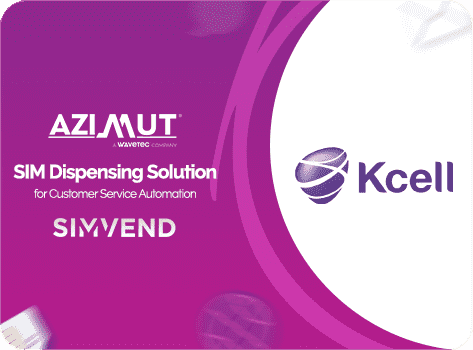 For the first time ever in Kazakhstan, Kcell launches its SIM Card Dispensing Kiosks in a pilot mode that allow users to purchase a new or get a replacement activ SIM card. This is another step in the digital switchover process as well as in the development of customer self-service and improvement of user convenience. The activ SIM dispensers are easy to use, have an intuitive interface, help customers save their time and are available 24/7. The easy to use and intuitive interface is a result of huge work done by a team of Kcell professionals, from designers and product experts to developers. Given the COVID-19 pandemic and extended state of emergency, the kiosks provide the safest and fastest way to get basic cellular services. In future, the use of such machines will help us reduce costs and improve the network performance. SIM dispensers are in great demand abroad, especially in high footfall places. We hope that the kiosks will become popular among local users as well".
Kaspars Kukelis, Chairman of the Management Board of Kcell JSC.
Kcell wanted to provide a safe, convenient and fast way to provide customers the
convenience of self-service, particularly as the unprecedented disruption of the COVID-19 pandemic. These self service kiosks provide customers the ability to carry out a number of crucial user journey including:
SIM Replacement: To replace a lost SIM card, select the appropriate option on the main page, then enter your mobile number, scan your ID and have your photo verified. If the number is registered in your name and all the registration data match those in the system, the kiosk will issue a new SIM card after the SIM replacement fee has been deducted from your phone account.
Top Up: Select Top-Up and enter the phone number and top-up amount. Make a payment via the POS terminal. Topping up a cell phone is free of any extra charge.
New SIM: When you select New SIM, you will be prompted to pick a cell phone plan and pay the cost of a new SIM card via the POS terminal. Once the payment is made, your receipt will appear on the screen and the kiosk will issue a SIM card. Upon request, receipts can be sent to your email address.
eSIM: To get an eSIM, you will need to undergo an ID and photo verification process, just like you would do for the SIM Replacement option. Then you will see a QR code on the screen. Scan the code and eSIM will be automatically downloaded to your phone. The cost of eSIM will be deducted from your cell phone account.
Kcell chose Azimut modular SIMVEND platform to power its telco self service requirement. SIMVEND enhances the brand experience by providing an efficient, intuitive and automated self service experience.
Our back to back fully integrated smart solution creates a seamless omnichannel experience while ensuring total management, operation control and confidence. Solution features include capabilities to instantly issue and activate SIM cards, manage top-ups and undertake a full array of wallet based banking services.
With options ranging from being multilingual to accepting any currency, SIMVEND guarantees growth in customer satisfaction, loyalty and enables telecom operators to reduce operational costs and drive additional revenue opportunities.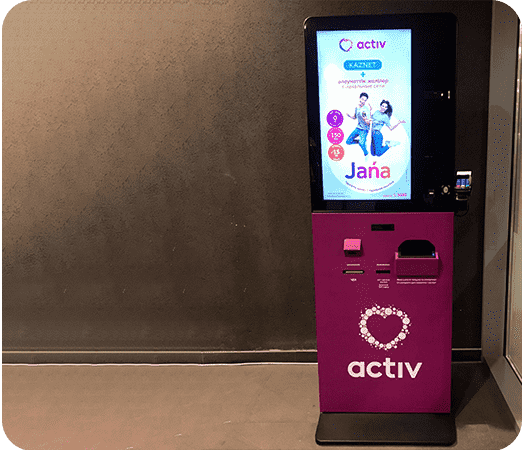 Instant SIM Card Dispensing & Registration
Being the pioneering industry leaders in the telecom self service space, Azimut offered Kcell an efficient solution to their problem in the form of self service kiosks which brought customers the convenience of safely buying, replacing and registering for new SIM cards in just a few minutes. These kiosks, which are seamlessly designed, are manufactured especially in a way as to enrich the customer experience. Their contemporary design offers multiple features essential for telecommunication companies along with various innovative self service options.
The kiosks are easy to use and help improve customer convenience by saving their time and offering services in three languages: Kazakh, Russian and English. During the lockdown period, kiosks are the most secure and efficient channel to access basic mobile communications services.
To use the kiosk, pick the service from the menu on the main screen: SIM replacement or Top Up. The New SIM and eSIM Issue services are also available. The kiosks' functionality will be expanded over the time so that users are able to get access to other interesting and useful services of the company.
Azimut's self service kiosks
support full E-SIM registration journeys, using both online & offline mode to efficiently allow E-SIM registration following successful KYC checks.
Alerts, Live Reporting & Dashboards
ViaOS is a modern customer experience platform built for self-service. It is designed to enable management and monitoring of all SIMVEND deployments. It comes with drilled down reports, log, telemetry data such as read-time business statistics, inventory & reshipment management, notifications and alerts.
Additionally, keeping in mind the essential need to perform KYC on potential customers, the self-service kiosk is fully equipped with features which helped Kcell do the needful. Eliminating the need for a customer service representative, the kiosk simply asks consumers to scan their identification documents, which it then verifies in real time through facial recognition & liveness detection.
About Kcell
Kcell provides mobile voice telecommunications services, messaging services, value-added services such as multimedia and mobile content services, as well as data transmission services including internet access. The Company offers its services through its extensive, high quality network, which covers substantially all of the populated territory of Kazakhstan.
It has two brands: the Kcell brand, which is targeted primarily at corporate subscribers (including government subscribers), and the Activ brand, which is targeted primarily at mass market subscribers.
About Azimut
Azimut is a successful software development company, specializing in self service applications for the telecom, retail and banking industry. Take your store to your customer, wherever, whenever.
Azimut is the world's leading telecom & mobile banking self-service solution provider, our modular software and hardware is specifically designed and customized based on our customers' requirements. Our software & hardware help you deliver the best experiences for your customers by offering fast and secure services round the clock.
KYC Authentication & Verification
Mobile Banking with Cash Accepting & Dispensing
Fast & Secured Transactions via Smart Middleware
Modular Kiosk Designs
Self Care & Account Management
Integrate with Mobile Apps & Wallets
Facial Recognition & Liveness Detection
Powerful Dashboards for Data Visualization