Wavetec

helps

Djezzy Telecom

in managing their customer flow at all their Service Centers throughout ALGERIA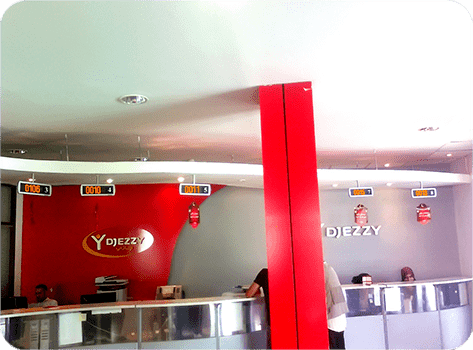 Orascom Telecom Algeria, operating under the brand Djezzy, is a user of Wavetec provided Queue Management solutions at more than 70+ branches in Algeria. We provided Djezzy with a complete end-to-end solution handling all their customer management needs. With Wavetec's central reporting and management software Djezzy can monitor the progress in all of their offices around Algeria. The central reporting software has helped them to benchmark and check the service times in all of their Wavetec connected branches across the country. The data from this software is also used by their Human Resource department to check the performance of their employees. The solution provided to Djezzy is completely customized and based on their requirements. The whole system is in French. Everything, from the categories on the kiosk to all the central reports, is provided in French. The system also has the capability to differentiate the customers based on the priority levels set by the management.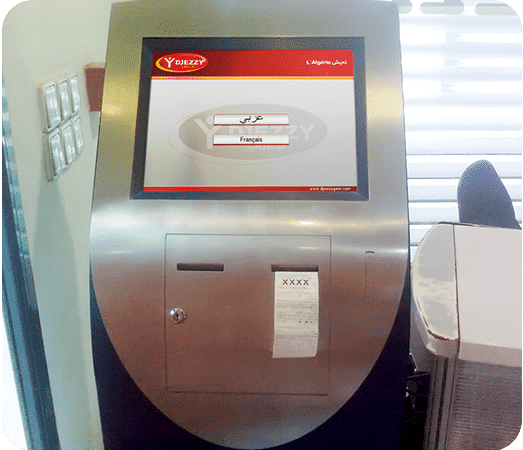 Reasons showing a need for Wavetec's services
Organizing the flow of customers visiting the service centers and effectively allocate the workforce in any Djezzy branch in Algeria, essentially to decrease the waiting and service times of the customers.
Measure and benchmark service quality performance at all the Wavetec powered Djezzy offices in Algeria.
To display promotional messages in the waiting areas, educating the customers waiting with all new or upcoming promotions.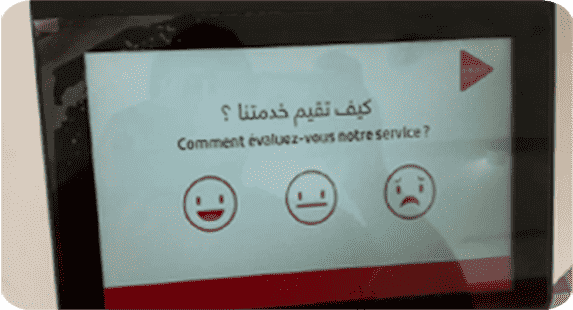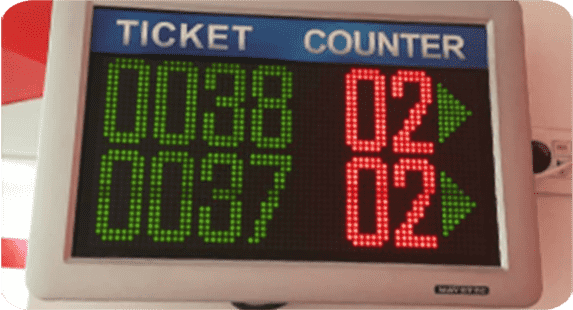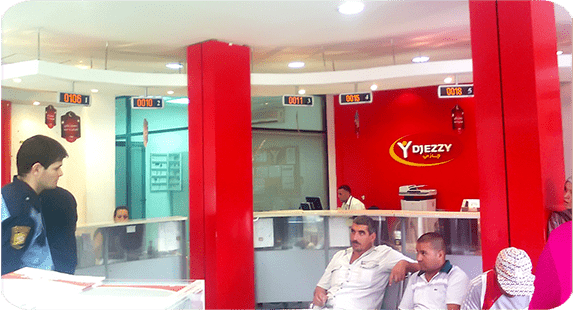 Benefits for Djezzy
An automated system to fully manage the customer service of all Wavetec powered service centers. The system provides data which prompts the manager to efficiently allocate all available resources, decreasing the customers' actual and perceived waiting times and enhancing the customers' experience.
With the feature of priority calling, now Djezzy can serve its customers based on their priority instead of a first-in first-out mechanism.
The central reporting software enabled Djezzy to effectively monitor the progress of all the branches. It gathers useful data to be used by the service quality assurance department and the human resource department.
"Djezzy continues to improve its customer experience by delivering a high quality of service through its shops. And this would not have been possible without the EQMS- Electronic Queuing Management System. We consider EQMS as one of the ranges of technologies that we use in our shops in order to get closer to our customers, it has helped us in managing our staff and above all it serves as a decision support tool for our top management to unveil new business strategies through exploring the benefits provided by EQMS. We're very much satisfied with this technology and also with the quality of the service provided by your local partners."
said Mohamed Achir, Director Transmission Engineering at Djezzy
What Wavetec provided
After a thorough analysis of Djezzy's needs, Wavetec provided them with a complete end to end solution comprising of an electronic queue management system and a fully customized central reporting software. Wavetec is now representing Djezzy in the whole country. The whole system is based in French which was a first for Wavetec as well.
All Djezzy Telecom stations powered by Wavetec are equipped with a smart L.C.D. touch-screen kiosk. The smart kiosk also has the ability to identify and categorize customers which also enables priority calling.
In all Djezzy offices, Wavetec provided them with a software to display the ticketing information and alongside that information, different promotional messages and advertisements on their L.C.D. screens.
A central reporting software was provided which showed the progress of all the Wavetec connected branches in Algeria. As a part of the central reporting software, Wavetec also provided Djezzy Service Centers with a live manager dashboard showing live data about active staff, active counters, customers served/waiting and service/wait times with tabular and graphical trend reports. The software provides web based, secure reporting with user access control for different management levels. These reports can be viewed from anywhere around the globe.
Each Djezzy Telecom service center is equipped with a Wavetec Smart Kiosk. This is a touch screen ticket dispensing machine. A unique feature of the Smart Kiosk is that it has two ticket printers to ensure operational continuity. In the waiting area, a Digital Signage Solution integrates seamlessly with the EQMS system to display the status of the tickets and promotional media on a shared LCD screen. The solution allows centralized management and control of the content being displayed on. In addition, idle-time scrolling messages can be displayed on all LED counter displays. In line with Djezzy's focus on customer care, Wavetec designed a matching engine that routes the customers to a specific service staff based on their needs. This simple, but effective, feature makes it easy for the customer service staff to make the experience hassle-free and pleasant for all customers.
Djezzy is now using the Wavetec Enterprise Queue Management Solution (EQMS) in more than 27+ countries across the world and the network continues to expand. There were two key focus areas of the solution designed by Wavetec, Djezzy customers must feel relaxed and looked after, and the staff at all locations should spend maximum time providing customer care and delivering service compliant with quality standards, least distracted by tasks that can be handled by technology –in this case by the Wavetec EQMS.