Businesses worldwide have recognized the importance of Digital transformation in improving their customer experience. Improved customer experience eventually lead to improved ROI and skyrocketing growth of businesses belonging to all industries and scales.
A report by Prophet revealed that around 54% of businesses are concentrating on revamping their customer touchpoints, and 45% are already working on improving or updating their digital infrastructure. However, a concerning 41% of companies have skipped doing comprehensive customer research and jumped on the bandwagon of digital transformation without critical decision-making.
Industries, including banking, retail, and healthcare, continue to embrace digital transformation and all its associated privileges. Look at the following optimistic numbers and stats.
61% of banking customers said they were inclined to digital banking due to its convenience – PwC.
Retailers that adopted digital transformation solutions attracted 86% more customers in 2022 – Adobe.
The Younger generation is more likely to select a healthcare provider that offers digital capabilities – Accenture.
This blog post will discuss real-life digital transformation examples transforming various industries to give you an idea about how your business can leverage digital solutions for exceptional customer experience and improved ROI. Let's dive deep into detail.
Successful Digital Transformation Example
Below are some successful digital transformation examples that ensure improved customer experience and revenue. Let's discuss each of these examples of digital innovation that helps stay ahead of the competition and thrive amidst evolving market trends & customer expectations.
1- Banorte– Bank of Mexico (CBK) Use of Customer Flow Management
Innovation Adopted – Digital Signage and Queue Management System
Outcome – Reduced wait time, better customer experience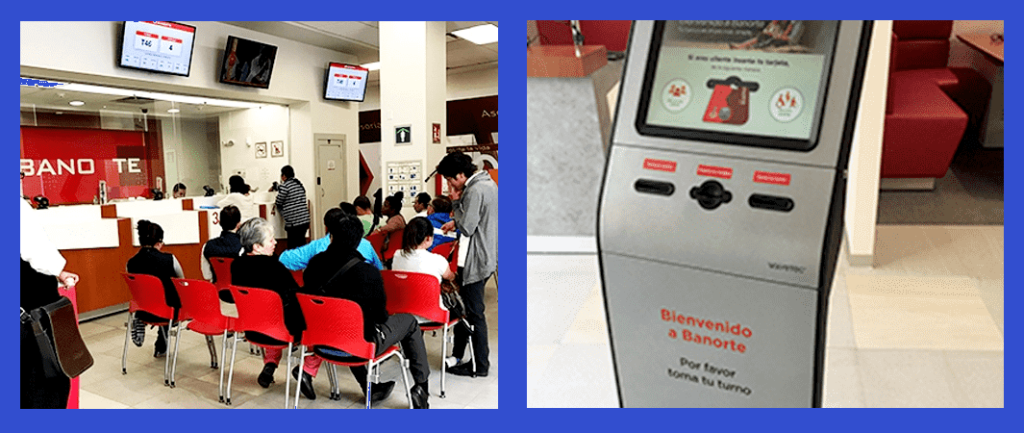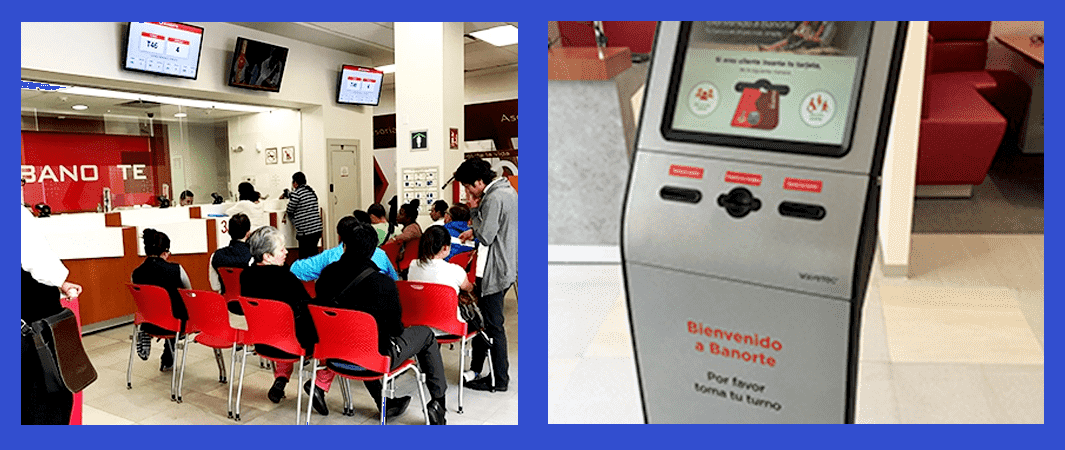 Banorte Bank realized that to stay ahead in the highly competitive banking industry, it needed to up its game by implementing modern technology and putting its customers at the center of its operations. And so, the Branch Transformation Project was introduced – a comprehensive plan centric around making customer experience and flow seamless, efficient, and enjoyable.
With Wavetec's state-of-the-art management system deployed in over 1000+ Banorte branches across Mexico, customers can finally say goodbye to long, frustrating wait times. Wavetec's system allows customers to take a number and then relax in a comfortable waiting area while they wait for their turn to appear on Digital Signage.
And that's not all – Wavetec's system has given Banorte the ability to keep an eye on the pulse of customer traffic and service quality in their branches with real-time insights to avoid potential bottlenecks. This kind of agility and responsiveness is crucial in today's fast-paced banking environment, where customers demand nothing less than excellence.
The bank is now well on its way to providing exceptional customer service while increasing efficiency and reducing costs. It's a win-win situation for everyone involved!
2- BCI Bank – Bank of Chile (CBK) Use of Digital Signage
Innovation Adopted – Digital Signage Solution
Outcome – Increased Engagement & Pleasant Customer Experience

Chile's BCI has always been keen on stepping ahead of its competitors in the highly competitive banking industry, constantly striving to push the boundaries of innovation and creativity. And so, when BCI set its sights on enhancing the customer experience, it turned to none other than Wavetec, the digital signage experts.
To create a more engaging and entertaining experience for its customers, BCI opted for Wavetec's Donatello digital signage solution. The project kicked off in December 2013 and involved installing 32 and 55-inch screens in various BCI branches connected to a central web server, allowing easy administration and management of the screens' content.
With Donatello's powerful software suite, BCI could create and customize a range of modules, including date and time, weather updates, TV programs, and even social media feeds. It helped customers to stay informed and entertained while waiting for their turn.
Undoubtedly, For BCI, the partnership with Wavetec has been a resounding success, with the company's innovative digital signage solution helping to enhance the customer experience and strengthen its relationships with stakeholders.
3- EuroAmerica – Bank of Chile (CBK) Use of Color LED Ticker
Innovation Adopted – Digital Signage & Queue Management System
Outcome – Reduced Wait Time & Improved Customer Experience

Founded in 1900, EuroAmérica has over a century of experience in the Chilean market and has become one of the most prominent non-banking financial services companies. The facility identified the need for real-time updated information to help decision-making and reinforce its strategic position in society.
To fulfill this need, EuroAmérica partnered with Wavetec to install a massive 90-meter long and 48-centimeter high LED Ticker outside its headquarters in Santiago de Chile. The Ticker broadcasts real-time financial information, including the value of Chile's UF (Unidad de Fomento), foreign exchange quotes, share percentage changes, and the latest financial news.
With the Donatello software solution, EuroAmérica enjoys operational autonomy and the ability to schedule the Ticker to turn on and off while keeping the content updated in real-time. Thanks to Wavetec's LED Ticker, EuroAmérica can provide up-to-the-minute financial data to its customers while maintaining its strategic presence in the social environment.
4- Puma – use of WhatsApp Queueing software
Innovation Adopted – WhatsApp Queueing Software
Outcome – From the 18 stores, in the month of December 2020, over 80,000 tickets were issued and served.

With stores worldwide, Puma was determined to keep its customers and staff safe by ensuring social distancing during the COVID-19 pandemic. Puma needed a queue management system that would be easy to use, quick to deploy, and accessible to most customers. They opt for Wavetec's WhatsApp Queueing solution in one of their stores in Chile. Within a week, 19 locations, including those in Santiago, were equipped with this innovative solution.
But how does the WhatsApp Queueing solution work? It's pretty simple. Customers arrive at the store, greeted by signage displaying a QR code. They scan the code using their smartphone, and a WhatsApp chat bubble pops up. The customer then chooses the required service, replies to the chat, and is given a place in the line. The system sends real-time updates on their position in the queue until their turn is served.
But the best part is that customers can go wherever they want during the waiting period. They can shop elsewhere, wait in their car, or even run errands. Puma saw a significant increase in visitors during the months of November and December 2020, particularly at their outlet stores. And from the 18 stores, over 80,000 tickets were issued and served during the month of December alone because of Wavetec's WhatsApp Queueing solution.
5- Nike – Use of Queuing Solutions
Innovation Adopted – WhatsApp Integrated Queuing System
Outcome – Improved Customer Experience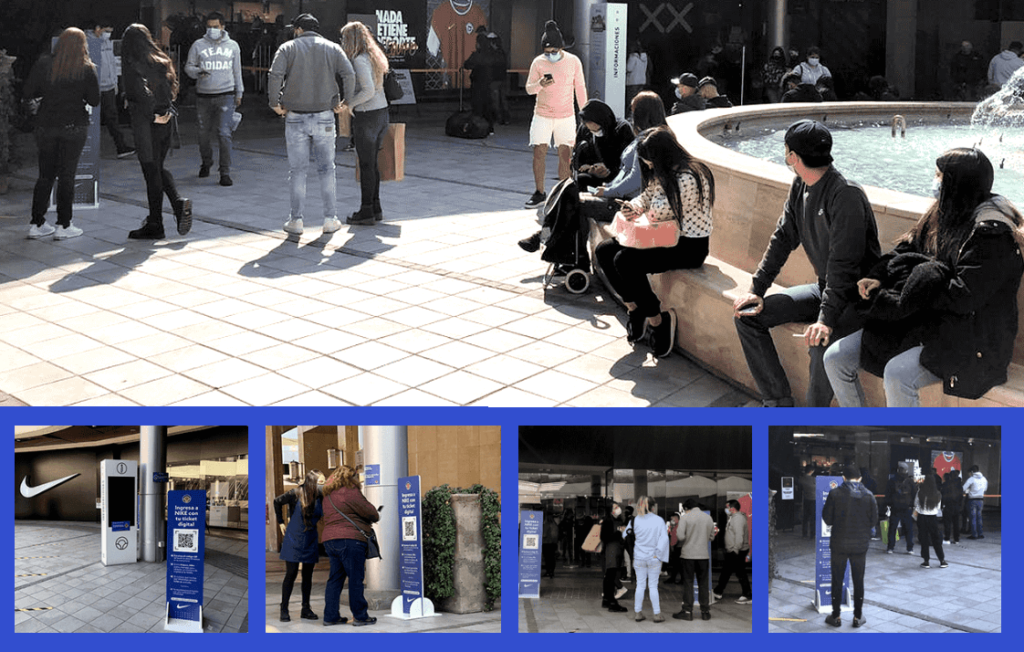 Amidst a global pandemic that has forced retailers to shift gears and adapt to a new normal, Nike, a retail giant, has chosen to equip itself with a more innovative, safer, and efficient queue management system. While they have already successfully created a digital ecosystem, accounting for 30% of their total sales, they aim to push this number up to 50%.
The challenges Nike faced were indeed daunting. Government regulations on social distancing and occupancy limits meant longer customer wait times. Again, this is where a WhatsApp-integrated queuing system came into play.
Starting with 20 tickets, then reducing to 15, and finally 10, the system ensures that customers always know how long they need to wait. Wavetec's innovative WhatsApp queue management system has enabled them to adapt to the pandemic and provide customers with a more secure, efficient, and happening shopping experience.
6- Chapidze Heart Center – Use of Patient Flow Management System
Innovation Adopted – Patient Flow Management System
Outcome – Less patient wait and service time (from servicing 70 patients per day to 200 per day)

Chapidze Heart Center (CHC), a unique collaboration between Georgia and Germany, exists in the middle of the crowded city of Tbilisi. The facility facilitates Cardiology, Angiology, and Secondary Prevention of Cardiovascular Diseases patients, catering to all age groups.
To address the growing number of patients at Chapidze, Wavetec, in collaboration with Innotec, proposed a solution that exceeded all expectations – the Patient Flow Management System. Patients can now quickly obtain a virtual queue ticket from the touch screen kiosk, with personalized software guiding them to their desired routes and appointments
Since its implementation, the system has allowed optimal service processes, resulting in an exponential increase in patients served, from 70 to over 200 daily. With this newfound convenience, the Chapidze Heart Center can continue to provide exceptional care, paving the way for a brighter, healthier future.
7- Project SYNCERE – Workflow Automation with Kissflow
Innovation Adapted – Workflow Automation for Manual Processes
Outcome – Improved Efficiency & Productivity
A non-profit organization, Project SYNCERE, was founded in 2008 on the south side of Chicago. Their mission was to support the youth's needs with core engineering research experiments. However, they struggled with manual processes for organizing their engineering workshops, resulting in losing essential details.
Feeling overwhelmed while dealing with enormous amounts of information and data, Project SYNCERE decided to move its process online and eliminate all manual processes. They needed a centralized hub with all the information and communication regarding the process. & That's when they found Kissflow.
With Kissflow, Project SYNCERE could organize and communicate better within the process. It streamlined their programming process, making it easy for each user to know where everyone else was. When users logged into Kissflow, they were greeted with a dashboard full of information, eliminating the need to share information vocally or on paper.
Moving to Kissflow helped Project SYNCERE's staff understand the process better and how everyone played an important role. They realized how long it took to complete the process earlier and became more receptive to improving their individual parts.
8- Sonnen – Shifting to Agile Response to Market & Digitization
Innovation Adapted – Agile Methodology & Digital Operations Management
Outcome – Increased leads & Streamline Communication
Sonnen, a B2C renewable energy service provider, has to deal with empowering households by allowing them to produce, store, and share their own electricity. But with their business growing faster than ever, Sonnen faced a unique challenge: how to keep up with the demand?
The only solution was Digital Transformation. Sonnen needed to rapidly grow their teams, improve their service ecosystem, and work on internal processes. They had to deal with high traffic volumes, data, and technical debt from their older products. And on top of all that, they had to comply with regulations in different markets and provide high-level services in a highly competitive market.
Between 2017 and early 2021, Sonnen underwent a digital transformation centric around two complementary pillars. The first was a rapid shift to the Agile model, which allowed the company to adjust its structure to the needs of its customers, employees, and the evolving market trends. The second was related to integrating a software solution to manage its operations.
Boldare was there to help Sonnen implement this digital transformation, which resulted in an increase in the number of leads and clients. Communication between partners and the sales team was streamlined. It eliminated the need to connect multiple external applications from different brokers.
9- IKEA – TaskRabbit, Augmented Reality (AR), & Space 10
Innovation Adapted – Acquisition of TaskRabbit and Integration of Augmented Reality
Outcome – Improved Customer Experience
Let's discuss the strategic initiatives of IKEA, the Swedish furniture company setting an example of digital transformation. With the help of new technologies, IKEA is transforming the shopping experience of its customers and optimizing its costs in the process.
In 2017, IKEA acquired TaskRabbit, a website that helps people search for professionals to assemble or deliver furniture purchased at IKEA to their doorstep. Moreover, IKEA has taken on an innovative home project, which includes intelligent kitchen equipment and lighting. With Augmented Reality in the IKEA Place application, customers can choose furniture and virtually furnish their apartment before making any purchases.
With these innovative digital transformations, IKEA is changing the game in the furniture industry. From helping customers with assembly and delivery to using Augmented Reality to enhance the shopping experience.
10- LEGO – Embracing Modern Technology and 3D Printing
Adaption – 3D Printing, Engaging Website, Sensors, and Serverless Computing
Outcome – Robustness, Innovation, and Increased Demand
LEGO is a toy company providing children with colorful blocks to spark their imaginations. But in 1997, LEGO decided to enter the video game market, and this was the beginning of a new era for the company.
As time passed, the LEGO brand began to evolve in exciting ways. The company explored 3D printing technology, which most companies were hesitant to do because of the potential threat it posed to their business.
In a move that further emphasized their commitment to customer engagement, LEGO created a website where customers could submit their own ideas for block sets. This stimulated the creativity of brand fans and instilled customer loyalty. But LEGO didn't stop there. They started equipping their blocks with advanced solutions such as sensors, making their toys more interactive and engaging.
The games have become essential to LEGO's brand promotion, with many being offered for free. This has significantly impacted sales of their blocks, providing them with a powerful promotional tool.
11- DHL – Data-Centric Approach in Logistics and Delivery
Adaption – AI, Machine Learning, & Robotic Process Automation
Outcome – Improved Customer Experience & Advanced QA/QC
DHL, the global logistics company, has been on a mission to provide excellence in logistics and delivery services globally. During the COVID-19 pandemic, DHL paced its efforts toward digitalization, and the company is now investing over $2 billion in digital transformation projects between 2021-2025.
A more notable case that has accelerated DHL's digital transformation is the robust Quality Control and Quality Assurance Facility (QA/AC). With millions of packages being sent worldwide through various logistics systems, different providers, and hundreds of thousands of touchpoints, it can be challenging to keep track of everything. DHL invested in a state-of-the-art QA/QC facility that leverages big data to make predictive analyses on delivery times and freight movements.
In addition to its QA/QC facility, DHL has improved the customer experience by adapting innovative digital solutions. DHL is the perfect example of how the digital transformation of companies, like the integration of 24/7 chatbots to provide real-time information on the whereabouts of parcels, is the perfect digital transformation strategy example. Lastly, DHL has introduced QR-code labels for the return of parcels.
DHL is determined to deliver excellence in a digital world, and with the investments that they're making in digital transformation, it's clear they're well on their way to achieving their goals.
Conclusion
Digital transformation is rapidly changing how businesses operate in a highly competitive world's fast-paced and evolving market. The examples of digital innovation we've explored demonstrate how implementing innovative technologies can have a significant impact on customer experience, operational efficiency, and revenue growth.
Wavetec is one of the companies leading the way in providing digital solutions for businesses across various industries. Their digital solutions, like customer flow management, customer appointment & scheduling, WhatsApp queuing, digital signage, business analytics, and self-service kiosks, help businesses improve customer experience and skyrocket their ROI.
Adopting the market-leading technologies discussed in the article allows you to outshine your competition and deliver a seamless & exceptional customer experience. Contact Wavetec today to learn more about how their solutions can help in the digital transformation of companies in various industry segments.
BOOK A FREE DEMO