In this blog: We breakdown and detail what self service means at Azimut with the help of Azimut's 4 P's of of Self Service; Product, Pre-staged Transactions, Personalization and Payments.
Banks and Telecoms all over the globe are slowly making the switch to automated services with the help of self service solutions. ATMs or automated teller machines are an example of self service that have been around for decades. ATMs enable a bank's customers to withdraw funds at any time of the day from a convenient location. Similarly, other self service kiosks have been introduced that automate a whole new range of otherwise analogue services such as depositing cash & and cheques, registering & dispensing SIM cards and making payments towards bills or mobile wallets.
We have broken self service down to 4 simple Ps to illustrate the features and benefits of self service solutions at Azimut.
Product
Azimut's product is not just the kiosk itself, but an end to end solution so clients don't have to go elsewhere for development or software. Our solutions for Telecom include SIMVEND, a SIM registration and dispensing kiosk and self service solutions for Banking include CQUICK, a bulk cash deposit machine. Azimut also offers cheque deposit machines, card issuance kiosks and remittance kiosks for banks and agent networks.
The brains behind all this hardware is ViaOS, an enterprise level software developed specifically to run these kiosks. ViaOS lets you monitor your network of kiosks remotely and has bank-grade security features so you never have to worry about malicious attacks.
These kiosks are perfect for businesses looking for branch transformation solutions; they operate 24/7, reduce costs in the long run and eliminate queues and customer wait times.
Self service has helped businesses increase their average order value by up to 40%. This means that when customers use self service kiosks, they end up buying more products and services as opposed to visiting a physical branch. It's all about the convenience; kiosks offer more services and allow business to cross sell different products as well, not to mention how easy it is to roll out new services & promotions with the press of a button.
In idle mode, the kiosks serve as a digital billboard that may be used to run video advertisements and generate additional revenue.
Pre-staged Transactions
With the help of clever mobile app integrations, Azimut's self service kiosks allow you the ability to pre stage transactions on mobile devices and complete them at a kiosk with a simple QR code scan.
Pre-staged transactions are partially done on mobile devices and then completed later at a self service kiosk with a QR code or NFC tap, for example let's say you want to purchase a SIM card and there's a SIM dispensing kiosk at your destination, but you don't have a lot of time. What you can do is perform the registration and payment on your mobile device via the telecom operator's app and generate a QR code.
When you reach the self service kiosk, all you have to do is scan the QR code at the kiosk's scanner and your active SIM card will be dispensed. Similar pre-staged transactions can be performed for cash withdrawals or mobile wallet top ups.
Pre-staged transactions are a mix of mediums, an integration between digital and physical channels of service delivery to help facilitate smooth customer journeys with the highest level of convenience. These transactions are often also referred to as touchless transactions.
Personalization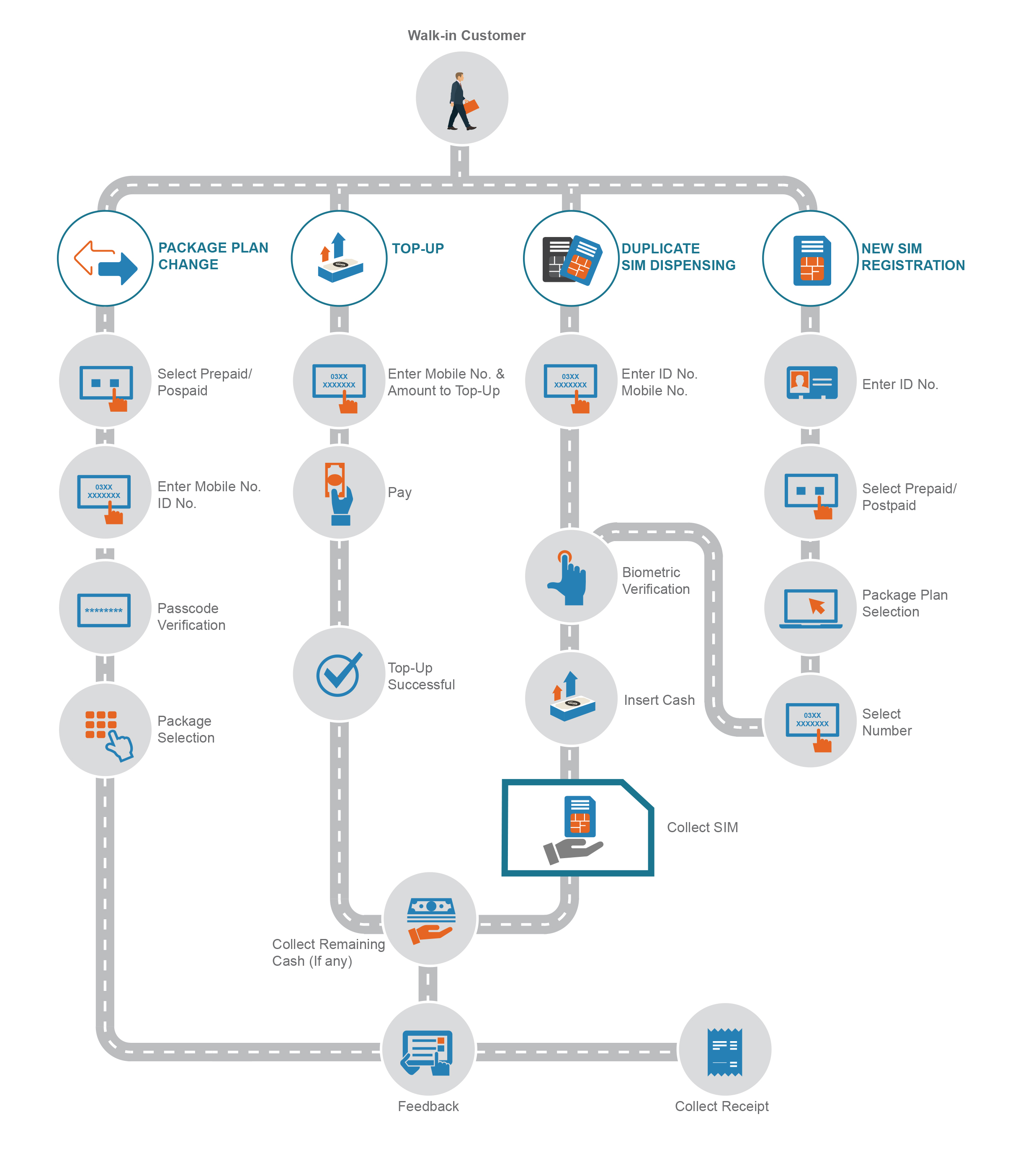 As opposed to traditional retail centers, self service offers its customers a more personalized experience. Azimut's kiosks connect to the databases of the business and national identity authorities as well. What this does is store transaction history and demographic data of individual customers.
When a customer accesses a kiosk, the kiosk draws on their historical data and makes recommendations based on the services they've used the most in the past. Personalization in self service helps build a seamless, engaging customer experience for each user and this in turn builds loyalty.
This historical data can also be used for research purposes; to determine where to invest more money and to figure out which services to eliminate based on their usage at self-service kiosks. New services may also be tailored based on this data. Upselling and cross selling can also be tailored based on a customer's preferences.
Did you know?
80% of customers are more likely to do business with or purchase from a company that offers personalized experiences.
Payments
Azimut's modular kiosks can be fitted with cash acceptors, cash dispensers, cash recyclers and credit/debit card readers as well so that your customers can make payments at their convenience.
With integrations to mobile wallets and national databases, customers can use the kiosks to make payments against utility bills and mobile wallet top ups.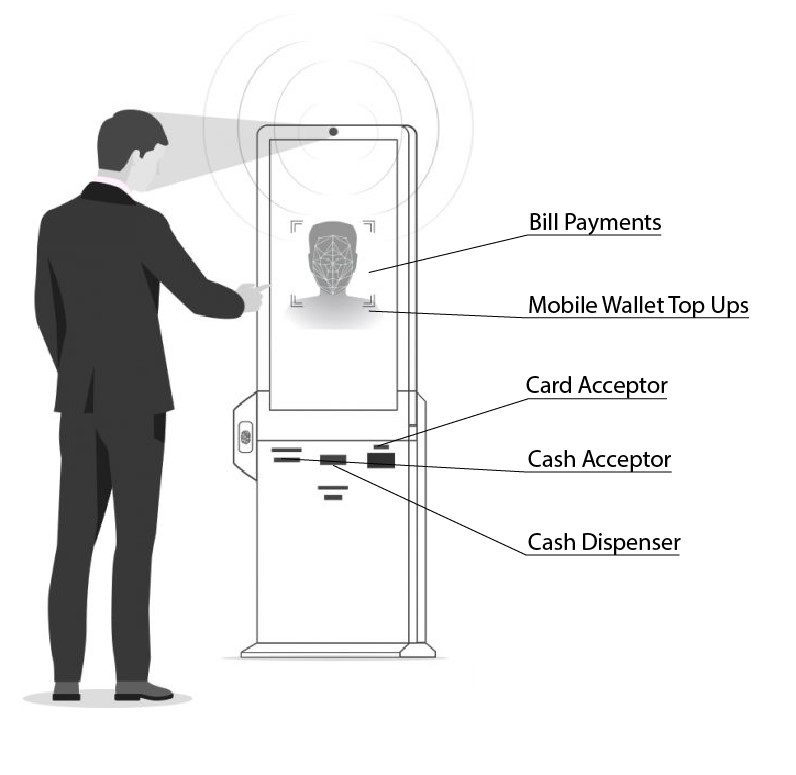 At Azimut we provide customized and standard solutions for the telecom & banking industries worldwide. With over a decade of experience working in self service, our team has helped large telecoms and banks all over the globe including Mobilink, KCell, Telenor, Santander Bank, Banorte, etc. make the move towards digital delivery channels and step into the future of branchless operations.
Azimut is part of the Wavetec Group, serving some of the largest banks, telecoms and mobile financial services providers in North America, Africa, and Central & Southeast Asia.
BOOK A FREE DEMO