Every organization thrives to establish a strong market position among its competitors. For this customer relationship and experience management are essentials. These two concepts lead organizations ahead in their business market. For businesses to sustain and continue, they must meet the demands of their customers, which as a result develops a positive image of the organization.
Queue management systems are primarily used to reduce customer waiting time which results in profitability.
Wavetec's Queue management system is the solution for organizations whose working concept is highly customer-centric enabling them to enhance their performance and efficiency and improve customer experience. With a queue management system in place, organizations will not require to deal with unhappy and unsatisfied customers.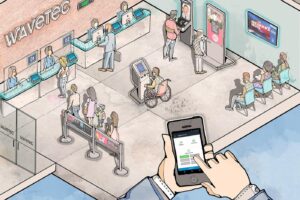 Once the system is placed, managed queues organized waiting areas, reduced waiting time, enhances the knowledge of front line employees, ascertains optimal resource allocation, enables real-time reporting, and works as a performance measuring quality measure.
Wavetec makes sure that your loyal customers become your advocates of tomorrow!
BOOK A FREE DEMO