In today's fast-paced world, technological advancements have revolutionized various sectors, including the banking and finance industry. One such innovation that has transformed the way banking services are offered is Cash Deposit Machines (CDMs). CDMs have become game-changer, providing customers with enhanced convenience and efficiency in cash handling.
In this article, we will delve into what CDMs are, how they work, and the benefits they bring to the banking and finance industry.
CDM Definition
CDM is short for Cash Deposit Machine and performs the opposite function of an ATM or Automated Teller Machine; CDM machine accepts deposits against a customer's bank account instead of dispensing cash from the same account. CDMs are freestanding kiosks that may be wall mounted as well, and they have a very similar interface and user experience to more recent iterations of the ATM.
The Origin of CDMs
Technically, the first cash deposit machine in the world was introduced and deployed in 1989, but it wasn't until the 2000s that it became popular in regions like the United States. It became popular because customers wanted easy access to deposit cash just as conveniently as they could withdraw it using ATMs. The convenience of a 24/7 access kiosk is what drove the success of both the ATM and the CDM.
Why CDMs in Banking Industry?
Another reason for the inception of the idea of a kiosk that accepts ATM deposits was to optimize bank branch operations. You see, the majority of the transactions that take place in a bank branch are on daily deposits, be it cash or check. And manually processing these deposits introduces a few problems:
The number one concern with manual cash management is the risk of theft, both internal and external.
Another big problem with manually processing these deposits is that human tellers are prone to error, no matter how well-trained they may be.
There are also safety concerns and risks associated with physically transporting the cash safely to the vaults.
These in-person deposits have an adverse effect on productivity as well. Long, manual processes are both time-consuming and cumbersome for employees, without a positive impact on revenue.
These were the main reasons that determined the need for an automated system for accepting deposits. This is what bred the Cash Deposit Machine and, later, a similar kiosk that also accepted checks.
Enhanced Customer Experience
The initial deployments of CDMs were met with negative critique from naysayers, but soon people realized the undeniable benefits of the technology. With banks and financial institutes being able to move more transactions from branches to kiosks, customers would no longer have to enter branches for everyday tasks like making a deposit or withdrawing some cash. The ability to install freestanding kiosks in public locations unlocked scenarios which were previously impossible:
Bank customers could access basic financial services 24/7 through CDMs since they aren't limited by branch operational hours.
Kiosks rarely require customers to form queues since their customer service times are so short, and they aren't limited to any specific operation hours within a day.
Physical branches became less crowded for transactions that required human tellers who also experienced job enrichment since they weren't processing deposits all day long.
Cash Deposit Machines (CDMs) Beyond Traditional Deposits
Beyond deposits, modern banking kiosks are able to achieve a lot more and provide immense value to customers and banks. Since 1989, CDMs have come a long way, and bank kiosks can now be programmed and configured to perform a number of different workflows:
Cash deposits
Check deposits
Bill payments
Debit/credit card dispensing
New customer registration & onboarding
Some more advanced kiosks also provide services such as the ability to pay income taxes and even apply for loans.
The Anatomy of a CDM (How CDM Machine Works)
Many self-service solutions providers will allow you to configure a banking kiosk that works for you and your use cases. Here we have a pretty standard example of a modern Cash Deposit Machine.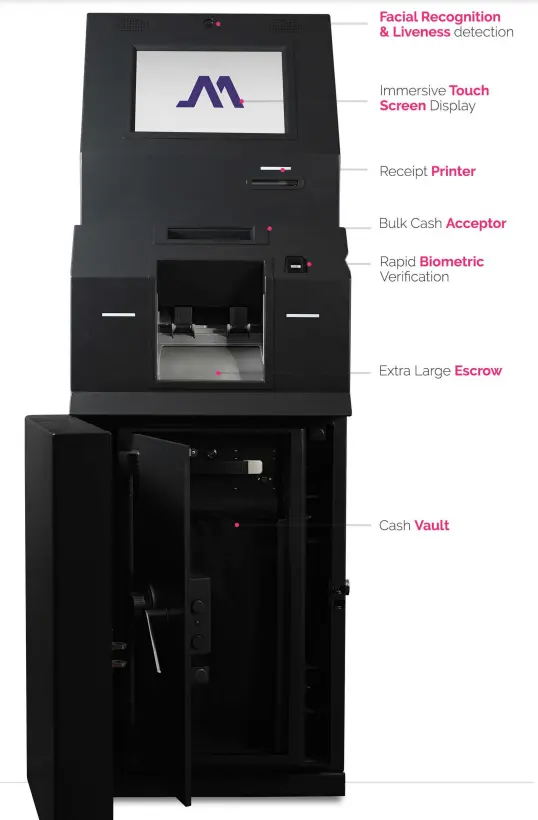 As standard options, CDMs will have a touchscreen interface, some form of the biometric data collector, a cash vault or bag, and most importantly, a cash acceptor. Other options include a card reader, check scanner, document scanner, etc.
Biometrics
The most common biometric sensors found on CDMs are fingerprint sensors and facial recognition and liveness detection cameras. These sensors serve the purpose of identity verification when accessing one's account or onboarding new customers.
Interface
Most modern self-service kiosks have large multi-touch displays to enable an easy and familiar user interface, similar to other touch-based devices like smartphones and tablets. This makes the kiosk easy to use for all age groups, even those not familiar with smartphones and tablets.
Currency Storage
These kiosks have vaults or bags that store deposited cash, similar to ATMs. The capacities of these vaults differ and can be customized based on a financial institution's requirements.
Cash Acceptor
The most important and definitive module of a CDM is the cash acceptor, the thing that gives it purpose. These modules can be differentiated by their cash-in capacity i.e. bunch or bulk. Bunch deposits are limited to 50 notes at a time, while bulk deposits can accept up to 500 notes at once.
Additional Capabilities
CDMs aren't limited to the capabilities mentioned above and can be equipped with additional modules to increase their capability exponentially:
Cash recyclers, so they can both accept and dispense cash
Escrow function, so cash isn't stuck in case of an outage
Check acceptor, to accept banker's checks
Document scanner to scan customer ID in case of new registration or identity verification
Card dispenser to issue and dispense debit cards to new customers
Card acceptor, to accept payments against bills or other transactions
The Future of Cash Deposit Machines
According to our trend analysis within the banking and self-service industries, CDMs have become a staple in North American and European markets and are slowly making their way over to developing markets as well. CDMs are not only convenient, but they offer a means to increase financial inclusion rates in regions with a higher number of unbanked individuals and a small network of bank branches.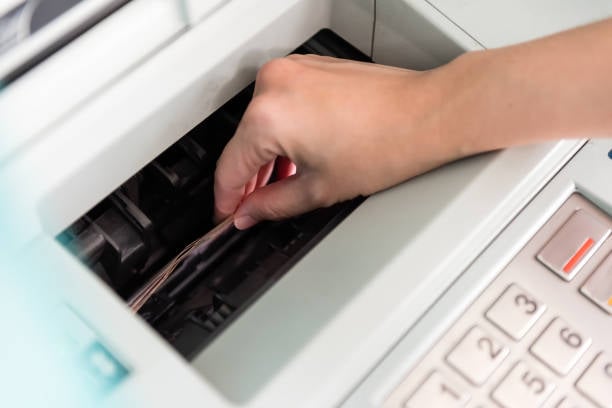 The ease of access to this technology for both online banks and customers makes this an easy solution to test out services in regions with less financial coverage. Also, digital transformation with self-service is the future for a lot of these industries, including telecom, retail, and quick-service restaurants.
Reach out to our self-service experts today to configure the perfect solution for your financial institution or banking needs.
Frequently Asked Questions:
What does CDM stand for in banking?
In banking and the financial services industry, CDM stands for Cash Deposit Machine.
What's the difference between a CDM and an ATM?
As opposed to an ATM that only dispenses cash, a CDM performs the opposite function i.e. it accepts cash deposits into a specified bank account.
Does a CDM need a card to operate?
Depending on the manufacturer, a CDM may or may not require a CDM card to operate.
What is a CDM deposit?
A CDM deposit is a cash deposit performed using a self-service kiosk called a Cash Deposit Machine.
Conclusion
Cash Deposit Machines (CDMs) have emerged as a vital innovation in the banking and finance industry, offering customers enhanced convenience, efficiency, and security when depositing cash. With their round-the-clock availability, real-time updates, and reduced reliance on manual processes, CDMs have transformed how customers interact with their banks. As technology continues to evolve, we can expect further advancements in CDMs, leading to even more seamless and convenient banking experiences for customers worldwide.
BOOK A FREE DEMO