About Nyaho Medical Centre
The Nyaho Medical Centre has been providing world-class medical care for nearly half a century and remains a standard for healthcare in Ghana and the West African region.

Challenge
Nyaho Medical Centre situated in Ghana offers a comprehensive range of healthcare services hence attracting a substantial patient footfall of 400 to 500 patients every day.
Patients experienced long and unexplained waits, with disordered waiting lines. There was a dire need to reduce operational cost and improve efficiency in the reception area.
Moreover patients faced difficulty in finding their way around the center's various departments. As many of the patients attending the heart center faced such problems, a solution was needed to entirely eliminate patient queues and organize customer flow.
In order to improve patient experience and staff efficiency, Nyaho Medical Centre invested in a patient flow management system from Wavetec.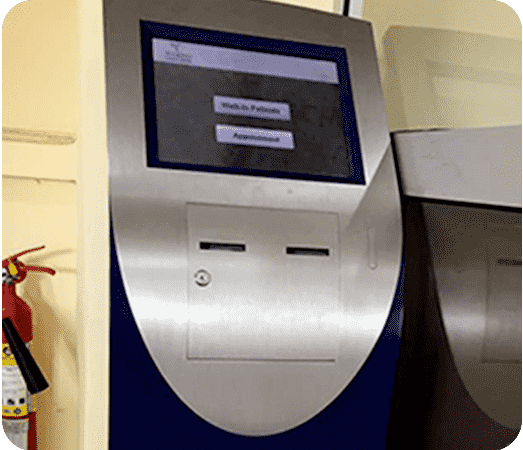 Solution
In collaboration with its distribution partner Net-i Enginnering Ltd., Wavetec deployed a turnkey "Patients Flow Management System" at Nyaho Medical Centre to efficiently organize staff, resources and patient queues so that its patients receive the right care at the right time in a comfortable environment.
On arrival, patients get a ticket from Wavetec's advanced self-service ticketing kiosk that intelligently routes patients between different departments. The kiosk is equipped with multifunctional software making it easier for patients to choose the required department. Once the ticket is issued the patients are registered in the virtual queue for their specific department.
Integrated Digital Signage displays show a variety of content; displays in different departments run different hospital videos and messages along with queue statuses, allowing patients to keep track of ticket numbers being called to be served in their respective department.
To call the patients to the counter, LED displays and ceiling speakers announce when a patient is to be seen by the nursing staff. As different departments have a different flow, patient calling is segregated in each department, which is an additional and unique feature for the hospital as it enables the management to organize, engage and smoothly manage patient flow department wise.
Result
With integrated patient check-in and calling features, the patient flow management system installed at the Nyaho Medical Center now makes it possible for the management of the hospital to optimize service processes, and minimize patient waiting and service times.
According to Dr Tamakloe, the center is an organization with varied expert (not just medical specialists) working to achieve successful health outcomes for its patients, the patient-specialist relationship is very important component, thus the rebranding.
"The very best patient care has always been our top priority; the new additions we are introducing to the Nyaho brand are new interactive website, Queue management system for improved patient's itinerary within hospital, New/repackaged health screening services and the Launch of family physician programme."
This new system has vastly improved the wait time and general efficiency at Nyaho Medical Centre patients and staff are experiencing less wait comfortably in the lounge area before their appointment, enhancing their physical comfort while they wait to be seen by their specialist provider.
Dr Nyaho Tamakloe said as Ghana's first private group medical practice; Ghanaians should expect more and improved services. The hospital will be installing Wavetec's customer feedback system and integrating the queue management system with online appointments in the second phase of the project.