Chapidze Heart Center (CHC) is situated in Tbilisi and is the first ever hospital which is built in joint collaboration of Georgia and Germany. The main specialization of this institution lies in Cardiology,Angiology and Secondary Prevention of Cardiovascular Diseases.
The Challenge
Chapidze Heart Center is Georgia's leading heart hospital and offers a comprehensive range of services for patients of all ages. Thus attracting a massive number of patients. All patients who arrive at Chapidze Heart Center arrive at the busy reception area and have to wait in long queues. Moreover, patients had difficulty in finding their way around the center. As many of the patients attending the heart center werefaced such problems, a solution was needed to eliminate the standing queues entirely.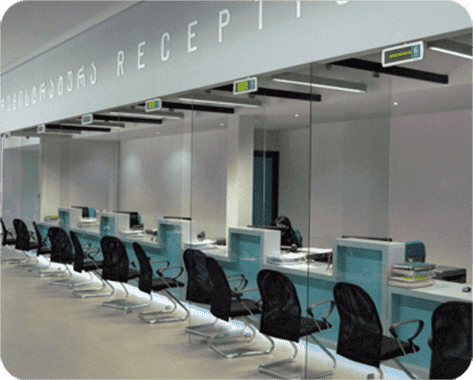 The Solution
Wavetec in collaboration with Innotec designed and installed "Patients Flow Management System" at Chapidze Heart Center. This system surpassed the founders and the management's expectations and a huge audience of hospital staff, doctors and patients were present at the inauguration ceremony.
On arrival, the patient collects a ticket from a touch screen ticket kiosk that was installed in the reception area. This touch screen ticket dispenser kiosk is equipped with multifunctional software making it easier for patients to choose a desirable route and arrange appointments. Once the ticket is issued the patients are registered in the virtual queue and are issued with a unique identification number.
To call the patients to the counter, LED displays and ceiling speakers announce when the patient is to be seen by the nursing staff. Also a 60inch high resolution LCD display system was used which is backed by customized software that provides comprehensive data regarding patient's queuing status.
To better enhance the patient experience and flow, Innotec installed 8 LCD's which were integrated with Wavetec's EQMS and werelocated next to doors of treating rooms and doctor offices, showing the room/office number, doctor's name, health profession, ticket number, ticket being serviced, number of the next patient and most importantly, position of the queuing patients that gives an ultimate comfort to patients. This allows patients to be directed to the right room at the right time.
The Results
The patient flow management system installed Chapidze Heart Center now makes it possible for the staff and doctors to optimize service processes, resulting less patient wait and service time. Before implementation of the system the Hospital could serve up to 70 patients per day. According to the latest data this number has now climbed over 200.