Have you waited outside a bank for your turn and then walked away disappointed? Many of the banking industry customers experience similar situations and leave frustrated. In recent times, this means that many of your customers will no longer prefer visiting the physical branch.
Digital banking has emerged as a practical solution to minimizing customer wait times at your bank. Let's look at a few statistics to help you understand the role digital banking is playing today.
The percentage of online banking users has increased tremendously since the pandemic took the world by storm. The digital banking trend has been on the rise, approximated at

65% of users

in 2022 in the US. 

The convenience that online banking brings to the table has contributed majorly to customer retention in banks. A

study

reported that the estimated global customer base of digital banking users is projected to exceed 3.6 billion by 2024. 
Do you see the impact digital banking can have on customer loyalty and satisfaction?
Customer satisfaction with banks is largely governed by their very first interaction, that is, the physical queueing experience. The changing nature of consumer banking is shifting gradually from physical queues to "phy-gital,"  where customers prefer a mix of digital and physical banking. 
How would you adopt this in your banks?
In this article, we will share practical ways to reduce customer wait times in banks. In today's fast-paced world, customers expect quick and efficient service. 
Let's get to it!
7 Ways to Minimise Customer Wait Times in Banks
Upgrade to an Automated Queue Management System
You can find a complete queueing solution with Wavetec's Queue Management Systems. This single-handedly gives customers access to linear, virtual and WhatsApp queuing, self-service kiosks, and digital signage technology.
An automated queue management system can provide features like real-time branch activity and personnel allocation monitoring, allowing banks to ensure that the appropriate number of service representatives is accessible during peak hours. This can help avoid overstaffing or understaffing, lowering wait times and guaranteeing efficient service delivery.
Create Branch Designs that Prioritise Customer Queuing
Customer engagement is also governed by the strategic planning of bank branch layouts and designs, which can optimize customer flow and reduce wait times. 
For instance, dedicated queuing areas with clear signage and designated spaces can prevent crowding around service counters. Assign separate areas for members versus non-members and senior citizens to ensure smooth service. 
Technology such as digital signage or queue management systems can provide real-time updates on wait times and service availability, helping customers manage their time and expectations. 
Implementing multiple service points or teller stations can distribute customer flow, ensuring prompt and efficient service and minimizing wait times. Branch designs prioritizing customer queuing can streamline customer flow, enhance customer experience, and ultimately result in higher customer satisfaction and loyalty.
Establish Multiple Queuing Channels
A complete or hybrid digital banking approach comprises establishing various queueing channels to give customers the freedom to choose the best-suited one. 
With Wavetec Solutions, you can adopt any of the available features of the Wavesphere Philosophy. Organize queues, engage with your customers, measure wait times and experience a massive increase in ratings.
Wavetec has introduced UNO-Q, a linear queue management system based on a single queue but offers multiple service counters for your customers. Once the customer has obtained a ticket and is part of a single queue, the next available teller will serve the customer. This has eliminated the need for different tellers and counters for each service, such as deposits and withdrawals.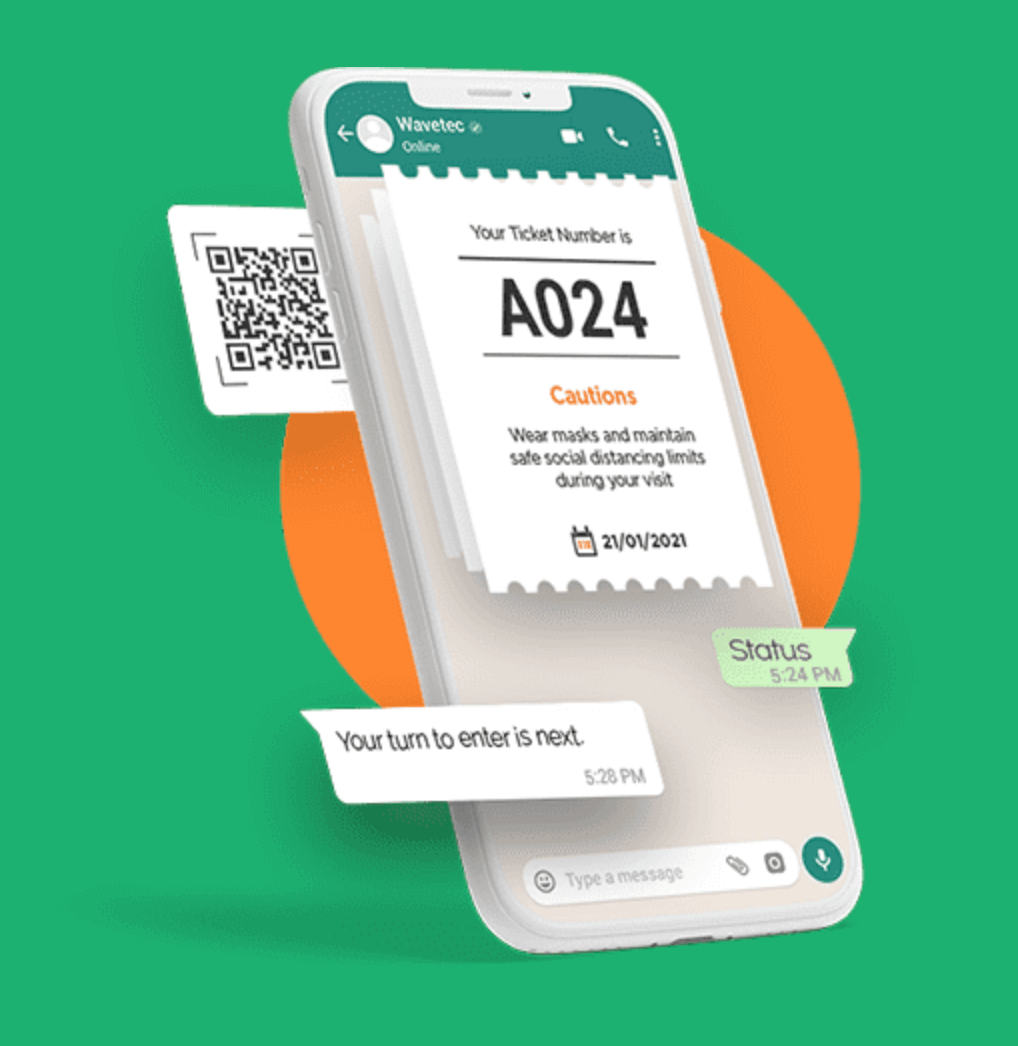 One of the most creative solutions is WhatsApp Queuing, a modern fix to a lifelong issue of customers being unable to switch easily to digital banking. With WhatsApp becoming integral to our daily lives, whether business, education or health, it is an ideal platform to build. Customers can simply scan a QR code, choose the desired service and receive a virtual ticket. There is no need to download another application. 
See how easy it is to get started immediately?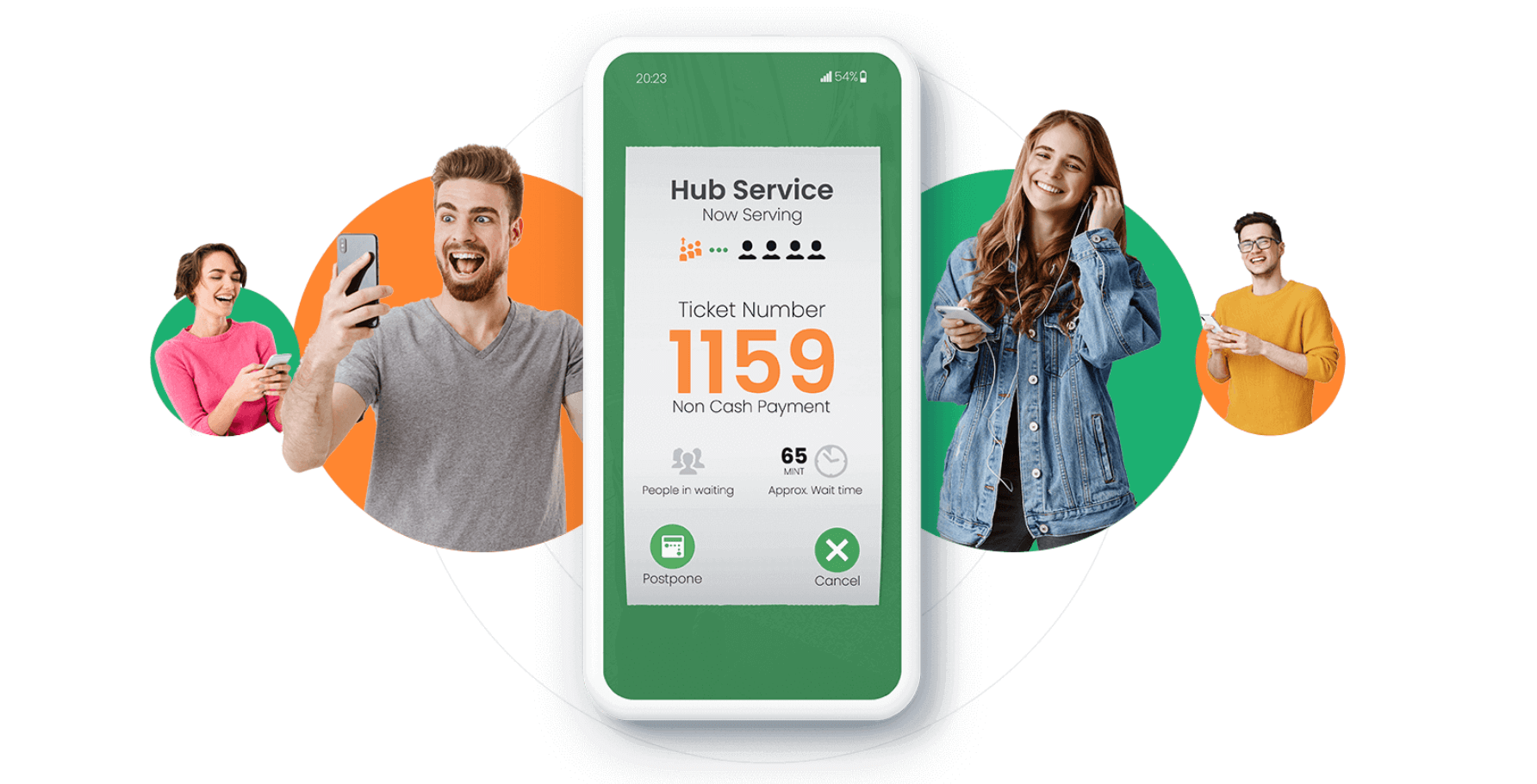 If you want to go a step higher and dedicate an application to queuing services, Wavetec has a virtual mobile queuing solution, Mobile-Q. You can integrate this with an existing application for your bank. 
This allows you to blend walk-in customer traffic with virtual traffic data and then give estimated wait times to your customers. Booking an appointment, rescheduling, and cancelling has never been easier!
Deploy Effective Signage for a Better Customer Experience
Isn't it frustrating to go around a financial service provider looking for the right counter to help you?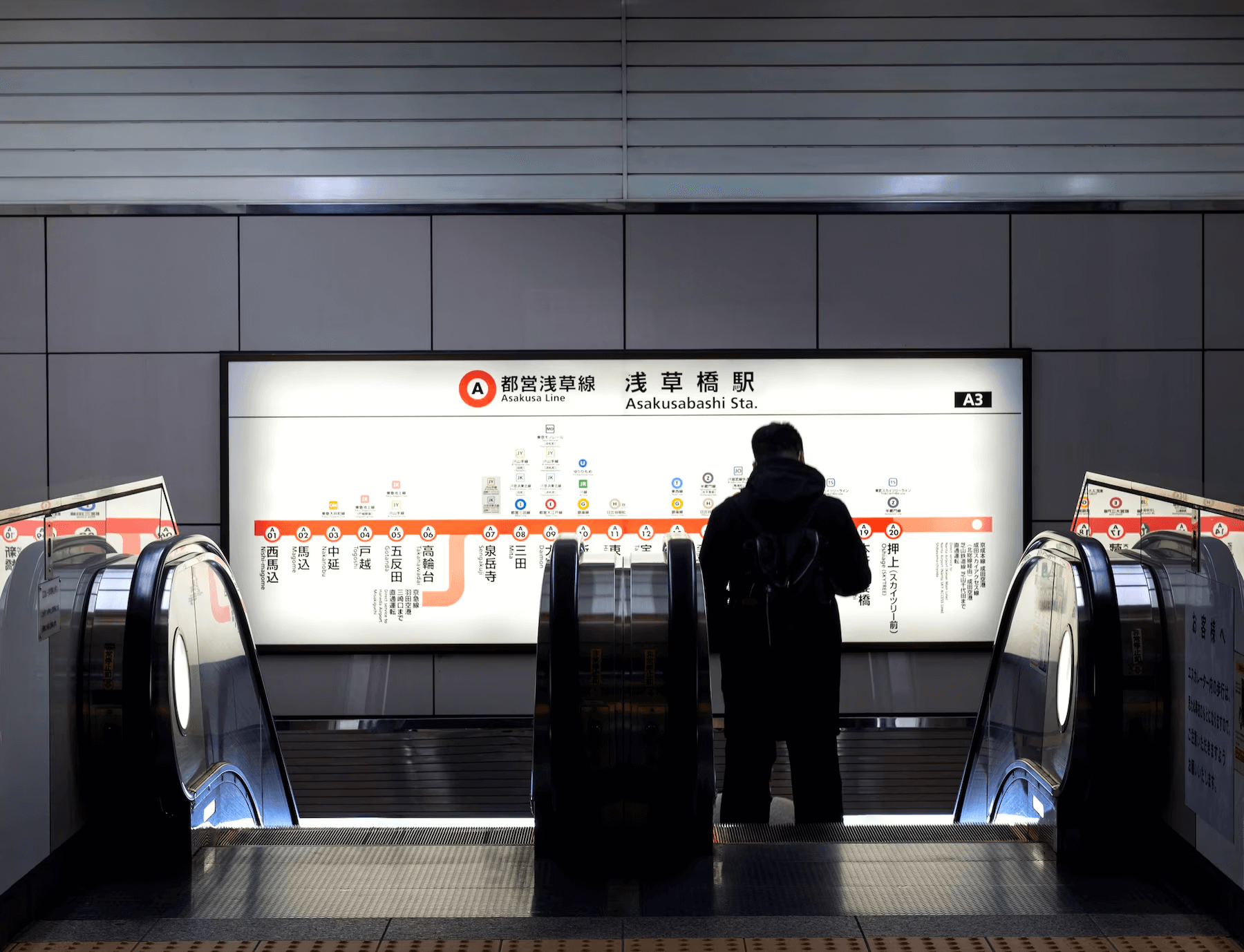 That is exactly what your customers feel when your premise does not have Digital Signage boards to provide valuable information. Wavetec's Donatello comes as Vertica and Player for Live TV streaming, RSS Feeds, and financial tickers, while  Video Walls replace static poster displays. 
Digital signage displays real-time queue information, such as the number of customers ahead, estimated wait times and queue status. Give your customers information to guide them towards the right service counter and reduce confusion.
Enable Virtual Banking Appointments for Customers
Banks can leverage virtual appointment management solutions, such as WhatsApp Appointment Management, offered by WaveTec, to streamline the customer journey and enhance the overall experience.
Customers can book, reschedule, follow up and cancel appointments with bank representatives through a virtual banking app such as WhatsApp. It is now integrated with video call applications, allowing banks to manage customer traffic through CRM and allocate appropriate resources.
Virtual banking appointments also offer convenience and flexibility to customers, as they can schedule appointments from the comfort of their homes or offices and avoid unnecessary wait times. This can greatly enhance customer satisfaction and loyalty, as customers feel valued and their time is respected.
Book Branch Appointments for Personalised Service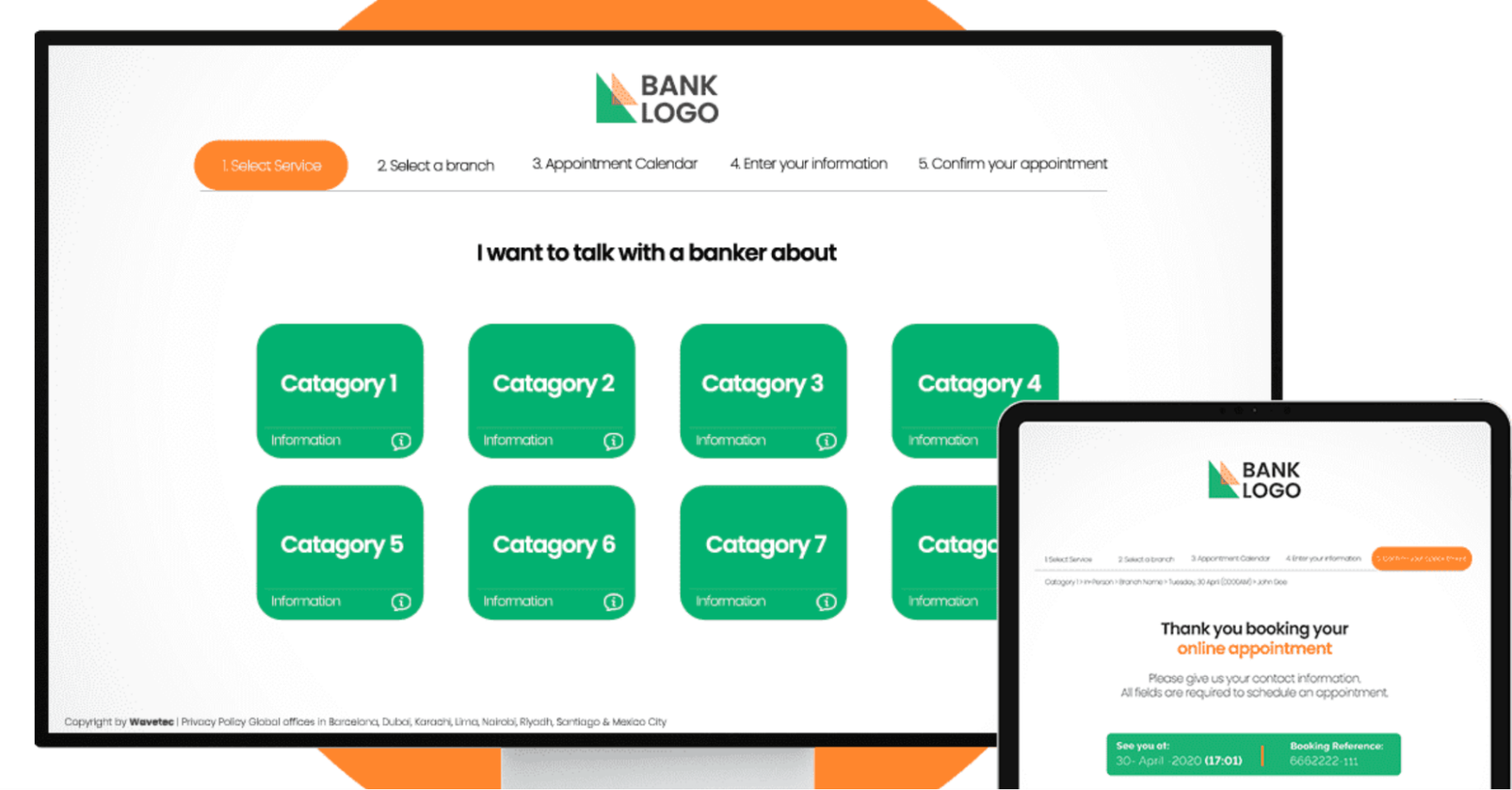 Banks can make it easy for customers to book appointments online through Smart Online Appointment Management System, Booking & Scheduling Software. This way, customers can customize the appointment features by choosing a time slot and the purpose of the appointment. It can include whether it's for opening an account, applying for loans, or getting financial advice. 
This is like having a virtual appointment scheduler that lets you pick a convenient time without waiting in line at the bank. Whether at home, work or on the go, you can book an appointment with just a few clicks or taps on your phone. It's a convenient and hassle-free way to get the banking services you need without the frustration of long wait times.
Implement Mobile-Enabled Branch Hosts
Banks can equip employees with tablets or smartphones to physically assist customers in the branch. A staff member can go around the wait queues, use their device to check customer account information, process transactions, and provide product recommendations. 
They can also assist with basic banking tasks, such as account opening or address updates, without customers needing to visit a separate desk or counter. This is an efficient way for staff members to provide personalized and efficient service to customers and keep the queue moving.
Case Studies
We learned the key ways of reducing wait times in the banking industry and their importance to client retention. Let's explore practical and tangible examples illustrating how to apply such concepts in actual situations and your banks.
Habib Bank Limited optimizes customer experience with Wavetec
The largest commercial bank in Pakistan, HBL signed up for Wavtec's Queue Management System to regulate crowds in their branches. The system has virtual queue management, video walls, digital signage, customer feedback systems, interactive kiosks, and Spectra Reporting and Dashboards. 
The bank team benefitted from its customizable feature, allowing them to prioritize Habib Bank customers versus non-customers in the queue. By installing Wavetec Solutions, the banking staff was able to deliver a swift experience to its customers. Customers did not have to worry about crowded waiting rooms or rush to reserve spots in queues. 
Digital signage guided customers to the correct desk, saving their time. The additional feature of Spectra analyzing customer behaviour and collecting customer feedback made the bank's practices customer-centric. This made Habib Bank Limited rank higher for consumer care.
HSBC Mexico
We have a banking story from HSBC Mexico which received tremendous applause from marketers and customers alike. Given HSBC Mexico's scalability of operations and the mass number of walk-in customers, they invested in Wavetec's Enterprise Virtual Queue Management System. 
HSBC Mexico took steps to enhance customer experience by reducing wait times and improving branch performance. Through on-premises configurations such as self-service kiosks, HSBC optimized customer journeys and transformed potential sales into guaranteed ones. 
The team extended personalized services using credit cards and biometric information. With centralized performance measurement and product displays based on queue data, HSBC aims to minimize waiting times, reduce no-shows, and enhance overall customer satisfaction
Frequently Asked Questions
Why are queues such an issue for retail banks?
Retail banks consider queues as an issue because they can lead to customer dissatisfaction, reduced loyalty, and potential loss of business. Mismanaged queues disrupt branch operations, reducing staff productivity and requiring extra staff for crowd control, which increases operational costs. Additionally, customers may share their negative experiences, impacting the bank's reputation. In today's fast-paced environment, extended wait times can significantly impact customer satisfaction, making efficient queue management a critical aspect of retail bank operations.
What happens when queues are done right?
When queues are managed efficiently, businesses can experience a cycle of positive results. By introducing virtual queue management software and self-service kiosks, businesses can reduce wait times and improve accessibility for customers, leading to higher levels of satisfaction. This, in turn, can lead to increased customer loyalty, retention, and positive word-of-mouth recommendations, ultimately leading to a higher return on investment.
For the staff, efficient queue management can enhance the productivity of branch operations and cost savings for the bank. When queues are properly managed, they can help banks capture potential sales opportunities by providing personalized service offerings to customers while they wait. Cross-selling and upselling opportunities boost revenue potential for retail banks.
Final Words
Now that we collectively agree on the unpleasant nature of queues at banks, it is crucial to implement effective strategies to reduce waiting times. 
Some of the most common ways a bank can adopt to reduce wait times in banks have been discussed above. These include mobile-enabled branch hosts, redesigning branch layouts, and facilitating customers via appointment scheduling and virtual queuing. Taking steps for customer care improves customer experience and boosts customer satisfaction significantly. 
After all, who wouldn't want a seamless and efficient banking experience without the frustration of waiting in long lines? 
Join us and transform your bank's customer service today!
BOOK A FREE DEMO