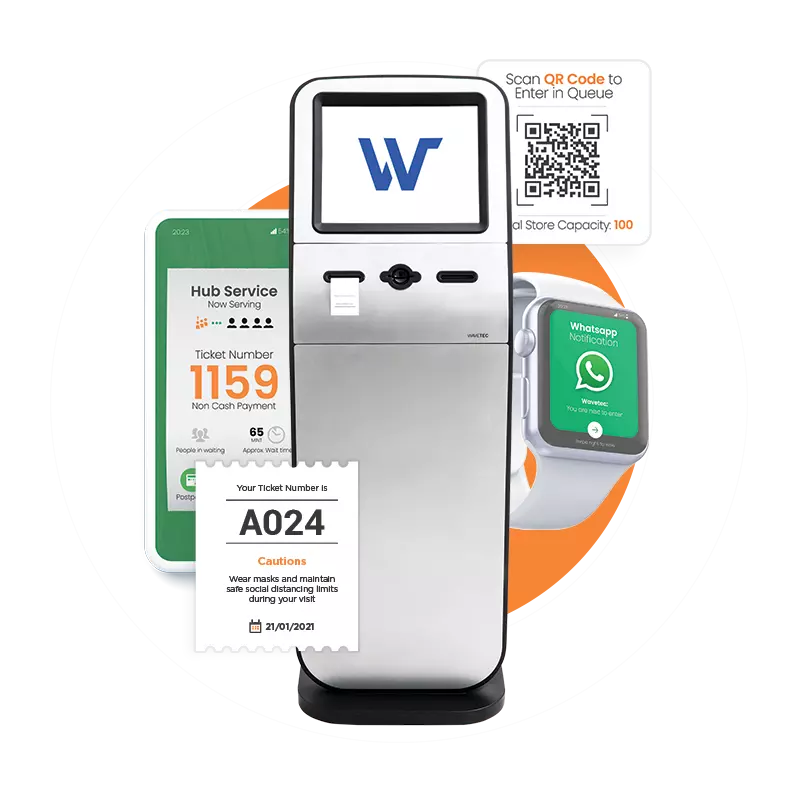 Why Choose Wavetec's Queue Management Systems?
Wavetec's customer experience solutions are based on the Wavesphere Philosophy – ORGANIZE, ENGAGE & MEASURE waiting times and statistics from disconnected service areas to enhance customer experience at key touch points.
Excessive queuing and waiting are among the leading causes of consumer dissatisfaction in banks, retail stores, hospitals and government institutions & Wavetec's queuing systems solve that problem.
Wavetec is one of the largest global manufacturers and suppliers of queue management systems. We have over 27 years of experience in helping organizations improve their customer flow, manage queues with virtual and linear queuing solutions, queue displays, appointment bookings, queuing apps, and visitor flow monitoring software.
Smart Electronic Queuing Solutions
Wavetec provides standard, touchless and customizable queuing solutions to cater to the diverse set of issues faced by organizations. Choose from Enterprise, Basic or Mobile Queuing systems to monitor and manage crowds and line queues at your service areas
Our powerful queue management software facilitates a seamless customer journey by providing different solutions ranging from Virtual and Linear queuing systems to appointment booking options and a more sophisticated method like queue management mobile app.
Our queuing solutions come with the capability of being integrated with digital signage and customer feedback solutions to deliver holistic customer experiences. Wavetec has built its experience solutions for diverse industries, giving you the opportunity to adapt smoothly and transform your service area for success. 
Solution 1
Enterprise Virtual Queue Management System
Turnkey solution to manage customer flow
A complete system that caters to diverse queuing needs – be they basic queuing requirements or interconnected multi-branch, multi-region enterprise solutions. Our queue management system allows customers and visitors to enter a queue by taking a ticket via the Self Service Ticketing Kiosk, Web Ticketing, Mobile App and/or Online Appointment.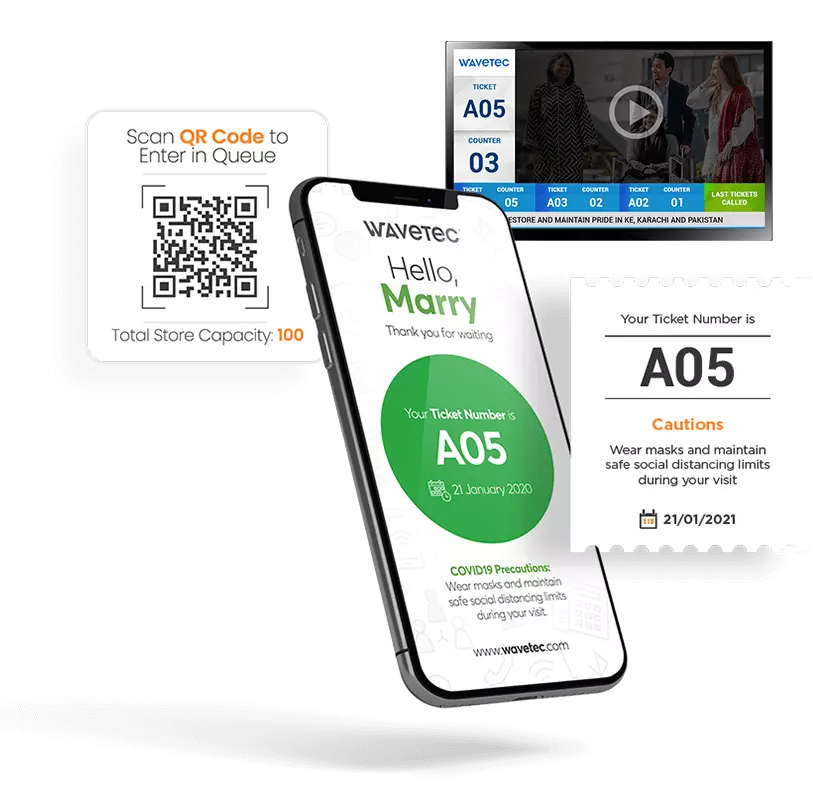 Solution 2
Mobile Queuing System
The Platform for Mobile Revolution
Take a step forward with Wavetec's queuing app, Mobile-Q. This online take a number solution eliminates crowded service areas and optimizes customer flow by allowing customers to join a queue before they arrive. Enable customers to choose their nearest branch, take a ticket with a simple online queue management mobile app, and join the queue when it's their turn.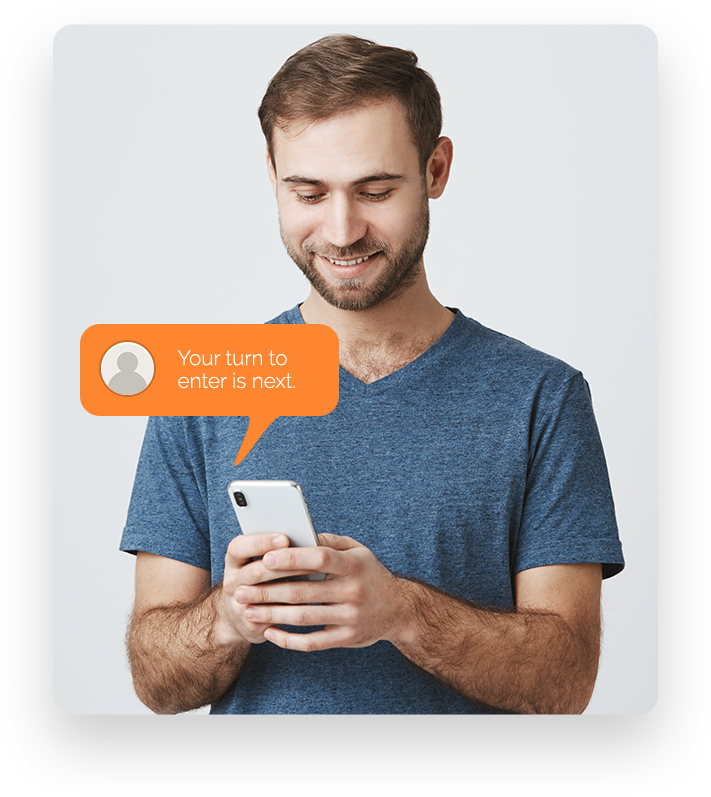 Solution 3
WhatsApp Queuing
Smart Touchless Queuing
WhatsApp queuing is a fully integrated customer experience – the queue can be joined at any time and from anywhere, complete with real-time queue notifications. It is built on the premise of innovation, aiming to improve customer experience and increase staff productivity.
Solution 4
Linear Queuing System
Single Queue, shorter wait, happier customers
This ticketless, single line queuing system is a cost effective way to manage queues fairly and smoothly at retail and pharmacy check-outs. With electronic linear queues, customers are treated on a 'first come, first serve' basis. As customers reach the front, they are called to the next available counter when the teller presses a button.
Reports, Dashboards & Predictive Analysis
Managers access real time business intelligence reports and dashboards through a centralized reporting system.
Spectra, Wavetec's live reporting system and manager dashboards are integrated with the different facets of the queue management system thus they form a complete business intelligence module. Spectra is a complete enterprise solution that is capable of extracting comprehensive insights in terms of customer flows,staff performance, service area efficiency etc.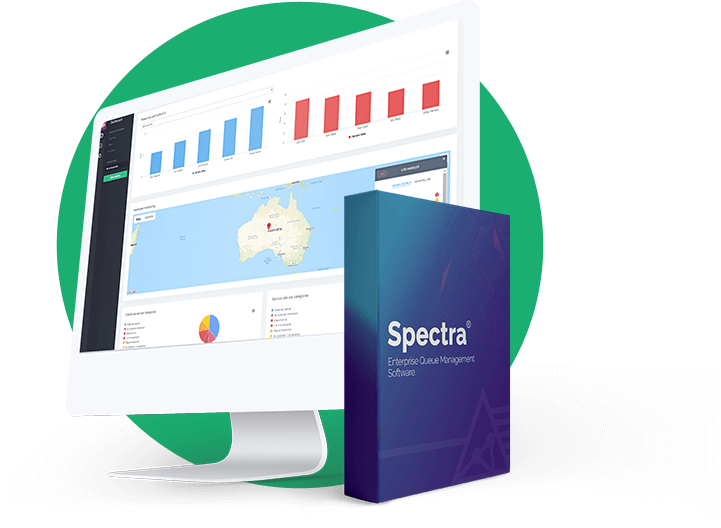 Benefits of Electronic Queue
Management System
Reduces customer wait and service time by 50%
Optimizes staff productivity.
Increases customer satisfaction by 30%
Centrally controllable and easy to use
Eliminates irregular and unsafe queuing
Seamlessly fuses all components of your QMS
Ensures frictionless customer journeys

Measures KPIs and drives operational efficiency.