In the bustling world of hospitality, restaurants often find themselves facing the challenge of managing long queues, especially during peak hours. This not only leads to customer dissatisfaction but can also impact the overall efficiency of the establishment. However, a groundbreaking solution has emerged, revolutionizing the way restaurants handle their waiting lines – the Restaurants Queue Management System.
The restaurant industry is unique, as customers spend considerable time on-premises, enjoying their meals and the ambiance. Factors like cuisine, atmosphere, and customer service influence their dining choices. However, wait times, and queuing experience are integral to this process.
Hunger can cloud judgment and behavior, making long waits unbearable. As a result, irritability and frustration may arise, adversely affecting service quality and business profitability.
In the US, average restaurant wait times are 23 minutes. And it is estimated that by completely doing away with queues and waits, restaurants stand to benefit from an approximate 15% increase in revenue generated. With the difference of 20 odd minutes, your business will not only experience improved service quality but also operational efficiency and a wider loyal customer support base.
In this article, we delve into the intricacies of the Restaurants Queue Management System, exploring its key features, benefits, and the positive impact it has on both diners and restaurant owners alike. By leveraging cutting-edge technology, this innovative system aims to optimize the dining experience, reduce wait times, and enhance customer satisfaction.
Covid19 and Restaurants – What Can We Expect?
The entertainment and retail industry took a debilitating hit when the pandemic shuttered businesses and bound customers to their homes. Digitization of operations became essential, and home deliveries, online shopping, and appointment scheduling services were on the rise.
Despite products and services being available, the experience of shopping in person, dining in person, and enjoying retail therapy is still very much alive and valued! Customers enjoy visiting establishments to sit, relax, eat, enjoy, and recuperate. And they can enjoy it all now, with the addition of queue management solutions that monitor visitor volumes, effectively direct them to service areas and maintain the contactless and safe quality of service that is now an industry norm.
Why Should Restaurants Care About Queue Management?
Some restaurants use queues to signal to potential customers that their food and service are in demand, more so than potential supply. It shows the success of your venture and the loyalty of the customer base that they are willing to wait any length of time to be served. They value the food and service that much.
1. Long Service Time Leaves Customers Disappointed
Isn't it frustrating to finally get hold of a table but wait for a server to take your order?
We cannot emphasize the importance of prompt table service enough. If customers are made to wait for prolonged periods, a chaotic environment affects their experience, and they end up ordering fewer food items. Due to slow table service, accommodating new customers becomes difficult, and you may lose out on customers.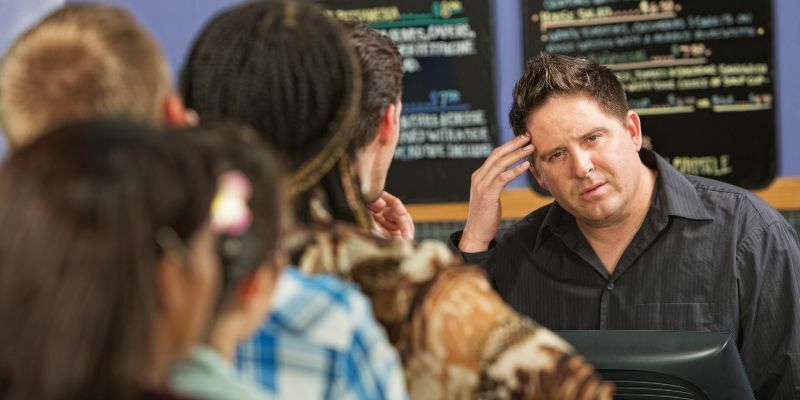 2. Competitive Edge In The Food Industry
In a world where services are judged for time and convenience, a restaurant's efficient queue management strategies determine the customer's experience. Customers will prefer your service over competitors if you manage queues, regulate customer flow and increase table turnover.
3. Improved Customer Compliance
The multitude of queue management software offers clear communication channels between customers and staff members at the restaurant. Keeping customers involved in the seating process and updating them on delays helps restaurants manage customer expectations. It improves order accuracy and reduces disagreements among customers and staff members.
4. Customer Experience
Providing your customers with an unforgettable experience at the restaurant is based on transparency in queue management, customization and multiple service points. It comes with added benefits of higher volume orders and increased revenue.
5. Reduce Staff Burnout
Queue management software automates repetitive tasks staff members have to carry out. Updating queue status manually, checking in customers, reserving seats, and dealing with difficult customers require integrity and patience. Chatbots and self-service kiosks are the new solutions to having an efficient team space that works effortlessly and promotes team works.
6. Build A Family Of Loyal Customers
Once you have implemented the above-discussed queueing strategies in your restaurant, maintain a consistent dining standard. When customers can join virtual queues, you make a hectic process easier. Working on customer feedback on queues and reaching out to them amends distrust and builds a close-knit family of loyal customers. Value your customer's time and increase the pool of customers visiting your restaurant. Don't forget, happy customers, promote your restaurant by word-of-mouth marketing!
How to Manage Long Queues in Restaurants?
Patrons express customer loyalty towards your business because they value your food and customer service standards. But if queues go unchecked, there is a real threat that loyalty will not be maintained. Patrons will prioritize their time over other factors and choose another establishment. And it is much harder to win back a disgruntled former customer than it is to onboard a new one!
Fear not; we have a few sure-shot solutions to guide you on how to reduce waiting time in restaurants and achieve queue-less and contactless customer service. Adopting a Restaurant queue management solution is the answer to your woes!
1. Enhance Your Restaurant's Marketing and Customer Service with WhatsApp
WhatsApp has become the most used messaging application worldwide. As part of the restaurant industry, use this platform for marketing your restaurant's menu. Since customers take a long time to decide on their order, adopt Wavetec's WhatsApp Marketing to initiate a two-way conversation with your customers.
Share the restaurant's menu to help them decide beforehand to provide timely service and reduce waiting. Use a dedicated WhatsApp number and build a preordering system for customers to place orders. This helps you serve your customers faster and build your brand's image.
2. Use Digital Signage For Entertainment In The Waiting Area
Customers waiting for a restaurant table will be annoyed with long queues and delayed wait times. It is recommended that you use Digital Signage to engage customers in wait areas. Wavetec offers multiple digital options, ranging from a media player to video walls. You can use the screens for recreational purposes and to deliver promotional offers and marketing content to keep the customers entertained. Digital signage can also be integrated with queue management software to display wait times.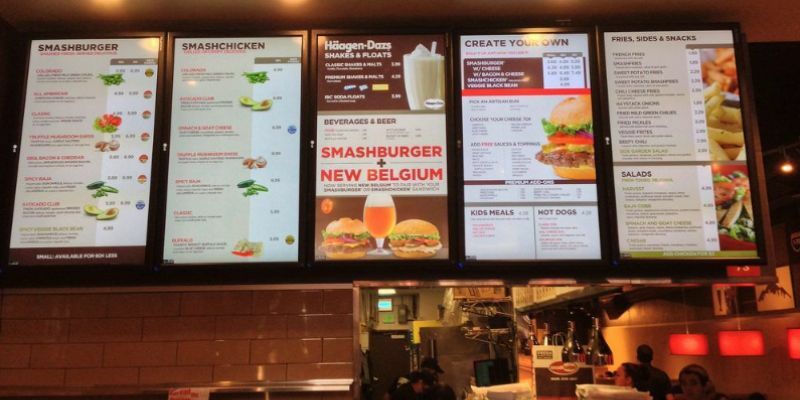 3. People Counting
Another key software restaurants can use to measure occupancy limits is Wavetec's SafeQ People Counting Solutions. Install 3D counters in desired locations to measure the number of people entering and leaving the area. These can be the waiting area, dining room, or restrooms. By collecting data on consumer behavior and visiting patterns, you can modify your services during peak hours or adjust the food supply rate.
4. Implement Self-Service Kiosks
In recent years, fast-food restaurants have opted for self-service technology that allows consumers to order independently and skip long queues at counters. With Wavetec's Self-Service Kiosks, customers can read menus, customize orders and pay at the kiosks as it is integrated with a point of sale (POS) purchase system. Orders placed with self-service kiosks are accurate, reducing the chances of miscommunication with the staff.
McDonald's was the first fast food chain to introduce self-service kiosks in the food industry and instantly saw a 6% growth in sales revenue the next year. Mcdonald's self-ordering and self-checkout kiosks are touch displays like any other mobile phone to engage multiple customers simultaneously.
Customers have widely accepted these self-service kiosks because of the communicable user interface and accommodation of multiple languages. Since kiosks offer add-ons based on order history, McDonald's saw a 20% increase in order size and a 30% increase in order value. With card payment options integrated into the kiosks, this has been a major step in regulating the queue length at the checkout counter. Staff could readjust their focus to assisting customers at the kiosks, improving service time and the customer experience.
5. Implement a Restaurant Queue System
Receptionists can engage customers and speed up check-out with the help of Wavetec's extensive Queue Management System. These include software that organizes customer flow into a single, orderly queue. Mobile Queueing System, Enterprise Virtual Queue Management System, and Whatsapp Queuing Solution are major components useful to a restaurant. All of these take into account the fundamentals of customer queuing-organizing, measuring, and engaging.
Opting for WhatsApp Virtual Queuing lets your customers visiting the restaurant scan a QR code which redirects them to WhatsApp chat with your restaurant. After selecting the service, be it takeaway, pre-order or seating reservation, customers will receive a virtual ticket that reserves a spot in the queue. Since WhatsApp queueing can be linked to digital signage, customers receive constant updates on wait times, order preparation, and queue status. This is an excellent solution to avoid crowded wait areas, which add to customers' queuing anxiety.
Wavetec is a worldwide network of Electronic Queue Management Systems that organizes, interacts with consumers, and measures their wait times. If you want a solution that is suitable for the entire consumer journey with your restaurant, virtual queuing offers online reservations and ticketing with live updates. Customer flow is optimized, and staff-client communication is enhanced with this queue management system in the restaurant.
6. Facilitate Reservation Scheduling, Virtual Check-In, and Queuing
Pre-arrival, patrons can book, reschedule and cancel reservations online, be it on their mobile application, website, SMS channel, or via messaging applications. They can also customize their booking by selecting which branch to visit, adding notes on how they would like to be served, and perhaps even pre-entering their meal choice so that it is fresh and ready upon their arrival.
Wavetec reservation booking software and hardware are reliable, user-friendly, and seamlessly integrated to make the customer experience as smooth as possible.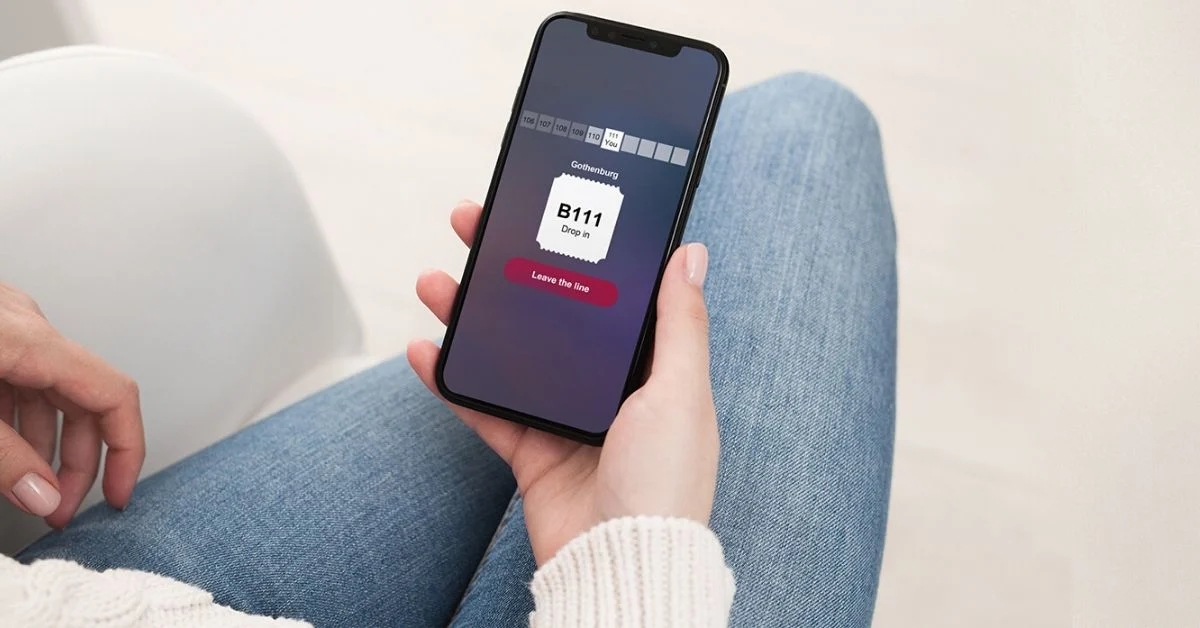 Via the channel they chose to make the reservation, patrons can check in and even remotely and virtually queue as they wait to be seated. Using a WhatsApp Queuing solution, they check in, are issued an electronic ticket, and send regular queuing notifications regarding estimated wait times.  They have the facility to wait wherever they please, completing an errand or two while they do. They also remain socially distanced, engaging in self-service activities that afford them contactless service.
7. Provide Regular Updates and Communication
Keeping waiting customers informed about the status of their table is crucial in managing expectations and reducing frustration. Train your staff to provide regular updates on wait times and reassure guests that their turn is coming soon. Transparent communication fosters a positive relationship with customers and enhances their overall dining experience.
8. Analyze Peak Hours and Staffing
Studying your restaurant's data to identify peak hours and adjusting staffing levels accordingly can ensure smoother operations and reduced wait times. Having the right number of staff members during busy times is essential to prevent long queues in the restaurant and maintain customer satisfaction.
What Factors Influence Customer Queuing Experiences?
Before setting off to fix and improve the queuing experience of your customers, it is essential to check the metrics that directly impact patron journey flows.
1. Transparency Of Queuing Information
When customers do not know how long the estimated wait will be, when their turn will arrive, how many people are ahead of them in the queue, and other related queries, their experience with your business is soured.
This lack of informational transparency makes perceived wait times seem longer than actual ones. The former has a greater impact on customer satisfaction than the latter.
2. Lack Of Engaging And Informative Signage
A sure way to reduce perceived wait times is to deploy digital signage that uses bright and engaging displays to inform, guide and entertain waiting customers.
Inform patrons of new offers and new additions to the menu, discounts, and promotions. Remind them of SOPs, occupancy limits, and social distancing guidelines.
Guide patrons around the premises, aiding them in queuing in the correct place and clearing up room for staff and visitor traffic movements. And once their turn arrives, guide them to their tables and places.
3. Uncomfortable Waiting Areas/Environments
Your queues reach around the block, and your patrons are waiting in all sorts of weather conditions. Be it rain, hail, snow, scorching heat, etc.
They are waiting in person, with no space to sit or rest. And the longer the wait takes, the more exhausted and inconvenienced your patrons get.
Such waiting conditions affect the dining experience for your customers and factor in their decision to return. A decision that weighs the value of the dining experience and the food with that of the wait. And it is unlikely that such repeated lapses in standardized customer service will have a permanent impact.
4. Open Channels for Communication and Patron Feedback
Customers usually have something to say after they have been served, be it negative or positive. They have had an experience and would like to provide feedback on it. And restaurant management will benefit greatly from the collection and analysis of this information.
After being served, the customer is asked to register their feedback via SMS, text messaging, website, mobile application, or physical in-store screen. This will then be collected, stored, and analyzed so that conclusions may be drawn as to what needs improvement and what needs continuity.
Benefits of Implementing a Queuing System in Restaurants
Your business can prepare better with an estimated number for the foot traffic on any given day
Customers feel valued and can plan their daily and weekly schedules better
Crowds on-premises become smaller and queue lengths shorter – optimized restaurant queue management
Customer satisfaction rises as there is transparency of information and easily available self-service solutions
Customers feel valued and are, therefore, more loyal to the business
Feedback is collected and results in more data-driven decision and policy making
Your establishment is always improving and evolving to accommodate and exceed patron expectations
Restaurant Queue Management System – (FAQs)
How can technology help in managing queues?
Technology plays a crucial role in managing queues effectively. It allows restaurants to offer reservations and online booking options, which help in anticipating customer arrival and optimizing staff schedules. Additionally, digital signage and interactive kiosks can provide real-time updates on table availability and wait times, keeping customers informed and engaged.
Will a queuing system prioritize customers with reservations over walk-ins?
A well-designed queuing system typically operates on a first-come-first-served basis. However, restaurants can customize their queuing system to give priority to customers with reservations during peak hours or assign a separate queue for walk-ins, depending on their preferences and business model.
How can a queuing system benefit the restaurant staff?
A queuing system streamlines the seating process, allowing staff to manage customers more efficiently. With reduced manual workload in managing queues, staff members can focus on providing excellent customer service, leading to improved staff productivity and job satisfaction.
How can restaurants use queuing time as an opportunity for upselling?
During the queuing time, restaurants can showcase menu highlights, daily specials, or promotions using signage or digital displays. This provides an opportunity to engage customers and encourage upselling, increasing the chances of customers trying new items or upgrading their orders.
Final Words
In conclusion, effectively managing long queues in restaurants is a fundamental aspect of delivering a seamless and enjoyable dining experience for customers. Long wait times can be a major source of frustration for patrons, potentially leading to negative reviews and a decline in customer retention. However, by implementing a range of strategic measures and embracing technology, restaurants can efficiently address this challenge and improve overall service quality.
Utilizing reservations and online booking options empowers customers to plan their visits in advance, reducing the uncertainty of wait times. This approach allows restaurants to anticipate the influx of guests better and allocate resources accordingly, ensuring smoother operations during peak hours.
Moreover, queuing systems play a crucial role in streamlining the seating process, optimizing table turnover, and minimizing waiting times. By integrating technology like digital signage and interactive kiosks, restaurants can provide real-time updates on table availability and estimated wait times, keeping customers well-informed and engaged during their wait.
BOOK A FREE DEMO