Samsung Electronics Co., Ltd. is a global leader in technology, opening new possibilities for people everywhere. Through relentless innovation and discovery, Samsung is transforming the world of televisions, smartphones, personal computers, printers, cameras, home appliances, LTE systems, medical devices, semiconductors and LED solutions. Samsung employs over 270,000 people across 79 countries with annual sales of US$187.8 billion.

Project Requirements
Samsung service centers are very integral touch points for the company as they deal in repair, returns and warranty assurances for all Samsung products. A considerable number or stores faced numerous issues such as long waiting lines and unstructured queues, thus making the customer experience less rewarding and frustrating.
Our Solution
After several meetings between Wavetec's Customer Experience specialists and Samsung SDS Europe & Dubai officials, Wavetec designed a customized mechanism to control and manage customer footfall at 19 distributor service centers. These branches were located in UAE, Kuwait, Palestine, Jordan, Bahrain, Qatar, Lebanon, Saudi Arabia, Kenya and Nigeria.
These installations were comprised of an entire ecosystem of Wavetec's queue management solutions such as touch screen kiosks, counter display unit, web based teller application, and Donatello digital signage solution. This solution enabled easy navigation and enhancement of customer journey when visiting a service center. Queue management system installed is now integrated with Samsung's existing system coupled with Wavetec's reporting database to display real-time queue information. Their existing reporting system is now integrated with Wavetec's reporting database to get the accurate information and also to fetch ticketing and queue information.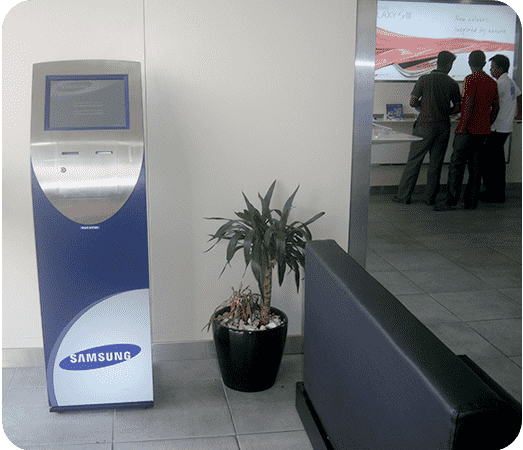 The new queue management system is a complete enterprise solution for Samsung service centers. Real-time queue reports can be accessed through the centralized system installed at the head office and can monitor key performing indicators such as wait time, service time and no. of people waiting in the queue. Moreover system generates real-time alerts if service levels are not met, thus triggering an immediate action to enhance customer experience. This information coupled with Wavetec's technological solutions allows Samsung to take a much higher competitive advantage globally.
With Wavetec's Queue Management System installed, Samsung now experiences a clear and visible flow for their customer's coupled with real-time reporting mechanisms, thus reducing uncertainly and increasing operational efficiencies.
Benefits to Samsung
Organized flow of customers visiting service centers, which in turn reduces the real & perceived waiting time.
Donatello Digital Signage Solution enables Samsung to display targeted news, promotions and brand awareness while customers wait to be served.
Reduction in operational costs by improving the efficiency of the staff through the usage of real time and historical reporting system.
Increase in Revenue by targeted communication through the Digital Signage Touch Points.
Real-time and centralized reporting which is integrated with Samsung's existing reporting method.
Our Experience
Wavetec being a global player in the sphere of Queue Management Solutions holds an extensive experience. With successful queue management systems installed in over 40 leading banks, Wavetec now stands at the forefront of EQMS and integration services. Our management systems of queues, digital signage and consumer's feedback measurements are located in different regions with applications in various areas and industries like hospitals, retail and banks.
Benefits
The solution helped Samsung achieve Brand Equity as they started delivering a great customer experience from the point of interaction but that is not all they looked forward to and that is not just what we offered! We made sure to provide Samsung with tools that would help reduce the service time and waiting time of customers. We also made sure to reduce the perceived waiting time by giving them leverage of roaming around while their turn came or their case was processed. The Reporting tools helped Samsung achieve efficiency and provided them with a way to measure and benchmark service quality levels, so that they can easily figure out the Key Performance Indicators.