In today's fast-paced world, time is of the essence, especially when it comes to our healthcare needs. Gone are the days when scheduling a doctor's appointment required meticulous planning weeks in advance. With the evolution of healthcare systems, two convenient options have emerged that offer quicker access to medical care: walk-in appointments and same-day appointments.
It's usually for more urgent or unexpected health needs. So, a same-day appointment is a scheduled visit on the same day, while a walk-in appointment is a more impromptu visit. Hope that helps!
Organizations refrain from walk-in appointments to effectively manage customer flow. But to put a customer on wait is a risky business in itself. A single bad customer experience can turn down a loyal customer. PwC research states that 32% of customers will not show up to their favourite brand again if they encounter a single bad customer experience.
No business likes to lose its customers for nothing. Although most organizations have shifted towards appointment scheduling, you can't totally rule out the fact that some walk-in customers would still visit the branch anytime.
But mostly have customers who prefer the ease and convenience of the appointment scheduling system. Research by Patient Pop showed that 68% of patients acquire healthcare services that offer the option to book, change, or cancel appointments online.
Read the pros and cons of both appointment scheduling and same-day appointments to implement the customer flow management solution better.
What is a Walk-In Appointment?
A walk-in appointment is a medical appointment that you do not schedule in advance. You simply show up at the doctor's office or clinic and wait to be seen. Walk-in appointments are typically for urgent or unexpected health needs.
Same-Day Appointment Meaning?
A same-day appointment is a medical appointment that you schedule and is seen on the same day. Same-day appointments are typically available for urgent or unexpected health needs.
The Difference Between Walk-In Appointment and Same-Day Appointment
| | | |
| --- | --- | --- |
| Feature | Walk-In Appointment | Same Day Appointment |
| Schedule | No appointment needed | Must call or schedule online in advance |
| Wait time | It can be long, especially during peak hours | Usually shorter than a walk-in appointment |
| Urgency | For less urgent needs | For more urgent needs or if you cannot wait for a scheduled appointment |
| Flexibility | More flexible, as you can show up whenever you want | Less flexible, as you must schedule your appointment in advance |
| Cost | Usually free | May have a fee, depending on the clinic or doctor's office |
3 Key Advantages of Appointment Scheduling
An appointment scheduling software helps manage visitors' flow in an organized manner. Let's look into some of the benefits obtained from the implementation of appointment systems:
1. Predict Customer Flow
Some days organizations deal with an unpredicted high flow of customers which results in panic and chaos at the service counter. With appointment scheduling, it becomes possible for the management to predict the average visiting customers of the next day and also the estimated revenue generation.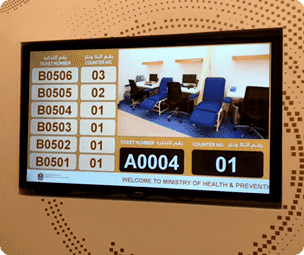 2. Allocate Resources Efficiently
The management proficiently assigns the resources as per the demand of the customers received via appointments. It assures the availability of the staff required to deliver service to the visitor.
3. Smoother Operations
A smart appointment solution enables customers to book a slot online with convenience from anywhere at any time. This makes the process simpler for the people. They are not asked to spend long wait times in queues as they arrive at the hospital, bank, airport, hotel, salon, etc.
3 Disadvantages of the Appointment Scheduling System
Scheduling appointments look easier to function with. But it also has some of its challenges that organizations have to deal with.
1. Consumer Hassle
To book an appointment prior to the visit can be a hassle for a few customers. Not everyone likes to spare some time, one or two days before they plan to visit a hospital, bank, or any other place. Also, some visits are urgent and unplanned, for which the visitors expect the organizations to welcome walk-in customers just like it manages the customers with an appointment.
That's why it is important to implement smart WhatsApp appointment management, booking & scheduling software. It's hassle-free and convenient for customers to use. With a single message on WhatsApp, a visitor can now book a slot easily.
2. Loss of Revenue
If an organization only welcomes customers with appointments, it might lose the potential customers that show up on a day when there are not many appointments scheduled.
If your organization has not adopted a queuing solution to manage walk-in customers, this might result in chaos once an unappointed customer arrives. Once a line management system is implemented, no organization will need to turn down a same-day appointment.
3. Missed Appointments and Late Arrivals
A scheduling and booking system sends reminder notifications and alerts to customers. But some visitors still fail to show up due to some emergency. In that case, the management suffers from a loss of revenue and an empty slot.
Pros of Walk-In Appointments
Walk-ins are not always bad if managed efficiently. There are a few benefits associated with same-day appointments or walk-in visitors. These are:
1. Added Revenue
No one likes to say no to the extra profit. If you manage it well, the same-day appointment will let the business earn extra revenue. The appointment scheduling system shows the staff the empty slots of the day. Walk-ins fill in those vacant slots and contribute significantly to the business.
2. Visitor convenience with an organized process
Most hospitals, banks, hotels, and institutes of other major sectors implement queuing solutions to manage same-day visits during peak hours. When a customer walks into a hospital in urgency without any prior appointment, they expect to be treated immediately. A systematic queue system collects the patient's data and the purpose of the visit. Therefore the staff prepares accordingly to treat the patient.
Read more: See how Wavetec helped Chapidze manage the patient flow at their Heart Center in Georgia.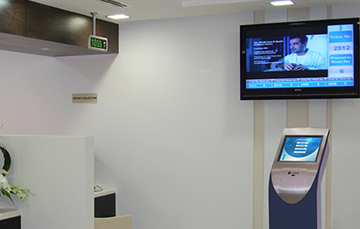 3 Cons of Walk-In Appointments
Added business is good until it is managed properly. A person walking in expects to be dealt with the same way as any other appointed customer. This gets challenging for the management and results in chaos.
1. Customer Experience
It is difficult to offer unappointed customers a good customer experience during rush hours. Thus, one must ensure the presence of queuing system to manage the customer flow adequately.
To reduce the customer hassle during rush hours and serve the maximum number of customers in a short time, a linear queue management solution would help the service providers.
2. Unavailability of Staff
The biggest challenge of the walk-ins is that you never know what service the customer is planning to avail. Availability of staff for a specific service depends on the average customers coming into avail of the specific services.
A personalized ticket dispenser unit will help the staff to know which service the customer is willing to avail of. It also improves customer wait times and enhances the customer experience.
3. Hassle at the Service Counters
Too much crowd on the service counter in the absence of a waiting line management system only affects the customer service. This system streamlines queuing demand and informs the staff beforehand. The real-time information of the traffic in a branch helps in service dispensation and give valuable information about the customer journey.
How to Make Walk-Ins Better And Increase Customer Satisfaction
With the evergrowing use of technology, people resort to scheduling appointments ahead of time to plan their days better. Scheduling appointments is easy for the customer and the business, as both know the purpose of the visit.
But what if a customer walks in instead of scheduling an appointment? How would you cater to multiple walk-in customers at the same time?
Walk-in customers can be difficult to cater to if you do not have a management system regulating an effective customer flow. All industries, whether healthcare, retail, or banking, want to ensure they serve maximum customers and leave them satisfied.
To smooth the walk-in experience for your customer, we have put together four strategies your company can adopt. Implementing these will ensure you can manage customer traffic without frustrating your customers.
Take this opportunity to generate extra revenue and learn how to manage walk-in customers!
1. Queue Management System to Improve Walk-Ins
A queue management system improves customer flow and communication between staff and customers. Wavetec offers a global and integrated Electronic Queue Management System network that organises, engages customers, and measures their waiting times. Wavetec allows you to customise the queue management system and merge it with multiple platforms to scale, collect and analyze data.
Once your customer enters the facility, the primary goal is to avoid overcrowding and get them to make organized queues. The most effective way is to offer them a virtual queuing solution, WhatsApp Queuing. The customer scans the QR code, chooses the service they want, and a ticket is assigned to their number. Customers receive time alerts and queue status notifications.
You can offer your customers a similar virtual queueing experience by signing up for a mobile application by Wavetec, MobileQ. This serves the same purpose as the WhatsApp Queuing Solution. However, this application allows customers to enter queues while on the way to the facility or while running errands. With this, you will be able to estimate the expected customer flow and give walk-ins a close to a scheduled appointment experience.
UNO-Q, another solution by Wavetec, is a linear call-forwarding queue system that ensures all customers waiting in line are dealt with fairly. When the customers have queued at the counter, an LCD monitor displays the ticket number and guides the customer as required. Companies have reported that this has reduced walkaways and boosted customer satisfaction.
The Enterprise Virtual Queue Management System by Wavetec provides virtual and offline ticketing, digital signages, customer feedback and an analytics dashboard. Your company can manage peak hours and customer journeys with accurate and data-driven predictions and centralised control. It enables you to make informed decisions about staffing and helps you implement crowd-control strategies.
2. Collect Customer Feedback to Improve Walk-Ins
Knowing about your customer experience is as important as serving them. With customer feedback, you can determine the pain points of a walk-in customer's journey. Install Wavtec's Opinion Plus, a customizable customer journey solution to collect the customer's ratings. This can be done via mobile apps, WhatsApp or tablets at the checkout counter. Let your customers know you care and are ready to act upon their valuable feedback!
3. Digital Signage to Provide Seamless Experience
Walk-in customers at the facility often find themselves clueless about the facility. This results in confusion and causes customers to panic, because of which they crowd unnecessarily at the reception.
The Donatello Digital Signage is a game changer in managing queues effectively. By using the Player, Vertica or the Software by Wavetec, you can help your customers to navigate. Walk-in customers can use these to explore interactive maps. Additionally, you can use the map to display instructions or use it to display information regarding counters and services. This saves customers from overcrowding at reception to ask basic questions.
Donatello's Video Wall is a great marketing tool to keep your customers entertained while they wait in queues. This audio-video technology is often used to display promotional or educational content, which keeps customers occupied while waiting in queues. Digital signages can be integrated with Spectra Queue Management dashboards which analyze customer touchpoints and helps monitor walk-in customer flow.
4. Self-Service Kiosks to Help The Customers Right Away
Unlike a scheduled appointment, walk-in customers want a seamless customer experience that does not require waiting for checkouts. For tasks that do not require diligent human assistance, self-service kiosks from Wavetec can prove to be fruitful. Customers entering your facility may want express checkout or service options. These can be dispensing kiosks, cash & check deposit kiosks, card issuance and QSR Kiosks, and self-checkout kiosks.
Since the pandemic, self-checkouts have become the new normal. From the customer's perspective, they can engage in service or have their queries answered without waiting for a staff member to help them. This divides the workload on staff members and helps businesses serve and entertain all walk-in customers at the shop.
Understanding a walk-in customer's psychology is key to maximizing your revenues. Adopt a modern Wavetec solution to engage with walk-in customers correctly to reduce wait times and disordered queues.
Conclusion
Organizations must obtain solutions that add flexibility to the customer's appointment and booking. Institutes like healthcare are time-sensitive for the customers. So, implementing a modern-day queue management solution, customer flow management system or an advanced online appointment solution is a necessity to operate efficiently.
A simplified booking process increases customer satisfaction and loyalty to the brand. Adding ease to your customer's journey is a priority for all businesses. With the optimized features of these solutions combined, an exemplary customer experience emerges.
BOOK A FREE DEMO