In This Blog
What is an appointment scheduling system?
Why does your clinic need one?
What is an Appointment Scheduling System?
An appointment scheduling system is a visitor experience solution that makes it easy for service providers to monitor and manage appointments. This system can be integrated with existing visitor journey management systems for a holistic solution that ensures smooth and user-friendly journeys.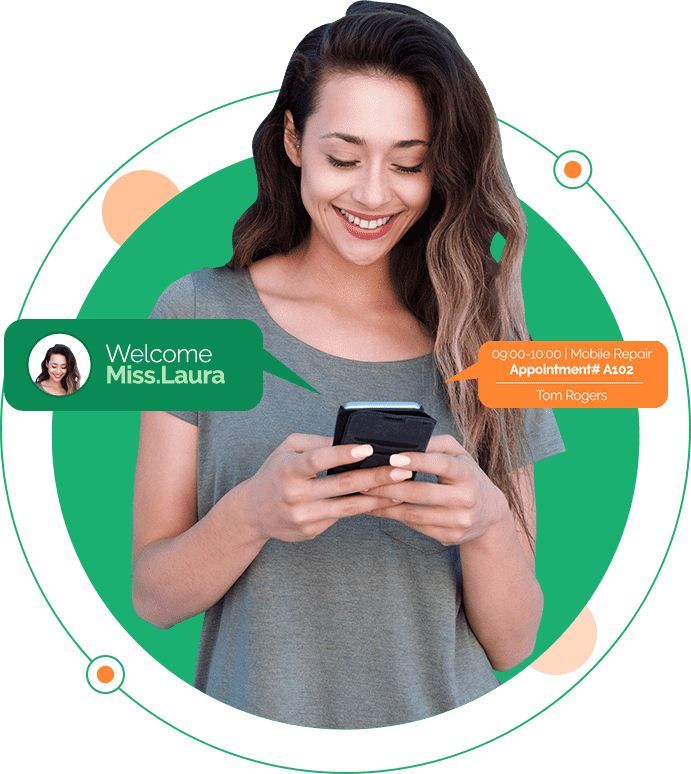 For a clinic, an appointment system will help patients schedule a time to be seen by a healthcare professional. Following is a typical patient journey flow using a clinic appointment system:
The patient visits the online booking webpage, WhatsApp chat, text message chat, etc., and after selecting the time, service type, and preferred branch, confirm their details
They receive scheduling confirmation of their booking and begin being sent regular notifications or appointment reminders for details regarding time, what to bring, etc.
Closer to the appointment, the appointment notifications and reminders increase, and they are made aware of how to check in once on the premises.
On the day of the booking, they check in and are issued an electronic ticket, which secures them a place in the virtual appointment holders queue until they are called to be served.
Prior to arrival time, they have the option to cancel or reschedule the booking.
Why Does Your Clinic Need a Patient Appointment System?
Healthcare services are in greater demand as the population is increasing, and in recent times, due to the onset of the COVID-19 pandemic. With increased footfall numbers and visitor volumes, managerial staff, healthcare staff, and administrators face the challenge of executing effective visitor management.
One of the major factors causing stress on the healthcare system is the management of unregulated walk-in patients. Their volumes and the time they choose to arrive cannot be predicted. They will join the queue, wait for service, and approach the counter at the appropriate time. In doing so, they add to the numbers on-premises, increasing the need for service representatives and already lengthy queues.
The importance of appointment systems in hospitals becomes evident in addressing this issue. Implementing a well-organized appointment system allows for better patient flow management, reduces overcrowding, and ensures that healthcare providers can allocate their time more efficiently, ultimately enhancing the overall quality of care.
A tried and tested solution for this is online appointment scheduling software that allows for bookings to be made, confirmed, canceled, and amended. And the benefits of this for both staff and visiting patients are undeniable!
Appointment scheduling systems, amongst other purposes, can be used for:
Booking tests, lab visits, vaccinations
Scheduling regular check-ups and consultations
Confirming refills at pharmacies
Patients, too, are fond of such streamlined solutions, as 68% state that they are more likely to choose medical providers that offer the ability to book, change, or cancel appointments online (Accenture, 2019). Practitioners are coming to recognize this as a necessity – 1 in 5 providers say allowing patients to request online appointments is key to a successful medical practice (Patient Pop, 2020).
Accessible and Flexible Online Scheduling
Online appointment scheduling systems are accessible to a wide variety of customers. They can be accessed from the comfort of your home or on the move, via:
Web-based applications and sites
Mobile applications
Text message, SMS, or WhatsApp chat
On devices like mobile phones, laptops, tablets, etc.
These various methods allow for secure and convenient access to booking software. The ease of use also supports the 24/7 operational capabilities of these means, thereby increasing operational hours.
Patients are given options of available appointments by branch/location, time, and purpose of visit – facilitating flexible appointments according to personal circumstances and schedules. Online appointment scheduling software systems are accessible for both digital and non-digital patients, and for those with a variety of varied means and circumstances. This means that an increased variety of patients can access your services, thereby improving your profits and the sustainability of your business and management model.
Sustainable Time-Management for Patients and Staff Members
Patients book in advance of arrival, thereby managing their schedules and expectations better. They know when to arrive and where to approach to be served. And since the appointment gives them the exact time they are expected, there is no need to stand in a winding queue.
Staff is made aware of the estimated volume of footfall for the day, made more accurate by the knowledge of scheduled appointments and the implementation of a queue management system for the patient. This way, they can prepare in advance to receive the patient and will spend less of their time managing queues and booking appointments.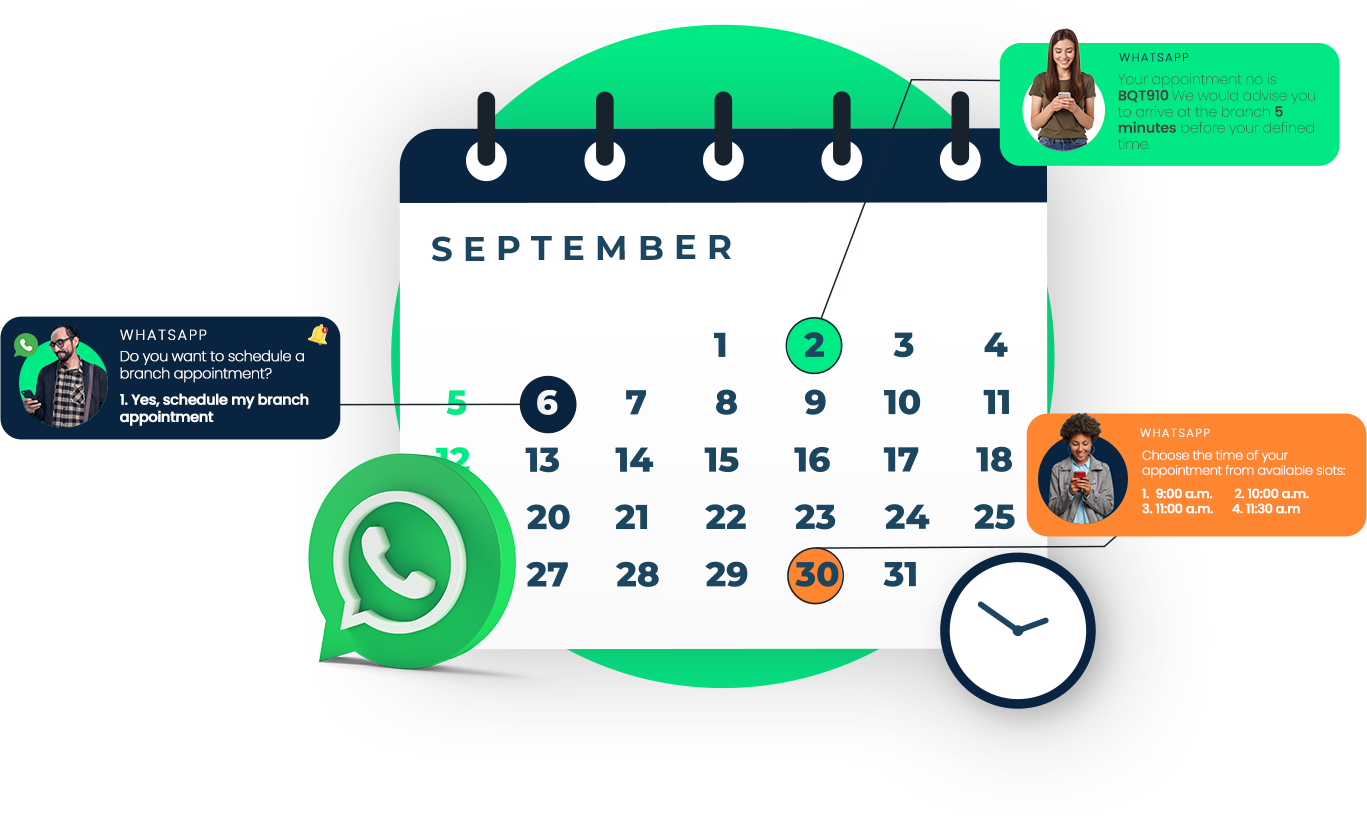 This has the benefit of reducing operational costs, improving time and resource management for patients and staff and increasing the number of visitors served and treated, thereby increasing clinic revenue.
Lower Operational Costs for The Clinic
With better clinic management comes better resource usage and reduced operational costs! Once visitor volumes for the day are known, and there is no need for additional staff deployments to manage online bookings and cancellations, operational costs can be reduced, and profit margins widened.
Staff allocations can be optimized, and the numbers needed are reduced. Digitization of processes previously human-managed can make operations sustainable and cost-effective, leading to better financial projections for your clinic and higher Net Promoter Scores, leading to increased business.
Secure Payment Options for Patients and Attendees
A secure means of payment is essential for an effective online appointment scheduling system. Patient financial payment data must be kept secure so patients feel comfortable to continue using your systems.
This can be ensured using Know Your Customer (KYC) checks to complete background and fraud-prevention requirements on the patient's data. This facilitates the peace of mind needed to be comfortable enough to schedule an appointment and pay for it online.
This will further improve patient experiences as they need not carry cash or other payment options to the clinic nor wait prior to or post-appointment to make a payment. Queues will be shorter, and service representatives will be free to perform more essential tasks.
Effective and Efficient Integrations of Patient Information Systems
The clinic's appointment scheduling system can be integrated with the patient record database, which houses information about medical history, visits, prescriptions, appointment details, etc. This facilitates the online booking system to join the ecosystem of interconnected information systems, thereby offering a seamless and frictionless patient experience. And creating a centralized information system for the entire clinic, its staff members, and affiliated healthcare providers.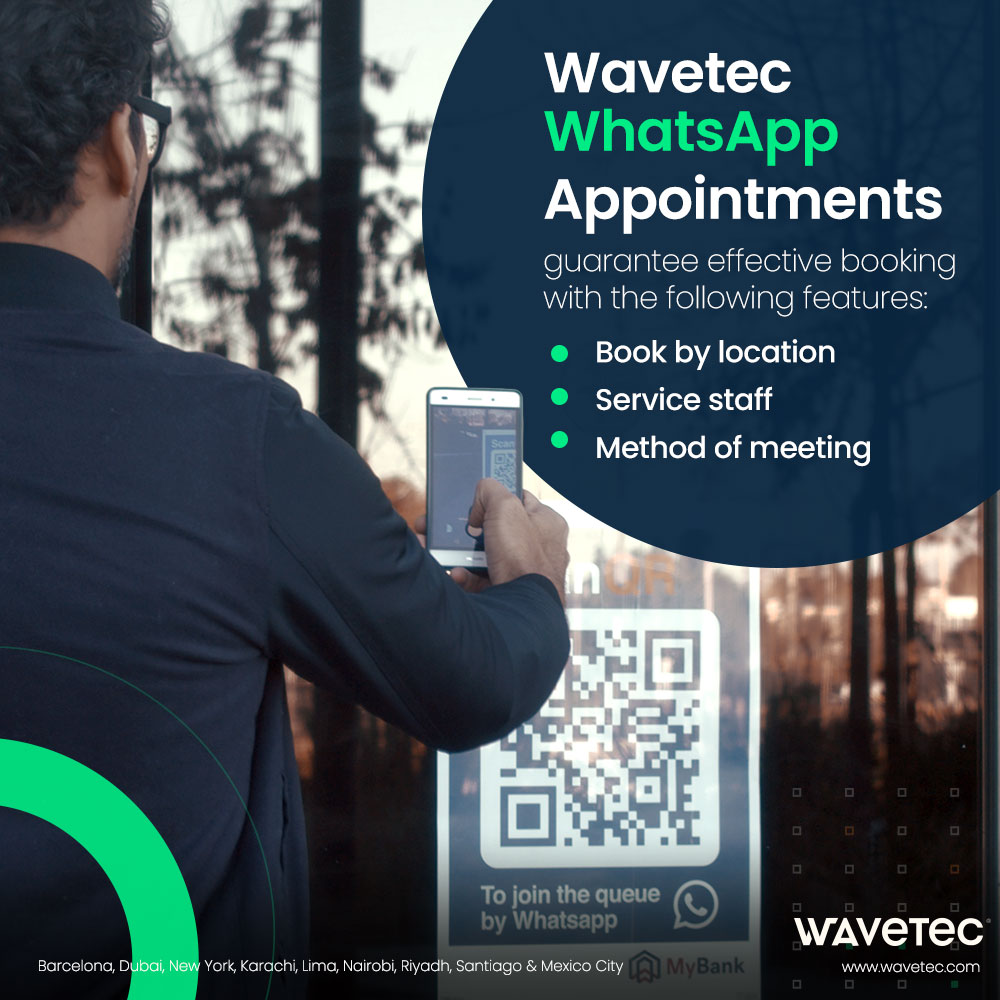 Patients can auto-fill their details, benefit from selecting aspects of past bookings to simplify the scheduling of the current one and have one point of contact for their entire experience. Consulting two different doctors in one clinic is easier, as patient data is centrally stored. Additionally, by the principle of centrally controlled information, saving, amending, updating, and analyzing patient data becomes more convenient.
This helps establish a common interface for providing exceptional patient care.
Appointment scheduling systems are essential for post-COVID-19 era clinics and other healthcare service providers. They support the need for technologically sound patient management systems and improve experiences for all involved.
Wavetec designs and deploys patient management systems, including appointment solutions. Our goal is to enable safer and more convenient patient journeys with our healthcare patient management product range for the digitized tomorrow.
Check out similar blogs:
BOOK A FREE DEMO