Have you arrived at a store and found a long queue with no guidance or assistance from staff?
Isn't it frustrating to stand in chaotic and disorganized lines? If your customers share the same feelings, it will cost you negative emotions and a low turnout.
A study by Lavi Industries found that businesses lose up to 50% of potential customers due to long wait times in queues. Slow-moving customer service queues increase wait times, dissatisfied customers, and decreased efficiency.
For businesses, this translates into lost revenue. If you cannot manage a high volume of clients, your business will likely receive negative customer feedback.
Do you want a solution to rebuild customer experience?
Look no more!
Implementing digital queue management strategies is essential to avoid chaos and ensure a positive customer experience.
This blog will explore the importance of managing queues through practical strategies and how technology plays a role in streamlining queue management.
What Is The Importance Of Managing Queues?
A study by the Harvard Business Review found that customers are willing to wait an average of 13 minutes in a queue. Beyond the waiting time, customers are likely to abandon the line and leave the store. This calls for efficient queue management solutions for businesses, organizations, and stores.
Let's understand the benefits of managing customer queues.
Reduced Wait time
Improve employee productivity
Increase customer loyalty
Streamline communication
Reduce operational costs
Increase revenue
1. Reduced Wait And Service Time
Customers prefer to avoid waiting in mismanaged and slow-moving queues with no estimated time of service. Valuing your customer's time is vital in increasing turnout at your business. By implementing digital queue management solutions, you give your customers satisfaction and free time to explore the facility.
2. Streamline Communication
A smooth customer experience is built on a strong connection with your customers. Understanding your client's needs throughout their customer journey fosters emotional ties between customers and brands. Adopting a clear communication path on cell phones, websites, and in-stores makes customers feel valued. Communicating wait times and delays to customers build a healthy customer-business relationship based on transparency.
3. Increase Customer Loyalty
Providing your customers with consistently improved service at counters that fulfills their expectations is an effective strategy to get returning customers. Besides managing queues, if you engage with your customers in lines, it keeps them entertained. It reduces perceived wait times and anxiety levels. When you combine a technologically advanced queue management solution and a positive customer experience, you have created a positive brand image.
4. Improve Employee Productivity
Customer service queues are as frustrating for the staff as for the clients, if not more. Your team will be obliged to manage crowds physically or by using barriers. This can be overwhelming as the staff has to serve customers, answer queries, and manage the logistics. Achieving staff satisfaction is necessary to ensure that staff can complete their duties and satisfy clients.
5. Reduce Operational Costs
Overcrowding and mismanaged queues lead to systemic inefficiencies and waste space at the facility. With digital queue management services, businesses do not have to invest in additional inventory spaces or hire employees. In a nutshell, it allows you to reallocate resources efficiently and run operations smoothly.
6. Increase Revenue
Proper queue management gives customers ample time to explore the facility. Clients who shop and interact with the business' services worry-free will likely choose your service over your competitors. Customer retention is the biggest win for businesses.
Would you like to explore ways to improve the organization and professionalism of your environment?
Prioritizing queue management to stand out and succeed has taken the lead for businesses. Let's find out the best solutions that you can adopt.
How To Manage Customer Service Queues Effectively
Queueing systems are versatile and dynamic, offering a wide variety of tools. To choose the best digital queueing solution for your service, you must understand the four different queueing characteristics.
Single Queue, Single Server: Customers wait in a single queue, and the next available server serves them. This is used in banks and airports.
Multiple Queue, Single Server: Customers are divided into different queues based on their needs, but a single server serves all queues commonly used in hospitals.
Single Queue, Multiple Servers: In this type of queuing, customers wait in a single queue, but multiple servers are available to serve them. This is common in call centers, where customers wait to speak with the next available agent.
Multiple Queue, Multiple Servers: This divides customers into lines based on their needs, and multiple servers are available to serve them. This is commonly used in retail stores.
Thus, understanding consumer behavior tells you when to offer services to customers. You must choose a system that provides solutions unique to your business's needs.
Here we discuss the best nine queue management strategies you can adopt to manage multiple touchpoints and reduce customer waiting time.
Queue Management System to Better Manage Customer Waiting Time
Self-service Kiosks to Reduce Wait Time and Operational Costs
Proactive Communications
Be Accurate about the Wait Time and Stick To It
Digital Signage to Guide Customers
Virtual queuing to manage customers
Making Customers wait in line to check-in is against queue management
Online Appointment Scheduling
Priority queuing and calling
Monitoring Queue Performance
Customer Feedback
Queue Management System to Better Manage Customer Waiting Time
A queue management system optimizes customer flow and improves communication between staff and clients. Wavetec is a global Electronic Queue Management System network based on organization principles, engaging with customers and measuring their waiting times.
Wavetec offers a tailor-made queue management system integrated with multiple platforms, customization options, scalability, data collection and analysis capabilities. Your business can manage peak hours and customer journeys with accurate and data-driven predictions and a centralized control. It helps you make informed decisions for staff and resource allocation and apply effective crowd control strategies.
Self-Service Kiosks To Reduce Wait Time And Operational Costs
Customers may visit your facility with simple queries and tasks. If the customer is made to wait in long queues, it can lead to frustration. Additionally, you will need to hire more employees and build waiting areas to facilitate the growing lines.
Installing self-service kiosks is the answer to improving wait times. In this digital era, you can connect with your clients through automated self-service kiosks with an interactive touchscreen. Customers can use the kiosks to deposit cheques, obtain cash, SIM dispensing, and offer biometric verifications.
Self-service kiosks can be combined with POS terminals. This is a key game changer in retail outlets, allowing customers to scan for product price and engage in self-checkouts. Customers can skip long queues and complete their transactions quickly and efficiently. Since they can manage their transactions, they feel more in control over their experience. Kiosks collect customer data, allowing businesses to enhance customer experience and reduce operational costs.
Proactive Communications
Communicating regularly with customers in the queue, providing updates on wait times and offering solutions makes them feel valued. You can enhance consumer experience in lines by keeping customers in the loop and offering alternative service options such as appointment rescheduling.
Be Accurate of the Wait Time and Stick To It

Customers often over-estimate wait time in queues. A preconceived notion of long lines will drive customers to your competitors. Thus, data-driven predictive planning, such as the Spectra Queue Management Software, changes how you operate your business.
The branch manager can manage the Spectra dashboard using a single device. It provides real-time analytics on customer influx to branch employees and regional teams, enabling you to make adjustments. This is a smart solution to provide your customers with real-time updates and notifications on wait times. Customers can manage their time efficiently when receiving timely SMS, email, and WhatsApp alerts.
Digital Signage To Guide Customers
New customers visiting your facility often find navigating difficult. This results in overcrowding at the reception or information desk, leaving clients confused and stressed.
Wavetec provides a virtual information sharing solution of installing Digital Signages. It offers a dynamic display media player, a standing display and a centrally-managed real-time display. Providing customers with accurate and up-to-date information gives a better understanding of the venue, queueing information and the time they will spend waiting. This reduces the workload on staff and improves operational efficiency You can display offers and promotional content, increasing brand awareness and enhancing the customer experience.
Virtual Queuing To Manage Customers

Customers want immediate service and checkouts, whether in retail stores, hospital facilities or the transport industry. Signing up for Wavetec's virtual queuing gives them access to the MobileQ application. This comprises QR and SMS ticketing for customers and lobby leader management dashboards for your business. The virtual waiting room will provide insights into consumer behavior and improve staff productivity.
Making Customers Wait in Line to Check-in is against Queue Management
If customers visiting your hotel or waiting to board the plane have to stand in long queues to check in, your company will likely receive negative customer reviews. Offer customers self-service options to check in online or at kiosks. This will reduce customer queues and wait times and improve the customer experience.
Online Appointment Scheduling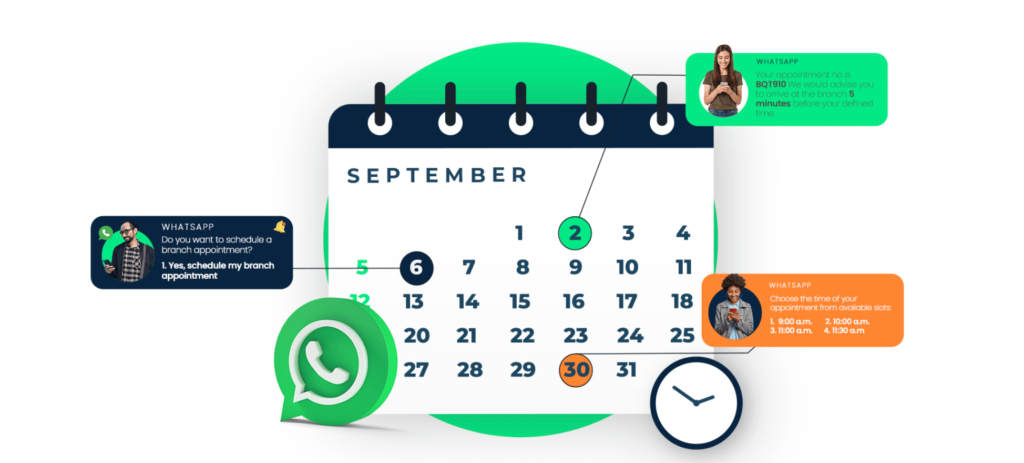 Customers seek pre-arrival services like online scheduling. This saves the hassle of standing in physical lines and fighting for a spot. Wavetec has introduced WhatsApp Appointment, an all-in-one integrated customer management platform. With this service, customers can schedule, reschedule, book follow up and cancel appointments virtually. This saves multiple visits to the store. Customers also receive alerts and reminders, making them feel more connected with the brand.
Priority Queuing And Calling

To regulate queue movement, installing Wavetec's Linear Queueing solutions, like the UNO-Q, can be helpful. This calling service directs customers to the counter in an orderly manner. You can create a separate line for customers with appointments or pre-booked services to expedite their wait times. Through this, you can prioritize appointment holders, VIPs, and those with loyalty cards and fewer items at retail stores.
Monitoring Queue Performance
Ensure that the queue area is well-organized, clean, and comfortable for customers. Monitor queue performance regularly and make adjustments as necessary to optimize operations and improve customer satisfaction. This can be done by training staff to deal with difficult customers and keep the queue moving smoothly.
Customer Feedback
Prioritizing customer expectations comes from understanding their needs. Wavetec provides a Customer Feedback Solution which measures customer satisfaction. This can be integrated with business systems, such as customer relationship management, to help you make dynamic strategic decisions. A commitment to improving customer experience fosters long-term relations.
FAQs
How do you determine the appropriate queue length based on customer demand?
You can measure the appropriate queue length by analyzing the customer demand patterns, wait times, and queue capacity. This can be done using techniques such as queue modeling and simulation.

What are the different methods of queue management, and which one is most effective for different scenarios?
Wavetec offers different ways, including queue management software, virtual queuing, self-service kiosks, and online appointment scheduling. It depends on the number of customers, available space, and the type of service being offered. For example, virtual queuing in a healthcare setting and self-service kiosks are effective in retail where customers complete transactions themselves.
What are some best practices for managing queues in a customer service setting?
Managing customer service queuing can be done efficiently by providing clear signage and communication to inform customers about wait times and their place in the queue. Offer self-service options, such as online booking or appointment scheduling. You must train your staff to manage lines and demanding customers. Moreover, regularly monitor and analyze queue performance to identify areas for improvement.
How can you effectively communicate with customers waiting in a queue?
Although there are multiple ways, using digital signage to display instructions, wait times and queue information is necessary. You can update wait times through queue management applications that send customers alerts.
How do you maintain customer satisfaction while managing queues during busy periods?
Peak hours and busy holiday shopping seasons can result in an influx in customers. Keeping your customers informed of the estimated wait times using digital screens is important. Solve the queuing problem by offering virtual queuing software to receive wait time notifications and online book appointments. Self-service kiosks are the answer to making the customer's experience immersive. Customers appreciate efficient queuing and will review your brand positively.
Conclusion
Effective queue management is essential for businesses to improve customer satisfaction, enhance operational efficiency, and drive success.
You can use tools such as digital signage, self-service kiosks, virtual queuing, and a comprehensive queue management system to optimize queue performance. Managing queues reduce wait times and enhance the overall customer experience.
As customer expectations continue to evolve, it is crucial to prioritize queue management and invest in the right technologies to stay ahead of your competitors.
BOOK A FREE DEMO