In This Blog:
– What Spectra offers
– Why banks need analysis and reporting tools
– A marriage of convenience or fate?
Wavetec's Spectra enterprise software is the crowning glory of our queue management system. It boasts integrations with all applications, thereby creating a frictionless customer experience at your bank branch. It comprises our ticketing and mobile queueing products, live dashboards and reporting tools, all while integrating Web TSU APIs with client information for a seamless experience.
Spectra monitors, measures, and analyses while customers are in the queue, producing business intelligence reports through its centralized reporting system.
These offer insights on:
Staff performance,
Service area resource optimization and efficiency,
Future predictions and projections,
Teller performance – employee productivity vs customer inflow.
And can be viewed from the central controls, and relevant action can be taken in real-time to manage it better.
The Importance of Banks
Waiting customers expect a high quality of service from banks, and in return for that efficiency, they provide their loyalty and business. To achieve this quality of service, it is essential to measure and benchmark one's performance indicators.
Spectra provides a simple solution to all this – a system that calculates and delivers insights and relevant plans of action in real-time, measures KPIs, and keeps you on top of branch performance for every branch.
The Evolution of Spectra, Before and Now
Spectra was known by a different name, but it's functions, benefits and importance to our queue management software has always remained key.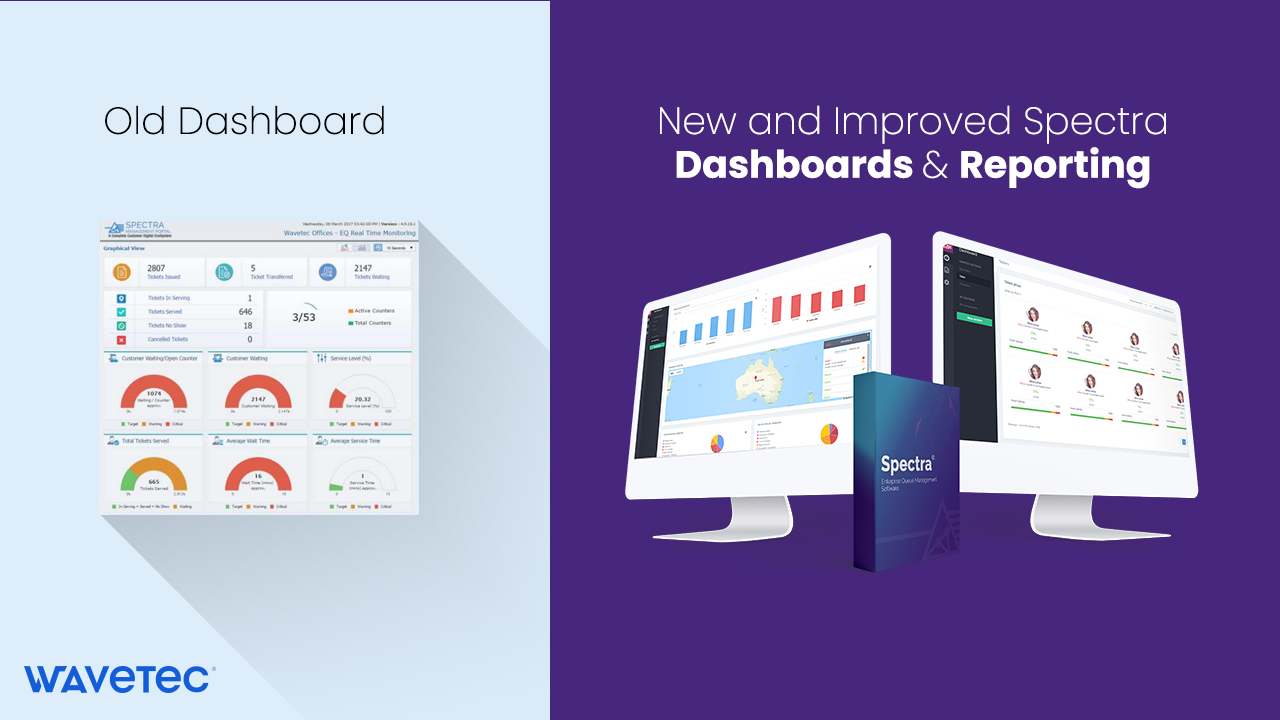 What Spectra Can Help With
Online Appointment Booking Using a cloud solution with responsive design, be it for desktop, mobile or tablet users, Spectra helps you turn visitors into loyal customers. This also allows you to gather booking stats for insight into how this service can be improved.
Revenue and Resource Management Spectra analyses real-time data, competitor data and historical statistics to improve profitability with its automated revenue management solutions.
Staff and Workplace Management An attentive and data rich branch manager is a joy to work with and for. Spectra ensures you have all the information on your employees productivity so that you, and they can access the relevant reports and take action accordingly.
3 Spectra Dashboards Additions that Optimize Branch Performance
The following dashboard options come with the support to print charts or download them as images, PDF's or vector images. There are also many display options regarding the kind of graphs and charts you would prefer (linear, bar, etc.).
1. Teller Performance
With dashboards calculating the total number of clients served, the number of tickets issued per hour, and the average time spent by the customer in the branch, a general overview of how smoothly branch operations are being conducted can be seen.
All this comes together with the teller group, where ordered by branch, name, online status, SLA and number of tickets served, the productivity of said employee can be gauged and monitored. Finally, tellers can also be arranged in ranks,  calculated using their service and wait time, tickets served and feedback statistics.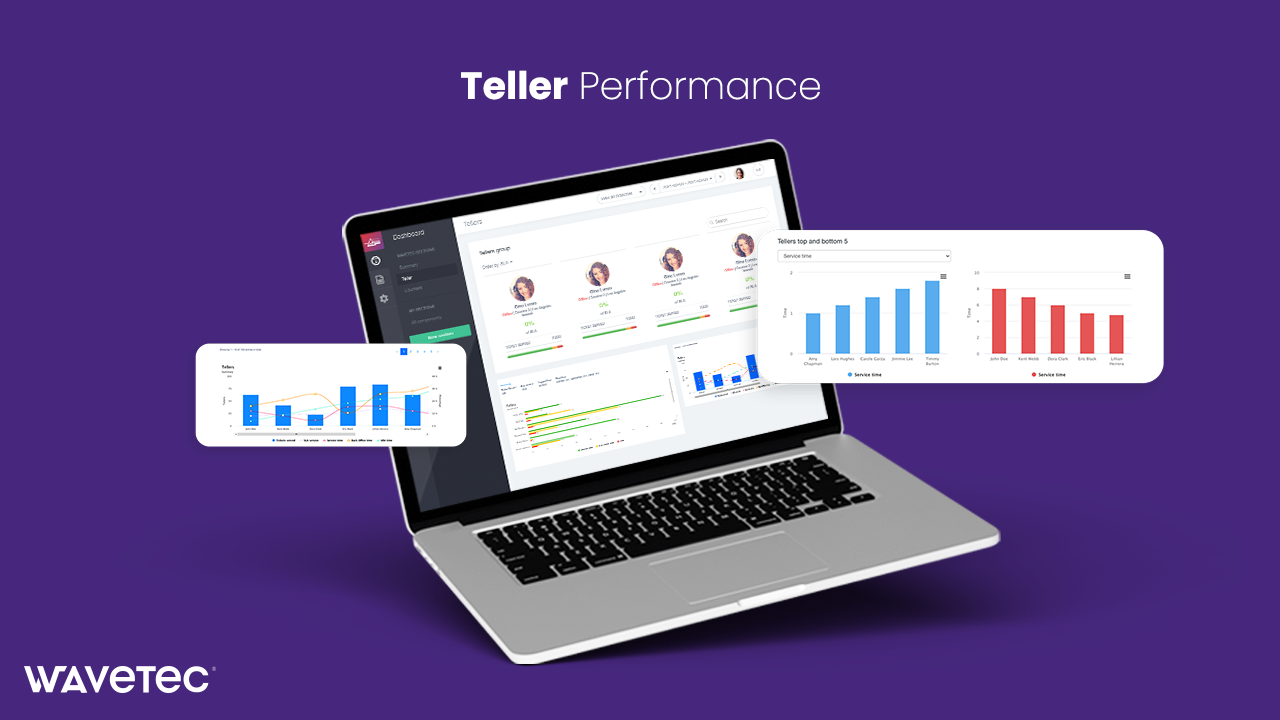 Benefits & Impact: Greater motivation amongst tellers to perform to the best of their ability, and rewards for good performance on the basis of cold, hard numbers. With tellers maximizing their productivity, this will encourage other employees to follow suit thereby resulting in company wide improvement.
With the monitoring of these KPI's, factors affecting teller performance, such as the contents of hands-on training programs can be adjusted, and new features can be included in the dashboard like a messaging channel for tellers, so they can pass on customer related information smoothly and quickly. Additionally, hiring and downsizing decisions can be taken on this basis.
2. Branch Performance
Each branch has its own indicators. They all appear on a map, and by choosing any branch, you will be able to view the levels of service, the number of counters open, and the number of waiting customers. With a scale ranging from good to neutral to bad, central management can be sure to keep tabs on each branch with a map or satellite option, taking relevant action speedily and effectively. Like the tellers above, branches too can be ranked based on their service and wait time, tickets served and feedback statistics.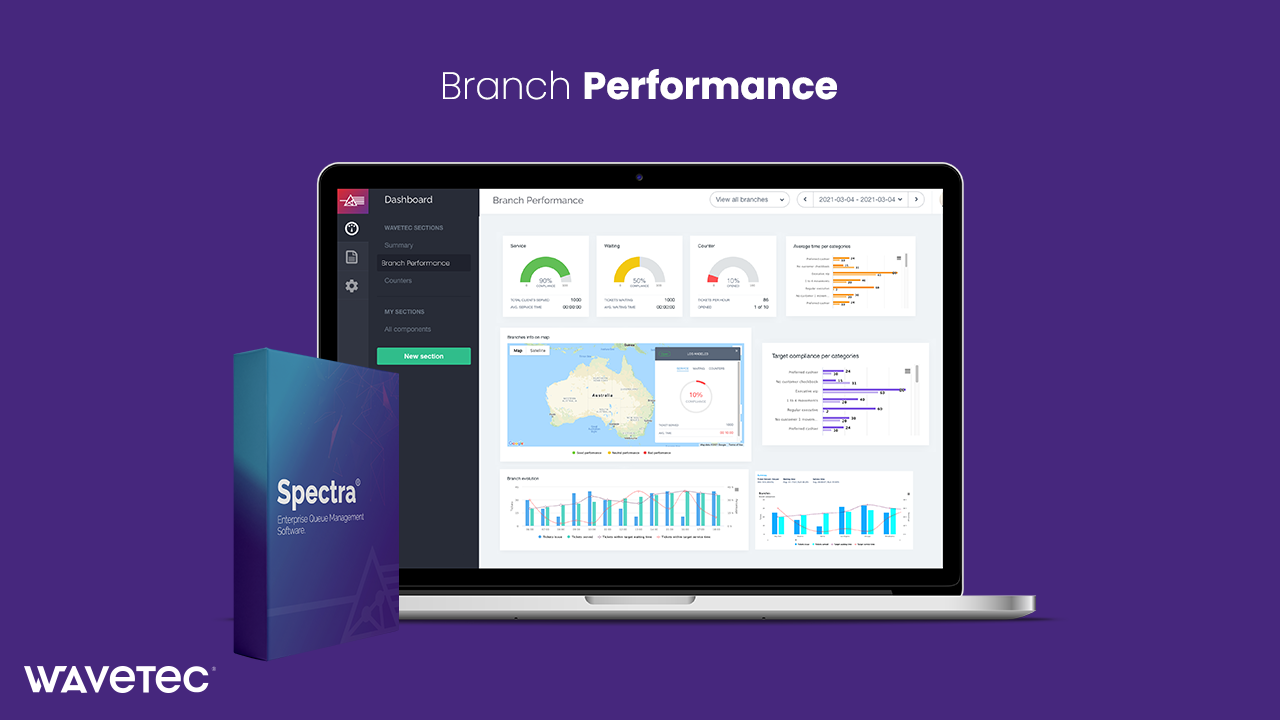 Benefits & Impact: Optimal branch performance can be recognized, rewarded and analyzed for tips on how best to achieve the same in other branches. With a model to emulate, a bench mark for success will be set up with regards to KPIs and SLAs. An intuitive management strategy will recognize that the factors impacting branch performance vary regarding the location of the branch, the footfall, the management, the services offered and the goals set – therefore these will count towards the adjustment of policy for each individual branch.
The branch is the representative of the bank in said location, and the gateway to client on boarding. This makes its success essential.
3. Hardware Monitoring:
With a map or satellite option, this dashboard allows you to keep track of hardware, its maintenance, smooth running and online status. Usually including kiosks and Donatello digital signage solution, each machine is either working, not working or has some issue like a lack of volume controls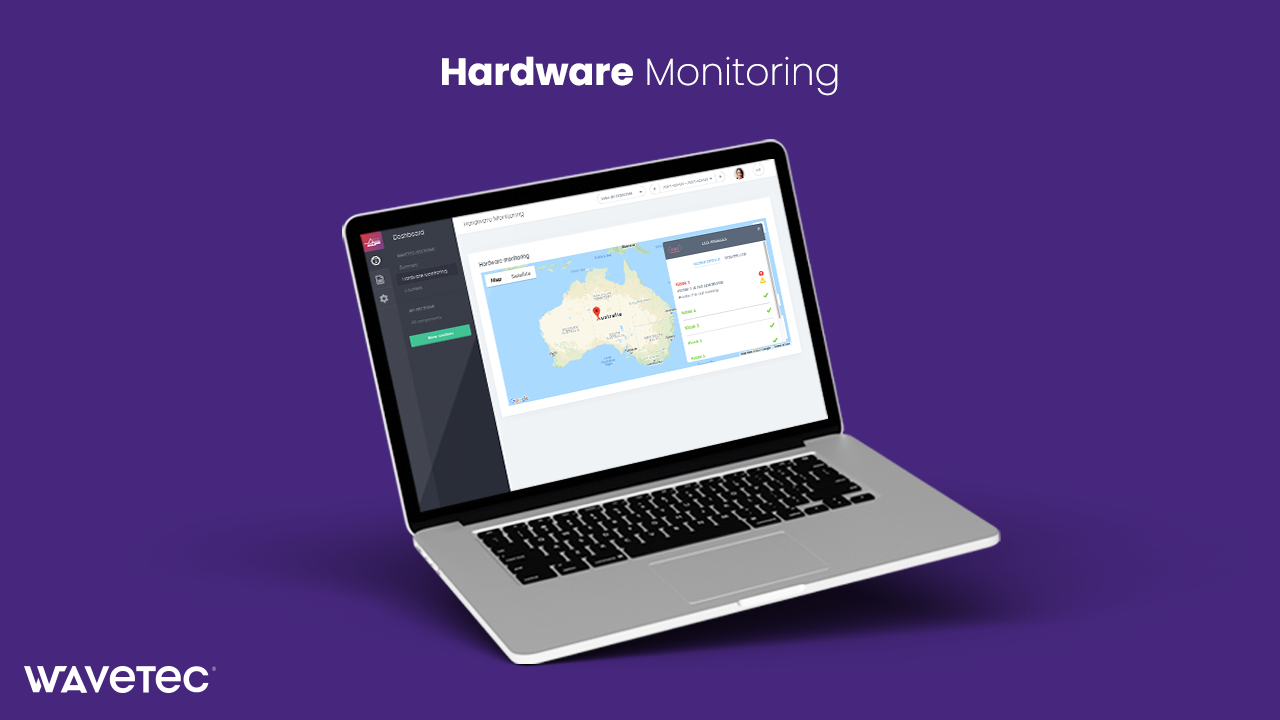 Benefits & Impact: This comes with an alert option, such that central control can take action without delay, ensuring that customer experience is unhindered. The main sell of these hardware solutions is the ease, convenience and simplicity they bring to the hassle of daily transactions. This makes it imperative to ensure that they work smoothly so that the branch functions that rely on them can continue without disturbance.
Additionally, hardware malfunctions and the delays in addressing them can be detrimental to customer satisfaction. Having made up one's mind, travelled to said branch, risked possible viral transmission, only to find the machine you came to use is out of order – it is tales of frustration just like this one that can sour a client's experience and trust in the bank.
What Spectra Has Helped W

ith


United Bank Limited, Pakistan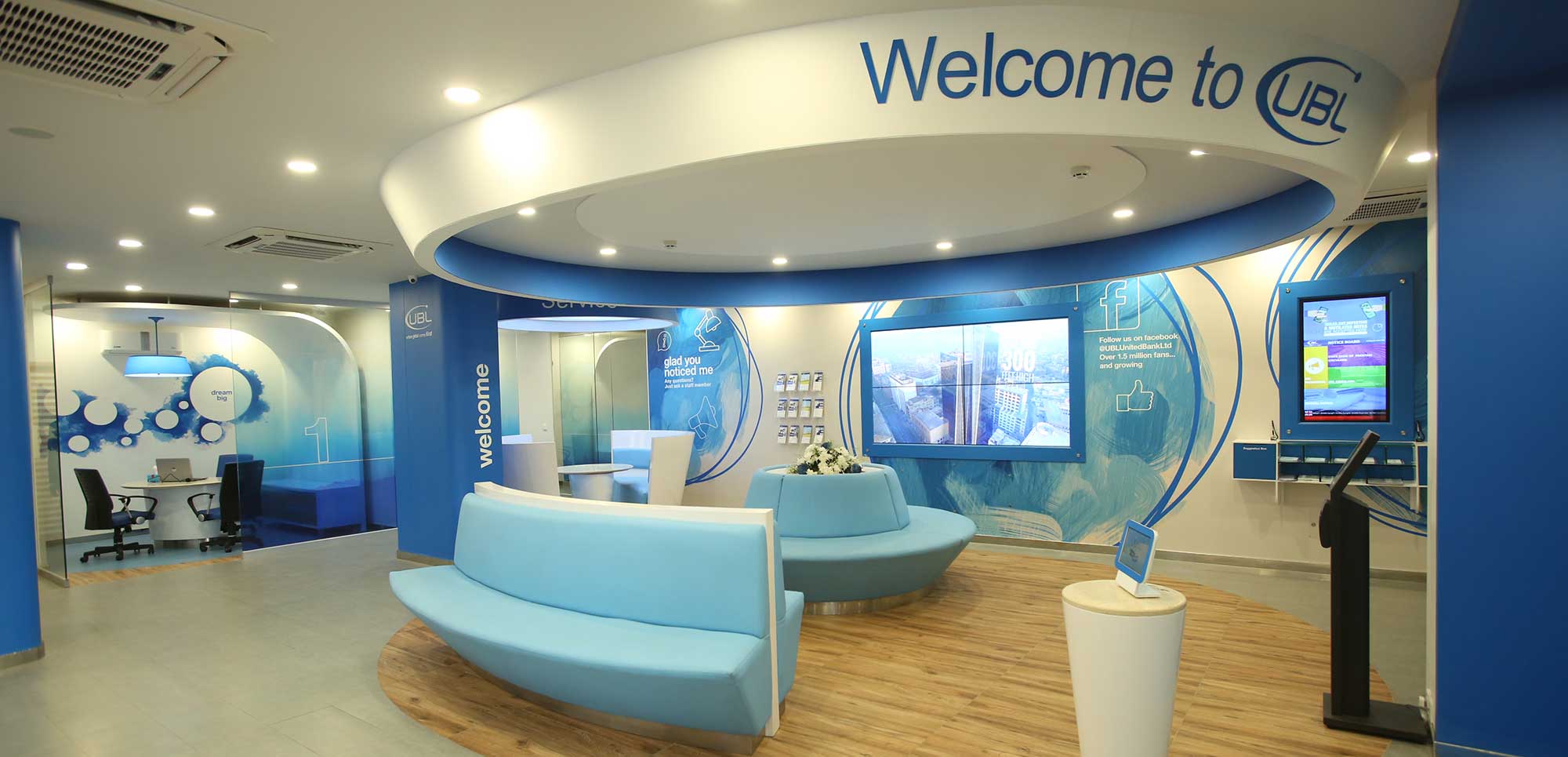 No of Branches with QMS: 500+ branches
UBL has customized their installation to include an internal dashboard that monitors branch performance. The indicators include average customer wait times, average service times, feedback statistics, amongst others. This creates healthy and monitored competition between branches, with all tellers and employees working to improve their productivity and performance indicators. By creating in-branch competition, UBL ensures that the standard is to always improve on their own best numbers. Having kept themselves as their main competitor, they ensure maximum potential and resource optimisation.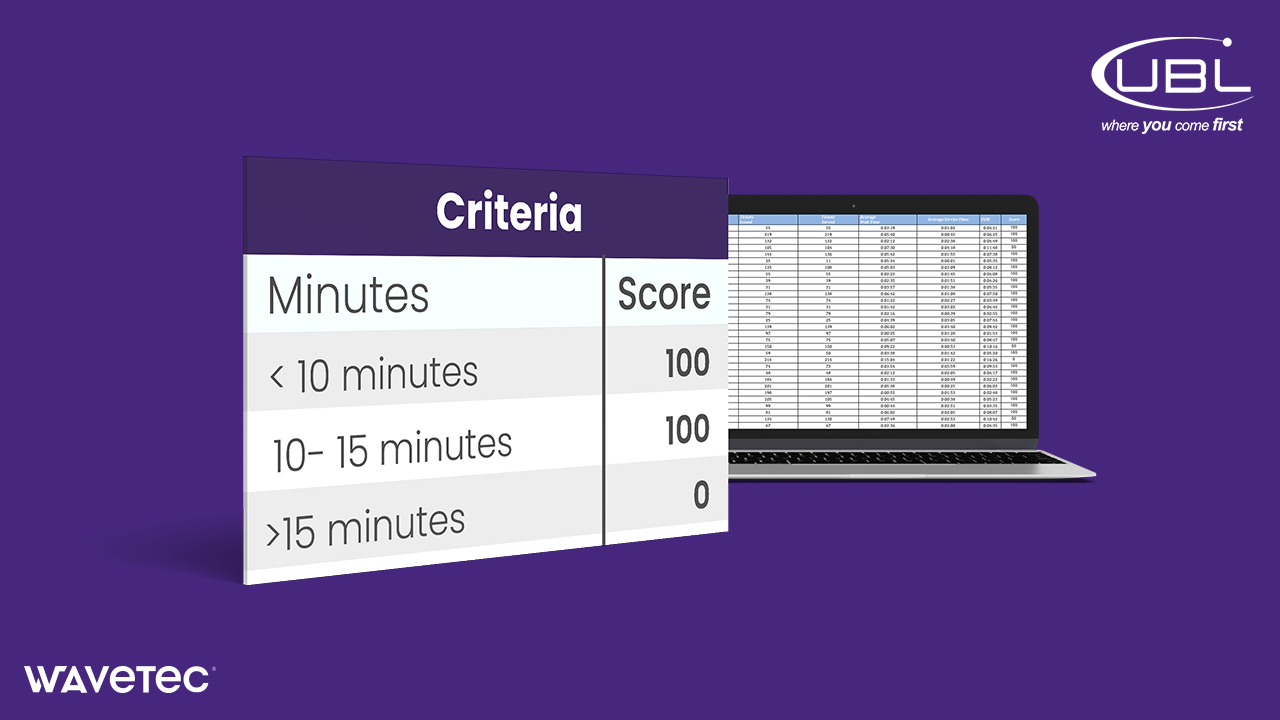 Wavetec's Spectra provides a management solution as well as continued customer support to your bank. One of the main reports at UBL is Ticket Detail Reporting. Here the statistics generated from the internal dashboards are analyzed. If the service time and wait time combined exceeds 15 minutes (a limit set by the bank) the branch is considered failing in its operations. Within this limit there is also a margin which ensures that if the branch is underperforming, action can be taken before customer service is compromised.
The UBL head office team is in regular contact with branch managers to discuss their status and possible courses of action to improve service statistics. Reports are also forwarded to regional heads. These reports award marks to each branch according to an internal customized UBL performance scale.
Benefits
Spectra is designed to make management and central control simpler and more interconnected.
But the advantages do not stop there:
Multilingual support,
Insight into customer behavior, and control of factors that impact wait times,
Measure and reduce walk-always, time between transactions,
Optimal staff and resource allocation,
Streamlined service-area operations,
Increase profitability and productivity,
Real-time notifications, alerts and information gathering and analysis allow for management to remain a step ahead, informed and ready to take relevant action,
Supports centralized configuration,
Back-end integrations,
Integrated performance across branch networks,
Optimized customer service levels.
BOOK A FREE DEMO