In This Blog:
Why are physical Apple store wait times so long?
What has been done to remedy the situation?
What more can be done?
Apple 
Apple is a Cupertino-based technology firm responsible for bringing us the likes of iPhones, Macs, iPods, Airpods and much more. Their flagship and brick-and-mortar stores are regular and welcome sights for its loyal customer base, and its bitten apple logo is now a cultural symbol. 
Apple operates 500 retail stores, in over 25 countries and regions globally. Most 270 U.S. stores operate within indoor shopping malls, with some intended as standalone stores.
The queue too has become a symbol of consumer demand for the tech giant. Each release of a new product or series is accompanied by winding queues of avid customers, who wait long periods of time to be among the first to own and experience the new offerings.
These are welcome queues, but those that result from walk-in and scheduled Genius Bar appointments are not!
Reason Behind Long Queues Outside Apple Stores
And the situation for Apple is such: only their certified technicians can diagnose and fix major issues. The rest of the staff is involved in crowd control. 
Initially, the minimal Apple stores were imagined and designed as the perfect consumer experience. It was Steve Job's intention to elevate it in comparison to the average retail store.
And this technique paid off and Apple stores were making thousands of dollars per square foot. But this was in 2001. This amount, however began to decline and customer satisfaction with it.
Staff has many reasons for why this is so. Some blame the increasing spread of Apple stores worldwide – with so much expansion, customer journey flows and service standards are bypassed. In a 18-year expansion, Apple has opened more than 500 locations and hired 70,000 people. 
Long Waiting Times at Apple Stores
Customers are of two camps, those who hate the long queues but are satisfied with the service delivery, and those who hate the long queues and the service standards. 
Apple has taken steps to install an appointment scheduling system, but users complain that this is not interactive enough and provides inaccurate wait time predictions. Customers began to report winding queues, confused and stressed employees, and the presence of days-long appointment lists for the Genius Bar. 
The Apple Stores were in demand because they were places where gadgets could be bought, where advice on how best to utilize them could be availed of and where devices could be fixed. But without proper queue management strategies, stores became overcrowded and difficult to navigate.
The situation has deteriorated so much so that some clients believe the company values aesthetic artistry over actual service delivery. 
In order to remedy this, Apple launched a new kind of store, similar to the last but with some exciting new features. One of these is the Genius Grove, committed to repairs and assistance sans the long queues. Counters were replaced with free-roaming checkout clerks.
The goal of the retail operations head (in charge then) was to decentralize and digitize operations. This they have tried to introduce with online appointment scheduling, virtual queuing. 
In practice, this was not as successful as anticipated and the new retail head is attempted to take things back to the way they were with some much needed tech advancements. With new software and hardware, queues are on route to being better managed. 
What can Apple do to Reduce Wait Times?
Simply put, a holistic Queue Management solution is the ideal choice. Apple customers want to be directed, kept informed and engaged throughout.
A virtual queuing system would work well – WhatsApp Queuing, an interactive and accurate appointment scheduling system and digital signage. Spectra reporting and dashboards software would aid in collecting branch traffic data and analyzing it to identify and improve on lacking service areas. 
This will result in:
Increased customer satisfaction as wait times, uncertainty and frustration decreases
Improved staff productivity and reduced operational costs 
Reduced customer walk aways or bad reviews
Sustainable business practices and growth 
Real-time insights, reporting and analysis 
Data-driven and predictive planning 
This is where Wavetec comes in. We not only provide state-of-the-art software and hardware solutions that ensure the best possible management and monitoring of your daily business proceedings, but also end-to-end care, support and advice.
Wavetec is a global solution provider of customized, scalable and self service systems which give your business the digital and modern edge it needs.
Check out how we have helped Sanda Cruz County manage their queues with the WhatsApp & Virtual Queuing Solution.
Exciting New Apple Store Updates
There is news from the tech grapevine that Apple is developing a system that will improve and streamline customer service. Customers will arrive at the store with their problem and device and a staff member will enter their issue into a custom iPhone. A special app on that iPhone will place the customer in a queue according to the nature of their complaint. 
The simpler their request, the closer to the front of the queue they will be so as to be served quicker. And the longer their complaint is likely to take means they will be pushed to the back of the queue so that adequate time can be allocated to their concern. 
While waiting, customers will receive notifications about the estimated wait time, their position in the queue and when to approach the counter to be served. This is a great idea, especially when supplemented and complimented by an effective and frictionless queue management system. 
{{cta('ad6c8519-bfd4-4fb7-b2dd-de0db1c77fcf','justifycenter')}}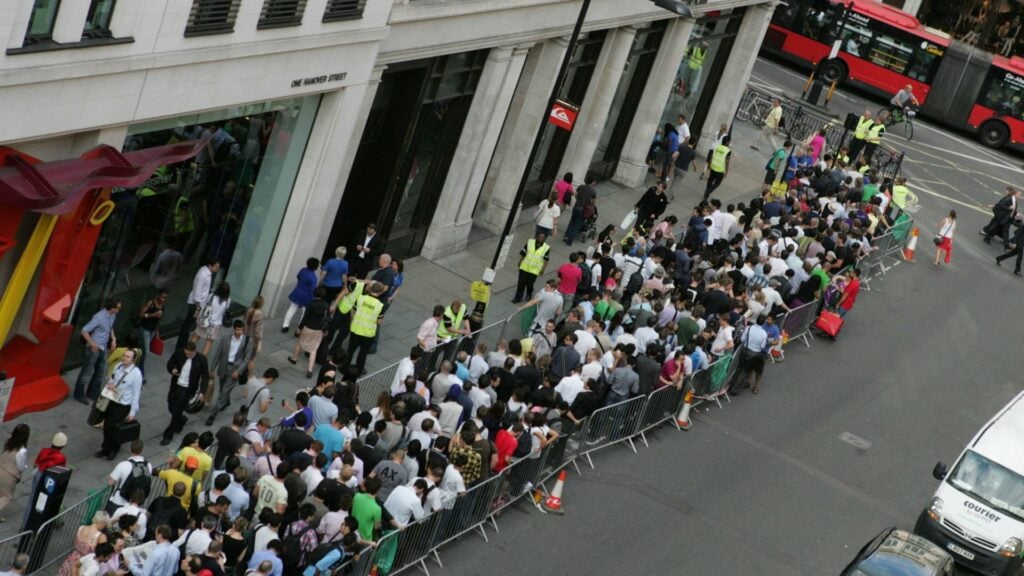 BOOK A FREE DEMO