Is regulating patient experience at your healthcare service a challenging task? If your patients leave the hospital unsatisfied with the service, we have a solution for you!
Patient journey mapping is vital in understanding your patient's experience at every step of interaction with the hospital, whether virtual or physical. This allows you to empathize with your patients, facilitate their experience and contribute in uncertain and stressful times.
Parallel to the patient's journey, healthcare systems face increasing challenges in patient management, regulating space constraints and limited healthcare providers, and budgeting. By mapping the patient journey, you can pinpoint the shortfalls in your management services, improve facilities, and increase patient turnout.
The patient journey map must be curated in detail, accounting for various touchpoints and patient perceptions. The most accurate method of measuring healthcare quality is pairing patient journey maps with patient satisfaction scores, such as the Hospital Consumer Assessment of Healthcare Providers and Systems (HCAPHPS) and a Net Promoter Score (NPS).
Higher scores speak volumes about your healthcare services, increase patient retention, and promise returns.
What is patient journey mapping?
A patient journey map tracks an individual's entire journey, from locating healthcare services to post-treatment follow-ups. It documents a patient's interaction with the hospital's facility before the visit, during treatment, and post-care plans.
Amidst the changing landscape of the healthcare industry, patients look for service providers that offer a personalized experience. Besides renowned healthcare providers, patients look for a human-centric environment which provides timely and efficient services. Moreover, modern consumer requirements demand a digital transformation of healthcare services.
Healthcare managers can use patient journey maps to visualize the blind spots and pain points in a patient's experience. A distinguished healthcare service sees journey mapping as a powerful tool that tells about a patient's well-being and connects care providers with their emotional journeys. You can make your practices to be more empathetic and make a difficult journey seamless.
Investing in patient experience mapping carries benefits for both parties, care providers and patients. We have highlighted some benefits of journey mapping below:
Improved patient communication
Identifying unaddressed patient issues helps build a connection with the patient. Keeping them at the center of the model and informing them of changes before their visit reduces frustration and confusion.
Continuous patient care
With a streamlined workflow, staff members and care providers can remove uncertainties from a patient's care journey. An integrated healthcare system removes loopholes, such as overbooked appointments, which otherwise lead to negative patient feelings.
Personalized care
Given the nature of the treatment plans and services offered by the healthcare industry, a one-shoe-fits-all theory does not apply to the consumers. By integrating patient data with business models, you can provide a customized experience to the patients. Turn-out increases when patients receive automated appointment reminders and physician availability updates.
Improved Efficiency
Patient journey maps identify the demand for time management and sensitivity in healthcare. Feasibility arrangements such as pre-booking appointments, receiving digital laboratory reports, and online consultations boost patient satisfaction.
Patient retention and profitability
Patient feedback is crucial to introducing or revising policies, growth opportunities and consistent revenues.
Key Stages in the patient journey
Patient journey mapping differs for each hospital or clinic, depending on the level of care being provided. Most tertiary care hospitals identify three key stages when patient experience mapping.
Touchpoints of each step may differ slightly in pregnancies, emergency services, and outpatient departments.
Let's read about the details of each stage below:
1- Pre-visit
The first part of the patient's journey starts with symptoms and the need to receive care. Before visiting the facility, patients seek the right venue and a healthcare provider. Patients consider scheduling online consultations and appointments or submitting medical records at this stage. This is often done via phone calls, text messages, websites, and portals.
2- In-hospital Care
This phase begins when the patient reaches the healthcare facility and looks for a parking spot for their appointment. The individual either checks in at kiosks or interacts with the hospital staff, followed by waiting in queues. This is a crucial stage of patient engagement. The patient receives ongoing treatment from the doctor, which may require several visits and diagnostic tests. The patient may also initiate the process of claiming health insurance.
3- Post-visit Stage
A holistic healthcare service provides treatment beyond the first check-up or a telehealth session. During this stage, the patient receives post-care instructions, schedules follow-up appointments and proceeds with billing or choosing a payment plan. Receiving patient feedback surveys is vital in fostering long-term relationships with the healthcare facility.
Post-surgical cases require recovery rooms, monitored discharges, and multiple visits for rehabilitation and stitch removal visits. Thus, their experience must be seamless and fast-tracked.
Analyzing the patient journey map
Once you have designed a patient journey map for your service, the correct way of utilizing the maps is to identify the pain points. Next, we enlist and discuss some common hurdles patients face that delay prompt care, including internal and external factors or barriers to healthcare.
1- Pre-visit
The patient feels anxious about the medical condition.
The website needs more information about the healthcare facility to make patients satisfied. To regulate patient management, it is necessary that your website is SEO-friendly and listed on Google.
During this stage, missed phone calls and confusing appointment scheduling tasks lead to care provision delays.
Limited communication with consultants before visiting
2- At the healthcare facility
Filling out the pre-appointment questionnaire is time-consuming and makes patients uneasy.
Lengthy waiting times and mismanaged queues for appointment reduces patient satisfaction. Patients waiting at the facility can be guided using digital signages which communicate announcements, turns, and navigates around the healthcare facility.
Explaining old symptoms and information to the same care provider at every visit frustrates patients.
3- Post-treatment plan
Billing and initiating the hospital-discharge process is often tedious.
Receiving feedback from patients to measure patient satisfaction.
Unable to monitor the patient at home and set up follow-up appointments creates mistrust between the patient and the doctor.
Patient journey mapping template
We have designed templates of patient journey maps to help you make the best one for your hospital system. As shown in the samples, patients visiting different departments have specific touchpoints. For example, a patient scheduling his appointment for the outpatient department will research the clinic and the primary caregiver.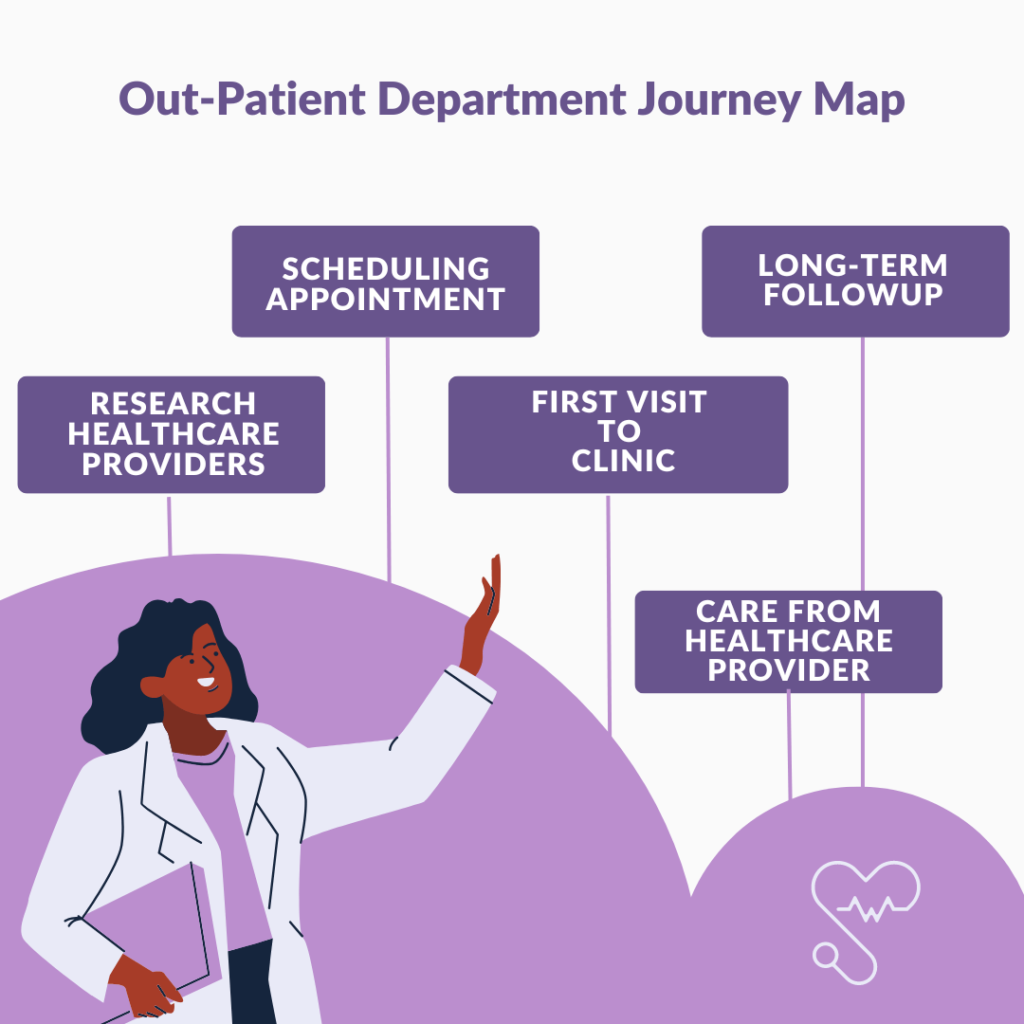 However, the primary concern for patients requiring urgent care will be prompt ambulance services and treatment. Despite the differences, all patient journey maps are based on three key stages, pre-hospital care, in-hospital care, and post-treatment plans.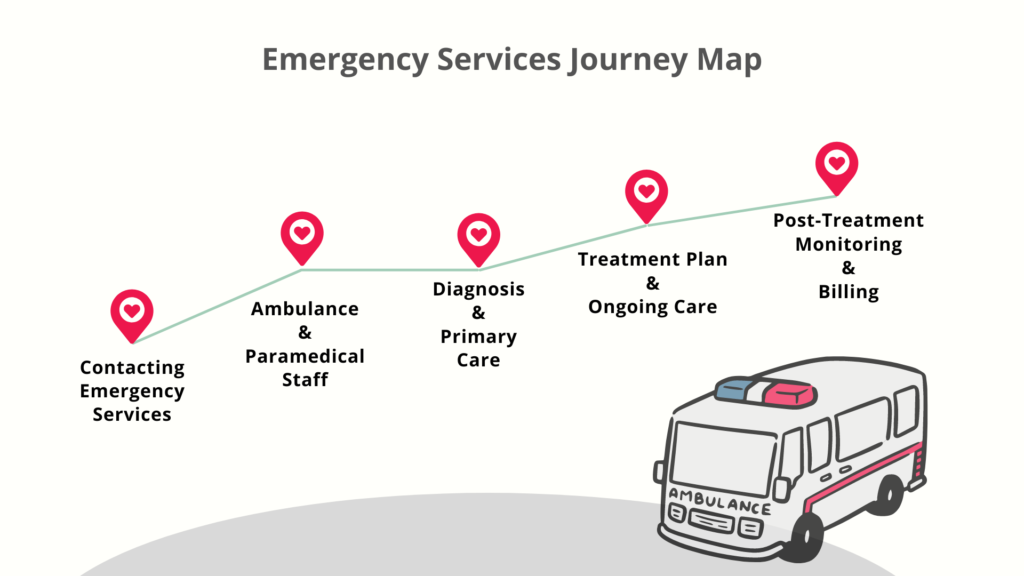 Patient Journey Improvement Solutions
If you want to enhance patient flow management and boost patient satisfaction at your hospital, we recommend using pre-engineered solutions. There are many ways to improve the quality of service you provide to your patients. One such solution is the Wavetec patient flow system. Adopting a digital healthcare system can optimize patient-doctor interaction and improve investment returns.
We have put together the most impactful solutions your facility can sign-up for each stage of the patient journey map. Here's what they are:
Online appointment and booking
Queue management – People counting, WhatsApp Queuing, Queue management applications, Digital Signage
Patient application
Self-check-in kiosks
Integrated manager dashboards and analytics
Customer feedback reports
Curbside pickups
Let's learn about each solution and how it will benefit your healthcare center.
1. Simplify Online Appointment Booking

Before visiting the facility, patients can schedule online appointments and ticketing on the website or patient application with their preferred physician. This service allows your patients to book seamlessly, check in and receive wait time, or cancelled appointment notifications. Satisfying your customer before they arrive mitigates their already-high worry levels.
2. Patient Management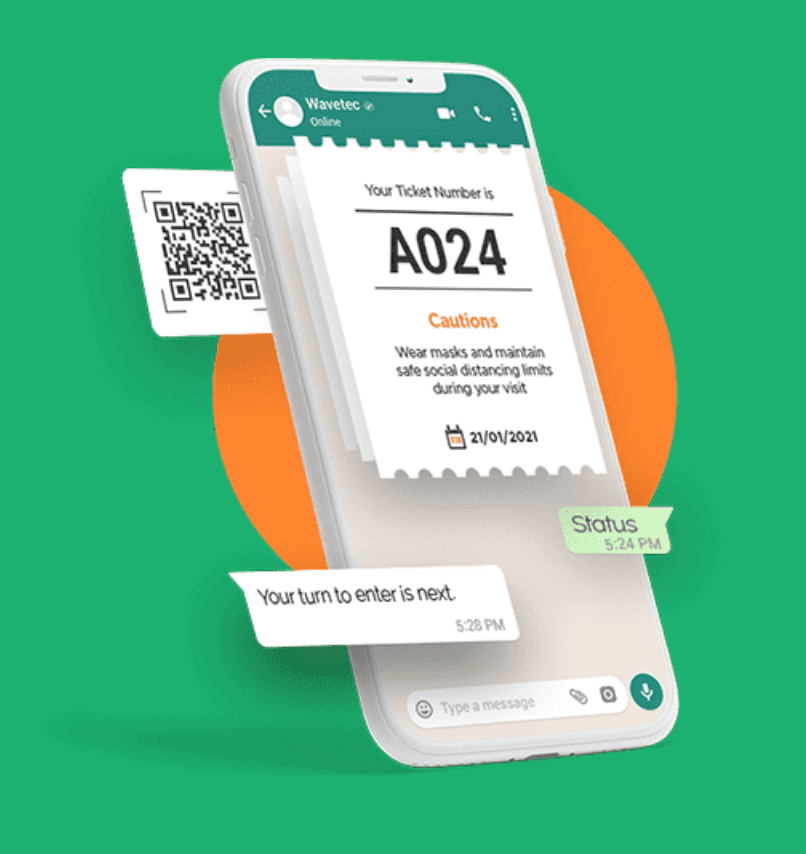 Waiting in queues for examination rooms and healthcare providers is a major source of concern for patients. You can reduce perceived wait times by giving patients a virtual waiting room. This can be done by signing up for WhatsApp Queuing and the Queue Management Mobile App. These services give patients virtual tickets and wait time notifications, allowing them to manage time effectively.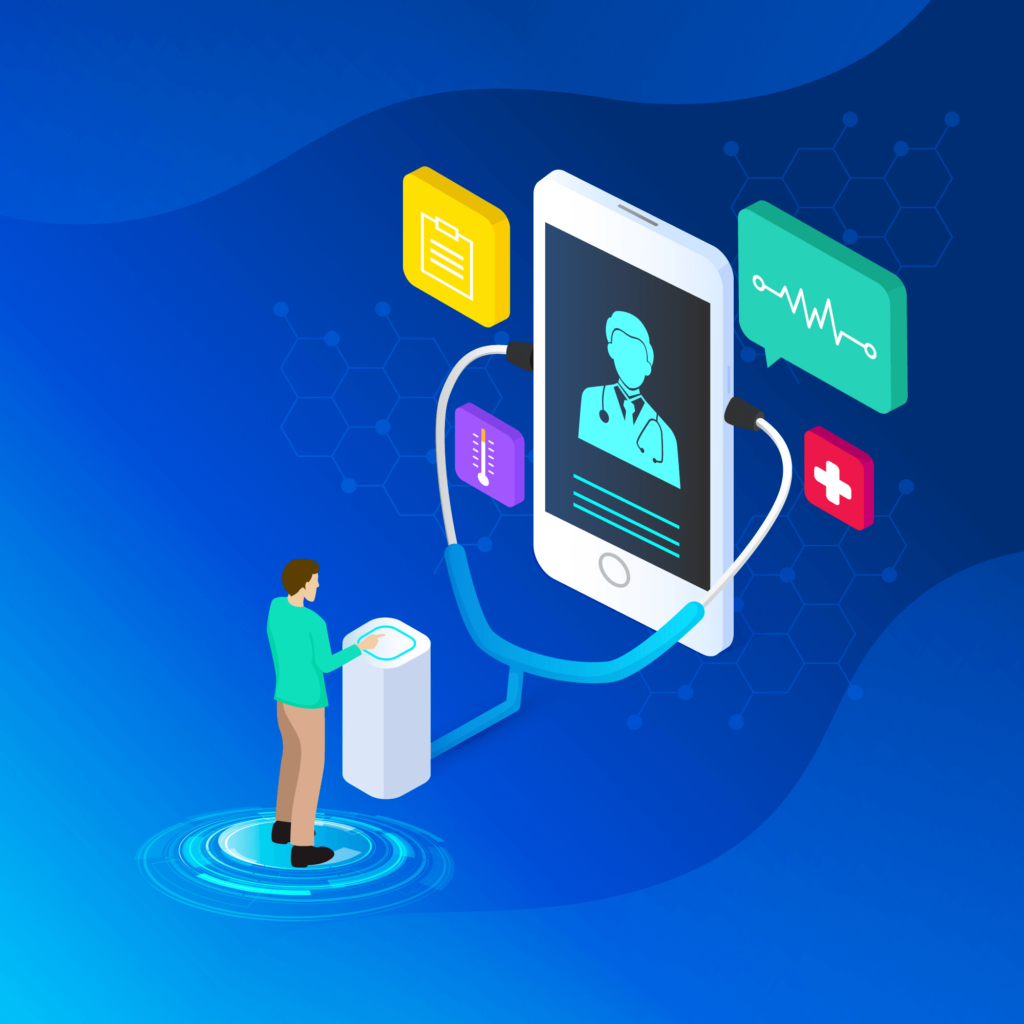 Walk-in patients and patients with pre-booked appointments can also use automated, self-service kiosks at the facility to check in or reschedule appointments. Patients can scan the displayed QR code or use biometrics technology to receive tickets via SMS, Email or WhatsApp.
You can manage the patient count in the waiting area using a real-time counter and digital signage. This helps emergency case patients to navigate the hospital without confusion.
3. Promoting Patient Satisfaction
Many patients have to visit the healthcare facility multiple times to collect laboratory reports, prescriptions, and medications. You can facilitate this tedious process by providing delivery and curbside pickup options. This regulates unnecessary traffic at your hospital and saves time for patients.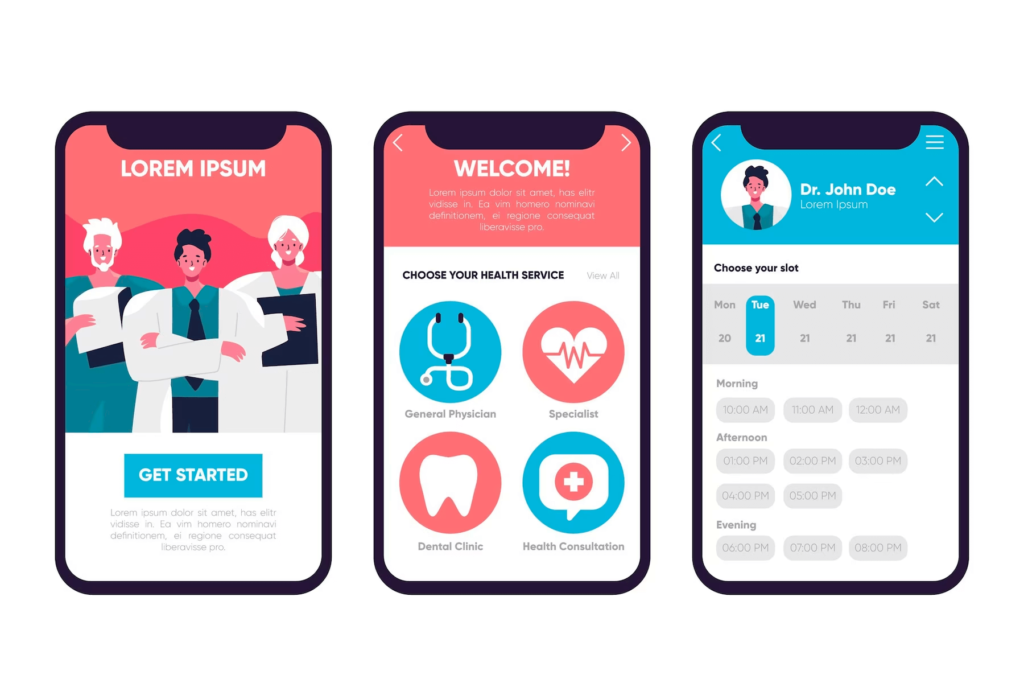 Investing in Patient Applications is a great marketing tool and a one-stop solution to patient worries. Individuals can learn more about your facility's services, access laboratory reports, initiate billing, and receive updates and reminder notifications. This is particularly useful in conducting telehealth rotations with expecting mothers and palliative care patients who cannot visit the facility often.
4. Patient Feedback

Receiving your consumer's feedback and solving their queries ensures a successful approach to patient journey mapping. Wavetec has designed a customer feedback solution to measure customer satisfaction and follow up on your staff's performance.
Additionally, you can get a management portal for the hospital staff and care providers. This can be integrated with patient data to give healthcare providers complete information. Softwares such as Spectra include dashboard analytics and reports on the performance of each department to help you identify the shortfalls. This will help you build a congregated team that runs operations smoothly in the patient's best interest.
Conclusion
The modern healthcare system requires providers to be more involved in providing a seamless patient experience. In this blog, we highlight the role of patient journey mapping to help you identify touchpoints in a patient's journey. Before, during, and after treatment, it is crucial to comprehend the patient's viewpoint to ensure proper care.
Patient journey solutions are, therefore, integral in distinguishing your healthcare facility. Investing in patient applications, queue management software, receiving customer feedback and analyzing it is vital in improving your standing.
Adopt our solutions, transform the healthcare industry, and make your approach more empathetic!