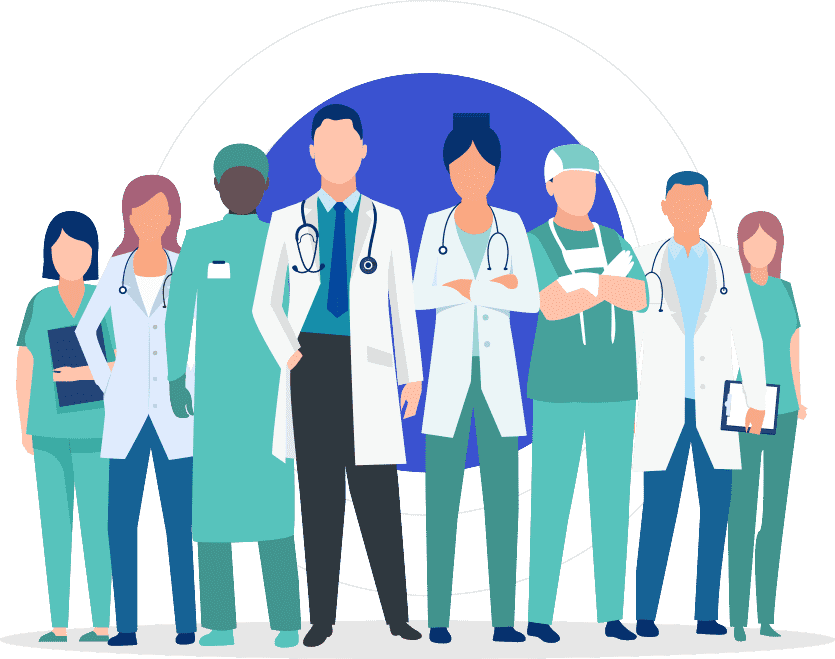 In This Blog: Learn about how Wavetec's WhatsApp solutions for healthcare are contributing towards making the sector more accessible while improving the overall patient experience.
WhatsApp Business Platform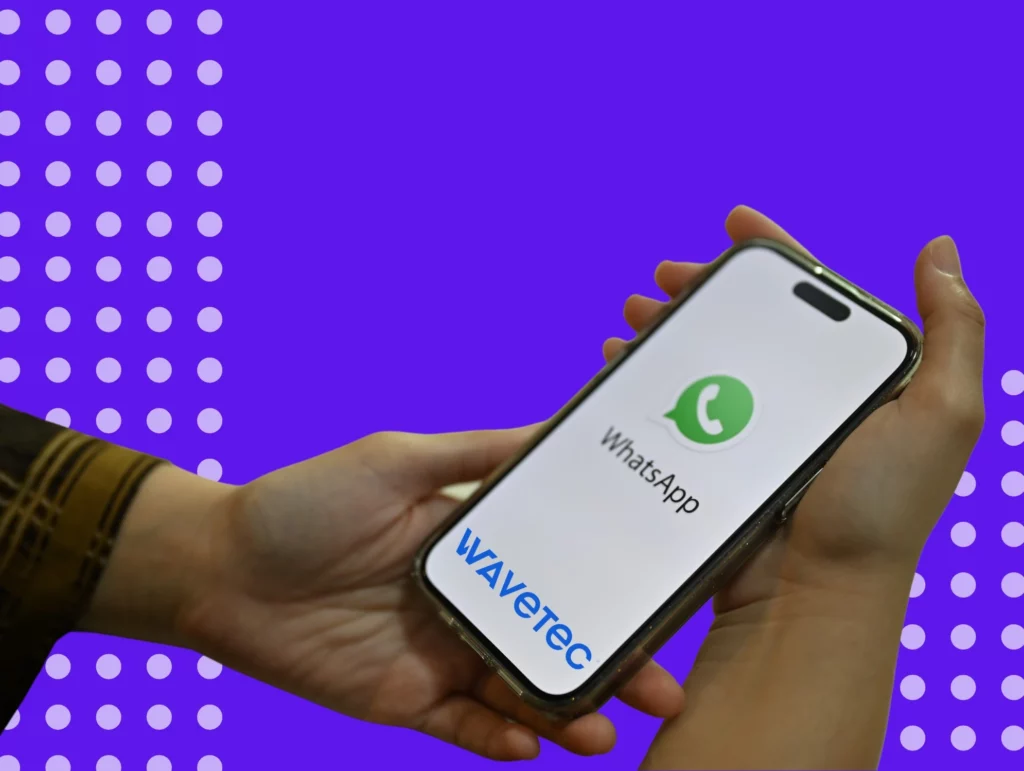 WhatsApp Business Platform is a platform created by WhatsApp to allow businesses to communicate with their customers via message. In 2022, the app maintained its position as the most popular messaging app around the globe. Currently, the said app has around 2 billion active users!
This instant messaging app is known for its high-performance standards and quick response time. Accordingly, the WhatsApp Business Platform offers businesses many incentives.
One of the many benefits of WhatsApp Business Platform is that it enables two-way communication. It empowers businesses and enables them to deliver a highly personalized experience to customers. Thus, it makes the entire experience of the patients highly interactive.
Wavetec's WhatsApp Solutions For Healthcare Industry
Based on the features offered by WhatsApp, Wavetec has developed WhatsApp Solutions that can be utilized by medical institutions such as hospitals and labs. 
Wavetec WhatsApp solutions for healthcare include the following:
WhatsApp Queuing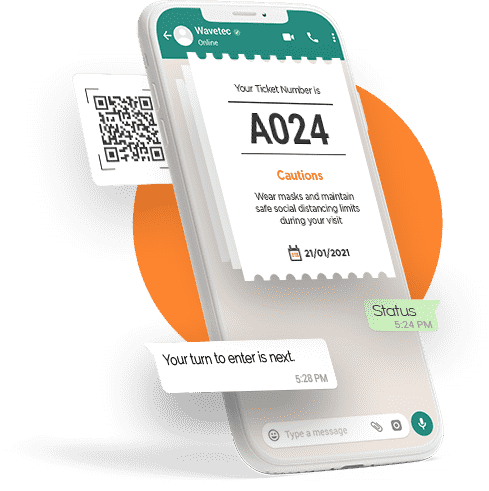 Organizing patient queues in a way that each patient is treated justly is a challenge in itself! WhatsApp Queuing is the go-to solution for managing patient queues effectively. Wavetec's WhatsApp queuing enables the service providers to manage long patient lines and cut patient wait times.
Through this solution, the patient can also be notified before their turn, ensuring that they are ready for their turn. This helps minimize unnecessary delays.
How Does it Work?
The patient scans a QR code and they are redirected to the medical institution's WhatsApp chat.
The patients select the service they want to avail and a virtual ticket is generated for them.
Now, the patients can also check the time left for their turn. Accordingly, they can either choose to wait within the premises or run some errands.
Patients don't have to worry about missing their appointment slot, because they receive reminders for their turn.
When their turn arrives, the patient receives a notification, requesting them to proceed to avail the required service.
This solution enables the service providers to ensure that the experience of the customers is not compromised due to long waiting lines or mismanagement.
WhatsApp Appointments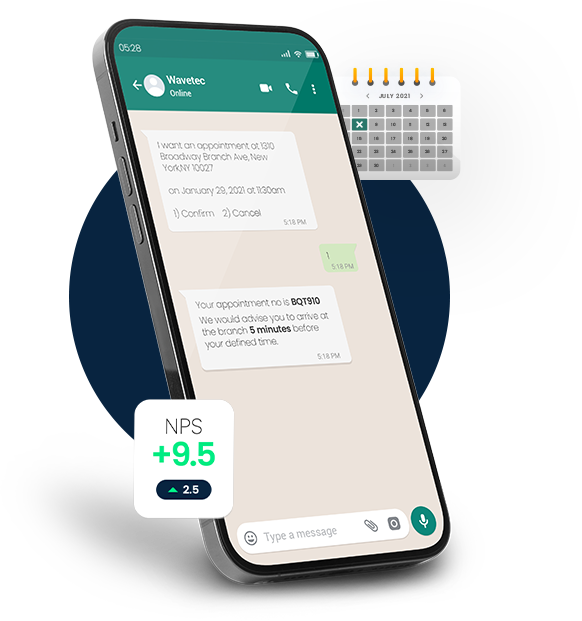 Who likes making calls to book appointments? It's often such a hassle.
Wavetec WhatsApp Appointments lets the patients book appointments with their doctors without having to listen to the hold music for long. Patients have the convenience of booking appointments from home.
The entire experience is exclusive, from booking to confirmation. All information is recorded on a dashboard as well as on the patients' devices. This eliminates all chances of confusion and miscommunication. Additionally, booking future appointments is much simpler due to the easily accessible data.
This solution enables customers to book their appointments for any medical service conveniently via text messages.
How Does it Work?
The patient can scan a QR code and they will be redirected to the WhatsApp chat of the healthcare company.
The patient can engage in two-way communication with the chatbot. During this conversation, the patient can book an appointment with the required medical specialists.
The solution's integration with calendars makes it easier for the patient to choose their appointment date.
The patients are also sent reminders to ensure that they do not forget to show up.
Additionally, patients can reschedule and cancel their appointments through the healthcare chatbot. This helps in minimizing the probability of no-shows.
Most importantly, WhatsApp Appointments allow the patient to decide if they want an online or offline experience. If the client wants, they can visit the healthcare space to avail the services through in-person appointments. Otherwise, they can avail the services online through the integrated video call applications.
Lastly, after the appointment, the customers can also share their patient experience, empowering the healthcare centers with relevant data to improve their medical services.
WhatsApp Marketing Conversations
While most industry players in the healthcare sector do not rely much on marketing, they do need to relay crucial medical information and effectively manage medical queries to maintain a loyal clientele. 
WhatsApp is one of the messaging apps that are used by almost everyone. Given the wide usage and accessibility of the texting app, Wavetec's WhatsApp Marketing Conversations serve the purpose of an ideal communication channel for healthcare companies.
How Does it Work?
WhatsApp has the ability to engage with customers. Wavetec incentivizes the ability of WhatsApp chatbots to engage with customers.
It enables the healthcare sector to deliver highly personalized messages to customers.
Effective WhatsApp healthcare chatbots engage and interact with the masses. This helps them create an impact and, thus, drive the business.
Simply put, this WhatsApp business solution allows the medical institution to send personalized messages to customers via one of the most popular and commonly used apps. This allows the company to reach out to customers with accurate and highly relevant information that leaves a positive impact on the receivers. 
Al-Nahdi Partners with Wavetec for WhatsApp Solutions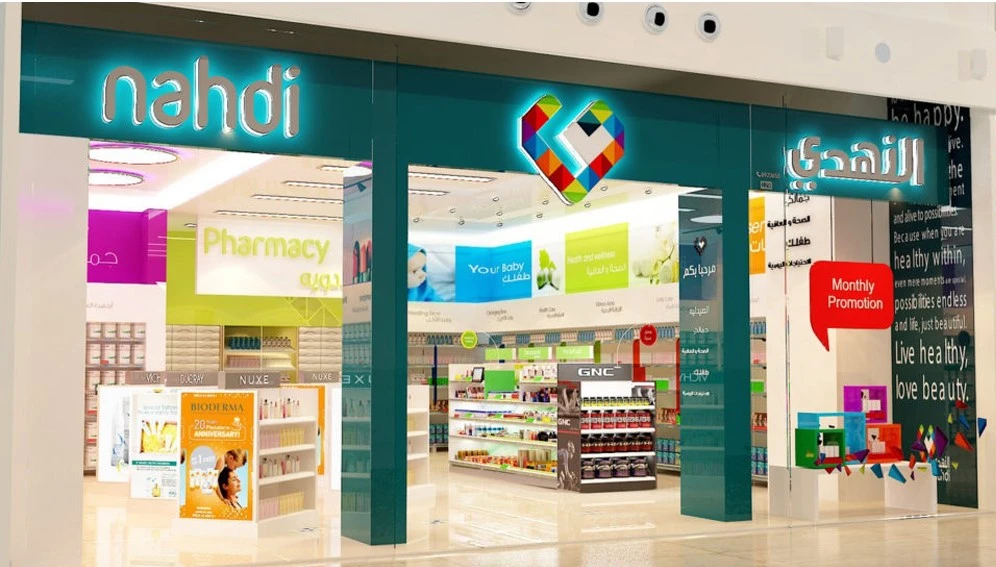 Al-Nahdi Medical Company, one of the leading pharmacy chains in Saudi Arabia, has joined hands with Wavetec, to revolutionize the experience for their customers by reducing wait times and enhancing customer engagement. Currently, Wavetec is providing Al-Nahdi with their WhatsApp Queuing Solution and Customer Feedback Solution.
By leveraging Wavetec's cutting-edge technology, Al Nahdi is able to provide a seamless and personalized experience to its customers. With features such as virtual queuing and real-time feedback, customers can expect a hassle-free experience at Al-Nahdi stores. Additionally, the partnership has also helped Al-Nahdi optimize its operations and increase staff efficiency, leading to improved customer satisfaction and loyalty….Read More
Additional Use Cases of WhatsApp Solutions for Healthcare
Currently, healthcare service providers face the challenge of dealing with a huge patient inflow. Modern technology solutions for healthcare are the need of the time. WhatsApp Business offers progressive solutions for the health sector.
Since the masses have access to the application, they can easily interact with service providers and retrieve the required information.
Keeping this in mind, Wavetec has collaborated with WhatsApp to create a range of innovative solutions that would facilitate the healthcare sector.
Here is an overview of the use cases of Wavetec's WhatsApp Solutions for Healthcare:
Appointment Reminders
Did you know that 67000 missed appointments can cost the healthcare system $7 million? This indicates the significance of taking necessary measures to reduce missed appointments.
Fortunately, you can prevent missed appointments through WhatsApp. Healthcare institutions can use this platform to send patients reminders and confirm their attendance.
Lab Results
Traditionally, people had to visit the lab to get their test results. This was quite inconvenient. Much recently, forward-thinking labs have made the process easier by introducing WhatsApp in the overall customer journey where receiving lab reports became a matter of just a few clicks.
Accessing these reports for future reference and resharing them is also a lot more convenient via WhatsApp. Most importantly, the end-to-end encryption of chats ensures that these reports are secure from any form of data leakage.
Patient Feedback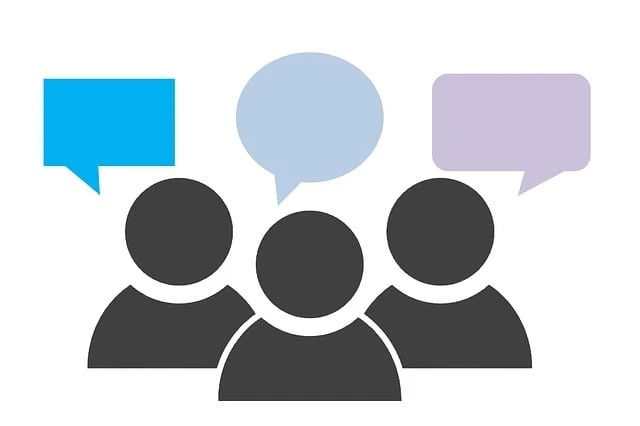 Feedback from customers is vital for businesses of all sorts. WhatsApp Business solution enables healthcare organizations to receive instant feedback and surveys from patients. This empowers the service providers with valuable insights. Accordingly, it enables them to take necessary measures to improve their medical services.
Access to Patient Data
Integrating your services with WhatsApp enables you to store patient data in one place. Healthcare professionals can simply access patient records before any appointment.
Moreover, healthcare providers can engage in real-time communication about patient information. Additionally, leakage of patients' sensitive data is not a concern due to the high-security standards of the messaging app.
In short, this solution makes the patient's medical history more accessible to healthcare specialists. The impact of having access to medical history and relevant patient information is improved diagnoses and thus, better patient treatment.
Wavetec's WhatsApp Solutions: A Game-Changer for Healthcare Accessibility
Here is how these WhatsApp business solutions for healthcare can solve recurring problems plaguing healthcare and make healthcare more accessible:
Improve client-medical services communication

Gather feedback, and thus, address the patients' pain points

Collect data, and thus, improve patient care services

Respond immediately to patients' queries irrespective of the time. This will be useful in emergency situations as they can offer appropriate guidance to the patients via chat

Manage a greater number of patients more efficiently
A Bright Future For The Healthcare Industry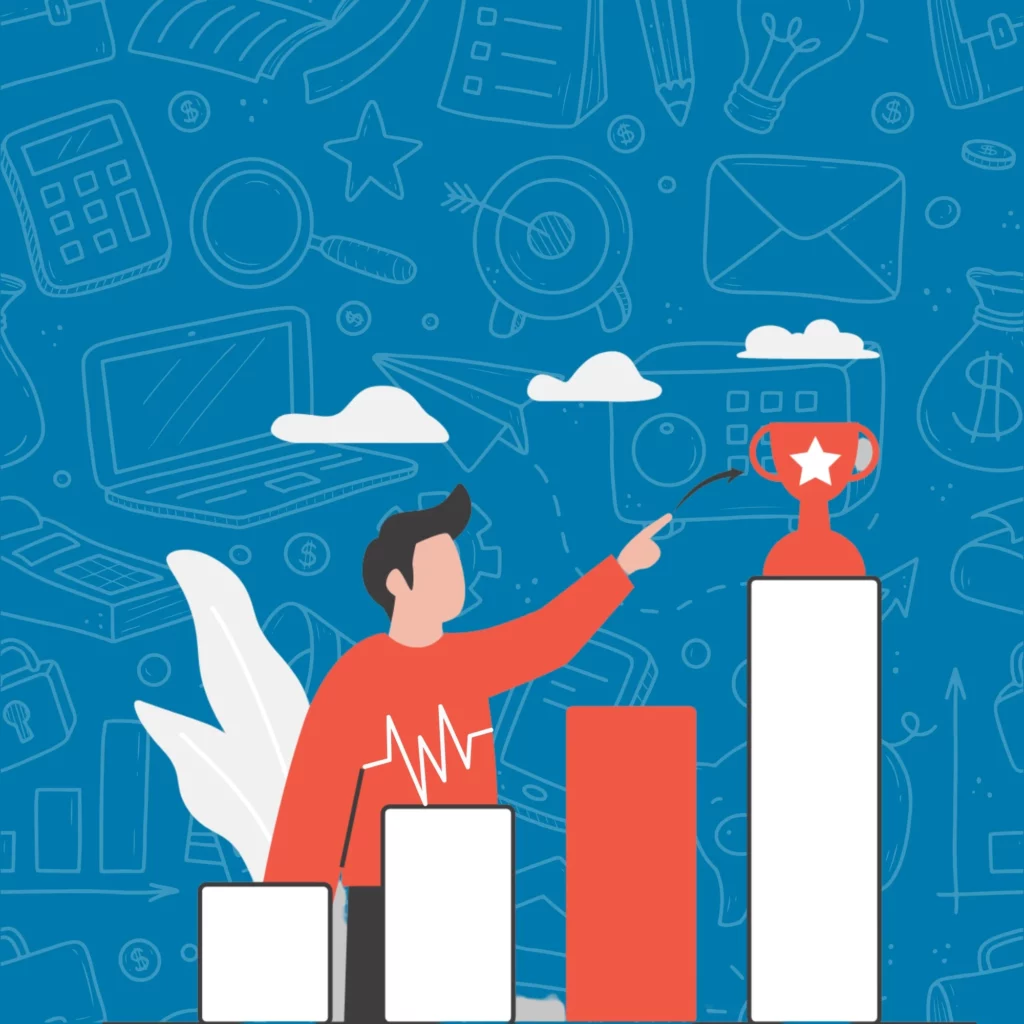 WhatsApp business solutions elevate the patient experience. Further, they also make it convenient for health organizations to conduct business.
Incorporating Wavetec's revolutionary Whatsapp solutions will transform patients' experience. Thus, it will foster the growth of healthcare businesses.
Don't take our word for it. Have a look at these statistics: 
A hospital implemented a WhatsApp solution to offer customer support and it observed a

91% resolution rate

for customer queries. Additionally, the response time was

3 times faster

while the need for human agents

decreased by over 1000

. 

A lab that utilized WhatsApp to deliver medical testing services

saved around  $2.5M

in customer service because

94% of interactions

didn't require agent support. Therefore,

20 times fewer

call center personnel

were required. That's not all! The customer satisfaction rating

improved by 90%

! 
It's safe to say that the foreseeable future of WhatsApp for healthcare is promising!
This is your sign to deal with the ever-growing number of patients and their increasing demands through Wavetec's WhatsApp solutions for the healthcare industry.
BOOK A FREE DEMO