What is Queue Management?
Queue management is the management of your customer's waiting experience, to ultimately improve business. Queue management can also be referred to as customer journey management, as in recent times it has become increasingly clear that all the touchpoints of the customer journey must be optimized to achieve successful management – starting with pre-arrival appointment scheduling and ending with post-departure customer feedback.
Actual and Perceived Waiting Time
To carry out successful queue management, a business should consider both kinds of wait times. Actual wait time is the time that passes between the customer deciding to purchase a product or service, and then availing of it. This is the time that has actually passed.
Perceived wait time is the time that the customer estimates has passed between them deciding to purchase a product or service, and then availing of it. This is their perception of how long has passed.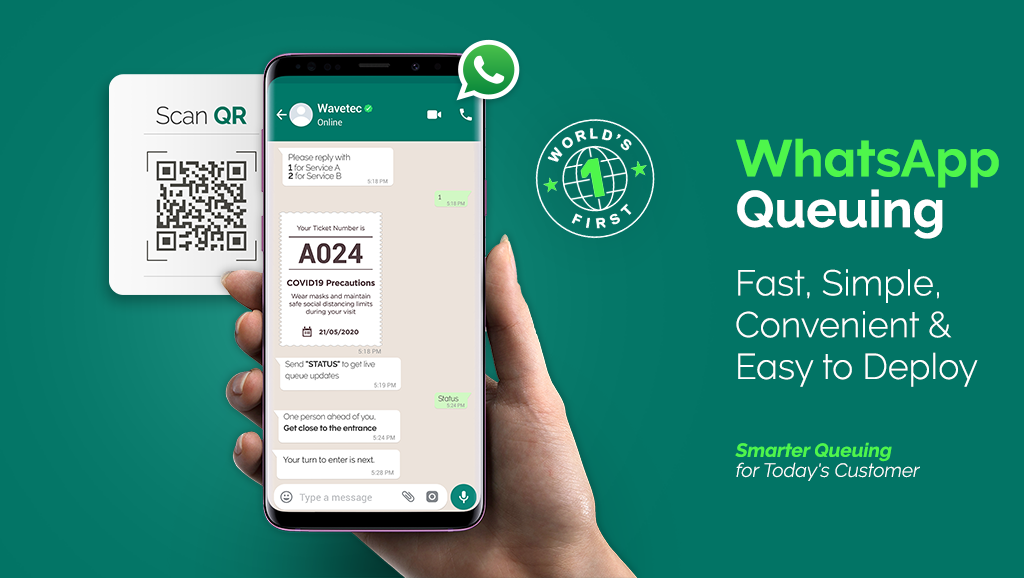 The goal of businesses is to work to reduce actual wait time while optimizing perceived wait time.
What is a Queue Management System?
A system that manages your customer experience while you are a part of the queue, electronically and without the need to be manned, or by hand. There are many points of contact in this queue, beginning with your desire to avail of the product or service on offer, and it is the duty of the queue management system to ensure that all of these are enhanced to afford your customers an optimized visitor experience.
Queue or visitor management systems are a combination of software and hardware that equip your business with the tools needed to observe, plan, predict and manage the customer's experience from pre-arrival to departure.
What are the Various Types of Queue Management Systems?
Of the above mentioned hardware and software, following are some examples. These can be used in combination or separately, depending on the intended outcome – likely a frictionless and interconnected omnichannel solution.
Queue Management Software
Queue Management Hardware
Ticket printers and e-ticket generators
Digital signage displays
Media Player
Benefits of a Queue Management System
Queue management systems facilitate accessibility to your product or service and collect essential data to inform prudent decision making. Resulting in improved business analytics and performance, operational efficiency, higher Net Promoter Scores, reduced churn rate and increased customer onboarding. Some of the benefits of such systems are listed below: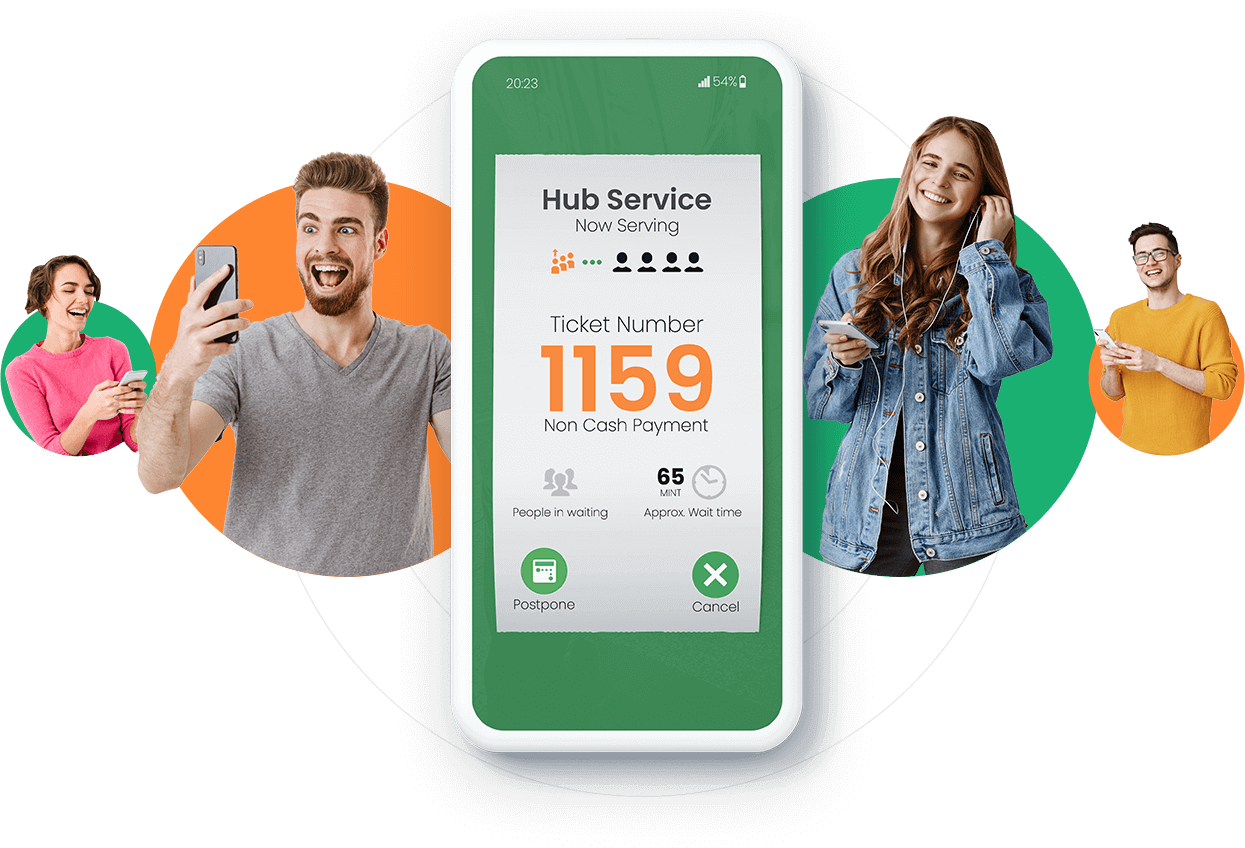 For Customers
Smooth and contactless queuing
Remote and virtual queuing for safety
Shorter, quicker and more transparent waits
Improved customer-business relationship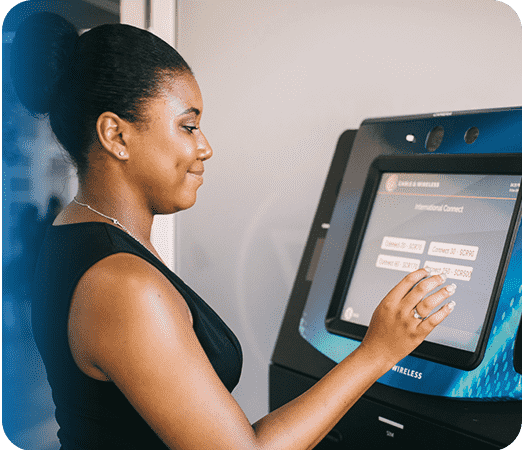 Increased accessibility and engagement with business and the services it offers
Real-time updates, notifications and alerts about queue status
Self service opportunities
Reduced perceived wait times with informative and engaging digital signage
Matched with the right customer representative for the service or product required
Personalized service delivery
Higher satisfaction and digital onboarding rates
For Staff
Increased safety with contactless queuing
Optimized staff allocation and mobility for improved productivity
Real-time data collection and dashboards for better prediction and management of footfall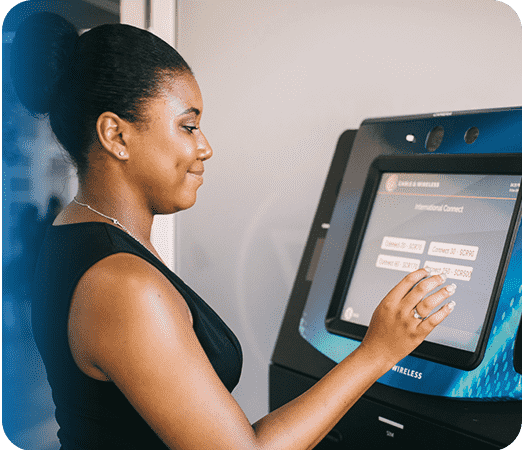 For your Business
Boost revenue with cross-selling
Track staff performance to increase productivity and operational efficiency
Collect data, predict and plan for footfall
Accurate and analytical dashboards and reporting
Optimized resource planning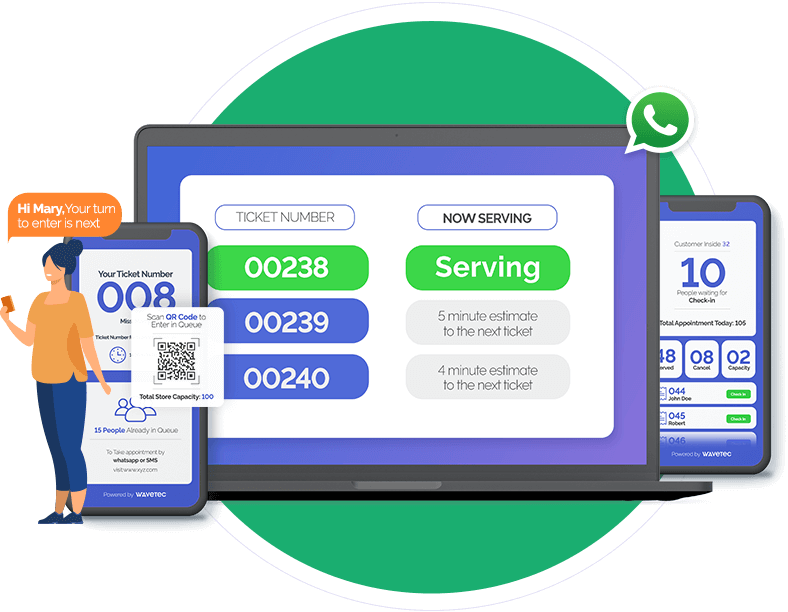 Measure effectiveness of policy changes
Centrally-controlled management and queuing
Reduced operational costs and higher profit margins
Customizable, standalone and scalable solutions
Identify areas of improvement and target accordingly
Maintain occupancy limits and social distancing guidelines
Display important information clearly with digital signage
Join the ranks of other modern and digital businesses
Industries that Stand to Benefit from Queue Management Systems
All industries stand to benefit from the installation and use of a good Queue Management system. These include:
Public Offices
The public sector has begun to digitize operations, looking to facilitate safer customer journeys and staff experiences. High volumes of foot traffic, a need for centralized systems and the responsibility to set the standard for other industries means public services must manage citizen and visitor volumes efficiently.
Additionally, public offices can deploy queue management to help alleviate troubles of skill shortages and budget cuts. This system will assure optimized resource allocation and usage.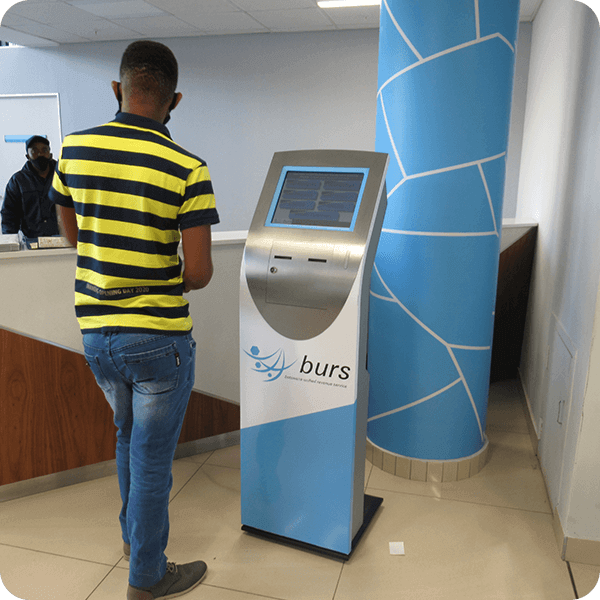 Case Studies
1. Botswana Unified Revenue Service  
2. Federal Authority for Identity and Citizenship (ICA), UAE
Healthcare
High patient footfall and the need for short managed queues necessitates the deployment of a patient management solution. Both patient and staff must be kept safe and stress-free in a monitored environment.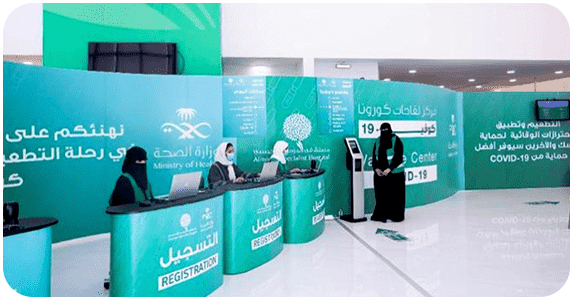 Case Studies
1. AlMoosa Covid-19 vaccination centre
3. Capital Health Screening Centre
Retail
The goal for retail stores is to increase profitability, improve customer journey flows, and cut operational costs while increasing staff productivity. They must facilitate the experiences of online, mobile and in-store shoppers, regardless of the way they choose to shop, pay and deliver/collect. A visitor management system would help them streamline and direct daily operations – allowing central control to management.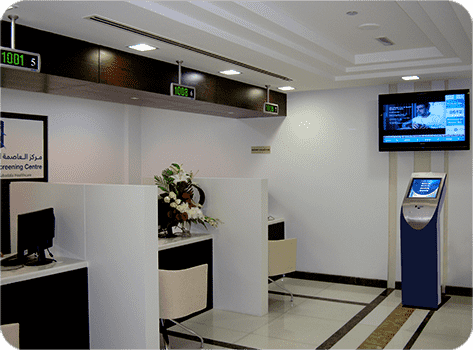 Case studies
1. Puma
2. Nike
3. Zara 
Banks
Financial institutions like banks and credit unions are jostling for client attention and business, so to stand out, service quality and customer experience must be optimized.

Case Studies
1. Banorte
3. Mibanco
Telecoms
Telecommunication service providers face high customer onboarding each day, and abundant branch traffic. They need a system that handles appointments and walk-ins smoothly, while collecting data for analytical reports that will help improve service delivery.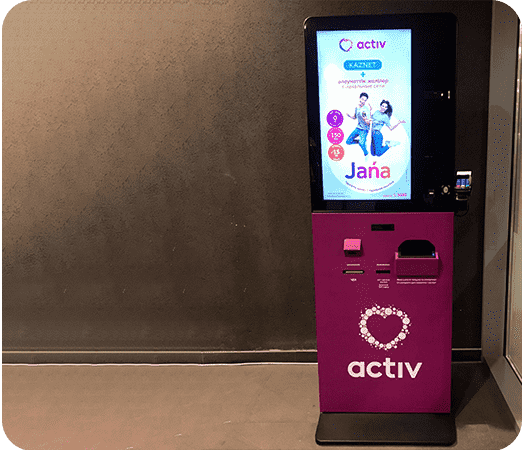 Case Studies
1. KCell
3. Azerconnect
Airports and Airlines
Passengers expect their air carriers to be organized and well-managed to accommodate their evolving needs. A passenger management system would improve their experiences, from pre-boarding to arrival.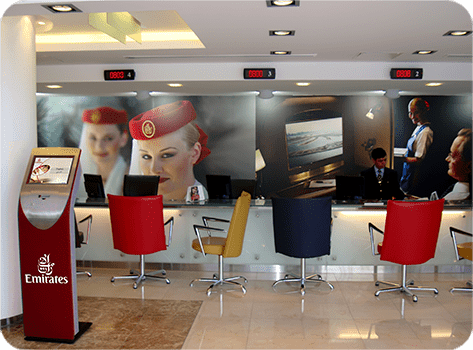 Case Studies
1. Emirates
2. Etihad
What Sets Wavetec Solutions Apart From the Rest?
End-to-End turn key solution provider
Customizable workflows
Integration with existing systems supported
3 global development hubs
Global support and infrastructure
Incremental product and software roll-outs
How To Choose The Right Queue Management System For You?
When choosing the right Queue Management system for your business, it is important to consider the track record of the company you choose to supply you with their solutions. They must understand and be privy to the needs and experiences of your customers, and have project management experience. Alongside this, their solution must also answer the following questions:
Does it integrate all touch points of the customer journey flow?
From pre-arrival to departure from the premises, customer flows must be optimized, seamless and frictionless. To ensure the effectiveness of the system you have deployed, it must connect to the entire customer journey to give you in-depth insights into visitor needs, wants and experience and service performance.
Does it allow for third-party integrations?
Your business will have many components that will need connecting – both physical and digital channels. Does the solution you have deployed frictionless-ly integrate these components and systems, with room for additional third-party integrations in case there is a need for customization?
Can you monitor your business performance in real-time?
Receiving updates, notifications and alerts regarding business performance metrics is essential. Does your system facilitate current data collection, reporting and analysis? These will allow you to monitor productivity, customer satisfaction, and data on average wait and service times.
Is your system an omnichannel solution?
Customers must be able to access your products and service through a number of channels of their choice. This will allow for smooth onboarding of digital and non-digital clients of various demographic backgrounds – with no gaps or service breakdowns.
Is the system easy to configure and customize?
Your business is unique, as are the requirements of your clients. The solution you choose to deploy should be customizable to fit your brief and easy to configure with your existing systems, as well as adapt swiftly to cancellations, late walk-ins or other such disruptions.
Is the system secure?
Does the solution in place value and protect consumer data in accordance with GDPR compliance?
Is your solution scalable?
Does the system accommodate growing demands? Businesses upsize and downsize depending on the stage they have reached in their growth. The solution you deploy should be capable of adapting to increased or decreased volumes of customers, as well as a wide range of demands – ensuring uninterrupted service delivery.
Can your system be centrally controlled?
If your organization is large, has many branches and stores, then you need a management solution that can monitor and control operations across all these sites. Changes in policy, software updates and notices can be dispensed and implemented centrally and followed seamlessly throughout.
This will increase efficiency and save time, resources and costs, while allowing for more holistic reporting and analysis.
How Can You Make The Most Of Your Queue Management System?
Implementation is an important and fundamentally essential process. To make it effective for your business, begin by answering the following question: What are the needs of your business? Identify what your business needs to move to the next level, set clear future objectives and work to increase customer satisfaction.
This includes what your customer wants, how to fulfill their needs while ensuring that your business is capable of adapting. Walk in your customer's footsteps, quite literally and take stock of each touchpoint in the journey. And then observe how the queue management system you have selected helps you. These may also include quicker queues, cutting operational costs, improving quality, etc. And last but not the least, test your system before launch!
BOOK A FREE DEMO