Do you want to ensure your customer queueing is effective and adaptable to changing demands?
You have landed on the right page!
In this blog post, we aim to delve into the intricacies of queue management and its versatile implementation in diverse settings. This blog extensively discusses the best techniques that you can adopt to improve customer service queuing, engagement and satisfaction. We further discuss the key advantages of efficaciously managing queues and what to avoid to achieve the same. Regardless of whether one is managing lines in a customer service center, a bank, or a retail shop, this article offers valuable insights and practical guidance to elevate the user experience.
Effective customer queue management guarantees reduced wait times and improved operational efficiency. When your customers are well-managed in queues, you can utilize resources efficiently and increase your team's productivity. This results in cost savings and revenue growth for your company. Properly managed queues also enhance the customer experience, increasing loyalty, positive reviews, and referrals, ultimately contributing to business success.
Let's get started and learn how to solve queuing problems!
How to Manage Queues Effectively (7 Dos of Effectively Managing Queues) 
Whether retail, healthcare or banking, customers are most frustrated when they have to wait in mismanaged queues and do not know accurate wait times. This results in decreased efficiency of staff, overcrowded waiting rooms and unhappy customers. 
For this, we discuss the seven best strategies to help you manage queues effectively.
1. Use an effective queue management system 
An extensive queue management system consists of software services that improve customer flow in customer service queueing. A single, orderly customer service queue allows receptionists to entertain clients, making the check-out process faster.
Wavetec's Queue Management System encompasses the three ground rules of customer queueing – organizing, measuring and engaging. Signing up for the package gives you access to Linear Queueing System, Mobile Queueing System, Enterprise Virtual Queue Management System and Whatsapp Queuing Solution. Such queue management systems are ideal as they offer a seamless experience by integrating all customer journey touchpoints.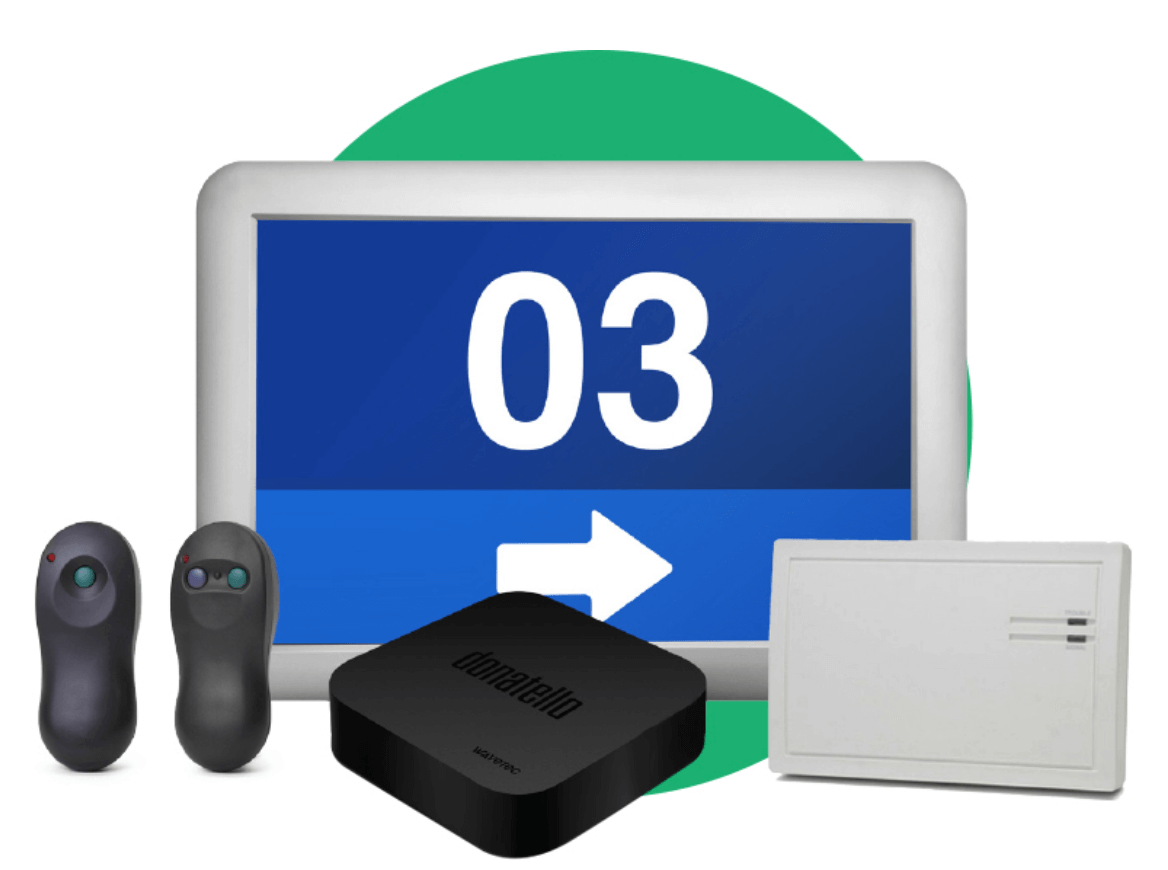 UNOQ Plug-n-Play Electronic Call Forwarding is a ticketless solution for linear management. Customers wait in a single queue, and when it is their turn, the receptionist presses a wireless button. The LCD shows the number and directs the customer to the designated counter. With real-time updates, customer queues can be managed swiftly to avoid frustrated clients.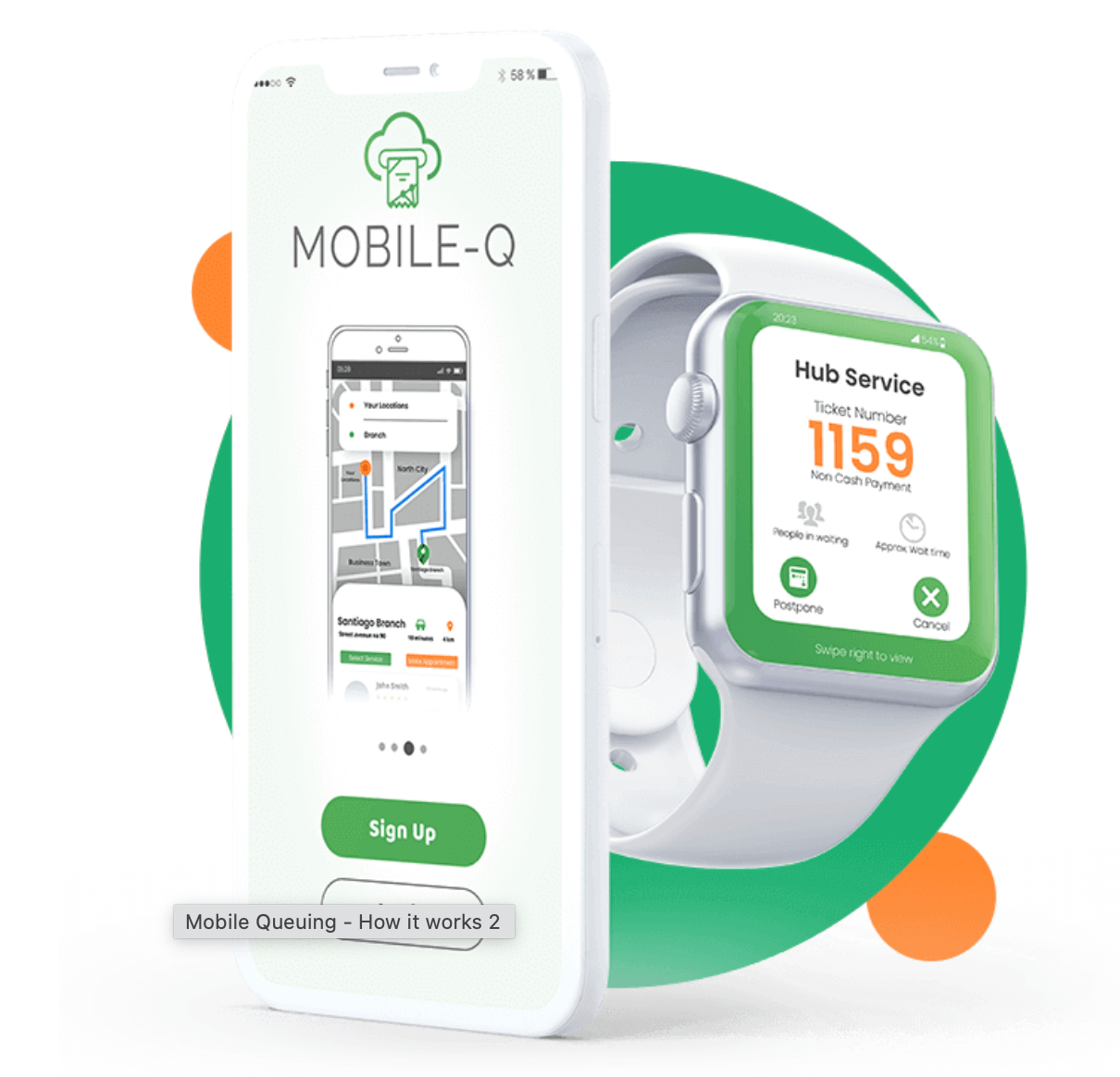 Another Wavetec solution, MobileQ, a queue management mobile app, is the perfect solution in the modern era. Customers can use the app to enter a virtual queue at the designated branch and save the hassle of physical queuing. The mobile application, in turn, keeps the clients updated with the wait time, and they can view the queue status live.
2. Engage customers with digital signage systems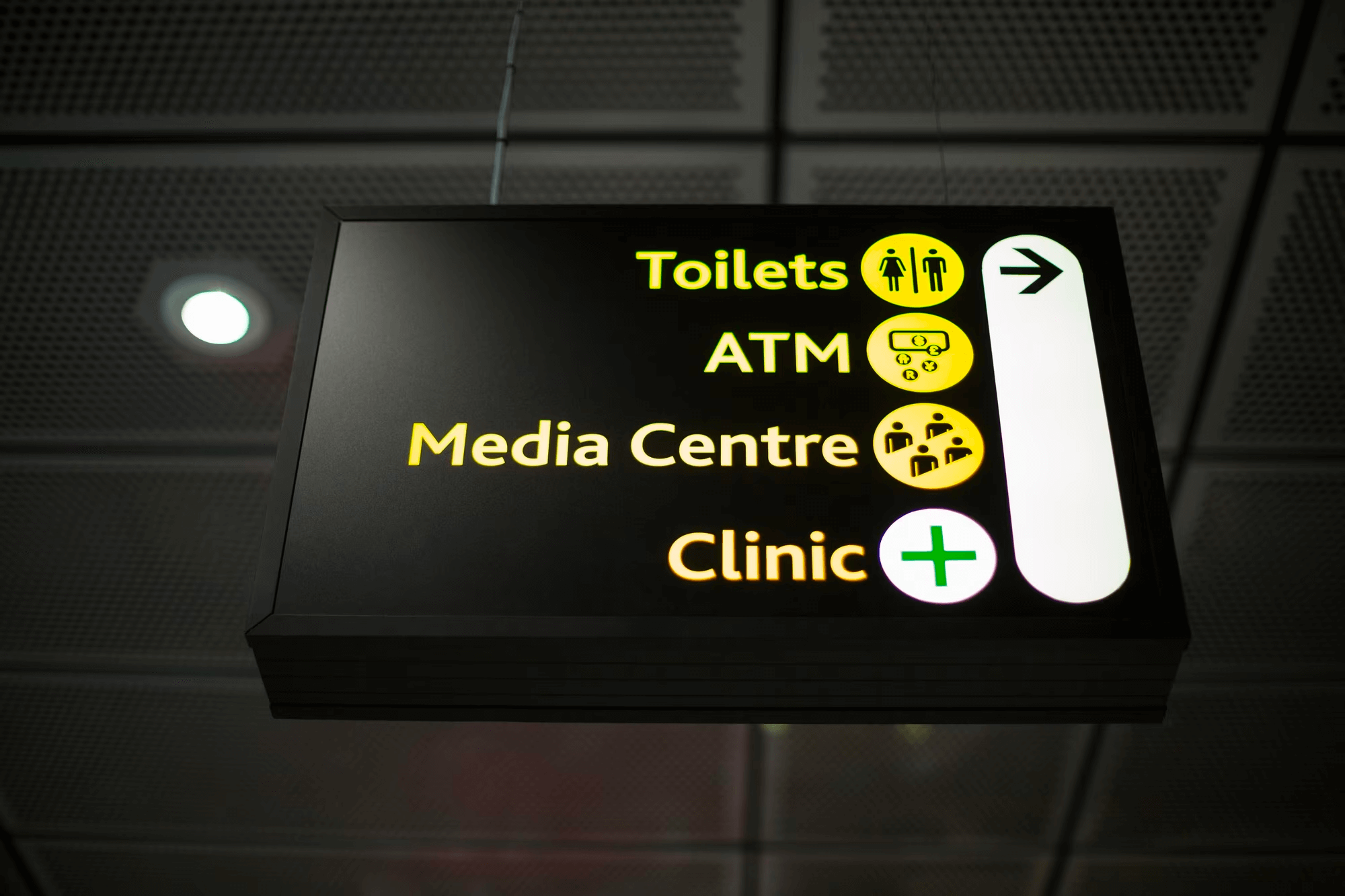 New customers visiting your facility may need help with the store map. This leads to difficulty navigating, resulting in overcrowding at information desks and confusion. You can improve this on-premises by installing Digital Signage Solutions to improve customer communication and engagement. This LED visual technology offers a real-time dashboard to display content such as videos, text or graphics.
You can use digital signages around the store to guide your customers about the waiting area, queue start point and customer service counters. Additionally, you can use digital signboards to display promotional content, discount offers and product launch marketing. One of the most important uses of this technology is integrating it with people counting software and displaying wait times to customers. This keeps your customers in the loop and tells them how many are in the queue ahead of them. Use this tool to build brand loyalty and trust and improve ROIs with happy customers.
3. Notify customers with WhatsApp
WhatsApp has become the most preferred platform for communication worldwide. Why not use it to solve the crises of mismanaged queues?
Wavetec has introduced WhatsApp Solutions comprising WhatsApp Queuing and WhatsApp Appointment System. This allows businesses to manage queues and appointments without downloading a separate application. Customers can use the chat feature and get started immediately!

If you sign up for WhatsApp Queuing, customers can simply open your chat by scanning a QR code, send your business a message, choose the service they wish to be in line for, and immediately receive a virtual ticket. It's that easy! Wavetec allows integration of WhatsApp Queuing with digital signages; this gives customers notifications and alerts on wait times. Customers will visit the store when it is their turn, reducing wait-time anxiety.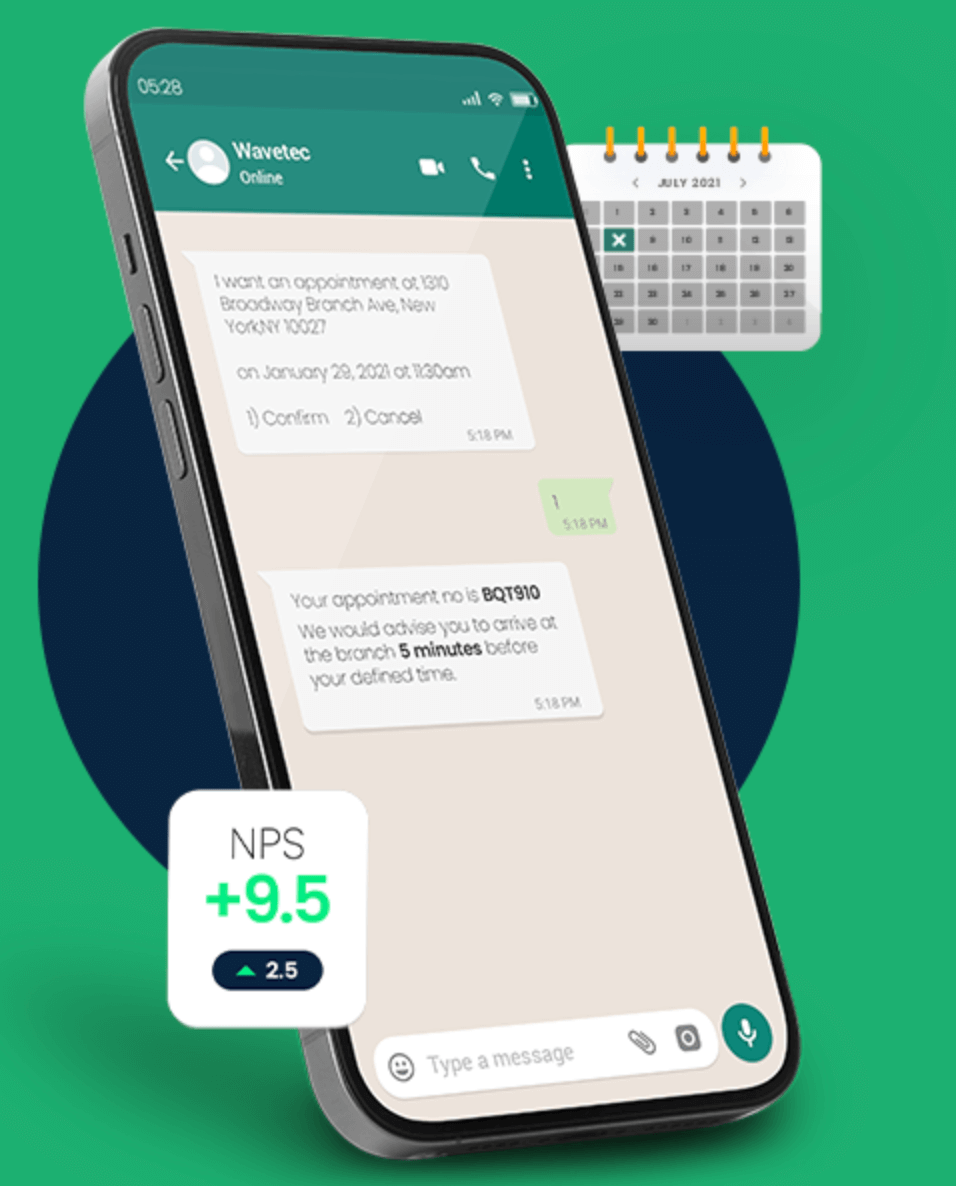 Customers look to schedule appointments virtually without visiting the facility and waiting in queues. The WhatsApp Appointment System allows customers to book, reschedule or cancel appointments using the two-way messaging feature. It gives them appointment details, confirmation texts, and integrated calendar reminder alerts. Businesses benefit from this equally, as this prevents overbooking and manages cancellations and no-shows. This results in shorter and reduced customer queues in stores.  
4. Prioritize customer requests 

Knowing what your customer wants allows businesses to address high-priority requests and demands. With Wavetec's Opinion Plus, you can receive feedback on customer experiences and improve the standard of service of your company. It has tools for feedback collection, feedback analysis, management and planning. 

This can be combined with Spectra for a complete customer journey management dashboard. Analyzed charts and insights from the dashboard give you the opportunity to improve delivery and cater to client needs. 
5. Help your customers take advantage of self-service 

Initially, banking was the only industry to install self-service kiosks in the form of ATMs. Nowadays, self-service portals and kiosks have become a universal solution for fast food chains, retail branches and telecommunication. Wavetec's Self service kiosks can lead your company to the forefront of digitization.
Customers can engage in appointment scheduling, make transactions, and navigate information on kiosks. They can book services in advance, which saves unnecessary wait times. In the banking and retail industry, customers can make payments, update information, or place orders, thus reducing the need for human assistance. Kiosks installed in stores give information on product availability and answer FAQs, reducing their need to seek assistance from staff members.
6. People Counting

One of the most effective ways to manage queues in-store is to constantly monitor the occupancy and the number of customers exiting the store. Wavetec's initiative, SafeQ, uses a 3D technology which uses auto-calibration, bi-directional counting and cameras paired with people-counting sensors. These are accurate as they measure the person's size, monitor the movement and work in low-light sensitivity.
With accurate information on the people entering and leaving the facility, you can calculate the average time spent in-store and queues and customize crowd control plans with footfall patterns and stats. You can inform customers of maximum occupancy and regulate entrance. This prevents unnecessary crowding in-store and allows customers to utilize time effectively. Any industry can adopt this solution: shopping centers, banks, airports and restaurants. 
7. Book Appointments Online
Wave offers Online Appointments, a smart online appointment booking and scheduling software solution. Customers can book appointments online, receive automatic SMS or email reminders, and reschedule or cancel appointments. The software provides businesses with data to optimize staffing levels and improve efficiency. It aims to streamline operations, reduce wait times, and improve customer satisfaction.
6 Don't of Customer Queue Management That Increases Operational Efficiency 
 1. Avoid take-a-number system 
Take-a-number systems were widely used to manage queues but are no longer the best option. Such a system lacks personalization, making customers feel like they are just another number in the queue, which can negatively impact customer satisfaction. Businesses that offer complex services or transactions can find it challenging to implement this system as it can be costly. Take-a-number systems cannot be integrated well with other technologies, such as digital signage or appointment scheduling systems, limiting their effectiveness in managing queues.
2. Don't make a customer wait in double queues
In queue management, it is essential to avoid making customers wait in double queues as it can be a frustrating experience for them. Double queues are made when customers are required to wait in one queue for a ticket and then in another to receive the actual service. This process can lead to longer wait times, and customers may become irritated or lose patience, leading to negative reviews. 
3. Avoid creating multiple lanes for waiting
Refraining from creating multiple waiting lanes is advisable as it may cause customer confusion and dissatisfaction. This arises from the customers' uncertainty about which lane to join or which moves faster. This results in resource wastage if some lanes remain unoccupied while others become overcrowded. 
4. Don't wait for the customer to contact you. Be proactive!
Businesses must adopt a proactive approach and refrain from waiting for customers to initiate contact. This results in longer waiting periods, causing customer dissatisfaction. Try to inform your customers about cancelled or rescheduled appointments beforehand.
5. Do not ignore your staff's needs and feedback
Ensure the number of staff members is adequate to handle the expected customer volume and maintain a reasonable wait time. This leads to decreased productivity, as overwhelmed staff members cannot manage the workload effectively. Therefore, businesses should analyze customer traffic patterns and plan the required number of employees accordingly. 
6. Never ignore what your customers have to say about their experience
Regularly taking action on customer feedback is crucial for enhancing the customer experience and improving the queue management process. Consider the pain points of a customer journey to provide a seamless experience.
Why is it important to manage a queue?
All industries, retail, healthcare, or government services, want to live up to their customers' expectations. An integral part of providing a positive customer experience is managing queues. Queues can occur in various B2B settings, such as when customers are waiting for assistance from customer service representatives, when vendors are waiting to deliver goods, or when clients are waiting for meetings with account managers.
When customers wait in poorly managed queues, they leave frustrated, which can negatively impact a business's reputation and result in lost customers. Conversely, effective queue management can lead to shorter wait times, better customer satisfaction, and increased revenue. 
Queue management can streamline the check-in and check-out process, reduce the likelihood of errors, and improve security by eliminating physical lines. In addition, it adds to customer satisfaction and loyalty and reduces wait times. With controlled traffic on-premises, you can ensure adequate staffing levels, increasing your team's productivity.
When customers do not have to worry about queuing, they can spend ample time in the store and enjoy a personalized experience for customers, which can lead to increased loyalty and revenue for businesses. By analyzing customer traffic patterns, B2B companies can ensure they use their resources efficiently and effectively.
What is an example of queue management?
If you are wondering how to translate a queue management system into results, we have an example for you!
HSBC Mexico collaborated with Wavetec to enhance its customer experience by deploying a digital queue management system. The system offered customers a ticket number, estimated wait time, and live queue updates via digital displays and mobile notifications. This solution enabled customers to schedule appointments online and manage their queue status remotely. 
As a result, the implementation of the queue management system resulted in a 50% decrease in customer wait times and a 25% increase in customer satisfaction.
The system also facilitated HSBC Mexico in optimizing resource allocation and reducing expenses. The solution's success led to its deployment in more than 1,000 HSBC branches throughout Mexico, marking it as one of the largest queue management implementations in the nation.
Conclusion
Thus far, managing queues is critical to providing a positive customer experience. Queueing and wait times can distinguish customers between you and your competitors.
Therefore, effective queue management strategies can help reduce wait times, increase customer satisfaction, and optimize resource allocation. You should provide a clear and organized queuing system that is personalized, efficient, and customer focused. 
This can be achieved using digital signage, self-service kiosks, queue management systems and customer feedback solutions. It is also essential to act on customer feedback, analyze traffic patterns, and ensure that you have adequate staff members. 
Prioritize queue management and create a more streamlined and efficient operation to benefit customers and staff!
BOOK A FREE DEMO