The world is going through a fast-paced digital transformation. Therefore, digital transformation in government and public sector is no longer a buzzword; accelerating at full throttle. Digitization is revolutionizing how public services are delivered, creating a more efficient and customer-centric approach. According to a recent report by McKinsey, digitization has the potential to unlock over $3.5 trillion of economic value for the government and public sector.
This transformation is about embracing new technologies and shifting mindsets and cultures. By leveraging data analytics, automation, and digital platforms, governments can enhance their services, making them more accessible and user-friendly for citizens.
Digital transformation in government and the public sector has also revolutionized how public entities gather data and insights about citizens, enabling them to create personalized and targeted services.
Government and public sector can leverage digital transformation in numerous ways. For instance, reducing the wait times for passport applications, introducing online tax filing to improve customer satisfaction, using digital portals to register new businesses to incorporate the ease of doing business, etc.
In the near future, the public sector is set to witness a rapid increase in digital services for citizens, with Gartner predicting that over 60% of governments will triple their offerings by 2023. The latest generation of government services is geared towards revolutionizing citizen engagement, including improving connectivity, containing costs, enhancing staff technical competencies, and boosting data security.
This blog will let you discover how digital transformation of government and public sector services is not just a trend but a necessity for meeting citizens' growing demands. Let's discuss this in detail.
What is Digital Transformation in Government and Public Sector?
Governments and public sector organizations are going through a rapid digital transformation journey, which involves the integration of digital technologies into every aspect of their operations. This shift is essential to keep up with citizens' demands, who now expect the same convenience, speed, and personalized experiences from government services as private sector businesses.
In the past, the focus of digital transformation in the public sector was centered around the front office and customer experience. Digital marketing, customer engagement, mobile, and web applications were the main areas of focus, and consulting firms and digital agencies played a significant role in driving the transformation.
However, today's digital transformation is disrupting public entities' back and middle frameworks, and organizations must focus on restructuring their operations beyond customer-facing functions to enable enterprise-wide digital transformation. A digital focus on the front office will not provide a sustainable competitive advantage. Organizations plan to spend more on digital in the middle and back office than the front office.
This shift towards a more comprehensive approach to digital transformation is driven by the need to adopt disruptive business models, develop a digital business strategy, and embrace digital supply chain management. Governments and public sector organizations must also adopt an omni-business approach, leveraging technology to provide citizens with seamless and integrated experiences across different channels and touchpoints.
Changing Citizen Needs Is Calling Digitization of the Public Sector
Its not just that the pandemic forced digital channels into the mainstream, but the common man played a massive role in fast tracking these changes too. In the past few years, with the oncoming generation of adults, digital services and alternate channels of service delivery have become very mainstream because that's what the average consumer now expects.
Take any industry as a case study and you'll find that they've seen a vast digital transformation in the past 5 years alone. Banks especially have seen massive changes with the adoption of mobile banking apps, 24/7 self service kiosks and online onboarding.
The average consumer has gotten used to this level of service where they can avail a product or service through multiple channels choosing whichever is most convenient for them. Why wouldn't they start demanding the same from their local DMVs or ID issuers?
Benefits Of Digital Transformation in Public and Government Offices
Automation
Government digital transformation allows for streamlined workflows, increased productivity, and reduced manual labor by implementing digital government strategies. Document management automation enables real-time access to data and information, cutting out repetitive tasks and ensuring that all data is up-to-date and accurate.
Accessibility & Collaboration
Accessible data and documents facilitate easier collaboration across public sector organizations. Ensuring every department has the most current and accurate information eliminates out-of-date information and duplication errors, creating more efficient and effective public services.
Data-backed Decision Making
Better decision-making is facilitated through data-driven insights. With real-time access to data, case workers in the field can make better-informed decisions, ensuring that data is used proactively and not simply stored and forgotten about.
Cultural Shift
Digital transformation in the public sector requires a more profound cultural shift towards more agile, dynamic, and responsive organizations that adapt to changing priorities and citizens' demands. By implementing digital government strategies, organizations can become more adaptable, providing more efficient and effective public services through digitizing government processes.
Future Proof
With these digital channels already in place governments worldwide have less to fear if another pandemic spreads as they won't have to entirely shut down operations like they had to during the first wave of the CoronaVirus pandemic. They can simply continue operating safely through digital only channels.
Mitigate Corruption & Build Trust
In certain regions in the world, state run establishments often fall victim to corrupt employees and officials where a lot of business happens under the table involving heavy bribes and undocumented paperwork.
Digital transformation and integration aims to mitigate this as much as possible through accountability and monitoring. By constantly monitoring data it becomes easy to point out anomalies and investigate the matter. This will help erase corruption and build trust between the state and its people.
The Need For Customer Journey Mapping In The Public Sector
When we start to drill down on why government offices are so inefficient we find one primary flaw, an inefficient mapping of the service area and misallocation of resources. This means that the customer's journey could be improved here and with reallocation of resources to the right places, service time could be shortened significantly.
So the first order of business would be to properly map a citizen's journey when they visit to avail any service. With journeys for all possible scenarios mapped, the service area can be reorganized to best suit the citizen experience i.e. every step of the process should feel like a natural progression from the last.
This will significantly cut haphazard foot traffic and disorganized service centers. Further, with some research, we can determine which stations receive the most service requests and allocate more resources there from unused stations. This is a good way to digitally map and test different layouts to arrive at the most efficient service area design for maximum delivery.
Electronic Queuing
Further, DMVs and National ID issuers are doubling down on customer experience technology to elevate the overall experience, reduce service and wait times, and in turn, reduce operational costs. This is good for everyone because saved tax money only stands to benefit the citizens after all.
So, to improve queuing, these establishments are deploying electronic queue management systems to easily manage queues via a digital system that keeps track of all tickets and has advanced features like digital signage integration to update citizens on their tickets. These systems also have the ability to update ticket holders on their position in the queue via text message, email or even WhatsApp.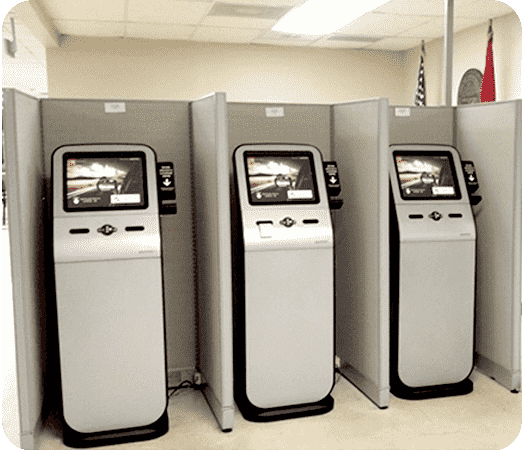 With virtual & electronic queueing, customers don't need to physically line up and can comfortably sit while waiting for their turn or run an errand close by if their turn isn't for a while. It also saves a lot of physical space within the branch that would otherwise be occupied by queues full of people.
Online Appointments
Previously, if you wanted to book an appointment at the DMV to obtain your learner's permit, you'd have to physically visit your local DMV and take a ticket and then return after a few hours to give the test and get the permit.
Now, a lot of these public institutions have integrated online appointments into their service delivery strategies giving citizens the ability to go online via mobile app or web browser and book an appointment for their select services. This saves people a useless trip to make an appointment.
Nowadays, WhatsApp can be used to book and keep track of appointments as well. This makes it all the more easier for the nearly 2.5 billion user base that WhatsApp has.
Data & Insights
With all this digital integration & an already existing database of citizen information, these government bodies are able to collect very meaningful data about how citizens interact with them and what products and services they value most. This can help find the shortcomings in the user journey to a very minute detail and overcome them with a data driven solution.
With this data & insights, the provision of these services will constantly improve and build a case for digitization of public services all across the globe, if it hasn't already. This will lead to a very efficient public service service system that treats everyone equally and saves a lot of time and taxpayer money.
The Challenges of Digital Transformation in the Public Sector
The top challenges and potential hurdles that create a bottleneck for the government and public sector to embrace digitization are:
Poorly Defined Digital Government Strategies
Effective government digital transformation requires a holistic approach that examines how services are delivered, how information flows, and how data is managed. Yet, 70% of digital transformation projects fail due to insufficient planning. Careful consideration must be given to new technology investments in the public sector, where every taxpayer dollar counts. A clearly defined digital government strategy can help identify gaps and drive improvements in infrastructure, processes, and customer-facing services, leading to a more dynamic and integrated IT system.
Outdated Existing Technology
The public's expectation of high-quality digital experiences is on the rise, but legacy technology infrastructure is holding back public sector organizations. Many still rely on on-premise solutions incompatible with agile cloud services, leading to inefficiencies, downtime, and increased spending. A digital-first approach is needed to overcome this challenge. Digital transformation consultants, such as Conosco, can help public sector organizations transition to more secure and manageable cloud platforms, enabling them to meet the evolving needs of their users.
Cultural Resistance
Digital transformation in the public sector requires more than just new technology; it requires a culture shift. A digital-first approach must be led from the top down, with strong leadership and a willingness to embrace change. Engaging employees early in the process, providing training and support, and making them a part of the transformation can improve adoption rates and enable public sector organizations to maximize the potential of new technology.
Conclusion
Digital transformation in government and public sector helps improve efficiency, collaboration, and decision-making processes. However, several challenges must be overcome to achieve successful transformation, including unclear digital strategies, outdated infrastructure, and employee adoption.
By addressing these challenges and incorporating digital government strategies, organizations can achieve a more dynamic and responsive public service that meets the ever-changing demands of citizens. Governments must embrace digitization and work towards creating a more modern and efficient public sector for the benefit of all.