As a business owner, you must understand the importance of providing exceptional customer experiences to keep your clients coming back repeatedly. One critical aspect of creating a positive customer experience is appointment scheduling.
Whether you run a healthcare facility, bank, or education, strategic planning of your appointment scheduling can significantly impact your bottom line.
Digitization has revolutionized how businesses schedule and manage appointments via digital channels.
Especially when managing an overwhelming number of appointments, modern digital strategies like WhatsApp appointment scheduling, appointment scheduling software, and omnichannel strategies are the key initiatives to streamline the process.
Consider the following stats gathered from Finances Online, which reflect the importance of the modern appointment scheduling approach in improving customer experience and winning more loyal customers.
Around 42% of customers feel waiting on prolonged holds is a waste of time.
Online scheduling promises 26% new clients or customers.
Re-booking reminders in online appointment scheduling results in a 30% annual growth by repeat appointments.
In this blog, we'll discuss how digital and well-planned appointment scheduling can impact the customer experience and why it's essential for business owners to pay attention to this critical aspect of their operation.
How Can Appointment Scheduling Help You Improve Your Business Revenue?
Increasing revenue is the top priority of businesses and a key indicator that reflects growth and chances to thrive in the competitive market. Appointment scheduling is the most understated and undermined aspect of revenue growth and high profit margins.
A robust and efficient appointment scheduling strategy promises exceptional customer experience, increased customer satisfaction & retention, and ultimately leads to skyrocketing revenue streams.
1. Appointment Scheduling in Healthcare
Consider the scenario in the healthcare sector. Patients are increasingly expecting convenience and efficiency from their healthcare providers.
Long wait times and complicated appointment scheduling processes can lead to frustration and a negative perception of the facility. However, an efficient appointment scheduling process can improve patient experience and loyalty.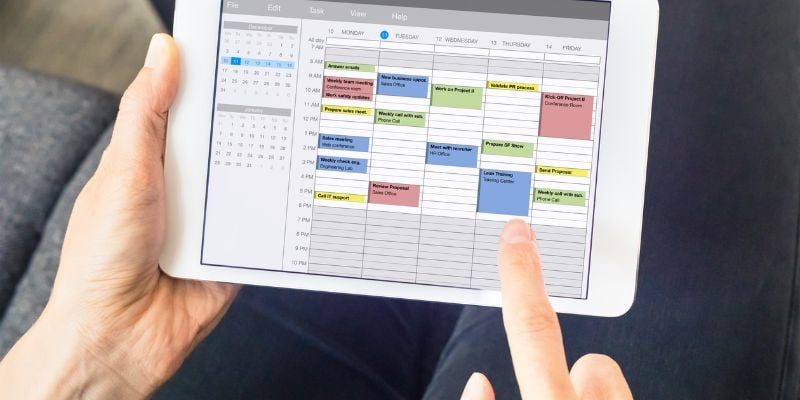 According to Healthgrades, 35% of healthcare industry customers claim that online appointment availability is a deciding factor when choosing a healthcare service.
With innovative digital solutions like WhatsApp appointment scheduling and appointment scheduling software, patients can easily schedule appointments online, receive automated reminders, and even book for their desired time slot.
This streamlined process can lead to more satisfied patients, more efficient use of staff time, and ultimately increased revenue for the healthcare facility.
2. Appointment Scheduling in the Banking Sector
The banking sector is another industry that benefits the most from scheduled business appointments. Long wait times and queues can lead to frustrated customers. Digitizing appointment scheduling in banking is a win-win situation for both banks and their clients.
According to the CS3 Marketing report, around 40% of branch appointments lead to newly-opened accounts.
Banks can offer online appointment scheduling for account opening, mortgage, and loan applications, providing a more personalized and seamless customer experience.
It increases the likelihood of the customers choosing the bank offering digital appointment scheduling to address their financial needs efficiently.
3. Appointment Scheduling in Public Sector
Government agencies such as the DMV can benefit from improved appointment scheduling processes and eliminate long wait times and complicated scheduling.
Strategic appointment scheduling is a prerequisite for improved customer experience and increased ROI for businesses of all scales and industries. Therefore, a critical evaluation of your appointment scheduling strategy is necessary to ensure promising growth opportunities.
Challenges Facing Appointment Scheduling
By implementing modern digital solutions like appointment scheduling software and other efficient scheduling processes, businesses can reduce wait times, streamline the process, and increase revenue through satisfied customers and better use of staff time.
However, businesses need to know the customers' specific challenges and pain points, particularly associated with their unique industry, to find the right solution tailored to their needs.
Below are some challenges and pain points for appointment scheduling in the healthcare, banking, and education sectors from the customer's perspective:
1. Appointment Scheduling Challenges in the Healthcare Sector
High patient wait times can lead to frustration and dissatisfaction with the facility.
According to Cedar, 28% of patients abandoned a healthcare facility with poor online customer experience.
Confusion or lack of clarity around appointment details, such as what medical documents or reports to bring.
2. Appointment Scheduling Challenges in the Banking Industry
Long wait times and inefficient appointment scheduling can lead to frustrated customers and potential loss of business.
Difficulty in managing and tracking appointments can result in missed or double-booked appointments, negatively impacting the customer experience and potentially leading to lost revenue.
Customers feel it frustrating to be unable to find the desired timeslot for their appointment as banking hours collide with the work hours of professional customers.
3. Appointment Scheduling Challenges in the Education Sector
High foot traffic and large volumes of students during exam and admissions season can lead to a need for efficient appointment scheduling.
Difficulty finding the right slot for an appointment with concerned departments, lecturers, and academic consultants.
Limited options for booking appointments, such as only being able to schedule appointments during certain hours via digital channels. It leads to overlapped appointment schedules and class timings that eventually cause missed appointments.
How to Effectively Schedule Appointments
Wavetec offers customized solutions to address banks, hospitals, and education institutes' unique challenges. It includes modern solutions like Appointment Scheduling Software, WhatsApp Appointment Management, Omnichannel Scheduling, and digital ways to gather customer feedback to improve appointment scheduling.
Let's discuss how to schedule appointments to ensure improved customer experience and exceptional growth opportunities.
Appointment scheduling software
WhatsApp Appointment Management
Omnichannel Scheduling
Customer Feedback to Gather Feedback to Improve Appointment Scheduling
1. Appointment Scheduling Software
Wavetec's cloud-based online appointment booking and scheduling solutions are designed to support, ease, and simplify the process for businesses and their customers.
With Wavetec's innovative appointment solution, customers can connect from anywhere and seamlessly book, check in, reschedule, and cancel appointments.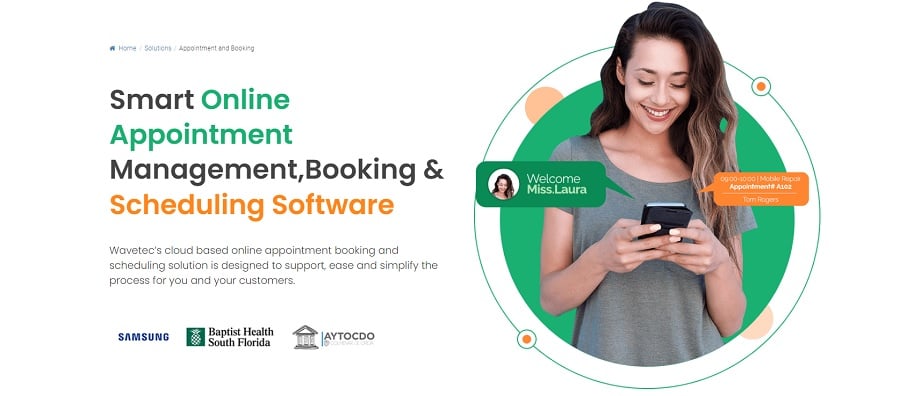 This not only helps to minimize customer wait times but also ensures the provision of top-quality services to customers, resulting in increased customer satisfaction and retention.
Wavetec's appointment scheduling software offers a variety of features to enhance the appointment booking and scheduling experience.
Customers can instantly book appointments via a website, application, or social platform. Configurable SMS, WhatsApp, or email reminders can be sent to customers to ensure they do not forget their appointments.
The solution also seamlessly integrates with your favorite calendars, automatically reminding you of upcoming appointments, so you are better equipped to plan ahead.
For retail businesses, Wavetec's appointment scheduling software offers seamless integration with any POS platform, making appointment scheduling and payment processing a breeze. The software is also multilingual, offering flexibility through various languages and date preferences to cater to diverse customer needs.
Furthermore, Wavetec's appointment scheduling software offers a Smart Connect feature that allows businesses to communicate and manage staff scheduling seamlessly.
The solution integrates with Wavetec's Queue Management and Digital Signage software, allowing businesses to predict better and customize customer journeys. This complete suite allows businesses to prepare for upcoming customer appointments and manage walk-in customer flow with a comprehensive dashboard and reporting features modules.
The banking sector can revamp its appointment scheduling with a cloud-native solution by allowing customers to find suitable appointment slots that align with their routine schedule.
Similarly, patients can pre-book their appointments from the comfort of their homes and get personalized suggestions from the facility about what medical documents and reports they should come along with. In education institutes, students can open the mobile app or campus website to book appointments with their consultants & lecturers or register for the courses & classes that match their timetable.
Samsung, Spain – Case Study
Samsung, Spain has leveraged Wavetec's online appointment scheduling system to revolutionize the customer journey in their service centers. The initiative ensured reduced queue wait times and improved customer experience.
2. WhatsApp Appointment Management
Wavetec is proud to introduce our innovative WhatsApp Appointments customer management platform, designed to provide measurable improvements and proven growth to your business. Our all-in-one integrated platform helps establish a prominent web and digital presence, improving customer wait times and increasing staff productivity.
Wavetec's WhatsApp Appointment Management solution utilizes easy-to-use WhatsApp booking capabilities, allowing potential and existing customers to schedule appointments with your business anytime and anywhere.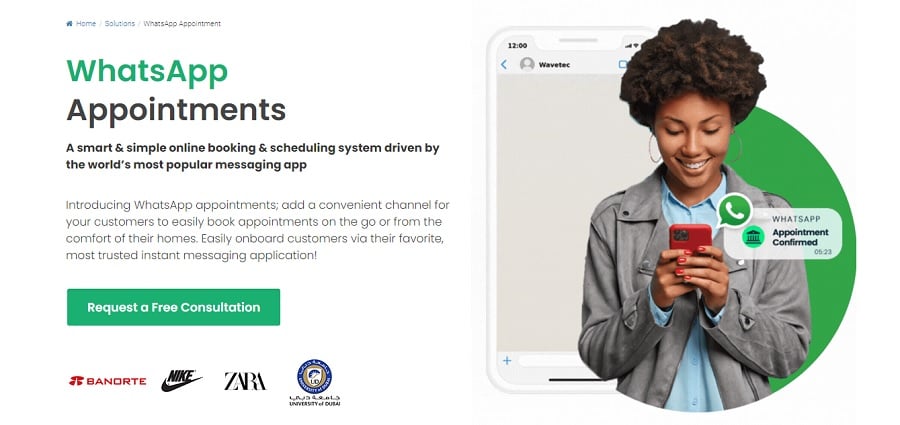 Customers can book appointments using our intuitive and responsive platform, which shares and books calendar, service, and appointment details in real time via two-way messaging capabilities. Custom reminders can also be scheduled using the platform.
Furthermore, it lets customers stay informed with instant push notifications of their appointment status over WhatsApp. Our calendar notifications can be configured, and alarms can be set to ensure appointments are not missed.
Businesses can also configure notifications based on actions taken, issuance of tickets, change in booking time, no-show, cancellation, and much more.
Our platform also includes real-time alerts for appointment reminders and confirmations, helping to reduce no-shows and cancellations. By tracking performance metrics and rankings in real-time, businesses can decrease operational costs by up to 30%.
Wavetec's scheduling software enables seamless management of customers and bookings, with the ability to customize CRM fields and optimize engagement, all from one central system. For all sectors, the solution revolutionizes how businesses deliver unprecedented customer experience.
WhatsApp Appointments Management allows banks to schedule business appointments and ensure seamless customer experience, reducing wait times and increasing efficiency.
With Wavetec's platform, healthcare providers can offer patients easy-to-use appointment booking capabilities, customized reminders, and real-time alerts, improving patient satisfaction and reducing no-shows.
Similarly, Wavetec's WhatsApp Appointments Management system enables educational institutions to streamline the appointment booking process for students, parents, and staff, resulting in a more positive overall experience.
Workforce Santa Cruz County – Case Study
Workforce Santa Cruz County (WFSCC), a collaboration of local public bodies to serve job seekers and employers, leveraged Wavetec's WhatsApp & Virtual Queuing Solutions. Their client base stated that the feasibility they are offering is exactly what they were looking for.
3. Omnichannel Scheduling
Wavetec is committed to providing businesses with omnichannel digital solutions that engage customers at all contact points.
Our Mobile App is designed to help businesses adopt an omnichannel strategy and save their customers' time. MobileQ is a powerful app that enables customers to enter a virtual queue from anywhere, enhancing their experience with various user-friendly features.
The working principle of the mobile application is very straightforward.
Step 1 – Select the nearest branch
MobileQ's functionality is based on a simple yet sophisticated working principle. Customers first select the nearest branch using the app's location services, after which they are directed to a designated chat, where the system greets them. This initial step ensures customers can access the required service quickly and conveniently.
Step 2 – Select the service required
Once the customer has selected their nearest branch, they can use MobileQ to choose the specific service they require. This is achieved by scanning a QR code that opens the designated chat and presents the available service options. Customers can select the service that best suits their needs with just a few clicks, making the process efficient and straightforward.
Step 3 – Check your status
After selecting the desired service, MobileQ will issue a service ticket for the appropriate service location in real time. Customers are then informed of the estimated waiting time, allowing them to manage their time effectively and avoid missing their turn. The app provides regular status updates, ensuring that customers are always aware of their place in the queue and the anticipated wait time.
The MobileQ solution is significantly impactful in the banking, education, and healthcare sectors. Allowing business professionals, students, and patients to easily visit their desired facility instead of waiting in long queues.
University of Nottingham Ningbo China – Case Study
Wavetec introduced a comprehensive WaveSphere solution – an integration of queue management with real-time monitoring, MobileQ application, digital signage, and Opinion Plus feedback gathering solution.
Customer Feedback to Gather Feedback to Improve Appointment Scheduling
Wavetec's Opinion Plus is an advanced customer feedback solution that helps businesses bridge the gap between customer experience standards and customer perceptions of them. It is a powerful tool that enables businesses to gather and analyze data regarding customer experiences to enhance the customer-centric approach.
One of the significant features of Opinion Plus is its ability to build custom templates that allow businesses to design beautiful surveys and collect genuine customer feedback. This solution offers various templates and ensures the survey is tested, providing robust feedback results.
Opinion Plus is also integrated with the Spectra platform, which offers centralized data management from any location. It provides maximum support and access to data, making it easy to manage customer feedback efficiently.
With various dashboards and reports from Spectra reporting software, businesses can uncover trends, identify opportunities to improve the customer experience, and gather insights.
Opinion Plus is intelligently designed to bring up targeted messages to the right customer when they are served, allowing custom messages for a specific audience.
The solution integrates all organizational touchpoints and channels, including seamless integration with other technology platforms such as POS terminals, CRMs, and Wavetec Queue Management System. This gives businesses a 360-degree view of the customer, which fuels a better experience.
With real-time notifications and alerts, businesses can quickly notify users and set notifications to help curb turbulence in the customer experience in real-time. This enables businesses to make prompt decisions based on feedback to enhance the customer experience.
In the banking sector, gathering customer experience through Opinion Plus helps banks identify service gaps and opportunities to improve the customer experience.
Similarly, Opinion Plus enables healthcare providers to collect patient feedback, identify improvement areas, and improve patient satisfaction.
Opinion Plus also helps education institutions to collect feedback from students, parents, and teachers and use it to improve academic programs, offer customized course content, and overall student experience.
Banking Sector of Africa & Wavetec's Solutions
The banking sector in Africa leverages Wavetec solutions to collect data that can be compiled into reports for a better understanding by client banks in evaluating the customer's flow and customer satisfaction index in branch banking.
Conclusion
Appointment scheduling is critical to managing customer experience in various sectors like banking, healthcare, and education. By adopting digital solutions like Wavetec's WhatsApp Appointments Management, MobileQ app, and Opinion Plus, businesses can streamline their operations and deliver an omnichannel experience to customers.
The cloud-native software for appointment scheduling offered by Wavetec provides a seamless and efficient way to manage appointments and improve customer experience.
Explore all these solutions and discover how to schedule appointments effectively for improved customer satisfaction and business productivity. Embracing digitization through these solutions and visit Wavetec to find solutions tailored to your specific needs & industry.
BOOK A FREE DEMO