Glasgow Science Center´s high resolution LED display has gained significant momentum all over Glasgow; hyped as the "Big Screen."
The high resolution LED display, provided by Wavetec, is placed in the front facing "features wall" located at the Glasgow Science Centre, 50 Pacific Quay, Glasgow, G51 1EA.
Wavetec's LED Video Wall is being used for live coverage of events, shows and in the past two weeks the screen played a key role attracting visitors to the Commonwealth Games 2014 where viewers experienced the buzz of the all competitions at the outdoor deck. Glassgow LED Display Wavetec.
The big screen broadcasted the opening and closing ceremony, live news, competitions, and live-streaming content from BBC.
The 2014 Commonwealth Games took place in Glasgow, Scotland, from 23 July to 3 August 2014. It was the biggest multi-sport event ever held in Scotland with around 4,950 athletes from 71 different nations competing in 18 different sports.
The hype about the big screen was all over Twitter.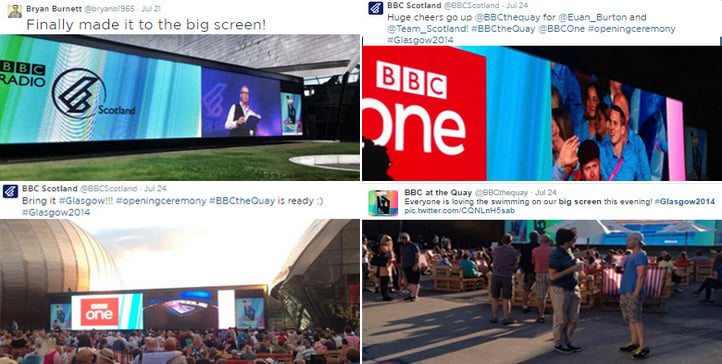 After a thorough tender by the Glasgow Science Centre, the division specialized in Digital Signage from ITAB UK, was awarded the turnkey project for the Outdoor LED Display. The total size of the screen manufactured by Wavetec covered an area of 55 m2 (15.3 mt width x 3.6 mt height) with a high resolution achieved with a pitch 8 mm, required in order to provide a superb viewing experience to the audience standing near to the screen. Furthermore, the SMD technology of the LEDs, allowed for a wide viewing angle without compromising on the brightness of the videos and images. The content of the screen is managed by Wavetec's web based CMS and Canvas Designer.
The main goal of the project is to display live videos at the Glasgow Science Centre's main entrance to develop an effective and captivating visual impact engaging the audience visiting the site.
Glasgow Science Centre is a five star visitor attraction that is focused towards providing awareness of science to all in Scotland. It is an independent Scottish charity that is dedicated towards enlightening the concepts of science and technology.