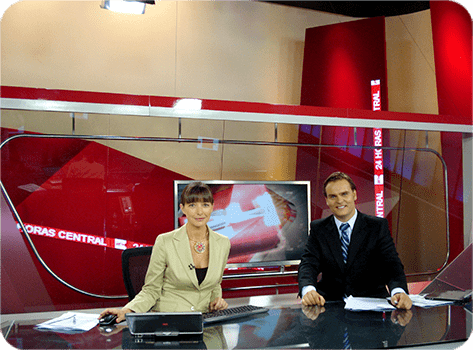 TVN Chile (Television Nacional de Chile) is a state owned television channel. Its history goes back to 1969 and since its inception it has portrayed and proved itself as the best amongst all. It is available on satellite and cable network amongst more than 100 countries and its popularity is increasing due to its high quality graphics as compared to other TV Channels. Clearly, the funding behind TVN Chile is massive and for that reason it keeps on growing bigger and better. They keep on working hard and fast to deliver to customers the best image quality and consider it their Unique Selling Proposition (USP). The channel broadcasts 24 hours a day and offers a mix of news, shows and dramas.

The Problem
TVN Chile wanted to continue with the approach of continual improvement and innovation. It saw room for improvement and the brand image that they were scoping for; their belief was wherever there is a need there is a solution. Most of the TV Channels were transforming their look not just using high quality graphics but also by creating better backgrounds for the shows and by making a better picture for the viewers to see. They saw the need to make their backgrounds more interactive, more creative and more attractive. They needed a solution with which they could present the news in a much more sensational way.
In today's world, Media Wars are majorly based on the TRP rating. The better you rate on the scale the more premium you can charge and the better advertising revenue you can generate. TVN Chile felt that if it was able to provide a solution to the above mentioned problem it would be able to rank higher on TRP rating and it would enable them to charge that premium. Now the only question was how to achieve that?
What was Needed
TVN Chile wanted to increase the number of viewers of their news shows and for that they needed a solution that would make their backgrounds more attractive, creative and interactive. That way, it would be easier to grab the interest of the viewers and also to convey to them the message using interactive info-graphics. In simple words they needed a state-of-the-art Broadcast Display Solution which would turn their insights into stories, they needed a reliable solution which would enhance their background and turn their news room into a interactive room with digital content running in the background. They expected this to help them increase their TRP rating and also help them increase their revenue. TVN Chile's strategy of competing with the best channels in the world was to always stay ahead of its competitors and never lag behind in any field. This was exactly what they aimed to achieve with this solution and so they researched before deciding whom to entrust with the responsibility.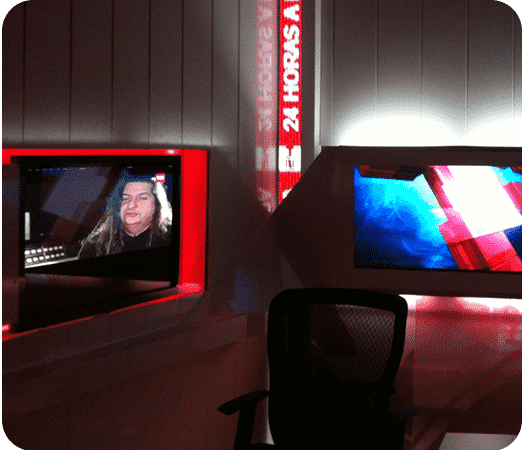 Why was Wavetec's Solution Required
TVN Chile was looking ahead to a creative Broadcast Display Solution which would enhance their capabilities and increase the number of viewers of their news shows but they wanted to be sure not to compromise on quality while doing that. They were known for their high quality graphics and used that as a tool while competing with the best TV Channels across the globe. TVN Chile wanted to make sure that the displays that they installed should be of good quality, so as to use it to compliment the high graphic quality they were previously broadcasting. Reliability was also a major concern for this issue as TVN Chile couldn't afford even a minor failure while a broadcast was live. For that reason, TVN Chile selected the most reliable company.
Wavetec was entrusted with the responsibility because it has proved its reliability overtime by giving solutions to over 15 Stock Exchanges and hundreds of brokerage houses. Being the leading Financial Display Provider is a proof itself to the reliability of displays as these firms cannot tolerate a second's malfunction. Also, Wavetec is known for its customized solutions, which was a major attraction for TVN Chile. Considering all the positives from reliability to creativity to global presence and to customized solution, Wavetec was entrusted with the responsibility of providing TVN Chile with a Broadcast Display Solution which would help them stay ahead in the race.
How Wavetec Solved the Problem?
Wavetec revamped the entire look for TVN Chile. It provided them with an entire new background for their show and installed a 9 meters x 12cm Fullcolor LED ticker for the main TV Studio and a 1.5 meter x 12cm Fullcolor LED ticker for other TV Studio. The displays were installed to help them portray as technologically up to date and to offer its viewers a better experience by making sure the displays were custom fitted into the entire look of the news room studio. The image quality of the display was optimum and it complimented the already high quality graphics their station broadcasted. When contacting Wavetec, reliability was never a concern as it is always the first and foremost priority for them. TVN Chile increased its TRP rating even further and Wavetec using its Broadcast Display Solution, facilitated TVN Chile in keeping its standards high and not lagging behind in any field or area.