Wavetec Joins Hands with Banque Saudi Fransi
Banque Saudi Fransi (BSF) Selects Wavetec to enhance customer experiences and reduce bank queues through the deployment of various customer flow management technologies in all their banking halls.
Company Background
Banque Saudi Fransi is a full-service commercial bank serving the local and international banking needs of its clients. It is a leading provider of comprehensive financial services and products in the Kingdom of Saudi Arabia and other markets.
Challenges
The challenge today for BSF is to progress and advance the transformation and restructuring of the branches which has been initiated since 5 years, keeping in mind the end goal to totally change the bank heading towards the objective to 'make bank of the future'.
What are the biggest challenges BSF facing now?
To be the 'Bank of excellence'
To be the 'Bank of clients'
Provide best quality services
Maintain long-term relationships with customers
To be one of the leading and fastest service providers
Increase Profitability of the branch
Improve Customer Satisfaction
BSF top priority is to serve customers and be prepared with a solution dependably for each issue of the client. They want to closely understand customers' needs and wants because the basis of their business is to 'know their customer, strategy and balance sheet' which ultimately drives towards giving better services and quality.
The main goal of BSF is do everything best in terms of customers, quality and services so that BSF is recognized as the bank of excellence by its customers.

Implementing Wavetec's Queue Management Solution
Wavetec, a leading manufacturer of queue management systems proposed a turnkey solution to Banque Saudi Fransi that would enable the bank to improve the Quality of Service in their branches and the overall customer experience.
Wavetec's robust Queue Management system is deployed across 106 branches of Banque Saudi Fransi in Saudi Arabia.
Wavetec installed its complete enterprise solution at BSF based on its latest service area design approach – Wavesphere, an unmatched range of customer touch points, presents a holistic approach to improve customer experience in order to strategically organize service areas, engage customers, and effectively measure a customer experiences.
Products that will drive consistent customer journey at the banking halls encircle Virtual Queue Management System, Donatello Digital Signage and Opinion Plus for customer feedback. Additionally, BSF has access to real-time business intelligence reports and dashboards through a centralized reporting system.
These proposed customer experience solutions have enabled BSF to accomplish consistency and increment engagement at all key touch points.
Self Service Ticketing Kiosk
Wavetec changed the way customers waited and gave BSF an enhanced control of their queues through self-service ticketing kiosk. At the point when clients enter the bank's branch they check-in themselves on customized self-service kiosks.
The kiosks will be incorporated into the bank's framework; where all BSF clients can be distinguished when they embed their card in the card reader slot. Customers are then prioritized according to their bank accounts and given a ticket accordingly.
Some of the highlighted features which BSF benefited the most are; Dual Printer integration for the continuous issuance of tickets which eliminated the hassle of changing a paper roll on a daily basis routine especially when the branches are occupied with other important tasks to focus on. Other features include Multilingual property which became the connection point for BSF customers to actually deal with the kiosk in their own native language.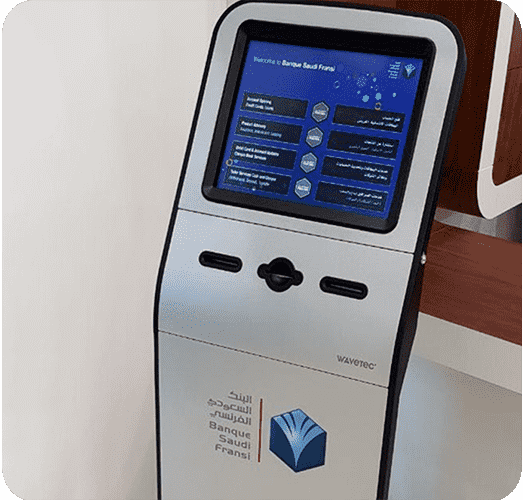 Security Locks for each door optional with centralized alarm system, Motorized Card Reader, and Such Card Reader once integrated with the bank system, enables a personalized branch journey, for example, by printing targeted messages on the ticket and displaying targeted promotions once the customer approaches the teller counter.
One of the major benefits BSF acquired through a Central configuration feature of the kiosk which measured the branch service level from any location so work processes became transparent and easily accessible.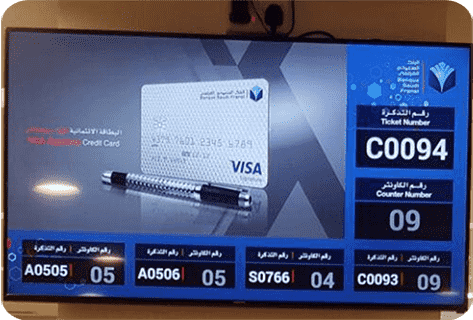 Donatello Digital Signage
While waiting to be served, customers are engaged using digital signage solutions. In order to provide efficient services, there are LCDs installed at prominent areas of the branch that enable clients to see when they are next by checking their ticket numbers in the LCDs operated by Donatello, Wavetec Digital Signage.
One of the features which BSF benefited primarily included Targeted or Customized content with Flexible Template Design and Scheduling (Hour, Day and Month) displayed on the screens which attracted numerous customers of BSF in specific domains and ultimately increased revenues to each branch.
Segregated screen and report generation enormously benefitted BSF in terms of proper documentation of transactions, effective utilization of resources and efficient processing which ultimately lead BSF towards accomplishing their main goal that is customer delight, increased revenues and to cater high net, worth clients.
Web Teller Station Unit (TSU)
BSF turned their tellers into sellers by using Wavetec's Web TSU, workstation calling terminals allowed staff to call customers to service counters based on a pre-defined priority. It also provided staff with real-time views of customer numbers, wait times and type of services required.
This system enabled BSF to avoid the tedious and error-prone procedure of installation at each counter machine and provided more control with the help of centralized approach towards installation and upgrades.
Through Web TSU queue status and customer information is displayed, it also manages customer flow and generates Idle Alert notifications. These features made Branch's workflow management transparent as well as efficient, on the other hand, detailed transaction logs help streamline activities and maintain a record of customer transactions.
One of the prominent features of Web TSU that benefitted the most to BSF is the Lead generation aspect where teller can actually generate sales opportunities according to the profile of the customer. Sales opportunity can be generated in two ways;
LCD CDU
When a client's ticket number shows on the LCD, clients stroll to the service counter for their turn and are served accordingly. BSF had an exceptional benefit through CDU's POE (Power over Ethernet) feature which is independent of pulling power cables separately; it can easily work on LAN cable only.
Opinion Plus – Customer Feedback
Customer feedback units have also been deployed in various branches of BSF which helps in streamlining customer satisfaction to a greater extent based on their feedback provided.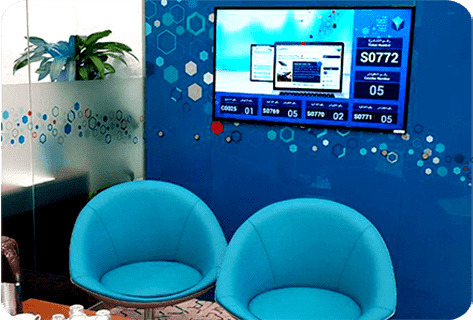 On spot, customer feedback is captured through opinion plus which is then utilized for improving service areas of BSF. This entire process is being monitored centrally by Service & Quality Department.
Real-Time Satisfaction Surveys with or without integration with QMS enhanced BSF performance and they are able to keep their customers satisfied while addressing their queries in an effective manner. Customizable surveys and templates enable BSF to have a 360-degree feedback from their customers because they can create surveys and template according to their own patterns and customer behavior.
BSF found Counter and Branch Wise Feedback feature of opinion plus as a blessing for them as it segregated specific customer feedback for them. Retrieving comments from customers and also their information is one of the essential features of opinion plus which enabled BSF to do an in-depth analysis of their customer for solving their problems if any or serve them better than before.

Comparing the performance of employees, services and branches based on NPS and other key indicators of customer satisfaction improved the productivity of BSF day by day rapidly. On the other hand, BSF revenues increased immensely by displaying targeted content and advertisements
Live Dashboards and Reports
The turnkey queuing system designed and deployed by Wavetec has advanced manager Dashboards & Live reports through a centralized reporting system, for extracting comprehensive insights in terms of customer flows, staff performance, service area efficiency and Customer Journey Mapping.
All branches of BSF are monitored in real-time using Wavetec's central reporting system which helps in the creation of actionable reports that consists of decision making information. The key variables that are closely monitored are Average Waiting Time, Average Service Time as well as Transaction Accuracy and Teller Punctuality which impact the Scorecard of each BSF branch consequently.
Moreover, Wavetec's live reports are used by the bank's management to comprehend daily footfall and the extracted data is then used to perform analysis as well as foresee future traffic in high performing branches. Furthermore, Teller reports are likewise every day observed. On the off chance that, there are few tellers at a branch, a request is sent to the central team thus more tellers are doled out to a branch to proficiently deal with the client movement. As the management monitors customer footfall using live reports, if traffic increases, more counters are opened at a branch on a real-time basis.
Results
Banque Saudi Fransi Branches with Wavetec's Solutions experiences high customer satisfaction and loyalty which ultimately resulted in an increase in deposits. With latest innovative technologies, immersive displays and seamless customer flow, waits are organized, seating capacity is optimally utilized, serving process is more transparent, and customer complaints have radically declined, bringing about expanded consumer loyalty and a stronger brand image throughout the years.
Wavetec's Queuing System enables BSF with necessary visibility to better manage their resources and convey the service that customer desires. It also allows BSF to put into practice the concept of care designed for their Top Tier clients
Today, the performance of BSF is the result of the work they did on the heavy transformation of BSF and they are more prepared than the competition to cope with the more difficult environment.