Are you looking for a promising tool to reach your e-commerce customers directly on their mobile devices?
Look no further!
WhatsApp, the leading application in the communication world, is equally effective for marketing too. It remains the most popular messaging app in over 100 countries, delivering 100 billion messages each day. You can grow your customer base and contact them anytime and anywhere in the world!
Its emerging popularity among individuals of all ages has made it an important tool in the e-commerce industry. It is difficult to believe that with one application, you can assist customers via audio and video calls, present catalogues, confirm and send order updates, and launch new products. 
Businesses rely on this the most because of its end-to-end encryption messages, which are vital for e-commerce payments.
This blog discusses the best strategies your e-commerce business can adopt to promote its WhatsApp Marketing and increase sales.
WhatsApp Marketing for E-commerce: 10 Strategies to Drive Sales and Engagement
Personalized Messaging
Utilize the power of the most popular and impactful tool in our daily lives. Until April 2022, WhatsApp had over 2.44 billion active users every day. This is a unique opportunity to make WhatsApp the permanent mode of communication to connect with your customers personally. 
WhatsApp would be most useful to businesses in sending personalized messages for product recommendations based on a customer's past purchases or browsing history. 
For example, a clothing store could send a message suggesting complementary items to a shirt a customer recently purchased. Another strategy is to offer tailored discounts or coupons based on a customer's buying behaviour. This is a great way to determine that your customer's actions are converted to sales.
Build customer relations by using WhatsApp to send appointment reminders and alerts which can be added to calendars. Once a customer has availed of a service with you, you can send acknowledgement messages and acknowledge the customer's loyalty to your brand.  
Adding a prominent WhatsApp button to your website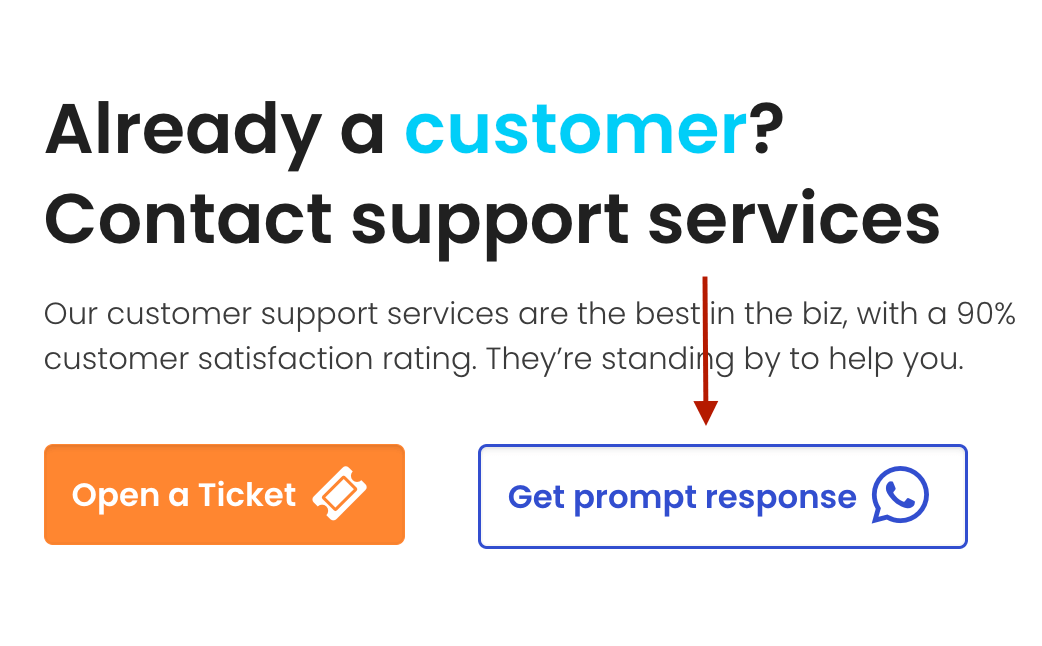 In the era of e-commerce, many customers browse products and services on websites as well as Facebook. You can take advantage of the browsing and direct them to chat with you on WhatsApp. 
This gives your customers the freedom to ask questions regarding products directly. You can utilise this technique to build one-on-one communication with your customers and direct them to recent launches and products. 
Embed a prominent WhatsApp button on the page strategically for customers to improve click-rate. The WhatsApp button should deliver a clear and concise message to encourage customers to click on it. 
You can use messages like "Get in touch with us instantly on WhatsApp", "Have a question? WhatsApp us now!" or "Chat with our representative now!"
WhatsApp allows you to add live chat widgets and chatbots to your page. This widget appears as a pop-up on the website, with messages like "Hi! How may I help you?" This determines uninterrupted communication with your customers even if they leave your website. 
Food delivery services add a WhatsApp button on their homepage to enable customers to place orders, track delivery, and inquire about promotions. 
Abandoned Cart Recovery
The most difficult task for marketing teams is getting the users to make a purchase or engage in a service. Multiple surveys report that a majority of the customers explore websites and pages, add items to the cart, calculate the shipping fees and then abandon their carts. Tackling abandoned carts is the most difficult job. 
So how do you do that?
Previously, emails were commonly used to make up for lost sales and carts. Now, WhatsApp messaging is here to help you send automated reminders to encourage your customers to complete the purchase. With higher open and response rates, WhatsApp has effectively delivered instant messages instantly worldwide. 
While drafting messages to send to your customers, ensure that you use the customer's name to personalize it and keep the tone polite and welcoming. Give your customers a reason to return to your website and choose you over your competitors. These can be coupons, free delivery or discounts. Add a sense of urgency to the messages by adding time limits and limited-time offers.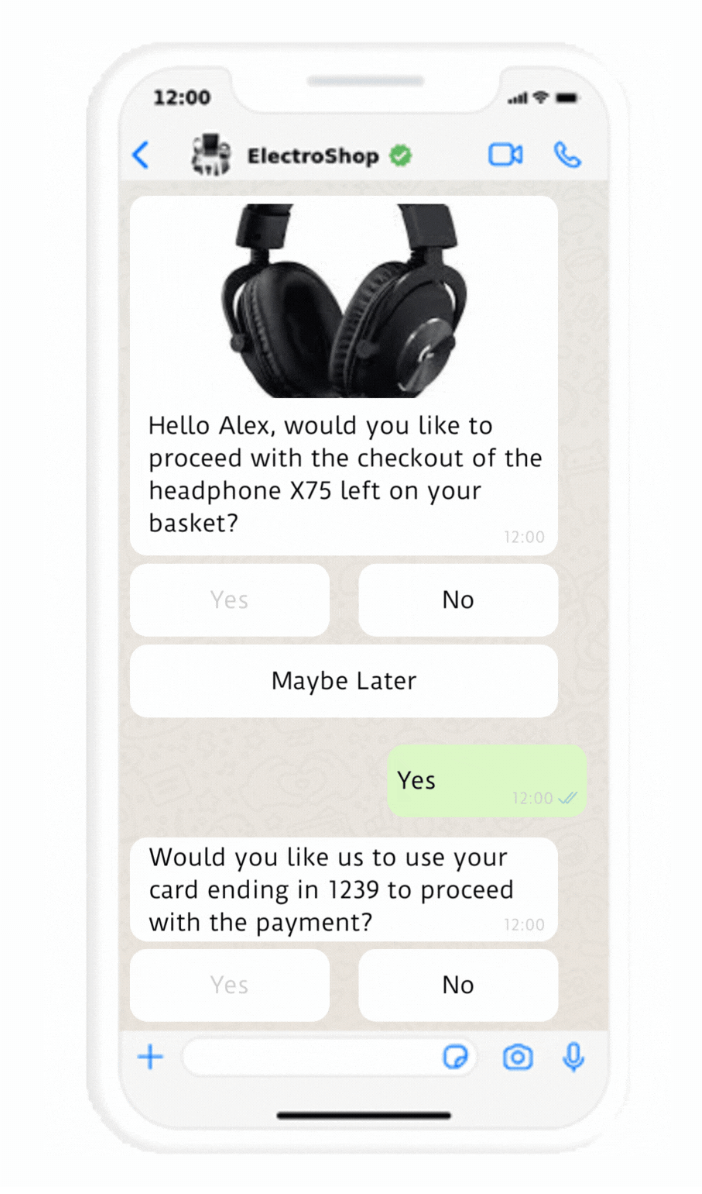 For example, you can send messages like: "Hey, Jack! We noticed you left some items in your cart. Finish your purchase now and enjoy a 10% discount on your order!" and "Hi Macy, your cart misses you! Complete your purchase now and enjoy free shipping on your order."
Order Updates and Tracking
Once the order is placed, customers want businesses to be transparent with the shipping and provide timely order updates and tracking features. Using WhatsApp to provide real-time is essential so customers know what's happening with their orders at all times. 
Keep them in the loop with the order status, for example, give updates on order processing, shipping, and delivery.
WhatsApp messages should include relevant information such as the order number, tracking number, and estimated delivery date. You can send a message confirming the order's contents, whether the payment is complete or inform them of the cash collection amount. This ensures that your customers are ready to receive the parcel and helps them track the package and plan for its arrival.
Personalizing messages can help build a connection with customers and make the updates feel more relevant to their needs. Use messages like the following: "Hey, Jack! Your Order from Wavetec is ready to ship. Order#: 00000. Expected delivery date: 20th April 2023." 
Incorporating visual aids such as images or videos can further enhance the experience by providing a visual representation of their package's journey. This can help customers visualize the progress of their order and make the experience more engaging.
If your customers receive the wrong product or face delays in shipment, you must be proactive in communications. Immediately inform them of the available returns, refunds and replacement options. This creates a strong sense of reliability for your brand and builds trust.
Product Launches and Promotions
Established e-commerce businesses have catalogues of products on the WhatsApp Business Chat. Businesses can use WhatsApp to launch new products by updating the existing catalogue with new products. 
You can add price tags with each picture, along with unique titles and descriptions. Since the catalogues appear at the front of the WhatsApp chat, customers will most likely check them out immediately. 
WhatsApp's latest feature for broadcasting messages has been a game-changer in the industry for mass marketing. WhatsApp broadcast messaging sends a message simultaneously to a multitude of people. 
You can send a promotional message describing the newly launched product and its image. Add CTA, deals and discounts to convince your customers to explore the offer.
Additionally, businesses can offer exclusive discounts or early access to sales for customers who subscribe to their WhatsApp list. This makes customers feel valued and encourages them to make purchases. 
Create engaging content such as product demos, tutorials, or customer reviews to showcase the benefits of their products and encourage customers to make purchases. For example, a fashion retailer can send teaser messages showcasing their upcoming clothing line with behind-the-scenes photos and videos. 
Feedback and Reviews
Knowing about your customer's experience is integral to providing them with smooth service. 
Businesses send surveys or questionnaires to customers, asking for their experience and opinions on their products or services. 
The surveys can be designed to gather specific feedback on different aspects of the business, such as the quality of the products, the level of customer service, and satisfaction with the delivery. 
Businesses can also politely request customers to leave reviews on their WhatsApp business profiles. 
This can help other customers learn about their experiences and make informed decisions about their purchases. It helps to build trust and credibility among customers, as they feel their opinions are valued and considered.
Here is a template that you can use to collect feedback from customers:
Hey Jack,
Thank you for your recent purchase at Wavetec. We hope you loved it!
We would like to get your feedback on the product. This helps us improve our service and tells other buyers that our customers love it.
Click on the link below to leave your review.
Product: WhatsApp Marketing Solutions}
Link: https://www.wavetec.com/solutions/whatsapp-marketing-conversations/ 
Thank you, and have a nice day!
WhatsApp Ads
WhatsApp marketing strategies for e-commerce include creating and running Click-to WhatsApp Ads to keep your business active and up your customer engagement game. 
You can create Ads using the parent company, Facebook Ads Manager. Through this, you can create targeted ad campaigns and select WhatsApp as the placement option. 
Furthermore, choose your target audience based on demographics, interests, and behaviours to ensure the ads reach the right people.
Use a variety of formats, including images, videos, and carousel ads, to showcase different products and promotions. Targetted marketing with WhatsApp Ads helps reach out to customers who have previously shown interest in the products, such as those who have visited their website or added items to their cart but didn't complete the purchase. 
Analytics and Metrics
If your business has been investing in WhatsApp marketing strategies, you should be focused on monitoring the results to understand how well you are doing. Use tools like the WhatsApp Business Analytics API Dashboard to measure metrics of message delivery rate, open rate, click-through rate, and conversion rate on WhatsApp. 
This tool measures user engagement with your WhatsApp channel, real-time data on message volume and sales across the platform. With this, you can pinpoint the bottlenecks in your service and improve customer service. Additionally, you can learn about your agents' performance in customer service and identify the loopholes.
Use WhatsApp for Cross-Selling and Upselling
Once you have sold products to customers, how will you keep them engaged and promote retention? The key is to offer customers services or products which are an addition to the previous purchase. For a customer who has purchased a camera, extend offers on the compatible lens and tripod options. 
Businesses can offer exclusive discounts or promotions as incentives to customers. For example, offer a 10% discount or coupon for free shipping on a complementary product if purchased within a certain timeframe.
Draft personalised messages, including CTAs and links, and deliver the context of the message immediately. Here's an example below:
"Hi Jack, we noticed you bought a new phone case. Did you know we have screen protectors that pair perfectly with your purchase? As a valued customer, we'd like to offer you a special discount of 15% off your next purchase. Check them out on our website."
Boost your COD success rate by offering instant discounts via WhatsApp to reduce RTO.
This technique is proven to increase consumer engagement on WhatsApp. After all, who doesn't like discounts, right?
Cash-on-delivery (COD) orders result in a high rate of return to origin (RTO), which add to the operational cost for businesses. However, offering instant discounts via WhatsApp can help reduce RTO and increase COD success rates. 
This means offering an instant discount for customers who choose COD and confirm their order via WhatsApp. This can encourage customers to complete their purchases and reduce the likelihood of returns.
You could send a message like "Thank you for choosing COD as your payment method. Confirm your order via WhatsApp and receive a 10% discount on your purchase. Reply YES to this message to confirm your order and receive your discount."
Frequently Asked Questions
How do I set up a shop on WhatsApp?
Starting an e-commerce business on WhatsApp is easy if you follow the steps below:  
Go to WhatsApp Business App or WhatsApp Business API and sign in with your business account. 

Navigate to the "

Settings

" section and select "

Business Tools

".

Select "Catalog" and then "

Add Product or Service

".

Enter the product or service details, including the name, description, price, and product image.

Save the product or service information and repeat the process for additional products or services.

Once you have added all the products or services, select the "

Share

" button to share the catalogue with customers.

If you need help expanding your WhatsApp business e-commerce,

contact Wavetec

for its WhatsApp Marketing features.
How can I sell digital products on WhatsApp?
Here's how you can use WhatsApp to sell digital products conveniently:
Choose a digital product to sell, such as an ebook or digital course.

Next, create a landing page or website for your product using website builders like Shopify, WordPress or Wix.

Set up a payment gateway for customers to pay securely.

Share the link to your product on WhatsApp with potential customers, using WhatsApp Business to create a catalogue.
Can I automate my WhatsApp messages?
Yes. You can automate your WhatsApp messages using a WhatsApp Business API provider, which allows you to create and schedule automated messages. Set up chatbots to handle customer queries, manage customer data and for customer service. 
How can I integrate WhatsApp with my e-commerce platform?
Apply for the API and get approval from WhatsApp. Then, work with a WhatsApp Business Solution Provider to set up and configure the API. Once set up, you can use the API to send messages, manage customer conversations, and integrate with your e-commerce platform to send order confirmations and shipping updates.
Conclusion 
Now that you have learnt the best e-commerce WhatsApp Marketing strategies, we believe you can set up your shop and start selling today.
Get in touch with a representative to schedule a free demo on WhatsApp Business and Marketing.
BOOK A FREE DEMO