In this blog: We explore the growing landscape of mobile money, its problems and how these problems can be addressed.
With the increasing prospects of new fintech companies and the advent of sophisticated digital payments providers there remains a significant lack of physical infrastructure to support the digitization of every day transactions.
Mobile money and digital wallets are quickly gaining traction as a gateway to financial products in regions where unbanked populations are high in number. However, the means by which people are accessing these services are still very limited and analog.
The Largest Mobile Money Network
Let's take Africa as a case study. Sub Saharan Africa has one of the largest populations of mobile money users and subsequently the largest mobile money network in the world. The total value of mobile money transactions in 2020 was $1 trillion and Africa accounted for 70% of this total volume. Africans prefer mobile money to conventional banking.
Africa's mobile money network is made up of individual mobile money agents sprawled across the continent with a few hundred thousand present in each country. There are agents in the most far flung areas too. These agents most frequently operate out of small shops or kiosks and their operational hours in a day are limited.
Limitations of the Existing Network
Mobile money agents facilitate everyday transactions such as deposits, transfers and bill payments. To perform these transactions, each agent has a certain balance known as float which limits the number of transactions that can be done in a day by that agent.
So, the agent network isn't perfect and has several limitations such as limited operational hours and limited float. A lot of these problems have already been solved in conventional banking using ATMs, CDMs and cash recyclers which enable 24/7 banking operation with much higher cash limits.
What's The Answer?
Naturally, the question arises; why can't mobile money agents do the same? The needs of mobile money and the needs of banking are very different. Banks require higher levels of compliance and security hence their equipments and appliances are a lot more expensive and specialised.
What these mobile money companies need is a self service kiosk designed specifically to render the services provided by existing agents without any limitation of operational hours or float. This includes mobile money services like deposits, transfers and bill payments.
Mobile money agents are also providers of telecom GSM services like new SIM card issuance, mobile top ups and new tariff subscriptions. This was their primary role before the emergence of mobile money and digital wallets and to this day the average man in developing regions relies on these agents for their telecom needs.
The Solution
Azimut's SIMVEND fits the needs of these mobile money agents perfectly. It's a self service kiosk equipped with a large touch screen and all the modules needed to render mobile money and GSM services.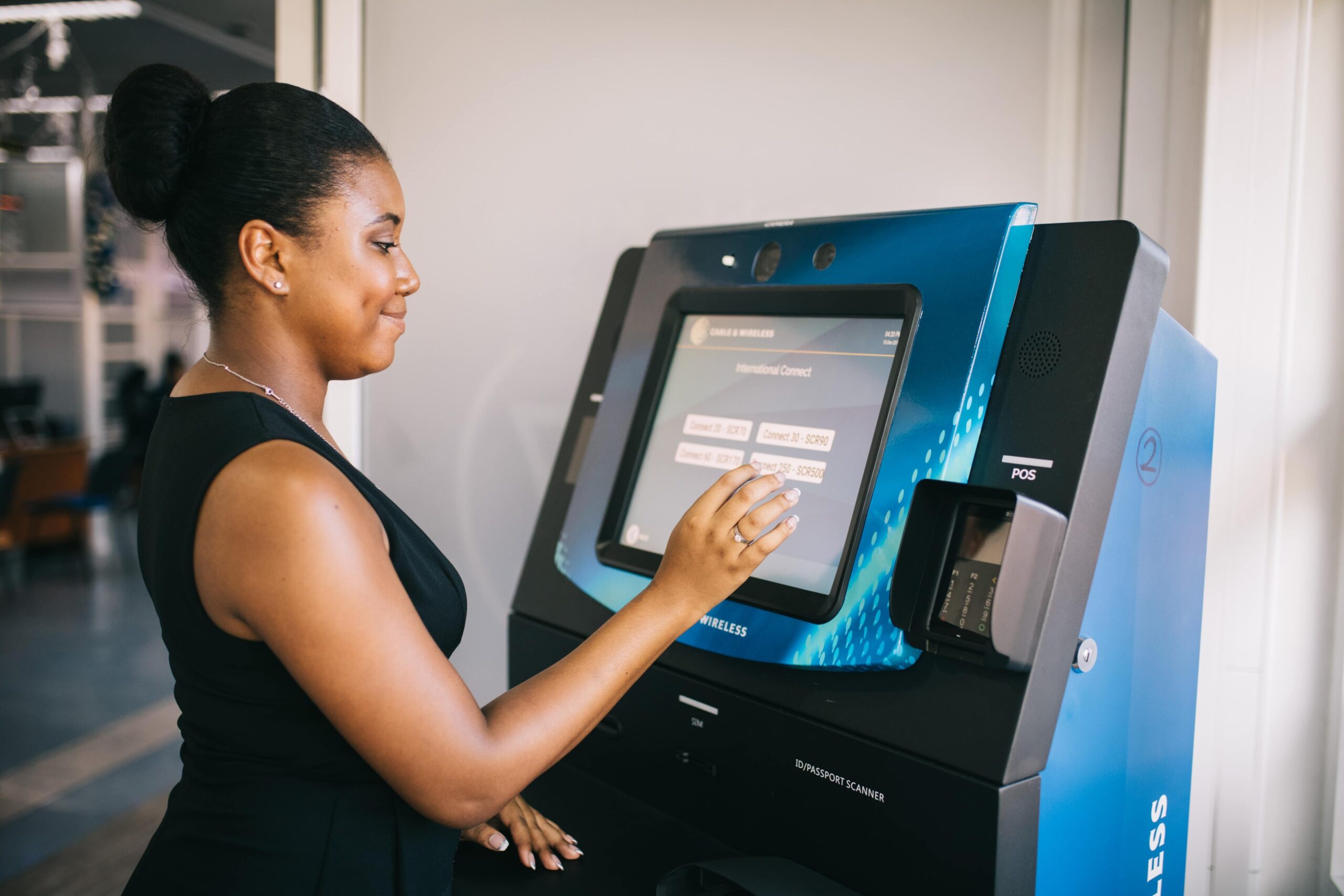 This kiosk also has advanced KYC capabilities with a built in facial recognition & liveness detection camera as well as a biometric fingerprint reader. This provides adequate security for large sum transactions and the ability to safely onboard new customers at the same time.
With its modular design SIMVEND can be equipped with additional modules as required such as document scanners and EMV card readers. We understand different regions have different security and KYC needs which is why this self service kiosk is designed for the world and can operate in conceivably any market.
Complimentary to Existing Agents
With SIMVEND, the aim isn't to replace the existing network of mobile money and telecom agents, but to broaden the existing agent network and compliment it to service even more customers and enable access at even more locations. This way agents can focus on more customer processing workflows and let self service kiosks take care of everyday transactions.
Anywhere, Anytime
Self service kiosks enable the potential of 24/7 service availability and given SIMVEND's robust build, it can be placed in public locations just like ATMs so customers can access services at any time of the day.
Furthering Financial Inclusion
Self service also empowers users to perform their own transaction helping them become even more independent with their finances. This is important because it encourages users to explore more advanced financial products once they have a certain level of financial literacy. They may seek loans, insurance and investment opportunities from other financial institutions as a result.
About Azimut
Azimut is a self service solutions provider that focuses on bringing you the best end to end solutions available in this ever growing industry. Azimut is part of the Wavetec Group, serving some of the largest banks, telecoms and mobile financial services providers in North America, Africa, and Central & Southeast Asia.
BOOK A FREE DEMO