In This Blog
What is Electronic Queue Management and why is it important?
What are the different types?
How do they help you?
With the advent of the queue management system, customers don't have to wait long in queues at various customer service areas. Businesses across diverse industries like Banks, Retail, Telecoms, Healthcare, Airlines, etc have adapted the electronic queuing system to increase business efficiency.
As the customer enters the customer service area, they will select a service and receive a ticket from a ticket dispensing unit. These tickets are in sequential order of first-come, first-serve basis and further categorized by the service the customer selects and the number of the counter number at which he will be served.
The customers wait for their turn in an organized waiting area. The customer can also choose the option of SMS notification to utilize their wait time for other important activities rather than sitting idle. This makes the Electronic Queue Management System reliable at managing the customer flow efficiently. It also reduces the cost of deploying customer representatives as the customer can easily use these machines. The contemporary queuing systems are designed to help management produce real time data about serving time, waiting time, and arrival rates.
The ultimate goal of Electronic Queue Management System is to provide superior customer service, increase efficiency, reduce perceived waiting time, and enhance customer experience. In a world where 73% of customers abandon their baskets in the face of a 5 minutes or longer queue, this is a necessity.
How Does an Electronic Queue System Operate?
To understand how Queue Management systems work, you must know the different types of solutions available in the market:
Enterprise Virtual Queue Management Solution
Linear Queue Management Solution
WhatsApp Queue Management Solution
Mobile Queuing System
Occupancy Control Management Solution
Enterprise Virtual Queue Management Solution
Wavetec's Enterprise Virtual Queuing System allows you to define customer journey flows using an ecosystem of interconnected modules that deliver a personalized and touchless customer waiting experience.
How it Works
The customer books an appointment using the online Appointment booking and Scheduling software. They can reschedule, cancel and manage their appointments from the comfort of their home and on the device of their choice. They will also be issued an electronic ticket, detailing the time and place. And regular notifications, via SMS, app, or email, will alert them to the proximity and particulars of the booking.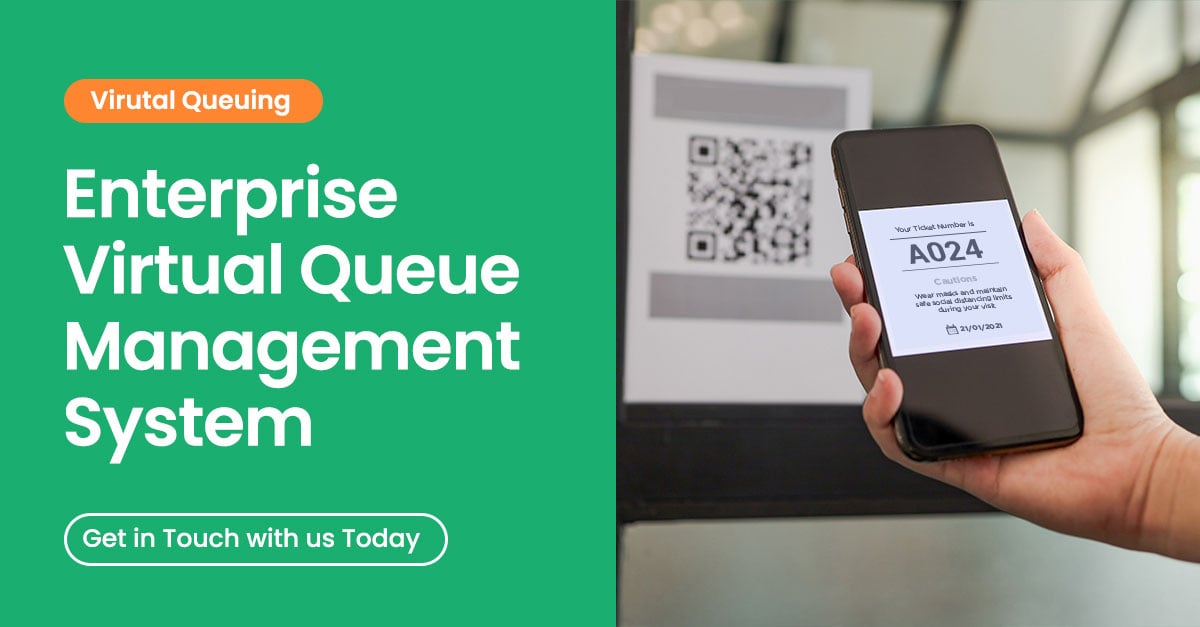 The customer with a scheduled appointment arrives on-premises, checks in using their personal device, a check-in kiosk or by informing the staff on-duty. They are now in the virtual queue and will receive real-time notifications, via SMS, email, app or digital signage, alerting them to the status of the queue, their position and the estimated waiting time.
Walk-in customers, and those without scheduled appointments, will secure their place in the line by scanning a QR code and opening a WhatsApp chat, sending an SMS to a displayed number, approaching a self-service ticket dispensing kiosk, or using the app associated with the business. Regardless of the method, they will be issued a paperless ticket, join the virtual queue, and begin receiving regular queuing status updates.

Virtual queuing means that without physically being present, your place in the queue will remain secure. This allows customers to wait in a coffee shop, buy groceries, walk their dog, or do anything else they please, until their turn arrives. As their turn arrives, customers will make their way on-premises, They will be guided by Digital Signage to the counter and will then be served.
While the customer is procuring the product or service of choice, management can monitor, organize and manage the customer experience via their Lobby Leader application. Once the customer has been served, they will be asked to register their feedback via feedback terminals in-store, or via their personal devices on WhatsApp or by SMS.
Linear Queue Management Solution
Wavetec's Linear Queue Management solution, known as UNO-Q, is a simple call-forward queueing system that can increase service area efficiency, decrease wait times and improve the customer experience.
How it Works
Customers join a single queue as they arrive. When a counter becomes available, the server will press a button to alert the next customer to their turn.
Digital signage displays, showing counter availability and up-to-date information will call and direct customers. Customers leave the premises after acquiring the service or product they came for.
WhatsApp Queue Management Solution
Wavetec pioneered the WhatsApp Queue Management solution to operate as a fully integrated system that enables your customers to contactlessly join a queue. It is built on the premise of innovation, geared towards improving customer flows and increasing staff productivity.

How it Works
The customer arrives on premises and scans an displayed QR code to open a WhatsApp chat conversation with the business. The system greets them, and after asking questions pertaining to the service or product they wish to purchase and who they wish to be served by, they are issued an electronic ticket.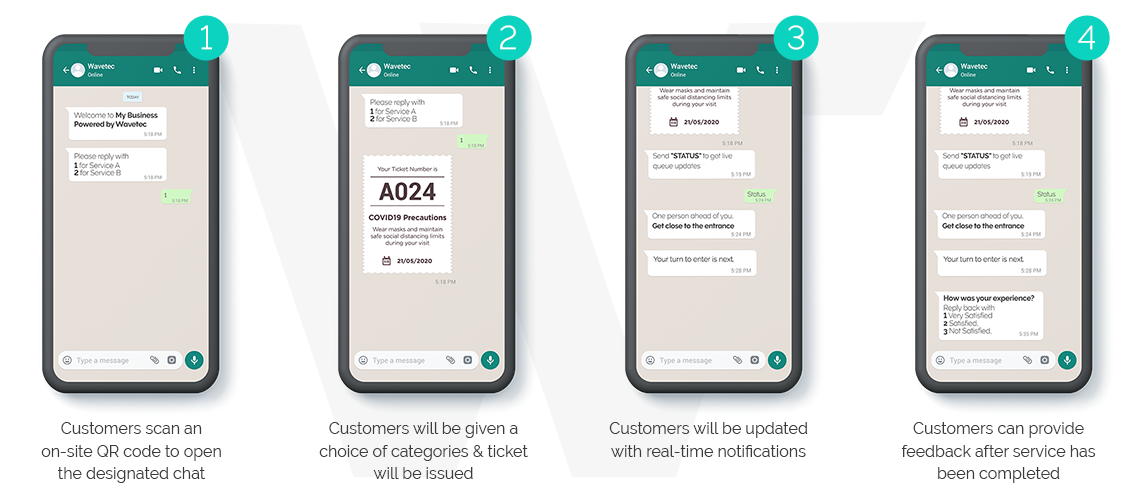 This secures their place in the virtual queue and they begin receiving real-time WhatsApp notifications about queue updates. They can wait elsewhere too, thereby reducing chances of contact. The customer's e-ticket was integrated with digital signage and lobby leader calling applications, and so when their turn arrives, they will be directed to the required counter.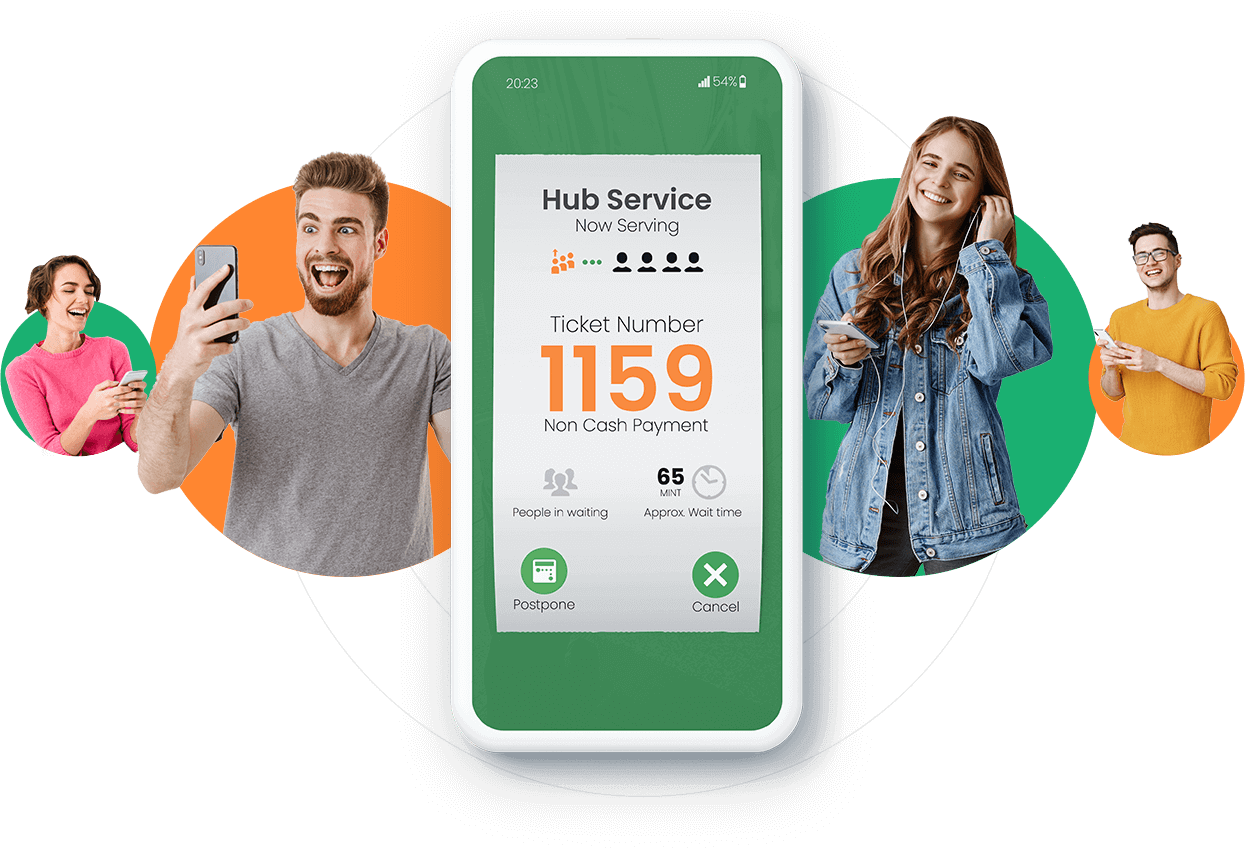 After having been served, the customer will be asked for feedback on the quality of their visit via WhatsApp chat.
Mobile Queuing Management Solution
Wavetec's MobileQ allows your customers to book an appointment or enter the queue with just a few clicks. This solution is designed to issue tickets, send notifications and alerts in real-time and support your customer throughout their journey.
How it Works
The customer will scan the QR code from the comfort of their home, open a WhatsApp chat with the business and register their choice of branch and the service they require. They will be issued a ticket with their details and begin receiving notifications to alert them to the proximity of their appointment.
Walk-in customers will arrive on premises and scan a displayed QR code to open the designated chat. The system greets them and asks what service they would like to avail of. They will then be issued a ticket and begin receiving real-time notifications about their estimated wait time.
Those with appointments will arrive, inform the chat that they have checked in and be placed in the virtual queue, staying up-to-date with queue status alerts. When their turn arrives, the customers will approach the counter, guided by digital signage.
Customers will be asked to register their feedback via MobileQ.
Occupancy Control Management Solution
Wavetec's Occupancy Control solution, also known as People Counting, footfall counting, visitor counting, customer counting or door counting, uses 3D imaging technology to manage queues. Effective even in low-light sensitivity and low latency, this is your Covid19 management solution.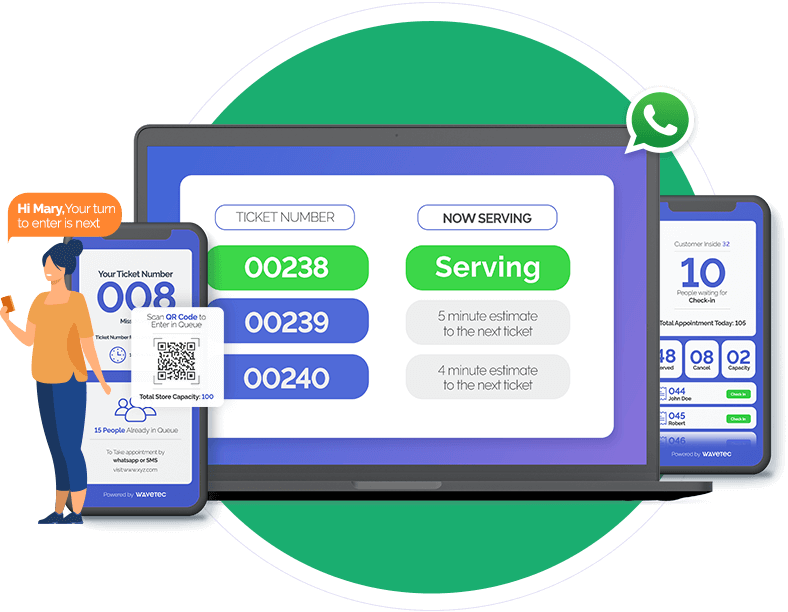 How it Works?
The customer arrives on-premises and their presence is registered by the people counting device installed at the entrance. As the customer departs, their absence will allow for the entry of another customer in their place.
Reports, Dashboards & Predictive Analysis
Reports, dashboards and predictive analysis play a crucial role in electronic queue management systems.
Reports provide detailed data on various aspects of the queue management process, such as the number of customers served, wait time, staff performance, etc. Dashboards display this data in a visually appealing way, making it easier to understand and analyze.
Predictive analysis uses data from past performance and trends to make informed predictions about future customer behavior and demand. This information can be used to optimize staffing levels and improve overall efficiency.
By using these tools, electronic queue system can provide valuable insights and help businesses make informed decisions that improve customer experience and operational efficiency.
Wavetec's Queue Management Software, Spectra, is a live reporting system, complete with manager dashboards, which can be integrated with the different facets of the queue management systems mentioned above to form a complete business intelligence module.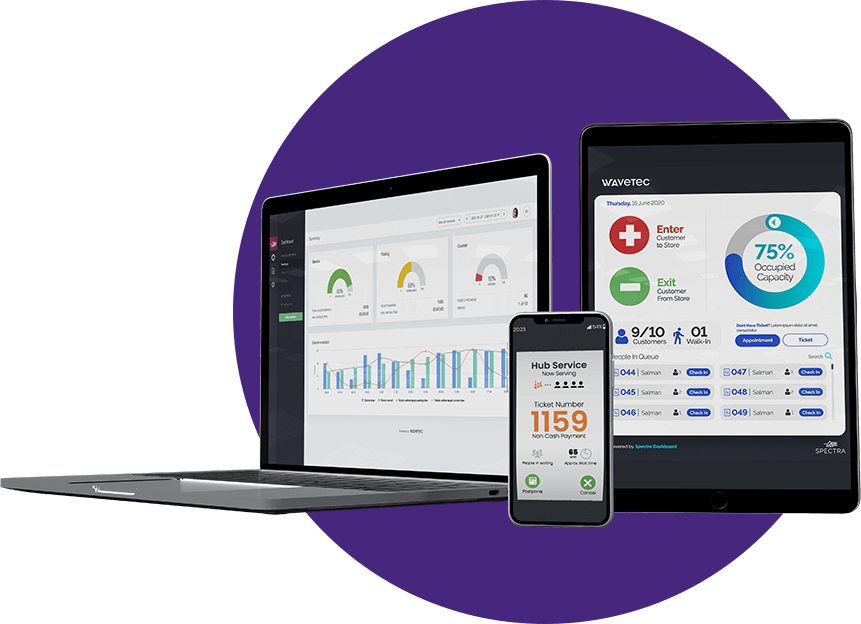 Spectra is a complete enterprise solution that is capable of extracting comprehensive insights in terms of customer flows, staff performance, service area efficiency etc. Managers access real time business intelligence reports and dashboards through a centralized reporting system.
Spectra software powers the customer journey products offered by Wavetec, including Online appointment booking & Scheduling, Virtual Queuing, Mobile Queuing, WhatsApp Queuing, Web Ticketing, SMS Tickets and Customer Feedback.
Frequently Asked Questions:
What does QMS stand for?

QMS, within customer experience, stands for Queue Management System.

How does a queue management system work?

A queue management system basically automates the function of queueing by digitally keeping track of issued tickets and calling them out once it's their turn.

What is a ticketless queue system?

A ticketless QMS is one where the tickets are issued virtually via SMS, Email or even WhatsApp. Queue updates are also sent via a digital channel. No physical tickets are involved.

What is a snake queue?

A snake queue is a queueing technique used to efficiently form longer queues in smaller areas while taking social distancing into consideration. These queues are commonly found at airports before immigration counters.